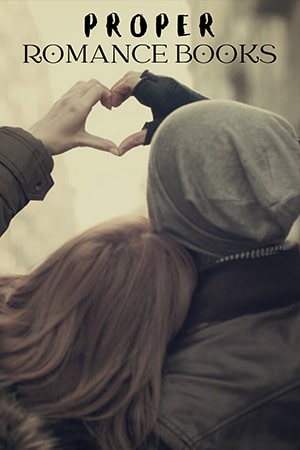 Books with proper romance represent clean and wholesome love where the sex or smutty scene is absent, but the light kissing happens or not. So we get to see pure love and romantic tension between the characters with their patients because it's tough to hold for physical relation. We often see this type of romance in historical fiction, where love without marriage count as a taboo.
I always suggest proper romance for the beginner who wants to understand real love's meaning. I also started my romance reading journey with a proper/clean love story. While I read, I can feel the character's excitement, and the authors have enough time to make their romance slow burn and show their inner feelings and tension. If you are waiting for some recommendations, then keep scrolling.
7 Proper Romance Books (Clean/Wholesome Love Story)
Only some people want to read steamy romances all the time. Some people want to vary the types of romance they're reading. Other people don't want to be reading that at all. We don't always discuss that some folks on the asexual spectrum don't prefer that in the romance they read. So if you are looking for some proper romance recommendations that don't have those super steamy, explicitly described scenes, I have a list for you. Let's talk!
| Name | Key Focus | Review (Goodreads) |
| --- | --- | --- |
| A Captain for Caroline Gray | A girl is coming home for marriage and meets with the ship's captain. | 3.9 |
| Isabelle and Alexander | A friendship turns into romance and marriage. | 3.7 |
| Lakeshire Park | A woman tries to fix marriage for her sister, and she falls in love in this situation. | 4.1 |
| Rakes and Roses | A widow and gambler slowly develop a relationship. | 3.9 |
| A Duke, the Lady, and a Baby | A woman tries to help another woman, and she builds a strong relationship with a disabled man. | 3.1 |
| The Witch of Willow Hall | A gothic love story with a murder mystery. | 3.7 |
| The Amish Teacher's Dilemma | An Amish teacher and a caring woman fall for each other. | 4.3 |
Proper Romance Books List
1. A Captain for Caroline Gray
A Captain for Caroline Gray is a regency proper love story. So it has no explicitly described scenes. The book's heroine is Caroline Gray, who would rather be daring and intelligent than demure and insipid. As a side note, one thing I've appreciated about the book I've read so far from Shadow Mountain Publishing is that while they are these proper romances, they're not religious.
I read when I was growing up that there were more issues with gender roles, and the heroines would tend to be pushovers for stuff. Caroline Gray would rather be daring and intelligent than demure and insipid. After her third season in London, her family's threadbare finances leave Caroline with only one choice to secure her future. Sail with the fishing fleet to India, where the son of a family friend is willing to consider an engagement with her.
So Caroline boards the ship to travel to India in hopes of meeting the man for an arranged marriage. But while traveling, she gets to know the ship's captain, and there is some chemistry there. Is Caroline going to see what there might be with this captain? Is she going to marry this man she's never met? Read the book if you want to know the answers.
Author: Julie Wright
Narrator: Heather Wilds
Publisher: Shadow Mountain
Tropes: Regency, Suspense, Arc, Arranged-marriage
Number Of Pages: 336
Available: Audiobook | Paperback | Library-binding | Kindle | Audio CD
2. Isabelle and Alexander
Isabelle and Alexander is set in Manchester, and it follows a couple in an arranged marriage who end up falling for each other. One of my favorite tropes is a marriage of convenience. I love it when people are already together, slowly get to know each other, and fall for each other, which is part of proper or clean romance.
Our heroine here is Isabelle, who has an arranged marriage. She knows she's not going to marry for love. She is engaged to Alexander, handsome, wealthy, distant, and aloof, spending much of his time at his textile mills. So when they first get married, things are awkward.
Isabelle feels lonely, but eventually, they build at least a friendship until a tragic accident occurs. She must care for Alexander in his recovery, and a romance develops. Their relationship is a sign of a positive message of encouragement. Take advantage of the book!
Author: Rebecca Anderson
Narrator: Antonia Bath
Publisher: Shadow Mountain
Tropes: Victorian, Second-chance
Number Of Pages: 324
Available: Audiobook | Paperback | Kindle | Audio CD
3. Lakeshire Park
Lakeshire Park is British literature and pure historical romance. The story follows a woman who is determined to get her younger sister settled and married before their stepfather dies and leaves them penniless. So she and her sister are at the house party where they're hoping her younger sister will secure the attention of their host. But they compete.
A man has also brought his younger sister along to the House Party and hopes to get her engaged to the same man. Then sparks fly between him and the older sister. The book was very charming and romantic. If you like enemies-to-lovers with happy endings, this one is for you. You can read it on Kindle.
Author: Megan Walker
Narrator: Justine Eyre
Publisher: Shadow Mountain
Tropes: British Literature, Smut, Historical
Number Of Pages: 320
Available: Audiobook | Paperback | Kindle | Audio CD
4. Rakes and Roses (Mayfield Family)
Rakes and Roses is a second chance proper romance with a strong heroine who inspires the story. I loved how it set up the power dynamics, especially for a historical romance. This one does deal with some heavier topics. We follow a woman who had been in an abusive marriage and is now a young, wealthy widow and a hero who is a gambler and an alcoholic.
An injury changes the trajectory of his life, and the widow ends up caring for him, and they slowly develop a relationship. The plot, storyline, characters, dialogues, and narration are excellent, but there needs to be more chemistry. As a clean romance, I wanted more romance with slow-burn moments. Overall, you can enjoy the story and get some motivation from the heroine.
Author: Josi S. Kilpack
Narrator: Justine Eyre
Publisher: Shadow Mountain
Tropes: Matchmaking, Friendship, Christianity
Number Of Pages: 320
Available: Audiobook | Paperback | Kindle
5. A Duke, the Lady, and a Baby (Rogues and Remarkable Women)
A Duke, the Lady, and a Baby is a wholesome romance with mystery and disability representation. Author Vanessa Riley brings diverse representations into historical romance and shows that London in the 1800s was a melting pot, partly because of colonization. But ships were going back and forth from different countries to London. Also, many people of color lived during that time and place. Vanessa is doing some essential groundbreaking work in the romances she's writing.
This book is the first book in the Rogues and Remarkable Women series. The story is about women trying to help other women who lacked power or who would be thrown into the bedlam asylum for no good reason. It deals with many interesting issues of the day, and I enjoyed it. The hero is a disabled war veteran. He's gruff but sweet on the inside.
Our heroine is a black woman from the West Indies. They form a slow burn and proper romance. These characters have so much passion and chemistry with each other. The only thing that happens on the page is kissing. There is a lack of romance and a confusing plot, but you can feel the love and know more about history. So I recommend reading the book anytime, especially if you miss someone.
Author: Vanessa Riley
Narrator: Bahni Turpin
Publisher: Tantor Audio
Tropes: Mystery, Disability, Single-parent, Secret-identity
Number Of Pages: 320
Available: Audiobook | Paperback | Library Binding | Kindle
6. The Witch of Willow Hall
The Witch of Willow Hall is a pure gothic romance with witches and mystery. This one does get into some heavier topics, and there are some steamy kisses on the page, but that's about as far as it goes. It's got a ghost story element to it and star-crossed lovers.
Hester Fox's books are set in the 1800s in the eastern United States, which is an interesting take on it. So she's dealing with local folklore. I also loved her second book with a serial killer murder mystery element. Not all of her books are pure romance, but they have romantic elements. There are a couple of different directions that you could go. Avoid hardcover because of negative issues, but the paperback is awesome for font size, color, cover, binding, and paper quality.
Author: Hester Fox
Narrator: Lauren Ezzo
Publisher: Harlequin Audio
Tropes: Gothic Horror, Witches, Family, Drama, Thriller
Number Of Pages: 364
Available: Audiobook | Paperback | Kindle | Audio CD
7. The Amish Teacher's Dilemma (North Country Amish)
The Amish Teacher's Dilemma is Christian and Amish fiction with proper inspiring love. It follows a young Amish woman who is considered a spinster at her age and wants more than be at the beck and call of her family. So she decides to move to another Amish community and take over a school teaching job where some of her students are the younger siblings of the local blacksmith. A young man took over caring for his younger siblings when their parents passed away.
They have a sweet, lovely, slow-burn romance. Patricia Davids is an excellent way to go if you're looking for great character development with strong female characters and sweet romances. In general, the inspirational romance line from Harlequin will give you that sweet or proper romance that will not have explicit scenes. Some of them are more overtly religious, while others are not.
So make sure you look at the descriptions depending on what you're looking for. Some people don't want religious romances, while others may. But this is an excellent place to look if you want to try adding in.
Author: Patricia Davids
Publisher: Love Inspired (Original edition)
Tropes: Inspirational, Contemporary, Family, Fun
Number Of Pages: 225
Available: Paperback | Library Binding | Kindle | Mass Market Paperback
Those are my best proper romance novels recommendation. Let me know your thoughts or feelings on anything I discussed in this article. Give me a recommendation that you would offer in the comments down below for a romance you loved that was not steamy. If people are looking for romances that are not hot, what are some other books that they should check out? Please leave them in the comments below.
Read more similar books:
5 Pure Romance Books Like Gabriel's Inferno