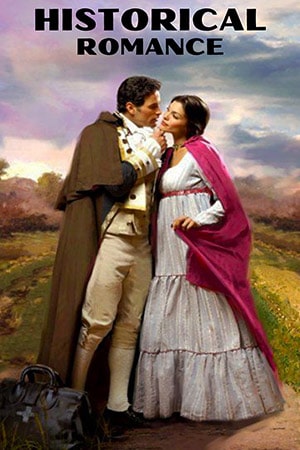 Historical romance is fiction/non-fiction written during the present about people, places, and events of the past. It could also have been written as contemporary during a now considered the past. Also, it is about the struggles, conflicts, emotions, love, and daily life of people who lived before us.
The authors of historical romance create authentic settings by carefully including details of everyday life, homes, transportation methods, clothing, and all the cultural aspects of the period. They write plots that explore every side of these issues, allowing the reader to experience an unbiased story on sensitive, controversial, or even painful topics. Several themes are common in historical romance or fiction. So, readers can learn about the clash of cultures in stories.
Top 15 Historical Romance Books
Historical romance is popular in the romance genre, and readers can not think without it. We are very excited to know more about our history, culture, and society by living modern day. Nowadays, love or romance with the opposite or same gender is very common and acceptable, but in the 1700s-1900s, it is very hard/tough without marriage.
Also, many difficult rules and regulations made love/relationships taboo. So if you want to know more about or like to read historical fiction, you will like my 15 historical romance books. Let's review!
1. The Duke and the Lady in Red (Scandalous Gentlemen of St. James)
Lorraine Heath writes such angsty and more serious historical. This one is Book three in the series, and it can be read as a standalone. The Duke (Avendale) meets the heroine (Rose) at a casino. As Rose needs money and Avendale's the perfect man to swindle money out of, she decides to lie and get five thousand pounds out of him. Then she is going to try to go to Scotland with her family.
So they're on their way to getting to the carriage, to go to Scotland. The Duke shows up, and he figures it out. Then he offers her a week with him, and he'll give her the money. I cried in this because a side character is heart-wrenching about what they have to go through. They're madly in love at the beginning, but they're so into each other.
Author: Lorraine Heath
Average Customer Review: (4.5 out of 5, on Amazon)
Category: American Historical Romance
Number Of Pages: 390
Available: Audiobook | Paperback | Kindle | Mass Market Paperback
---
2. My American Duchess
This is another angsty romance because our hero (Trent) meets our heroine (Merry) super into her when they meet. Merry's an American duchess, and she's so down to earth, but she's been engaged twice already. Trent is going to propose to her, and he's super excited. Then he figures out his brother had proposed that night already to her.
Since Merry's been engaged twice, she wants to see this third engagement through. She doesn't want to be seen as this flighty woman, an American. The Duke has the money, but his brother doesn't, so he needs to get married because he's in debt.
He's a drunk like their father and the brother that was into being proper in our heroines, not into that. Merry's finding it hard to be around him. Then when she spends time with him, she likes him. Their romance blossom slowly but in a dramatic way.
Author: Eloisa James
Average Customer Review: (4.4 out of 5, on Amazon)
Category: American Historical Fiction
Number Of Pages: 415
Available: Audiobook | Paperback | Hardcover | Kindle | Mass Market Paperback
---
3. Third Son's a Charm (The Survivors)
This one's a bodyguard romance. The heroine, Lady Lorraine, is the daughter of a duke. Ewan is hired to be the bodyguard because he was part of this band of soldiers known for going on the most dangerous missions. So he's back. He's still friends with all of his soldier buddies, and he's hired to be the bodyguard by the Duke. The Duke's daughter is in love with this man.
Lorraine's trying to run away with him, try to run away and see him. Everybody says Ewan wants to run away with his money. So the bodyguard hero ends up having to go to all of her events with her and keep her from sneaking out. It's funny because Lorraine tries to sneak out her window, and he's there and catches her.
She gets super frustrated, but they fall for each other. He also has undiagnosed dyslexia, and that's a big part of this book because that affects how he feels about himself.
Author: Shana Galen
Average Customer Review: (4.3 out of 5, on Amazon)
Category: Regency Romance
Number Of Pages: 401
Available: Audiobook | Mass Market Paperback | Kindle | Audio CD
---
4. How to Forget a Duke (Misadventures in Matchmaking)
In this book, we have a historical trope with an amnesia romance. The story is about a matchmaker (Jacinda) who has amnesia and The Duke of Rydstrom (Crispin). Crispin needs a bride, so he asks the heroine's company, which she works with her sisters, to find him a bride. Jacinda goes to his estate, and she gets into this boat wreck, and Crispin finds her.
Crispin doesn't tell her who she is right away to recover and gain her memory back. Then they end up spending time together and falling for each other. Also, it's so good because he needs to marry someone who would make a good duchess. So it's forced proximity because she has to take care of her. Jacinda ends up staying in the duchess's chambers too, which is funny. They're trying to help her get her memory back.
Author: Vivienne Lorret
Average Customer Review: (4.4 out of 5, on Amazon)
Category: Historical Fiction
Number Of Pages: 384
Available: Audiobook | Mass Market Paperback | Kindle | Audio CD
---
5. Ravished
This book is a classic retelling of Beauty and the Beast. It is about Miss Harriet Pomeroy, who loves fossils. So she's a paleontologist, and she always goes to the caves. Here she finds the hidden treasure and stolen goods from people. Harriet goes to viscount (Gideon), who is in charge of the area. There are people here who are hiding stolen goods and stealing from people. So she's more worried about it.
They figure out the people are there, and Harriet decides to intervene to ensure everything goes well. But they end up stuck in the caves because the water comes in, and they spend the night in the caves together. So she's ruined, and he knows they'll have to have a marriage of convenience to save her reputation. Gideon does not have a good reputation in town, and people say awful things about him. He's known as the beast of Blackthorn Hall.
Also, people think he was responsible for killing another woman, and they are terrified of him. So it could have easily been miscommunication where Harriet believed all the rumors people were saying. But she one hundred percent believes him, and everything he says is so behind him and loyal to him. I love the marriage of convenience and their dialogue.
Author: Amanda Quick
Average Customer Review: (4.5 out of 5, on Amazon)
Category: Regency Comedy Romance
Number Of Pages: 385
Available: Audiobook | Paperback | Hardcover | Kindle | Mass Market Paperback
---
6. Always and Forever
Our heroine, Grace Atwood, is taking a group of women to mail-order brides. Her cousin had written to her and asked for it. So they need a wagon master because of segregation and racism. They're not allowed to take the train, and they know something bad will happen if they take the train. So they want to try it, they need someone to take them by wagon.
The original wagon master randomly dies overnight, and she finds someone and tracks him down. They spend the whole time, though, going to this place with all the mail-order brides, and it's so much fun. Also, there's a little bit of romantic suspense. It's going out at the end like a lot of Beverly Jenkins books have. Pick this up if you like the whole mail order bride traveling African-American romance.
Author: Beverly Jenkins
Average Customer Review: (4.8 out of 5, on Amazon)
Category: African American Culture, 20th Century Historical Romance
Number Of Pages: 388
Available: Audiobook | Hardcover | Kindle | Mass Market Paperback
---
7. The Duke in My Bed (The Heirs' Club of Scoundrels)
The story is about Louisa Prim. Her brother dies, and he dies in a drunken race crashing. So the Duke (Bray), who was in the race, promised him he'd take care of his sisters, and then he disappeared. Bray never comes back to fulfill his promise. But now he's back, and he promises to help his sisters. Prim is the oldest sister, and she's been taking care of them all.
Many people press the Duke to help the sisters because they know about his deal. Also, it's their romance that is sweet. Try it if you like the family aspect and historical romances with dogs. It was a lot of fun for me.
Author: Amelia Grey
Average Customer Review: (4.3 out of 5, on Amazon)
Category: Regency Humor Fiction
Number Of Pages: 320
Available: Audiobook | Mass Market Paperback | Kindle | Audio CD
---
8. Jane Austen Society
Shortly after World War Two, the story follows a group of disparate people coming upon Jane Austen's crumbling estate. They see her legacy in danger, and they take it upon themselves to not only save the estate but save her legacy and begin to champion it again. All these people come from exceedingly different backgrounds a movie star, a widow, a young doctor. All come together and confront their hardships impacted both by the war and beyond in this time.
They all centered on their love of Jane Austen and saving her legacy. It is set to be a powerful novel that explores the triumphs and tragedies of life. Jane Austen's novels have been a huge part of society for hundreds of years. So how could you not fall in love with characters like Elizabeth Bennett and Mr. Darcy?
Author: Natalie Jenner
Average Customer Review: (4.3 out of 5, on Amazon)
Category: World War II Historical Fiction
Number Of Pages: 336
Available: Audiobook | Paperback | Hardcover | Kindle | Audio CD
---
9. Bringing Down the Duke (A League of Extraordinary Women)
This book takes place at a historical time as a setting. The main character, Annabelle Archer, acquires a scholarship to study at Oxford. However, some stipulations with the scholarship funded by the Women's Suffrage Society. She can only go to Oxford at the whim of her very frustrating family that she's under the care of since her father has passed away. They said, if you make any trouble, we're going to make you come home, and you're going to be a spinster governess to your cousins.
However, when Annabelle travels to Oxford, the women's suffrage society that funds her scholarship says to have it, you need to help propel our cause so it may involve with their cause. They have to go up to powerful dukes and convince them to bring their issues to the House of Lords. In doing this, she stumbles upon a very infuriating man called the Duke of Montgomery, whose cold and sneers make her angry at the first encounter. But they're going to fall in love.
This is a highly entertaining story of wits between two exciting and individual characters finding each other and falling in love. I love the setting 1879 in England and the women's suffrage element. It has an interesting historical lens, and there are going to be multiple books in this League of Extraordinary Women series. You will like this romance story of two characters that hate each other but love each other at their core.
Author: Evie Dunmore
Average Customer Review: (4.4 out of 5, on Amazon)
Category: Victorian Historical
Number Of Pages: 356
Available: Audiobook | Paperback | Hardcover | Kindle
---
10. Dangerous Alliance: An Austentacious Romance
It is a flashy romance because this is a story set in Jane Austen's time. She's a peer writing during the main character's (Vicky) time. Also, Vicky is a huge fan of Jane Austen novels and uses them as a blueprint to find her husband. She is very much a free spirit, who loves to explore her father's estate, and she's not looking to get married virtually.
At the story's beginning, Vicky's sister has fled her husband's household because he is abusive. During this time, women do not have many rights and options for getting out of marriages and protecting their estate. Once they get married, the estate's rights go over to the husband.
Therefore, Vicky has to immediately get a husband to protect their families the state and secure her sister's future. She turns to Jane Austen novels as the perfect inspiration for acting and being a lady in society. This book constantly quotes Jane Austen's scenarios from various of her books, and it's so great if you're a fan of Jane Austen. Also, it's one of those books that will keep you smiling, and you'll speed right through.
Author: Jennieke Cohen
Average Customer Review: (4.3 out of 5, on Amazon)
Category: Teen & Young Adult Literature & Fiction
Number Of Pages: 464
Available: Audiobook | Paperback | Hardcover | Kindle | Audio CD
---
11. The Gentleman's Guide to Vice and Virtue (Montague Siblings)
This is following the main character of a male perspective. We follow our main character, Monty, who's a bit of a rogue and a rake. He's about to start his grand tour of Europe. With gentlemen, do they learn a bunch of stuff? They see a bunch of paintings. Also, they do party, drink, gamble, and do all the fun things that gentlemen during this period can do.
However, Monty is a little troubled because he wants to go on this tour with his best friend, but he's also in love with his best friend. So begins the ultimate adventure between two best friends turned lovers. It's so sweet of such an endearing romantic relationship between these two boys, and seeing them finally express and explore their feelings for each other was a great time.
Also, it does have quite a bit of twists and turns. There are some unexpected non-romance elements thrown in here, but the strength of this story is the humor. There's also a huge cast of side characters that are equally lovable, including Monty's sister, who is asexual and wants to be a pirate. So there's a lot to unpack here for the period shines through, and it will be a book that will make you so happy.
Author: Mackenzi Lee
Average Customer Review: (4.5 out of 5, on Amazon)
Category: European Historical Fiction, LGBTQ+ Romance & Comedy
Number Of Pages: 544
Available: Audiobook | Paperback | Hardcover | Kindle | Audio CD
---
12. My Plain Jane (The Lady Janies)
It is technically a Jane Eyre retelling. Jane Eyre might be more gothic-inspired, but they're still romance involved in the time period is a great and fun twist. It's comedic, and it's told directly to the audience. There are a lot of twists and changes to it. As a story, it doesn't follow the main character, Jane Eyre. In fact, it follows another character, Charlotte, who's Jane's very good friend and who is on a quest to save Jane from her terrible taste in men.
Also, Jane's best friend is a ghost, and Charlotte travels with the ghost hunter. It's a quirky re-imagining of a very well-known story that has elements of romance and takes the time period and runs with it. If you're a fan of these types of historical paranormal romance, I would highly recommend them.
Author: Cynthia Hand
Average Customer Review: (4.4 out of 5, on Amazon)
Category: Paranormal Romance
Number Of Pages: 480
Available: Audiobook | Paperback | Hardcover | Kindle | Audio CD
---
13. Chain of Gold (The Last Hours)
This is set during Victorian England. It's the first book to Cassandra Clare's new last hours series within the Shadow Hunter World. She said that you don't need to read any of the other books within this world to read this. So it has some of the best atmospheres of how demon hunters and demon slayers work. We've read many books in this period, but seeing that culture placed in a Victorian setting was fascinating and so well done.
The circumstance of society is a very prominent part of this story. The romance, courting, stroll, parks, even how people communicate are all there. So it adds such a great atmosphere and angst between a lot of the characters. Cassandra Clare can create between characters and draw the anxiety of waiting for them to be together that's hopefully present and due to the Victorian setting.
Author: Cassandra Clare
Average Customer Review: (4.8 out of 5, on Amazon)
Category: European Historical Fiction, Fantasy Action & Adventure
Number Of Pages: 592
Available: Audiobook | Paperback | Hardcover | Kindle | Audio CD
---
14. Cold-Hearted Rake (The Ravenels)
This book is about a man who inherits a title and a big house. He goes to the house and finds that its previous owners are still living there, namely the widow of the man who died and left the estate in the house. The title to him and Rafael's family are the most adorable ragtag bunch. You learn to love them all. All of them have very strong personalities.
In The Ravenels series, each book takes a different sibling or friendship group. In turn, Ravenel does the very same thing. Many of these novels are interwoven with a historical event that will have happened at the time. So in the original series, there is a historical plotline, all about late to 19th-century agriculture. Lisa Kleypas's stories are my all-time favorite historical romances is because the romance is so exquisite, and the banter is hilarious.
Author: Lisa Kleypas
Average Customer Review: (4.4 out of 5, on Amazon)
Category: American Historical Culture Fiction & Romance
Number Of Pages: 419
Available: Audiobook | Paperback | Mass Market Paperback | Kindle | Audio CD
---
15. The Song of Achilles
It is based on the Greek myth of Achilles and Patroclus and narrated from his point of view. They have a fabled love story, and it is a male-male romance that is heartbreaking, emotional, and passionate. But it is also an excellent historical romance and an excellent queer love story.
Love stories in historical novels are completely overlooked, and I would love to read more queer historical novels. The story looks at the softer elements of the myth around Achilles, and it draws more attention to Patroclus, who is his lover.
Author: Madeline Miller
Average Customer Review: (4.7 out of 5, on Amazon)
Category: Classic Literature & Fiction
Number Of Pages: 416
Available: Audiobook | Paperback | Hardcover | Kindle
---
Read More Similar Books: Best Steamy Historical Romance Books