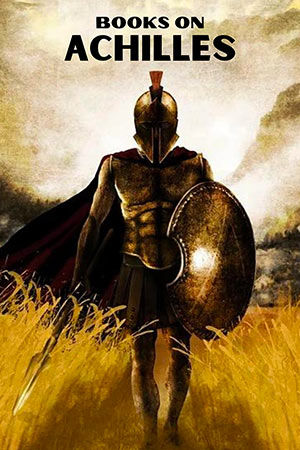 In the eighth century B.C. in ancient Greece, that was a great poet by the name of Homer. He had two big poems, The Iliad and the Odyssey. Those significant poems are considered essential works in Greek literature and Homer's Iliad, one of his two great poems. We find the story of Achilles and the Trojan War. The story's main focus is on a dispute between Achilles and his king Agamemnon. But the story also touches on the Trojan War that has been going on for about a decade.
The story features many Greek heroes like Achilles himself, King Agamemnon, the two Trojan princes Hector and Paris, and the wonderful Helen. She was the cause of all of this chaos. Like most mythological heroes, Achilles had a very complicated family tree. Achilles was born a mortal, and the mother wasn't happy with it. She was constantly worried about her son's mortality. She didn't want to see him die, so she plotted a way to make him immortal. This being a Greek myth, you can be sure that she found the way.
According to the legend, the Trojan War began when the Greek god Zeus wanted to reduce the population on Earth by starting a war between the Greeks and the Trojans. To do that, the gods persuaded the young and naive children, Prince Paris, to take us his wife, Helen, the most beautiful wife there ever was.
The only problem was that Helen was already married to somebody else, Manila Alice, the king of Sparta, part of Greece. This wasn't going to end well when Manila assembled a massive army abroad Achilles with him and went straight for Troy. So that's the background of Achilles's story. If you are waiting to read books on Achilles, stay with me.
5 Books About Achilles (Troy & Trojan War)
In Greek mythology, one man can make the entire difference. Achilles vowed to get revenge and kill Hector. He went all the way to Troy's gates. But Hector was in front of the city gates, and because Achilles was immortal, he eventually killed Hector.
Then he further humiliates Hector by dragging his body down to the Greek shores. That's a decision to humiliate Hector and eventually give back the body to his father for a proper burial. It's a nice turn of the story. To know more, here I will review 5 books about Achilles. Let's go!
1. The Song of Achilles
The Song of Achilles is about Achilles and Patroclus. It follows their relationship as they grow up and eventually go to war against the Trojans. Achilles is the son of a sea nymph and a mortal human. There was a prophecy about the sea nymph that her child would be greater than their father. So the gods forced her to be with a mortal so that her son would not be greater than the other gods.
The sea nymph hates humans pretty much and only likes her son. He is greater than all the other humans. Patroclus is the son of a king but is exiled, so he doesn't have any status. He has always been a weird one, and he has never been accepted into any friend group. So they're both a few outsiders. Achilles is amazing at everything, and Patroclus is weird, and people don't like him. But the two eventually find each other, and they become fast friends and then soul mates.
There were relationships between two men in ancient Greece. They weren't in a positive light, but they didn't exist. They were there, and they happened. But Achilles was so great that people needed things from him anyway. So they treated him better than if he was a regular guy with a relationship with another guy. This book is written from the point of view of Patroclus. His filter on what was happening in Achilles's life was exciting and compelling, and I wanted to keep reading.
Author: Madeline Miller
Average Customer Review: (4.7 out of 5, on Amazon)
Category: Literature & Fiction, Classic American Literature (Best Seller)
Available: Audiobook | Paperback | Hardcover | Kindle
---
2. The Iliad
The Iliad follows two warring armies. These people have become enemies because one woman left her husband for another man and caused all this devastation. That in itself is pretty despicable, as a whole war for one woman. So there are so many characters in the Iliad, both the gods, Warriors, Kings, and queens.
All of them play a role in this story. There are so many terms for people and their armies and their lands. Army person has three different names, so it gets a little confusing. In a way, it was nice because it was straight to the point. No man or woman born coward or brave can shun his destiny. Fate, war, glory, pride, rage, divine intervention are some of the themes of the Iliad that we see in this graphic novel adaptation. The story of Achilles versus Hector is entertaining. Also, it is one of the best books on Achilles, I must say.
Author: Gareth Hinds
Average Customer Review: (4.8 out of 5, on Amazon)
Category: Greek & Roman Myths & Legends, Epic Poetry
Available: Paperback | Hardcover | Kindle
---
3. The Silence of the Girls
It's a story that follows the women slaves in the Greek camp during the Trojan War. So this book is done from the point of view of a female captured and given to Achilles as his war prize. All the women in that town were taken as slaves. The men were killed straight away, and most kids were also killed.
Perseus does cause the rift between Achilles and Agamemnon. There's this whole thing with Agamemnon and his woman, who was captured from a different town. However, she was the daughter of a priest of Apollo. Apollo is not happy about this when he finds out because he's a God. He finds out that they have crises, and he wants them to give the crisis back. So he sends a plague down to the Greeks. They're all dropping dead, and everybody has to send back crisis. Everybody else in the camp has a war prize, and he doesn't harm his ego.
Author: Pat Barker
Average Customer Review: (4.3 out of 5, on Amazon)
Category: Ancient History Fiction
Available: Audiobook | Paperback | Hardcover | Kindle
---
4. Ransom
King of Troy (Priam) travels Greek to plead with the warrior Achilles to release the body of his son, Hector. Achilles has spent each day desecrating the body of Hector as revenge, despite Achilles's refusal to give up Hector's body. Priam is convinced there must be a way of reclaiming the body of pitting new ways against the old and forcing the hand of fate.
Ransom suggests that revenge is not the answer to grief. It's always important to think before you execute. This is a theme-based prompt because the keywords revolve around revenge and grief. You will see Achilles's soft side and hard side and his braveness and morality. The author focuses on the character and life history rather than war, and you will love it.
Author: David Malouf
Average Customer Review: (4.4 out of 5, on Amazon)
Category: Fairy Tale Fantasy, Military Historical Fiction
Available: Audiobook | Paperback | Hardcover | Kindle
---
5. A Thousand Ships
A Thousand Ships is a retelling of the Trojan War from the perspective that the women involved are connected somehow to the war. The book covers all of the key parts of the Trojan War, including but not limited to the golden apple and the plague on the Greek camp.
Natalie Haynes covers the events of the Iliad, which is the largest source of information on the Trojan War that we have. She also covers the aftermath of the war, Achilles, including the Trojan women who spend most of their time in this book in a Greek prisoner camp. This book covers so many myths and legends in great detail without being overpowering with too vague information.
This is not how women were often portrayed in ancient literature unless it led to a downfall. But in a thousand ships, these brutal actions do not lead to Huckabee's downfall, as she cannot get much lower than she already has. We got to see the clashing natures of horror, Athena and Aphrodite. We got to read the anger, disgust, and loneliness of Eris, and we also got to see a portrayal of the pain, both mental and physical, of Gaia and the desire to help from Smith's one goddess.
Author: Natalie Haynes
Average Customer Review: (4.4 out of 5, on Amazon)
Category: Ancient History Fiction
Available: Audiobook | Paperback | Hardcover | Kindle | Audio CD
---
Read More Greek Mythology: