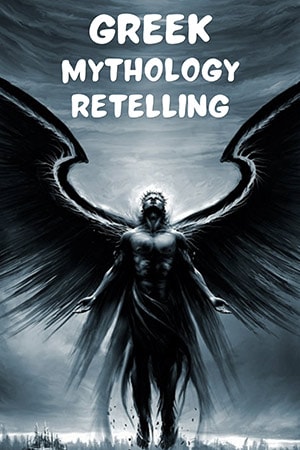 Greek poets Homer and Hesiod wrote Greek mythology. Our modern authors use these myths as characters, plots, and themes that make storytelling stories. Greek mythology is everywhere at the moment. We seem to be going through some renaissance of mythology retellings from different places. But Greek has always been the big one in the Western European world.
Greek mythology retellings are one of my favorite genres. So I have done quite a bit of reading of mythological tales, and I will bring you my few favorites. If you want to read Greek mythology retellings books, stay with me.
15 Greek Mythology Retelling Books (Modern Adaptations)
Greeks are famous for developing philosophy. The most influential philosophers in history are Greeks: Socrates, Plato, and Aristotle. It is said that the Greeks created the first intellectual civilization for them. Intelligence and knowledge were essential, dominating the Mediterranean for centuries. They loved theater and sports competitions, and they created the Olympics.
The ancient Greeks were polytheists. They believed in many gods. Greek mythology is full of mysterious stories and legends. In Greek mythology, there were also heroes like Hercules, Achilles and strange beings like Minotaur and mermaids. As you have learned in ancient Greece, important things are created that we continue to use today, such as democracy, politics, philosophy, theatre, and the Olympics.
As we always say, it is fundamental to know the past to understand the present and improve the future. So we can learn more about Greek mythology by retellings. Now, I will review 15 Greek mythology retellings books for you. Let's go!
1. The Song of Achilles
It is the story of Achilles, the greatest warrior in Greek mythology, most famous for the Trojan War. This story is about his upbringing, childhood, and relationship with Patroclus, a massive point of contention throughout literature. I love their cousins, who were close male friends, which constituted lovers and friends back then. So it one was one of my favorites, and this Greek literature was incredible.
I read this book a couple of years ago and fell in love with Madeline Miller's writing style. There was more to Achilles and Patroclus than most retellings would have you believe. So you get to see Achilles as a young boy, where he trains, where he becomes who he is, and his story throughout the Trojan War.
Author: Madeline Miller
Publisher: Ecco
Average Rating: (4.7 /5)
Tropes: Sci-fi-fantasy, Romance
Number Of Pages: 416
Item Weight: 10.4 ounces
Dimensions: 0.96 x 5.38 x 7.82 inches
Available: Audiobook | Paperback | Hardcover | Kindle | Audio CD
---
2. Circe
Madeline Miller also wrote Circe, and this one focuses on Circe, who is essentially known as a witch. She's most famous for her role in Odysseus's story. Odysseus washes up on her island after his years of travel, after the Trojan War, and they strike up a relationship there. So in most mythological tales, it's known as a witch. In general, as we love to do to females in mythological retellings and mythology, it isn't a huge fan favorite.
Circe's evil, and she can change men into pigs. So it's interesting to have a take on her story. I'm a huge fan of the feminist retellings or the female perspective retellings because much of Greek mythology covers male figures. For example, Achilles, Paris, Hector, Prim, and Agamemnon are all from the male perspective. So it's refreshing when you get to hear about the female perspective.
Many of these books are a heavily female perspective and female-orientated because they are the stories you don't often hear. Also, they're not super prominent in The Odyssey or The Iliad. Circe is an important novel because it takes a minor God, a minor character in Greek mythology, which is exciting and deserves her own story. Madeline Miller takes that opportunity to do that, to tell her story so often in Greek myth.
Author: Madeline Miller
Publisher: Back Bay Books, Reprint edition
Average Rating: (4.6 /5)
Tropes: War Fiction, Military, Magic, Feminist-dystopian
Number Of Pages: 416
Available: Audiobook | Paperback | Hardcover | Kindle | Mass Market Paperback
---
3. A Thousand Ships
This was a more female-based retelling of the Trojan War. You have a bunch of different women and the main cast. The tales and the way they linked together are incredible. For example, you get Penelope in the story of her parts are told in her letters to Odysseus. You have Helen, Cassandra, Hecuba, and all strong personalities. So that one was my favorite greek myth retelling that I've read in a long time.
It looks at the events of the Trojan War from the perspective of different women. There is no one protagonist in this book. The story focuses on other women, mortals, and some goddesses. Also, it's written in some different styles that keep it interesting. For example, you get Penelope, who is writing letters to Odysseus while he's out doing his Odyssey thing, and these are letterforms.
I love books that are made up of letters and journal entries. Penelope writes her letters, and you get these letters periodically through thousand ships. Gods, nymphs, and monsters are not mentioned. In addition, it is the best Greek mythology retelling I have ever read.
Author: Natalie Haynes
Publisher: HarperAudio
Narrator: Natalie Haynes
Average Rating: (4.4 /5)
Tropes: Ancient History, Classic Literature, Fantasy
Number Of Pages: 368
Available: Audiobook | Paperback | Hardcover | Kindle | Audio CD
---
4. Mythos: The Greek Myths Retold
This book focuses on the creation and the gods. We have Greek heroes and Troy, which focuses on the Trojan War. We've got the Titans, the gods, Olympus, and all of the higher mythological figures than mortals. So, anyone who's a god, a demigod, any creature or hybrid, it's very much a step-by-step guide of who is who and what is what story.
As Stephen Fry does with a twist of modernism, it doesn't read like many Greek mythology textbooks that I've read where it's fundamental. Some humor and personality are injected into it, which is so intriguing, especially through the audiobook. Listen to all of these on audiobook because Stephen Fry is a brilliant narrator.
Author: Stephen Fry
Publisher: Chronicle Books
Average Rating: (4.7 /5)
Tropes: Short Stories, Religion, Humour, Myths-legends, War, Love, Folklore & Mythology Studies (Best Seller)
Number Of Pages: 416
Available: Audiobook | Hardcover | Kindle
---
5. Heroes: Mortals and Monsters, Quests and Adventures
In this book, we have Jason, Odysseus, Hercules, Oedipus, Orpheus, and Perseus, all of those stories you encounter in Greek mythology. We see with Greek mythology that there are many names, places, and things going on, so it was digestible is the best way to put it.
Mythos and Heroes are compendiums of Greek myths, and the stories of Greek heroes are told from a more familiar perspective. The stories are more true to how they have been told for the last hundred years. If you want to read classic humorous Greek mythology retellings, try it.
Author: Stephen Fry
Average Rating: (4.8 /5)
Tropes: Classics, Arc, Funny, History
Number Of Pages: 415
Available: Audiobook | Hardcover | Kindle
---
6. The Penelopiad: The Myth of Penelope and Odysseus (The Myths)
It is essentially the story of Odysseus's wife. Odysseus left to fight the Trojan War and took ten years to get home. So this is the story of his wife and how she waited for him. A lot of Penelope's history, throughout Greek mythology, is very much that she is this patient, loving wife that waits for her husband to return.
Penelope doesn't marry again, even though many suitors approach her. Also, she raises her son, and how Penelope essentially waits for Odysseus. Margaret Atwood has written about it and has made it enjoyable. You get the story of Penelope herself, Odysseus together and what Penelope does in those years without Odysseus. So it's recounting her life and recounting all the things that she did.
Author: Margaret Atwood
Publisher: Canongate Canons, Main – New cover edition
Average Rating: (4.2 /5)
Tropes: Fairy Tale Fantasy, Contemporary Literary Fiction
Number Of Pages: 228
Available: Audiobook | Paperback | Hardcover | Kindle | Audio CD
---
7. The Silence of the Girls
It tells the story of the ordinary women that are not even mentioned in most war stories in Greek mythology. The story focuses on Briseis, who was captured during the Trojan War and made the prize of Achilles. So the story describes her relationship with Achilles and Patroclus. Her involvement in the Trojan War largely caused Achilles to pull out of the Trojan War for an X amount of time and then return.
So in this one, we also get to see a few more of the women affected in the series. It's slower than the others, especially considering it's a war story. But I still found it engaging to get this fresh new perspective that not many people are familiar with. Briseis isn't a character that you think of as Helen.
We always talk about particular people, leaders, great warriors, and fighters when it comes to war. But we don't talk about Briseis. That's what Pat Baker has done with it. She has taken Briseis and a group of women and focused on their stories. So the story is a war-political Greek myth retelling, and you must try it.
Author: Pat Barker
Publisher: Random House Audio
Average Rating: (4.3 /5)
Tropes: War & Military Fiction, Royals-and-political-intrigues
Number Of Pages: 325
Available: Audiobook | Paperback | Library Binding | Kindle
---
8. Ariadne
Jennifer Saint has done a great job of recontextualizing and refocusing our attention on Ariadne and painting the heroes that are always men of Greek mythology in a unique light. At least at the beginning of Theseus and the Minotaur, this is the story. Ariadne is the daughter of King Minos, sister of the Minotaur, and it begins with the Minotaur being locked away in the labyrinth, which Daedalus builds. Then Theseus comes along, and he jumps into the labyrinth and kills the Minotaur.
That's the first few dozen pages of this book, but it opens up into something entirely different that I didn't expect. It is the story of Ariadne, not Theseus in the Minotaur. Theseus, in this book, is an excellent example of inflated egos and toxic masculinity. Many men are, and Ariadne herself is a naive child who has to do a lot of growing. Also, Ariadne has to become powerful on her terms. So, I wasn't sure about what happened to her often and her involvement with Dionysus. It is the most fun of these novel retellings of Greek mythology.
Author: Jennifer Saint
Publisher: Macmillan Audio
Average Rating: (4.3 /5)
Tropes: Women's Fiction, Fairy Tales, Romance, Arc
Number Of Pages: 320
Available: Audiobook | Paperback | Hardcover | Kindle
---
9. Greek Myths: A New Retelling
It is a retelling of Greek mythology with a slightly feminine twist. The story focuses more on the female gods and female mortals of Greek mythology, and they are the narrator. So I was flicking through it, and I wanted to get this. Greek Myths is a compendium of Greek myths, so it's an excellent place to start.
If you know nothing about Greek mythology, you're getting origin stories, the stories of heroes, the stories of wars, gods-goddesses and their relationships, and the things they do to the poor mortals on Earth. This is everything you need to know about Greek mythology, but women are telling it. So this book is a great place to start.
Author: Charlotte Higgins
Publisher: Random House Audio
Average Rating: (4.6 /5)
Tropes: Ancient, Classical & Medieval Collections
Number Of Pages: 336
Available: Audiobook | Paperback | Hardcover | Kindle
---
10. The Greek Myths: Stories of the Greek Gods and Heroes Vividly Retold
This book was written before this renaissance of feminist and queer retellings of Greek mythology. As far as I remember, it's a little drier, but I was still enthralled by it nonetheless. So it is a detailed compendium of Greek mythology being told in chronological order from the origin, myths, and titans onwards into the gods of Olympus and all of their stuff.
You can see all the characters here. It's a book on Greek mythology that I enjoyed at the time. You don't have to read this one. But I'm going to recommend it because I have fond memories of reading it and picking it up ten years ago.
Author: Robin Waterfield
Publisher: Quercus
Average Rating: (4.3 /5)
Tropes: Folk Tales, Religion Reference, Classics
Number Of Pages: 381
Available: Paperback | Hardcover | Kindle
---
11. The Wolf Den (Wolf Den Trilogy)
In this book, we follow the story of what life would be like for a slave woman living in Pompeii. So the main character is a Greek woman called Amara. That is her prostitute name because she has been taken forcibly and is forced to live as a slave working in a brothel known as a Wolf Den in Pompeii. So the term Wolf Lupa in the Bible is an alternative word for prostitute.
When we think about that story, we think about a wolf finding these boys exposed somewhere by a river. But it could also mean that a prostitute raised them. Amara is a strong character who deals with many different women who come into the brothel and live with her. How Lady Harper wrote this is great because she's worked hard to build a full world around Amara. So whether you visit Pompeii or not, you'll get a real sense of what the city would have been like as a living city.
Each chapter is prefaced with a Roman epigram on life in Pompeii and life in the Roman city. If you are teaching city in the Roman world, I would say read this for yourself, but do not recommend it to a GCSE student. There are bits in it that aren't entirely appropriate. It's different from many other books I've mentioned because they focus on Gods and heroes, whereas this is more historical fiction. But it's about a woman's fight for survival. I love historical fiction and Greek mythology retellings, and this combines all of that into one thick book.
Author: Elodie Harper
Publisher: Union Square & Co.
Average Rating: (4.1 /5)
Tropes: Feminism, Fantasy, Arc
Number Of Pages: 488
Item Weight: 1.2 pounds
Dimensions: 5.2 x 1.7 x 8 inches
Available: Audiobook | Paperback | Hardcover | Kindle
---
12. Lore
Our main character is Lore Perseus, who has a family's sadistic murder story which turns her back on the hunt's promises of eternal glory. So her only mission was about humanity to stop the rise of new gods with the power and bring humanity to its knees. The writing style of this book is cinematic. The book only covers seven days with a few different flashbacks to years ago.
However, Alexandra Bracken did an excellent job balancing fast-paced action, dialogue, and character development. So it can be very easy when you're writing a book based on conflict and violence, and it's based around hand-to-hand combat. My favorite thing about it was the extensive engagement with Greek mythology and the different plot twists. The ending is a bit rushed, but it's often the way in young adult novels to rush the ending to hold the audience's attention span.
Author: Alexandra Bracken
Publisher: Disney-Hyperion
Average Rating: (4.4 /5)
Tropes: Fantasy Action & Adventure, Suspense, Angst
Number Of Pages: 480
Item Weight: 1.72 pounds
Dimensions: 6.4 x 1.7 x 9.35 inches
Available: Audiobook | Paperback | Hardcover | Kindle
---
13. Galatea
Galatea is a short story based on a woman who is created as a statue and turned into a real woman, the womb of the gods. So this is a short story that follows Galatea, who's a Greek mythological character. Also, it's not her becoming a human, but she's been alive for many years. She's given birth to a child. Moreover, it's about her relationship with her husband and her captors and the life that she lives.
Pygmalion carves a beautiful woman statue, Galatea. Then he cries because she's a statue and he can't love her. It's very strange and problematic. So, the Roman goddess Venus turns Galatea into a real woman. So they live happily ever after, and they theoretically fall in love. At the end of the story, Galatea does that to free herself of oppression and suppression.
Galatea is a character that plays a role in the myth of Pygmalion. It's very commonly played in modern movies and theater. A lot of these stories stem from Pygmalion and the Play called Pygmalion. Also, it has the same sentiments as the myth.
Author: Madeline Miller
Average Rating: (4.2 /5)
Tropes: Short Stories, Tragic-heartbreaking
Number Of Pages: 20
Available: Hardcover | Kindle
---
14. The Women of Troy (Women of Troy)
This book follows up on picking up where the other left off, rather than looking at Achilles and how difficult it was to live with Achilles. The story mainly focuses on Achilles's son, Neoptolemus, which means new warrior. In classical myth, he's considered a worse incarnation of his father. He doesn't have the same heroic values as his father, and he's quite a complicated figure. So you're looking at how Neoptolemus tries to live up to the dead Achilles.
This book also focuses on Briseis, similar to The Silence Of The Girls. If you're familiar with the Play, many of them are in here. We have Hecuba, Andromache, and Cassandra. A few new characters are added to the story, which rounds it up. The story was a little slower-paced, so I didn't enjoy it as much. It seemed not a lot happened, and where the endpoint was interesting.
Author: Pat Barker
Publisher: Random House Audio
Average Rating: (4.2 /5)
Tropes: War & Military Fiction, Historical Fantasy
Number Of Pages: 304
Available: Audiobook | Paperback | Hardcover | Kindle
---
15. Neon Gods (Dark Olympus)
It is a romance book about Hades and Persephone. I love books that are retellings of Hades and Persephone's modern retelling stories. The story set Olympus as the United States! The fact that Hades and Persephone didn't know about the underworld. Also, they didn't know what was on the other side of the river Styx was. So it was bizarre to me.
In this modern Olympus world, Persephone is the socialite daughter of Demeter, and Zeus wants to marry her. So the book's opening is getting engaged to Persephone, and she is not happy about this. Persephone then ends up finding Hades. They devise a plan to make Zeus not want to marry her by them hooking up publicly to show that Zeus tarnishes her.
There is nothing in this book that you can learn from, but It's only learning about the ancient world. Also, there is a wrong reference in this, and it is my personal opinion as a historian. Try this one if you want to read Greek mythology retelling with romance.
Author: Katee Robert
Publisher: Dreamscape Media, LLC
Average Rating: (4.3 /5)
Tropes: Erotic Romance, Bad-boy, Fake-dating, Myth
Number Of Pages: 380
Available: Audiobook | Paperback | Kindle | Audio CD
---
Read More Similar Books:
15 Books On Greek Mythology For Beginners
5 Greek Legend Books About Achilles
5 Retellings Greek Myth Books About Medusa
Best Books On Hercules Retellings
5 Historical Fiction Books About Atlantis
5 Homer Retelling Books About Helen Of Troy
5 Olympian Warriors Books About Poseidon
Top 3 Greek Goddess Books About Aphrodite
Popular Greek Myth Books About Dionysos