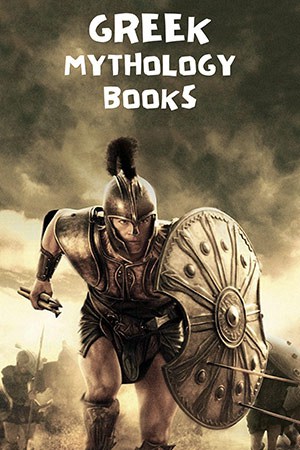 Greek mythology is composed of stories about gods, but it is not an account of Greek religion. Instead, these were written to serve as a way of explaining how things came to be. Some stories in Greek mythology were also written to teach about various subjects, such as the responsibilities of humans, behavior, emotions, the strengths, and weaknesses of humans, family relationships, and rivalry and conflicts.
However, some myths do not present to explain anything. This functioned as a form of pure entertainment and was told by ancient Greeks to pass the time. Three words serve as the basis for classical Greek mythology. These are the journey by Hestia, the Iliad, and The Odyssey, written by Homer. They contain most of the basic themes and characters found in Greek mythology. If you want to read books on Greek mythology as a beginner, follow me.
15 Books On Greek Mythology For Beginners (Lyrical Poetry & Ancient Literature)
The ancient Greeks knew how to tell relatable stories that captured the core of the human experience despite their seemingly fantastical subject matters. People will write many academic papers on this subject and unconsciously parallel it in their own modern stories and blog.
As a myth reader, I always try to read Greek mythology and want to know more about ancient Greek culture, people, politics, religion, etc. If you are new to Greek myth, do not worry! I have a chronological list that will give you the basic idea of Greek myth and reading order. Now I will review 15 books on Greek mythology for beginners. Let's go!
1. The Iliad
I want to start with the topic of epic poetry, which is one of the most famous and popular genres of writing from ancient Greece. It garnered a lot of respect from the ancient Greeks. Also, it is the oldest genre before ever being written down, and it was how they orally transmitted stories through generations. So this book is a piece of archaic Greek myth literature dealing with the Trojan war events.
Chronologically it's the Iliad that comes first in terms of events. It specifically follows the soldier Achilles and his rage and emotional turmoil during a short period in the Trojan war. So the book doesn't cover the whole decade that is the war, and it doesn't cover the infamous trojan horse. We get to see Achilles' emotions and experiences in some of the war's final days,  as it is an essential piece of literature. I would highly recommend this Greek mythology for beginners, which is one of the more recent translations in English by Emily Wilson.
Author: Homer
Publisher: Penguin Classics, Revised Edition
Average Rating: (4.7 /5)
Tropes: Classical Poetry, Philosophy
Number Of Pages: 608
Item Weight: 1.61 pounds
Dimensions: 8.4 x 5.7 x 1.9 inches
Available: Paperback | Hardcover | Kindle
---
2. The Odyssey
This one is an adventure story and the journey of the hero Odysseus following the trojan war. He attempts to get back home, but different mythical beasts and gods get in his way. We get Odysseus's perspective and hear from his son and wife, who are still at home waiting for him.
This book will encounter many famous names and events and get a good overview of one of Greek mythology's most heavily referenced pieces. If you're a fan of Circe by Madeline Miller, this is your first port of call for reading more.
I completely understand that verse may be a little bit intimidating. It does stay a little bit truer to the original text because it retains that writing style. Suppose you are put off by the idea of reading something in verse. After reading The Iliad, you must try it.
Author: Homer
Translator: Emily Wilson
Publisher: W. W. Norton & Company, 1st Edition
Average Rating: (4.7 /5)
Tropes: Poetry, Fantasy, Adventure
Number Of Pages: 592
Item Weight: 1.48 pounds
Dimensions: 5.8 x 1.5 x 8.3 inches
Available: Paperback | Hardcover | Kindle | Audio CD
---
3. Theogony and Works and Days (Oxford World's Classics)
It is a bind-up of Hesiod's Theogony and Works and Days, two shorter didactic poems. Particularly the Works And Days explore the origins of human life on earth. These poems take you back through the family tree of the most important, most well-known Greek gods. So it gives you an excellent introduction to the topic of Greek mythology. Also, the creation of humanity through Pandora and Prometheus and all the myths are tied up in human life.
There are many layers to dig deep into with any ancient Greek mythology, but that is what this book is on the surface. It is because of that that it makes for very easy reading. Also, It's a very short Greek lyric poetry book and oxford world classics edition. You will get the same vibe and story of the Iliad and Odyssey.
Author: Hesiod
Publisher: Oxford University Press, Reissue Edition
Average Rating: (4.7 /5)
Tropes: Classical Literary Criticism, Folklore, Psychology, Self-help
Number Of Pages: 112
Available: Paperback | Kindle
---
4. Jason and the Golden Fleece (The Argonautica)
It's a little bit shorter than Homer's epic poems, and this one dates from quite a few centuries later, the Hellenistic period. This is my favorite piece of epic literature, but that will vary depending on what kind of reader you are. We follow the story of the hero Jason and his crew of argonauts who sail across the seas to get the golden fleece from the king of Colchis. Also, when Jason meets the princess Media and about their romance, how she helps him and his crew.
If you're interested in learning more about epic poetry as a genre, it's interesting to compare it to Homer's work because it's quite different in tone and style. Moreover, it plays on political themes in literature that were important to people in Apollonians of Rhodes' times. However, it is a very compelling narrative regardless of all of that. So, you don't need to do a super-deep dive into the genre and the history of epic poetry to enjoy it for beginners or new readers.
Author: Apollonius of Rhodes
Publisher: Oxford University Press, Illustrated Edition
Average Rating: (4.6 /5)
Tropes: Fairy Tales, Poetry, Adventure
Number Of Pages: 175
Available: Audiobook | Paperback | Kindle
---
5. Homeric Hymns
On a few occasions in ancient Greek myth, you will come across that things are attributed to authors that no one believes, and this is one of them! However, this is essentially a collection of important myths in hymn or poem format. So you will come across some of the original versions of the Demeter, Hades And Persephone myth here.
Some of them are only more breakdowns of the gods themselves. So if you're interested in Greek mythology and who the main pantheon of Greek gods are, this is a great place to go, aside from the fact that it's written in a poetic style. Also, It effectively reads like a short story collection. So it's an excellent choice for beginners in Greek mythology.
Author: Michael Crudden
Publisher: Oxford University Press, 1st edition
Average Rating: (4.7 /5)
Tropes: Fantasy, Literature, Religion
Number Of Pages: 159
Item Weight: 5.2 ounces
Dimensions: 7.6 x 5 x 0.5 inches
Available: Paperback | Hardcover | Kindle
---
6. Sappho
Sappho's name has become synonymous with sapphic love and women loving each other whether they're bisexual, pansexual, lesbian, or have you. Sappho is effectively an icon in the LGBTQ+ community because she is an example of an ancient woman who loved other women, and these are her poems.  
Now Sappho's poems may generally feel more familiar to modern poetry because they're not in that epic style. They're shorter, although a lot of them aren't in full, some of them have only survived in pieces, and you're only reading them. But even those poems only have two lines surviving are so beautiful that this book is so well worth reading for beginners.
There are lots on the themes of love and family, and it is also wonderful to be able to read something written by a woman from antiquity because that is so rare. So it's a significant part of an introduction to ancient Greek mythology in family fiction and romance.
Author: Sappho
Publisher: University of California Press, Third edition
Average Rating: (4.7 /5)
Tropes: Gothic & Romantic Literary, Criticism, Anthology
Number Of Pages: 128
Available: Paperback
---
7. Oresteia
Particularly in Athens, where most of the tragedies and comedies come from. Tragedies and comedies were performed as part of religious celebrations and religious festivals. Most ancient Greek tragic plays would have been written and performed in trilogies. So three plays, one after another, told the story of a whole myth written and performed about ancient Greek mythology.
The only ancient Greek trilogy to survive in full is Aeschylus Oresteia. So no other ancient Greek tragedy has come down to us with its companions. It is the only one where we have the entire story arc, as it would have been performed in all three plays. The three plays in this book tell the story of Agamemnon, Clytemnestra, Orestes, their son, the murder, the revenge, and all of the drama intertwined in their lives. I do think this one is one of the best to start with in terms of getting to grips with the genre of ancient Greek tragedy.
Author: Aeschylus
Publisher: Hackett Publishing Company, Inc., New Ed edition
Average Rating: (4.5 /5)
Tropes: Theater, Plays, Academic, Classics
Number Of Pages: 224
Available: Paperback | Hardcover | Kindle
---
8. The Three Theban Plays: Antigone, Oedipus the King, Oedipus at Colonus
Some of the most popular plays by Sophocles are his three Theban plays. So these are usually collected together, but they are not from a complete trilogy. They all deal with the same myth, which is a little bit misleading, and they can be read consecutively to get a good idea of the myth as a whole. Those are Antigone, Oedipus the King, and Oedipus at Colonus.
Although the order in this collection is slightly odd! Oedipus, the king, should be read first if you're going to read them chronologically. It's another great insight into some famous Greek mythology. As a beginner, you must not miss it!
Author: Sophocles
Publisher: Penguin Classics, 1st Edition
Average Rating: (4.6 /5)
Tropes: Tragic Dramas & Plays
Number Of Pages: 430
Available: Paperback | Hardcover | Kindle | Mass Market Paperback
---
9. Medea and Other Plays
This book collects together Medea, Hippolytus, Electra, and Helen. So each play in this collection again would have come from a separate trilogy but deals with the myth of one specific ancient Greek woman, and Medea is his most famous. I want to provide a caveat to anyone going into Medea because it's a popular entry point into an ancient Greek tragedy.
There's a lot of emotion there, and it's fascinating, but it is Euripides's version of this myth. So the thing about ancient Greek myths is that each one has numerous different versions. Also, it's not uncommon to find versions of the myths that we don't find anywhere else before the tragedians in a tragic play. That's not to say that they made them up off the top of their head. That's also to say that these are not the only versions.
So famously in Medea, Medea kills her children, and she gets this reputation as the mother murderess. It was not the most popular version of that myth until Euripides. Medea does not kill her children and deserves both sides of her story to be known more often than not.
Author: Euripides
Publisher: Oxford University Press, Reissue Edition
Translator: James Morwood
Average Rating: (4.7 /5)
Tropes: Medieval Literary Criticism, Dramas & Plays, Legend-retellings
Number Of Pages: 218
Available: Paperback | Kindle
---
10. Birds and Other Plays
Despite the popularity of tragedy, it didn't seem fair not to include some comedy. I love ancient Greek comedy, Aristophanes in particular, how recognizable some of this humor is. You will find in Aristophanes straight-up fart jokes that demonstrate how some things never seem to go out of style.
Also, it breaks down some of that pretense and that pomp that surrounds ancient Greek literature. It gets this reputation for being quite intimidating and high, but half of its fart jokes. So I would suggest checking out a little bit of Aristophanes if you want a little bit of insight into ancient Greek humor. This collection binds Birds, Lysistrata, the Assembly Women, and Wealth.
Aristophanes has various plays, but Lysistrata is one of his most famous and popular. So it's a great entry point, and you might recognize it in some more modern retellings that play on that myth and its themes. Read this book after finishing Medea.
Author: Aristophanes
Publisher: Oxford University Press
Average Rating: (4.9 /5)
Tropes: Linguistics, Classical Dramas & Plays, Literary Criticism
Number Of Pages: 384
Item Weight: 10.1 ounces
Dimensions: 7.6 x 0.9 x 5 inches
Available: Paperback
---
11. The Symposium
This is a philosophical work, and it is told in the style of a group of friends who have assembled at a symposium. It is, in effect, a drinking party that men would have attended together. They are all sitting around the symposium telling their versions of love and what love is, especially in terms of the god Eros, who he is, and what influence he has on society. Each has a very different theory.
So when you're reading this, you're getting lots of tiny different philosophical ideas of what love is. Also, it references a variety of different Greek myths. So it's an interesting little book about a great introduction to Plato.  
There's a lot more Plato to read, he remains one of the most famous philosophers of all time, and some of his work is quite dense and intimidating. You don't need to have as great an understanding of ancient Greek society to jump into this work.
Author: Plato
Publisher: Penguin Books
Average Rating: (4.2 /5)
Tropes: Philosophy, History
Number Of Pages: 128
Available: Paperback | Kindle | Mass Market Paperback
---
12. Daphnis and Chloe (Oxford World's Classics)
This is a prose novel or prose fiction story that's an entire creation by the author instead of being a version of a myth. That type of ancient Greek literature didn't become popularized until the Hellenistic era. We only have five ancient Greek novels surviving at all. It is, in essence, the story of the shepherdess and goat-herd Chloe and Daphnis, who have reached a stage in their life. 
They've started to feel sexual attraction for the other and don't know what to do about it. So, it is comical and entertaining readable, demonstrating how old the desire for entertaining literature is. You will feel closer to the ancient Greeks themselves and know a more basic introduction or history of Greek myth.
Author: Longus
Publisher: Penguin, New Impression edition
Average Rating: (4.5 /5)
Tropes: Gothic & Romantic Literary Criticism, Anthologies & Collections
Number Of Pages: 124
Available: Paperback | Kindle
---
13. The Library of Greek Mythology
This is a collection of short stories representing the Greek myth creation, authors, and other stories like a combo pack. Some of them are a paragraph long, others last for many pages, demonstrating how intertwined ancient Greek mythology is. Often one myth leads into another chronologically, and characters from one myth meet another myth in another. This edition even has a glossary at the back.
So you can look up any names you want to learn more about or have read online. It is the closest thing in ancient Greek mythology where you will find an entire collection of their myths in one place. So it's the closest thing you'll find.
Author: Apollodorus
Publisher: Oxford University Press, 1st edition
Average Rating: (4.6 /5)
Tropes: Mythology & Folk Tales, Literary Movements & Periods
Number Of Pages: 336
Available: Paperback | Kindle
---
14. Metamorphoses
The Metamorphosis is an exciting place to start for a lot of reasons. It's one of the easiest Roman texts to understand, and its influence on Renaissance art, in particular, is very easily recognizable. Also, it is an epic poem that centers around retelling the myths. For Ovid, the main theme of the Greek and Roman myths is transformation. So hence metamorphosis, one thing becoming another.
You can see a stunning statue done by Bernini, Apollo, and Daphne on this copy. Daphne runs from Apollo's attention to be saved from them, and she's turned into a tree. The statue captures that moment when she begins to transform. So you can see that her fingers are twisting into branches, and her feet are becoming roots and trunks.
The Metamorphoses is an interesting case because it is a text that never fell out of fashion after the fall of Rome. It's a work that influenced Dante, Boccaccio, Chaucer, and even Shakespeare. There is a segment of the metamorphosis towards the very beginning entitled The Divine Comedy, which is technically the title of Dante's overarching series, The Inferno Purgatorio Paradiso. It's called The Divine Comedy. So there's an interesting link there.
Also, the poem is written and Dactyl Examiner, which is famous for being the meter that Homer used in the Iliad and The Odyssey. So it's one of the easiest ancient classics to get into, and it's a good one to get into the mindset of those who lived during the Renaissance.
Author: Ovid
Publisher: Penguin Classics, Reprint Edition
Average Rating: (4.7 /5)
Tropes: Criticism & Theory, Poetry, Philosophy, Fantasy
Number Of Pages: 768
Available: Audiobook | Paperback | Library Binding | Kindle
---
15. Daughters of Sparta
We follow the story of Helen and Clytemnestra, Helen of Troy, and her sister Clytemnestra. Clytemnestra and Helen are technically sisters. So she's Agamemnon's wife, who famously killed him in the tub. They grew up together, and everything before they were married off in various ways. Claire Heywood went with when writing this book that you alternate from chapters in Helen's point of view to their point of view.
Even though the beginning of the book starts with them as kids. So it starts with them playing about together and growing up together. Helen is in Sparta first and then in Troy as the narrative diverges. Meanwhile, Clytemnestra's half story follows her being married off to Agamemnon, her kids. It starts with the Trojan War and all of that. So that's where their narratives are the same but from two different points of view.
When Agamemnon comes home, your story continues after that. It's the women's point of view of all of these very famous moments from mythology and legend and how they're viewing the situation rather than us getting it from a playwright. You guys can learn a lot as a starter from this book because the author sticks so closely to the original Greek mythology.
Author: Claire Heywood
Publisher: Dutton
Average Rating: (4.3 /5)
Tropes: Sisters Fiction, Folk Tales, Retellings, Feminism, Arc
Number Of Pages: 384
Available: Audiobook | Paperback | Hardcover | Kindle
---
Read More Similar Greek Myth Books:
15 Greek Mythology Retelling Books
5 Greek Legend Books About Achilles
5 Retellings Greek Myth Books About Medusa
Best Books On Hercules Retellings
5 Historical Fiction Books About Atlantis
5 Homer Retelling Books About Helen Of Troy
5 Olympian Warriors Books About Poseidon
Top 3 Greek Goddess Books About Aphrodite
Popular Greek Myth Books About Dionysos