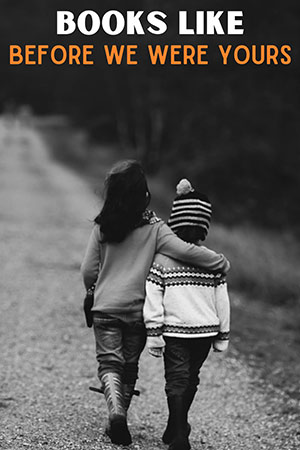 Before We Were Yours by Lisa Wingate is a historical fiction novel dealing with child abuse and society. This book is about fictional characters whose lives were impacted by the Tennessee Children's Home Society in Memphis. It was run by a woman named Georgia Tann. She reminds me a lot of Dolores Umbridge from Harry Potter, who says she's a real-life evil witch who has this bizarrely polished exterior.
With the help of local politicians, Georgia, the local police force, and local judges would systematically swindle disadvantaged parents into surrendering their children. Sometimes she would outright kidnap poor children.
These kids were resold for a profit to wealthy families across the country, and the records would be destroyed. So the recordkeeping was terrible. But it's estimated that five thousand children were taken from families that weren't willingly giving them up during the lifespan of this children's home, and around five hundred of them died in the house.
So the book does help you process things and come to peace about things. This is one of those books that has two storylines running parallel. The way it's set up is that every other chapter has one of the storylines. There's a storyline happening in 1939, and then there's a storyline happening in the present day. Also, the story is told from the first-person perspective.
So there are two main characters that we're following. One from nineteen thirty-nine and one from the present day. There is child abuse and molestation in this book. If you're a die-hard historical fiction fan and want to read more, you are in the right place.
7 Books Like Before We Were Yours
We know that 'Before We Were Yours' is very emotional and dark. Throughout the story, we see many crime aspects, like kidnapping, drugs, and abuse. The author describes the hidden face of society and gives us some moral lessons. So it is set very well in the historical genre. Now, I will review 7 books similar to Before We Were Yours. Let's go!
1. Pachinko
This is a historical saga following the story of Sunja's family over 100 years as they move from Korea to Japan in the 1800s. It is so vast in exploring the social and political dynamic between the Koreans and the Japanese at a point in time when the Japanese were trying to colonize Korea and other Asian countries. But at the same time, it is so intimate and emotive in exploring specific human experiences that we might not resonate specifically with, which opens our eyes anyway.
The author, Min Jin Lee, spoke at the Sydney Writers Festival, and her motivations behind writing this book made me fall in love with it even more. The first thing she said that stuck with me was that she loves to observe and listen to other people, to see how other people behave and their motivations.
Every character goes through a specific emotional experience. Also, the way she explores it opens your eyes to what people have to deal with, even if we don't have to deal with it ourselves.
Another thing that she mentioned was that this entire book becomes one giant metaphor for the live game. Jin Lee is an American Korean who lived in Japan at one point, and she was saying how the game was. Pachinko is a traditional Korean game, and everyone that plays it knows that the game is rigged and that you can't win it. However, everyone plays it anyway. She says that ends up representing life for Koreans, life for women, and life for everyone in general. The author's writing is lyrical and transformative similar to Before We Were Yours.
Author: Min Jin Lee
Average Rating: (4.6 /5)
Category: Asian American Literature & Fiction
Number Of Pages: 512
Available: Audiobook | Paperback | Hardcover | Kindle | Audio CD
---
2. The Guernsey Literary and Potato Peel Pie Society
This book follows the story of a war journalist Juliet Ashton in 1946. One day she receives a very strange message in a book delivered to her door from the Guernsey Channel Islands that causes her to drop everything and move there. She meets the most incredible, unique, quirky cast of characters who are all part of the Guernsey Literary and Potato Peel Pie Society when she gets there.
The book is narrated in a set or series of letters from all characters on the Guernsey Channel Islands. It gives us an intimate insight into the experiences of people who are struggling with war, betrayal, loss, and love. Also, it is so hopeful and light-hearted.
One of the strongest messages of this book was the power of good people and good literature to bring everyone together, even in the direst or gloomy of situations. So it is a hopeful message, especially in the middle of a pandemic. The author of Before We Were Yours also gives the same message to readers. If you're looking for a lighter historical fiction book that will be easier to read, I recommend this.
Author: Mary Ann Shaffer
Average Rating: (4.5 /5)
Category: World War II Historical Fiction
Number Of Pages: 290
Available: Audiobook | Paperback | Hardcover | Kindle
---
3. Burial Rites
The book follows the story of Agnes, who is the last person to be put on death row in Iceland. We follow her story unfold against a stark backdrop. Fun fact! Hannah Kent, an Australian, moved to Iceland and lived in a little Icelandic cabin while writing this book. She wanted her writing to emulate the landscape she was writing about. So you can say that her writing is very descriptive, lyrical, and extremely transformative.
We follow the woman's final days before execution unfolds throughout this book. Also, we are slowly drawn into her past as we watch the brutal murder of her former master. Hannah Kent writes an extremely emotive and haunting landscape that we found in Before We Were Yours. So I would highly recommend this if you want to be transported into a very vast, shocking existence that we could not even imagine ourselves.
Author: Hannah Kent
Average Rating: (4.3 /5)
Category: Psychological Literary Fiction
Number Of Pages: 353
Available: Audiobook | Paperback | Hardcover | Kindle | Audio CD
---
4. Circe
It is mythological, historical fiction, and its cover is stunning. Like Before We Were Yours, Book was an emotional and intimate look into an infamous story that many people already know. So we do follow the story of Circe, who is one of the first witches in Grecian mythology. Circe, the main character, is an outcast on an island. You have to read the book to find out. While she's an outcast on that island, we see her encounter people for the first time again.
We also see her most famous tale unfold, which is the story of welcoming sailors onto her island. For her past betrayal, she feeds them food that poisons them and turns them into pigs, who she goes on to feed to the next lot of sailors who turn up at her island.
This book venerates her voice and motivates her actions, which seem extremely morbid. But the way Madeline Miller writes gives us an intimate insight into the experience of Circe. I would also recommend her other novel, The Song of Achilles, which made me cry. It is also a historical fiction that was based on true mythology.
Author: Madeline Miller
Average Rating: (4.6 /5)
Category: Military Historical Fiction
Number Of Pages: 416
Available: Audiobook | Paperback | Hardcover | Kindle | Mass Market Paperback
---
5. Little Fires Everywhere
This is a suburban mystery, as well as historical fiction. It is set in a very planned, perfect town in Cleveland, and we follow the story of Mia. She is a single mother and an artist who moves into this town and witnesses it be torn apart by a custody battle between a biological mother and the adoptive parents of an Asian-American baby.
The book shows every side of the story, so you aren't forced to believe one thing. Instead, you were forced to consider the book's conflict yourself and come to your conclusion. In doing that, it exposes how hypocritical being a judgmental person is.
Also, it is eye-opening in that way where you can explore different ways of approaching life, whether it's by the rules or not. Again, it exposes how people harbor hatred because of distrust, not understanding how other people might approach life, and having a different idea of right or wrong.
That is an important thing to understand about humanity and reading. Moreover, you get to see how it explores motherhood and familial connection and love similar to Before We Were Yours. So if you're looking for a book that is a deep dive into human nature that will keep you at the edge of your seat, and force you to feel conflicting things, then this is perfect for you.
Author: Celeste Ng
Average Rating: (4.5 /5)
Category: Family Life Fiction
Number Of Pages: 368
Available: Audiobook | Paperback | Hardcover | Kindle
---
6. Where the Crawdads Sing
This book is set in North Carolina in the 1960s, and we follow the unique story of Kya. She is known as the Marsh Girl in her hometown. Kya was abandoned by her family in the swamp of her town when she was seven years old. So we follow her grow up to be isolated and very different from everyone else. We also see her interact with people for the first time, fall in love, be betrayed all through her very unique lens.
The author herself was an academic biologist, so her description of the human life of Marsh or Swamp is particular and exciting. It adds an interesting layer to how our main character sees humans and how the world works. Kya is the mystery of the murder of the town's sportsman, Chase Andrews.
So we see the police investigation, and then the court trial unfolds between realizing Kya's history and past and identity. Like the book Before We Were Yours, it explores the mind of an insular and isolated woman.
Author: Delia Owens
Average Rating: (4.8 /5)
Category: Coming of Age Fiction
Number Of Pages: 400
Available: Audiobook | Paperback | Hardcover | Kindle | Audio CD
---
7. The Great Alone
The story centers mainly around Leni, a 13-year-old girl. Her parents are the post-hippie people living in the late 1970s. The father is a Vietnam War vet. He was a POW, which left quite a scar on his mind. He experiences a lot of PTSD. So he has erratic behavior that eventually becomes abusive. When his buddy leaves this Alaskan hut to him, they move out to Alaska full-heartedly, thinking it will give them the new start they need.
So they pack up this VW minibus. Alaska is a harsh, mistress, beautiful, unspoiled land. But it's also almost when you think about those frontier people who were homesteading out in the middle of nowhere didn't have any support. They were learning how to live off of the land from scratch, and many of them straight up didn't make it.
There's a lot of self-sufficiency that you have to have. This family moving out there had none of that. So Leni dragged along for the ride. Her parents caught in aunt, get out to Alaska and find that they are woefully ill-prepared. They don't know anything about aunt is falling apart and becoming more and more violent. So it's heartbreaking to think about that, and you can relate the emotions with the book Before We Were Yours. If you like hippies, then you can pick them.
Author: Kristin Hannah
Average Rating: (4.7 /5)
Category: Women's Domestic Life Fiction
Number Of Pages: 576
Available: Audiobook | Paperback | Hardcover | Kindle | Audio CD
---
---
Read More Similar Children's Historical Books: 5 Books Like Esperanza Rising