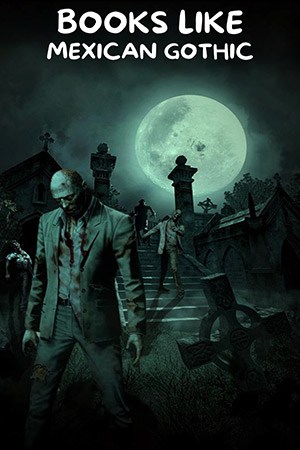 Mexican Gothic by Silvia Moreno-Garcia is hard to pin down the exact genre. But it's primarily a historical fiction horror book that's also a thriller and a mystery. The story takes place in the 1950s and follows a young woman named Noemi, a well-to-do young socialite. The story starts with her, and she's going about her business. She's at a party, and she gets summoned home by her father, and her father has a rather ominous message for her.
The father has received this message from Noemi's cousin, and the cousin is the other young woman who is a newlywed. She is married. This guy is a mystery man, like no one in their family knows that much about him. In this letter, the cousin says, I'm being poisoned, Come and help me. It was very atmospheric, creepy, and very visual.
This book has a lot of different social commentary elements, which adds an interesting sub-layer to the book. I feel like this book could have benefited greatly from some more juicy plot twists and turns. But we enjoyed it very much, so we want to read more like Mexican Gothic.
7 Books Like Mexican Gothic
Mexican Gothic was the perfect Halloween read. Gothic is the literary movement that came after romanticism. Many people tend to think the Gothic is synonymous with horror, which it's not gothic. Moore uses terror as opposed to horror. So horror is when you have a gory scene where someone gets hurt or something's uncomfortable to watch because you can see everything.
Gothic literature books tend to be creepy because the monsters are constantly in the background. So gothic tends to have the aesthetic of creepy dark hallways and old castles, forests, and governesses possessed by ghosts, vampires, all of this stuff. We saw all of this theme in Mexican Gothic. For refreshing your gothic vibe, I will review 7 historical horror books similar to Mexican Gothic. Let's go!
1. Frankenstein
Frankenstein is about a man named Dr. Victor Frankenstein. The monster is a Frankenstein. So many people call the monster Frankenstein, and it's been a huge pet peeve of mine for ages. But yet the doctor's name is Victor Frankenstein. The monster doesn't have a name. He gets called a demon.
So it's about this man who makes a creature by sneaking into graves and stealing bones and various body parts, essentially from nothing. He creates a monster. Then he immediately regrets it, and everything goes on from there. This is one section in the novel where the monster wakes up. After running out of the laboratory, he sees bugs and a babbling stream. There's so much beautiful nature imagery in this book, and I recommend you to read it if you love Mexican Gothic.
Author: Mary Shelley
Average Customer Review: (4.6 out of 5, on Amazon)
Category: Mythology & Folk Tales
Number Of Pages: 166
Available: Audiobook | Paperback | Hardcover | Kindle
---
2. The Magic Toy Shop
This book is about a young girl named Melanie, whose parents die very suddenly. She has to uproot and end her childhood and go to a horror house in London with her siblings. Here she's going to now live with her uncle, his wife, and his wife's siblings to when the death of her parents come. Her uncle was abusive to her, and a spiritual thing chased her.
So, Melanie's childhood is ripped away from her, and it follows how she deals with living in this haunted toy shop in London, where she had this beautiful bucolic life beforehand in the countryside of England. We found Noemi in the same struggling situation as Melanie in Mexican Gothic.
Author: Angela Carter
Average Customer Review: (4.4 out of 5, on Amazon)
Category: Historical Erotica
Number Of Pages: 208
Available: Audiobook | Paperback | Hardcover | Audio CD
---
3. The Complete Wreck (A Series of Unfortunate Events)
This isn't a traditional gothic literature text. But it has a very gothic aesthetic as a gothic undertone throughout the stories. The story is about the unfortunate lives of the three Baudelaire children. Essentially, their parents perished in a terrible fire that came out of nowhere. So the three orphans get shipped to relatives after a relative in an irresponsible way.
A distant relative, Count Olaf, is chasing after them, trying to make their fortune. Like Mexican Gothic, there are a lot of wonderful literary references throughout the series. For example, in the reptile room, one of the snakes was called the Virginian Wolf Snake. The original movie in the early 2000s that had Jim Carrey in it didn't touch the subplot at all. But the Netflix series, they're making it a way to avert. They've invented all of these characters who aren't supposed to be there.
Author: Lemony Snicket
Average Customer Review: (4.8 out of 5, on Amazon)
Category: Children's Action & Adventure
Number Of Pages: 324
Available: Paperback | Hardcover | Kindle
---
4. A Picture of Dorian Gray
The imagery in this book is beautiful at the very beginning of the story. There's the scene where they're in a garden, and it's describing the way the garden looks, and it was so enchanting to read. This is a very famous, gothic lit book after Mexican Gothic. There are always heaps of references to Dorian Gray everywhere.
The plot is, there's a beautiful young man named Dorian, and he's very much in love with himself. Also, he's in love with how innocent and pretty he is. His friend Basil paints a picture of him. Once he sees this picture painted of him, he realizes how lovely he looks in the picture. Then he gets ticked off because he realizes that he will never be as beautiful as the day this painting was painted.
From this point on, he will get older and older and more ugly. The painting will always stay perfect and lovely by some strange twist of fate like God hears him. Dorian stops aging. The painting instead starts aging for him. Essentially, he will go the rest of his life without ever aging. I think he was in his 20s when the painting was painted. There's a lot of witty dialogue in this book as well.
Author: Oscar Wilde
Average Customer Review: (4.5 out of 5, on Amazon)
Category: LGBTQ+ Literary Fiction
Number Of Pages: 304
Available: Audiobook | Paperback | Hardcover | Kindle | Mass Market Paperback
---
5. Jane Eyre
Jane Eyre is about a young girl named Jane, an orphan. She has to go live with a horrible aunt or uncle. Her whole childhood, she grows up pretty badly abused, and then eventually, she goes off to boarding school. Here she has a hard life. Eventually, she ends up being a young woman who is a governess to the ward of a mysterious man named Mr. Rochester.
Jane moves into this great, big, beautiful manor in the English countryside. Mr. Rochester has a mysterious past, and the house is haunted. It follows on from there, like her experiences of being a governess to this kid. The humor in the book is good, and Jane is so sassy.
Especially when she's a child at a point where a reverend comes and tells her that she will suffer because she's not well-behaved enough. But in reality, she's a kid who's being abused and trying to stand up for herself. So you can relate Jane's situations as Noemi that we saw in Mexican Gothic.
Author: Charlotte Bronte
Average Customer Review: (4.6 out of 5, on Amazon)
Category: Classic Literature & Fiction
Number Of Pages: 492
Available: Audiobook | Paperback | Hardcover | Kindle | Loose Leaf
---
6. The Haunting of Hill House
This is very much a classic horror novel published in 1959. Also, it is one of the finest gothic horror novels of the late 20th century. The Wall Street Journal went so far as to say that this is now widely regarded as the greatest haunted house story ever written.
Dr. Montague is very interested in the paranormal, so he sends letters to people who have witnessed some paranormal event. Then he invites them to spend a few weeks at a house that is haunted, and it is called Hill House. So only two young women respond. One is Theodora. She's very confident and outgoing, and gregarious. The other woman who responds is Eleanor, and she's very shy, introverted, and self-conscious. Those traits are not synonymous. She happens to be all three.
Montague also invites a young man named Luke, who will be the eventual owner of the house. The story is primarily told from Eleanor's point of view as she gets to know the characters. They all start to experience some very horrible things in the house. There were so many instances of that throughout the book.
The horror and the scary things happening are very vague similar to Mexican Gothic. If a horror novel gives everything away at the end or directly describes what is scary, it can make it less scary for the reader. It doesn't allow them to create anything in their heads or imagination. So this book leaves a lot to the imagination. If you want a horror novel that spells everything out for you, this won't be for you. But again, this is genuinely one of the creepiest.
Author: Shirley Jackson
Average Customer Review: (4.3 out of 5, on Amazon)
Category: Ghost Thrillers
Number Of Pages: 208
Available: Audiobook | Paperback | Hardcover | Kindle | Mass Market Paperback
---
7. The Gilded Wolves
Like Mexican Gothic, the story takes place in an alternate history of 1889 Paris, and it feels steampunk. There's magic, but it's cool technology in this historical period. It follows the gang of characters on a little bit of a heist. There are secret societies that they're trying to infiltrate and secret societies that have magical artifacts that they want to get their hands on. It is because these artifacts could shape the world. So there are secret societies, a heist, magical artifacts, and a gang of nerds doing their best.
Roshani has beautiful flowery writing, and the imagery is so vivid because there are so many cool things happening here. One of the things with the secret societies is that there are many mythology references. Roshani got started with a lot of mythology. I adore her because she enjoys a lot of Greek mythology. Also, there are multiple biracial characters in here. There's a bisexual love triangle as well, which is separate from the angsty ship, although that's pretty angsty too.
Author: Roshani Chokshi
Average Customer Review: (4.4 out of 5, on Amazon)
Category: Paranormal & Urban Fantasy
Number Of Pages: 416
Available: Audiobook | Paperback | Hardcover | Kindle | Audio CD
---
Read More Similar Horror Books: 5 Novels Like Flowers In The Attic