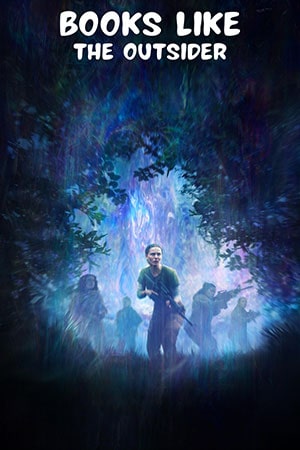 The Outsider by Stephen King is an atmospheric horror novel that does a great job establishing a community and world and then adding disturbing elements for the reader to become very invested. It is based in a realistic setting, and then slowly introducing horror elements is wonderful and works incredibly well for him.
Unlike most horror authors, Stephen's voice is all about making you feel this world is your own. This reflection of reality with maybe one element mixed in it almost reminds me of classic sci-fi in that way.
There are supernatural elements at play here, and the community has to deal with it wonderfully built. This slow tension that arises it's almost like a violin note being played a little too long. The suspense is building the entire story. You are on the way to reading more similar to The Outsider.
10 Books Like The Outsider
Stephen King has a great track record for ending stories on solid notes. The Outsider felt like an incredibly well-planned out strategized. Also, with the building of tension and characters, every scene felt like it was happening slightly faster and faster.
We were stumbling down this hill to this epic resolution, a building pace that truly worked and had the characters battle their disbelief. To keep your feelings alive and give you the same vibe, I will review 10 horror/thriller books like The Outsider.
1. The Exorcist
It is a horror classic about an actress who worries that her daughter has become possessed by a demon. So she seeks out the help of medical professionals and then the church to get her daughter exercised. I love the religious undertones of this book. It is written as a way for the author to call people back to the faith. I don't want to underplay that this is a horror book, and it was pretty darn scary as The Outsider.
This time, I listened to the audiobook, which enhanced the experience, and the woman is terrifying. I found the possession to be very believable because they spend so much time going through and crossing out all of the medical possibilities before they finally conclude. In addition, she is possessed, and the exorcism itself is so well done.
Author: William Peter Blatty
Average Rating: (4.6 /5)
Category: Psychological Fiction
Number Of Pages: 385
Available: Audiobook | Paperback | Hardcover | Kindle | Mass Market Paperback
---
2. The Good House
This follows a woman celebrating the 4th of July at her family home when her son commits suicide. Then the story is from their broken into two different timelines. One is the present day, where the woman is dealing with the grief and aftermath of losing her son and trying to come to terms with that. Then we also get to see back before the son died, what happened and the events that led to his demise.
You get to see that grief, which was so poignant but even more than that. I love this part that involved the son and getting to see what was going on in his mind leading up to that suicide. He is such a relatable character. The relationship between him and his mother is so realistic that I found me turning the pages. The suspense and world-building are very similar to The Outsider.
Author: Tananarive Due
Average Rating: (4.4 /5)
Category: Black & African American Literary Criticism
Number Of Pages: 597
Available: Audiobook | Paperback | Hardcover | Kindle | Audio CD
---
3. Strange Weather
Joe Hill quickly became one of my favorite horror authors of the four stories. One of the stories was Snapshot, which follows a nerdy teenager in the 1980s who believes a man with a Polaroid camera can steal memories. In this book, there has a lot of emotional pull that you can relate to The Outsider. Also, the story of Loaded is very topical and won't be for everyone, depending on your political leanings. But it deals a lot with gun violence and gun control in America.
Finally, I want to mention rain, a post-apocalyptic story about a small town in America. One day Crystal's nails rained from the sky, and you get to see the outcome of that. This story has some fantastic, diverse representation with a protagonist who is a lesbian. More than that, this story has a lot of political nods and winks.
Author: Joe Hill
Average Rating: (4.5 /5)
Category: Horror Anthologies & Short Stories
Number Of Pages: 432
Available: Audiobook | Paperback | Hardcover | Kindle | Audio CD
---
4. The Reaping
This follows an artist commissioned to do a portrait of a young woman, so he goes off to an estate and does the job. However, when he is there, the people living there are slightly strange about how they're acting. So the story goes from there. It's one that you want to go into without knowing too much. When you start reading it, it's very sweet and cozy. Moreover, it's very character-focused and slow-paced.
You get to see the characters' similarities between this man and Terry Maitland from The Outsider. When I read the beginning, I wasn't sure if it was for me. I thought about putting it down, but then the story went to where it was going, and I loved it so much again. The ending was brilliant and very enjoyable. It's more of a vintage horror book and worth it.
Author: Bernard Taylor
Average Rating: (4.1 /5)
Category: Horror Fiction
Number Of Pages: 256
Available: Audiobook | Paperback | Hardcover | Kindle | Mass Market Paperback
---
5. December Park
This story follows a group of boys, but particularly one who is a son of a police officer. It's set in a small town where many young people have gone missing, and the city begins to get the idea that there is possibly someone stealing away the children. At the story's beginning, this person's nickname is the Pied Piper.
Instead of a child going missing, they find that one of these young people has been murdered. So it is not that children are running away, but there truly might be a serial killer on the loose. This book made me question my beliefs like The Outsider, and I fell in love with the narrative.
It was comforting to know about this boy and his group of friends. They are a bit outcast, particularly the one boy they befriended at the story's beginning. Also, they begin to investigate what is happening in the town. So it's going to be more accessible for those of you that want to read it and if you love coming-of-age stories.
Author: Ronald Malfi
Average Rating: (4.6 /5)
Category: Horror Literature & Fiction
Number Of Pages: 534
Available: Audiobook | Paperback | Hardcover | Kindle
---
6. Midnight Rain
This coming-of-age story follows a young man who sees a terrible act. He sees the murder of a young girl that changes everything in his life. The story is told in the weeks afterward as he comes to terms with that event and tries to respond to what he saw and what he should do about it.
This book is different than December Park but very similar to The Outsider. In fact, it's much more focused around a single boy. This coming-of-age story focuses on the loss of innocence because the murder shapes his life, and you get to see the fallout, which is horrible. It is a lot darker, giving it a bit more of a nudge. If you love so emotionally affecting stories, I highly recommend this one.
Author: James Newman
Average Rating: (4.3 /5)
Category: Coming of Age Fiction
Number Of Pages: 297
Available: Paperback | Kindle
---
7. The Changeling
It is a story of Apollo's man who has a wife and a newborn son. Something terrible happens, and his wife commits a terrible act. From there, he is forced to take on the role of the hero of the story and try to find his family. This book is so different than any other horror book I have read. It has fantastical elements. There's a witchy angle to it. Moreover, it follows that almost classic fairy tale narrative of the hero saving the day.
So, it's a story about parenthood and specifically about fatherhood, which is represented in a positive light in stories. Many other people can relate and see themselves in this story. It is very scary, but not in a very classic horror way. The situations that the characters were put into terrified me on a very personal level. If you want to only read one book that I recommend this year in terms of horror or thrillers, this is it.
Author: Victor LaValle
Average Rating: (4.1 /5)
Category: Paranormal Fantasy
Number Of Pages: 431
Available: Audiobook | Paperback | Hardcover | Kindle
---
8. Jane Doe
It's about a woman (Jane) who is a sociopath and has a personality disorder. Her best friend has died or rather committed suicide after the breakup with a terrible boyfriend who treated her so badly. So Jane decides to change her identity and meet this man and ruin his life. It's the story that is a bit larger than life, and you have to suspend your disbelief.
Jane is unapologetic and lacks that emotion, which I enjoy in stories. It was enjoyable, especially on audio because of Jane's voice and expression. So if you like a thriller with horror tropes and are a fan of 'The Outsider,' you must read it.
Author: Victoria Helen Stone
Average Rating: (4.4 /5)
Category: Psychological Thrillers
Number Of Pages: 267
Available: Audiobook | Paperback | Hardcover | Kindle | MP3 CD
---
9. The Invited
The story is about a couple who move to a place in the countryside and build their dream home. However, the land that they've chosen to build on has a history to it. There are generations of women in this family who died in very strange and mysterious ways, quite young. So it's a question of whether or not this land is perhaps haunted, if it's a ghost story or if there's something else going on.
For me, it came down to the fact that this book couldn't quite decide whether or not it was a horror book, suspense, or a thriller. It edged the different lines like The Outsider, but it didn't go far enough in any direction. It follows a couple of different perspectives, one being the couple itself and a young girl who gets involved in their lives.
Author: Jennifer McMahon
Average Rating: (4.3 /5)
Category: Ghost Horror Fiction
Number Of Pages: 353
Available: Audiobook | Paperback | Hardcover | Kindle
---
10. Confessions
This is a Japanese thriller about a schoolteacher who seeks revenge on her students after her daughter's unfortunate, tragic death. This story is unique, and you will get the same vibe that you got from The Outsider. It's told from a few different perspectives. Four different perspectives recount and go over the same events surrounding this young girl's death.
So the story is a little bit repetitive in places and has some intense moments to it. The audiobook narrators were good, and it's a good way to experience or try Japanese thrillers because there is a certain style to them.
I never fully connect with the characters when it comes to translated horror and thrillers in the Japanese genres. So it's something that I liked but didn't love. But if you like those more intense stories, particularly if you like Japanese styles of horror with thrillers, then you should pick this one up.
Author: Kanae Minato
Average Rating: (4.5 /5)
Category: Psychological Thrillers
Number Of Pages: 240
Available: Paperback | Kindle | Library Binding
---
Bonus Book: The Devil in Silver
This is more of a literary version of horror. It's not scary at all in the traditional sense. The story follows Pepper, who gets involved in a fight with police officers. Rather than booking him through the police precinct, they decide to drop him off at a mental institution, and he ends up staying there much longer than expected. So the story is about his time in this institution, working and dealing with the other patients. Moreover, there is a horror element to the story.
It's much more on the side of literature. If you're expecting a scary story, I didn't find this one scary at all. I listen to this audio that enhances the experience for me. If you enjoy a very character-focused story, this is one to pick up.
Author: Victor LaValle
Average Rating: (4.0 /5)
Category: Occult Fiction
Number Of Pages: 432
Available: Audiobook | Paperback | Hardcover | Kindle | Audio CD
---
Read More Similar Horror Books: 5 Novels Like Wilder Girls