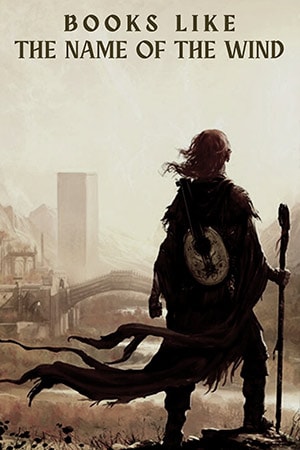 The Name of the Wind or The Kingkiller Chronicle by Patrick Rothfuss is epic fantasy with adventure and science fiction. I would become obsessed, addicted, and irrevocably in love with the series. Books like The Name of the Wind represent or contain all the fantasy elements where your dreams come true, or you can satisfy your imagination without any doubt.
There are creepy, evil creatures, but the storyline doesn't follow the hero who rises, defeats the dragon, and saves the princess. We first get to know him from a young age and witness his struggles throughout the years involving everything. It is so captivating and keeps you wanting to know more. The world it is set in is so complex and well thought out. I have more similar books which help you see the world again. Stay with me!
7 Books Like The Name of the Wind (Like Kingkiller Chronicle)
In the book The Name of the Wind, We are introduced to a young man named Kvothe and his life, which has to be one of the most amazing lives in the world. If I were a fictional character, I would want this to be my life and even do it justice. I love everything about his thought processes and dialogue. It's one of those books where you are so invested in the main character.
I love every single character because they each have their distinct personality. They're entirely separate from each other. None blends together. The writing is fantastic but not overly so. You're not completely overwhelmed with all this information or bored with the descriptions. The universe is painted so richly and so colorfully. The story itself, growth has to go through.
So many difficult situations have overcome so many hurdles. Patrick Rothfuss is an incredibly talented writer; everyone should witness the book's beauty. Now, I will discuss 7 more high fantasy books similar to The Name of the Wind. If you like The Kingkiller Chronicle series, you'll love them. Let's go!
| Name | Key Focus | Review (Goodreads) |
| --- | --- | --- |
| The Last Unicorn | A Unicorn struggles to save her society. | 4.1 |
| A Wizard of Earthsea | A boy learns magic and tries to discover the world and friendship. | 4.0 |
| The Left Hand of Darkness | An AI travel to a planet from his planet, and he discovers something new and works for the better. | 4.0 |
| The Summer Tree | A wizard takes five students to play a game for their realm. | 3.9 |
| Tigana | A revengeful story between heroes and evils. | 4.0 |
| Assassin's Apprentice | An orphan boy discovers himself and the magical world. | 4.1 |
| The Priory of the Orange Tree | The political and war view of the different kingdoms with dragons and magic. | 4.2 |
7 Books Like The Name of the Wind List
1. The Last Unicorn
The Last Unicorn was published in 1968, and I was first introduced to the novel through the movie. It was one of my favorite films to watch. There is an old forest where men seldom fear to tread because they can sense something unnatural. Besides, it's always spring, and the reason for it always being spring is the last Unicorn in the world lives there. Wherever a unicorn calls home, spring never fades.
The Last Unicorn is a female who is very old and beautiful. Then one day, she learns she is the world's last Unicorn. That makes her think, and she wonders what happened to the other unicorns. Until another day, she learns that a monster called the Red Bull is responsible for the disappearance of the other unicorns.
So, the protagonist decides to go out into the world and abandon her forest to find answers. Along the way, she is captured by an evil witch called Mommy Fortuna, who tells the Unicorn that she will keep her as a prisoner to display her in her traveling circus. The Last Unicorn is horrified at the thought of being a prisoner.
In one of the conversations with Mommy Fortuna, the Unicorn learns that some of the answers she is seeking regarding the fate of the unicorns can be found in the castle of this monarch called King Haggard. During the traveling show, Mommy, for two and a half years, has a clumsy, wannabe magician and junk who helps the unicorn escape.
In return, the Unicorn agrees to let him accompany her to King Hogwarts Castle. The magician's name is Mandrake, and there's more to him than meets the eye. But we learn about his background as the plot moves forward. This is the beginning of the Unicorn and Kendrick's adventures. In one of them, they befriend a woman called Molly Group, who joins them in their travels.
Also, there's even one adventure where a company meets a band of outlaws and the famous Robin Hood and his merriment. By the time Molly grows, Mandrake, the Magician, and the Last Unicorn, Rich King Haggard, have come to learn that the Red Bull has some affiliation with King Haggard, and the pieces of this puzzle start to fall into place. As soon as they reach the castle, the Red Bull senses the Unicorn, and he starts to chase her.
So to keep her safe, Kendrick puts a spell on the Unicorn, turning her into a beautiful, fragile human girl he will later address as a lady. Amelia is a cover-up of the girl's true identity. Then the author explains all the emotions that the Unicorn is feeling at the thought that she's trapped in a human form, that she's feeling every second that her body is dying. It's devastating her and breaking her heart to be human. But she understands that if she truly wants to find the answers to the other unicorns' whereabouts, she has to conceal her identity as a unicorn remaining in the body of Lady Amelia and enter King Haggard's castle in that way.
Once she reaches the castle, Lady Amalia encounters more than she had bargained for. She goes there looking for answers to what had happened to her kindred but falls in love with King. Harcourt's son, Prince Lear, was a very good-natured young man. Then things develop to the point where the Unicorn is still determining whether she should return to being a unicorn or remain a human girl and marry the prince.
The lines run so smoothly and beautifully, and it can almost be called poetry like The Name of the Wind. So I enjoyed reading the book, not only because of the characters and the storyline but because of how the storyline was delivered. To summarize, it's a bittersweet tale, and you can find dark and deep messages. We went into the story subtly so that children could enjoy it.
Author: Peter S. Beagle, Patrick Rothfuss
Narrator: Orlagh Cassidy, Joshua Kane
Publisher: Penguin Audio
Tropes: Fairy Tale, Sci-fi, Myth
Number Of Pages: 294
Available: Audiobook | Paperback | Kindle
2. A Wizard of Earthsea (Earthsea Cycle)
A Wizard of Earthsea is a classic fantasy coming-of-age story similar to The Kingkiller Chronicles. We follow a young kid (Sparrowhawk) as he discovers he has an affinity for magic. He goes to a school for witchcraft to learn magic, and he does something almost unforgivable. Sparrowhawk spends the rest of the book trying to write the wrong-headed to the world. The world of Earthsea is exciting tiny islands.
In the beginning, I needed clarification on what island they were on, trying to find them on the map where we were going. All these different places and names could have been clearer. After a little while, I adjusted. I could find myself on the map, and it made sense where we traveled to and from. It's unique and different. So all these small islands are connected by people. A lot of the book is set at sea and in people gifted with being able to sail.
The book's first part is challenging because it's classic fantasy, so you must adjust the writing style and pacing. It could be faster in the beginning as well. Look at your fall and get as he is young and learning his place and the world and that you want to learn magic.
The pacing was a lot better for me initially, and we're doing well to get into it. I did like the character of Kate, and he did become unlikable at that point. But he has a great character arc, and you see him grow and learn from their mistakes. Not everyone's perfect, but he does adapt and change. Gabe has a fantastic relationship with his master, and they sometimes have their differences.
It's nice to see that friendship grows and develops throughout the book. I do wish some things were developed in more and more detail. It is a much more character-driven story, and it's more about good and evil. There are a few other maps where it's zoomed in a little bit, and you can see more detail of the islands they're traveling to.
They could be better developed, and it's a pity because our slogan is Women, and it would be nice to have more female characters. But I can understand at that time, that's not what people were interested in reading, and you needed to appeal to that market. I highly recommend the book if you want sci-fi fantasy with adventure.
Author: Ursula K. Le Guin
Narrator: Rob Inglis
Publisher: Recorded Books
Tropes: Classic, Magic, Myths
Number Of Pages: 183
Available: Audiobook | Paperback | Hardcover | Kindle | Mass Market Paperback
3. The Left Hand of Darkness (Hainish Cycle)
The Left Hand of Darkness was published in 1969 and won Hugo Award, Nebula Award, and James Tiptree Jr. Award. It has three introductions, one of which is by Ursula herself, and the introduction that she wrote is phenomenal. Seeing her perspective on science fiction as a genre is so interesting. She's reflected on what material she's writing, why she's writing it, the genre as a whole, and why she wants to contribute.
This is the first science fiction classic that I've read by a woman. It's also part of a universe called the Hainish Cycle. There are six in the series, but they're all companion novels so that you can read them in every which order. The book is about the envoy that comes down to a planet called Gethen or Winter by the main character. His name is Mr. Ai, or generally Ai, and he's come there to ask if the world of Gethen wants to join the intergalactic civilization called Ekumen.
There is such a long journey to the closest planet that there's no danger. I loved Ai as a character because following him is fun because he's so open-minded. You get the view from his lens, and the lens that he's viewing the world with is very non-judgmental, and I appreciated that. It also enables you to judge and get an objective analysis of the world, even though nothing is objective.
This book has two perspectives as a whole. Another one I won't mention because you'll discover it as your read on. You also get a few excerpts from research papers and stories in the world of winter or Gretton, which contribute to things that will happen later.
So if there's something that you need to know for the next chapter, there will be the research paper or the story. The whole point of the book is the gender thing. So in the world of breath and all the people there, they have no gender or both genders. They go through a one-month cycle where they get sexually active and mate at specific points. When they mate, 111 person takes on the female role, and one takes on the male role every month.
So, it's interesting that they're neither female nor male and experience both. Therefore there are no characteristics that are specifically male and female. It does have a lot of really deep and other themes as well. The book is mainly about the friendship between the two main characters, and it's explored very well. There is a very prominent theme of human connection and understanding differences. It's super cleverly written, and I greatly enjoyed the writing style. So take advantage of it if you love The Name of the Wind!
Author: Ursula K. Le Guin
Narrator: George Guidall
Publisher: Recorded Books
Tropes: Alien, Feminism, LGBT, Dystopian, Space-opera
Number Of Pages: 304
Available: Audiobook | Paperback | Hardcover | Kindle | Mass Market Paperback
4. The Summer Tree (The Fionavar Tapestry)
The Summer Tree is an epic fantasy and adventure novel which is the first in the series. The series is about five University of Toronto students taken by a wizard into another realm, the first realm of Hanover. They think they're only going as guests for King's celebration, but they're going to play a much bigger role.
Moreover, they will become key players in the ultimate battle between good, evil, and random. There are dwarfs, elves, races of people, gods, demigods, and ordinary people. It's a story that is simultaneously page-turning and thought-provoking, similar to The Name of the Wind.
This book was written in response to the high fantasy of the 1980s to show that characters could have more depth and be more about character development and the typical fantasy elements. You'll see a lot of similarities in the fun of our Tapestry to the Lord of the Rings and the world-building in the different species and the mythology because Kay helped Christopher Tolkien assemble a similar land for publication. So he knows his Tolkien more, but he also incorporates a lot of Norse mythology, the grittier aspects of the King Arthur legends, and even Mary and Celtic mythology.
Another essential thing to note is that all three books feel like they're only one larger book. There's no resolved plot in each separate book, as they're all one big story. Writing's not for everyone. This is an adult book, not only in content but also in writing. The writing is lyrical, and the author can capture some profound and deeply sad moments in such a beautiful fashion. He also respects his readers, leaving a lot for them to pick up on themselves without pushing it in their faces.
I also want to talk about the magic system. There are two existing systems taking place. The first magic users are the priestesses of Dana, who use Earth and Blood magic and draw from her power and the Earth. The second is the more traditional mages or wizards who draw their power from a fiercely loyal and close companion so that if their companion is not there, they are entirely powerless, and this person is their soul mate. So it's not necessarily a romantic or sexual soulmate. Also, it was cool to include modern characters interacting with the King and God and with these more traditional medieval feeling characters that you find in fantasy.
Kay manages to keep those comforting tropes but also add an extra depth so that the King character isn't a one-dimensional king, but he's a fully realized person, and these modern ideas and concepts challenge him. We get, therefore, complex and emotional characters. It becomes more than about defeating evil. The relationship between people and their relationships is based on their roles.
The ending made me stressed out because it could have gone either way. I loved that Kay could hold that suspense and not fully reveal how that character would lean in the end and have such an epic story. In such a quiet action, the book reflects the overarching theme of the human spirit triumphing over evil through sacrifice.
Author: The Fionavar Tapestry
Narrator: Simon Vance
Publisher: Recorded Books, Inc.
Tropes: Action, Folklore, Arthurian, War
Number Of Pages: 383
Available: Audiobook | Paperback | Hardcover | Kindle
5. Tigana
Tigana is a standalone fantasy epic that takes place in a Peninsula known as the Palm that resembles 11th-century Italy. The story of revenge follows a band of heroes as they come together to overthrow two evil Tyrants that have conquered the Palm. One of their biggest grievances is one of the conquerors, an evil sorcerer. When he conquered part of the land, he cast the spell that destroyed all living memory of this one country, Tigana. So everyone except the citizens of Tigana have forgotten the place's name.
Things are super frustrating for the former people of Tigana, and that's what the novel explores about the ethics and cost of war, especially from the losing side of it. This book is a very honest and adult fantasy. Like "The Name of the Wind," it strongly focuses on character development and an imagined world. Some scenes are full of sadness, beauty, and poignancy. The buildup and delivery and the final battle were so satisfying.
The challenge I want more from my fantasy novel more action, monsters, magic, and otherworldly things. While Tigana did have a bit of magic, I found myself yearning for the color I've come to expect through authors like Brandon Sanderson, Patrick Rothfuss, and even George R.R. Martin. You must read the book if you love historical fantasy with good world-building.
Author: Guy Gavriel Kay
Narrator: Simon Vance
Publisher: Recorded Books
Tropes: History, Politics, Travel
Number Of Pages: 676
Available: Audiobook | Paperback | Hardcover | Kindle | Mass Market Paperback
6. Assassin's Apprentice (The Farseer Trilogy)
Assassin's Apprentice is a coming-of-age best-seller book. We're following a child's life from the age of six up to a teenager. We confront all the emotions that he's going to confront with him. Robin Hobb writes the book. She makes you feel like a little kid or innocent.
Fitz is orphaned early by his mother and father, who turn out to be royalty. He is finding his way in the world as an orphan. He's being brought to be raised by his father's family and learning to live in this world and be part of the farseer family. They are the ruling family. You see his progression throughout the story in this kingdom and the realm of the elder things.
There's some exciting magic that's going on. You don't learn too much about it or understand the mechanisms of how it works, mainly because there are few magic practitioners. Those who seem to be adept aren't necessarily the experts.
So it's a good story, and the writing is beautiful as The Name of the Wind. Hobb's an expert at dialogue. I enjoyed the dialogue here, which is very clever. When you're watching the two characters speak or Fitz speaking with any character, there's almost double speech because it's also what isn't said. It's such a foundational book that you're experiencing a world from a child's eyes.
As you grow up with Fitz, you see the world he lives in through his eyes, in the sense that you've experienced the same things he's experienced. The book needed more at the end to make you care about the characters you meet. As soon as he leaves the dynamic, some parts become less exciting and slow. If you're new to fantasy, I highly recommend Assassin's Apprentice.
Author: Robin Hobb
Narrator: Paul Boehmer
Publisher: Tantor Audio
Tropes: Royalty, War, Angst, Emotions
Number Of Pages: 464
Available: Audiobook | Paperback | Hardcover | Kindle | Mass Market Paperback
7. The Priory of the Orange Tree (The Roots of Chaos)
The Priory of the Orange Tree is set in a world on the brink of war with dragons and political and religious tensions. The East becomes estranged from the West. In the midst of all this, Queen Saffron, the ninth of Innis, must conceive a child to protect her round from destruction. One young dragon rider makes an error of judgment that could see her entire life unravel.
The book is a feminist reimagining of the Legend of George and the Dragon, which is much more problematic than you think. Also, it's intertwined with Japanese and Chinese mythology. Four main characters tell the story. The first is Tane, a dragon rider in training living on the island of Saki.
The second is Niclays, an alchemist who's been exiled from his home and is now trapped in a place he doesn't want to be. The third is Ead, a lady waiting for Queen Sabran in the Ninth in the Queen Inys. She secretly wields magic, and the force is lost. The book's story is set in a world divided by its views on dragons in the West. Then they breathe fire and have a history of violence against humans.
In the East, they are associated with water, living in lakes, seas, and rivers, and humans worship them as gods. Overall, the book and the entire series are satisfying enough to enjoy high fantasy elements. I found many similar vibes and themes in The Name of the Wind. Also, it won Goodreads Choice Award and Lambda Literary Award Nominee. So you can pick it as a worth to read.
Author: Samantha Shannon
Narrator: Liyah Summers
Publisher: Audible Studios
Tropes: Dragons, Slow-burn, Mental-health, Gray-characters
Number Of Pages: 848
Available: Audiobook | Paperback | Hardcover | Kindle
---
More books with similar themes:
The Lies of Locke Lamora by Scott Lynch: A group of thieves in a fantastical city must use their cunning and wit to outmaneuver their enemies.
A Song of Ice and Fire series by George R.R. Martin: In a magical world, mythical creatures exist, and multiple characters navigate political intrigue, battle, and betrayal. Both "The Name of the Wind" and "A Song of Ice and Fire" have similar complex, multi-layered stories, and morally ambiguous characters.
The First Law trilogy by Joe Abercrombie: In a brutal world, magic is forbidden, and power is everything. So it follows many characters, including soldiers, magicians, and assassins, who are related to violence and politics.
American Gods by Neil Gaiman: The conflict between the old and new gods for technology, media, and finance. The author covers themes of belief, mortality, and identity.
The Dark Tower series by Stephen King: A journey of Roland, the last gunslinger, who travels through a world filled with magic and
monsters.
Those are my favorite high fantasy books like The Name of the Wind. Please let me know what you think of these books. If you're planning on reading them, let me know what you think. I'll be looking forward to your comments below in the description box. I'd love to have a chat with you in the comments.
Read more similar books:
5 Wizards Fantasy Books Like Carry On
5 Young Adult Fantasy Books Like The False Prince
5 Superheroes Fantasy Books Like Renegades
5 Fantasy Horror Books Like Wilder Girls
5 Fantasy Adventure Books Like Gregor The Overlander
5 Urban Fantasy Books Like Maximum Ride
5 Epic Fantasy Books Like The Beginning After The End