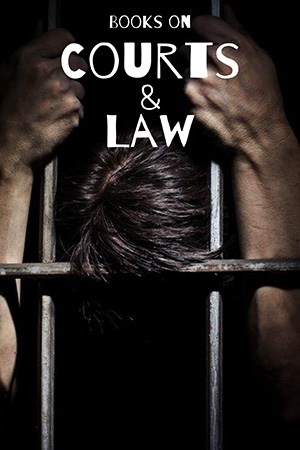 Just Mercy by Bryan Stevenson is the story of Stevenson and his decade-long career as a lawyer in the United States, working for the poor, the wrongly condemned, and the harshly sentenced. Stevenson worked a lot with people sentenced to death, which is heartbreaking but fascinating.
It's written in a way that's easy to understand, and you feel like you get to know Stevenson and his clients. Also, it sheds much light on the failures of the system and the things that don't work. How that failure affects those who usually have the least? It's also quite an emotional book and effortless to connect to, which is why most people would like this.
Books like Just Mercy provide valuable insights into the workings of the criminal justice system, its flaws, and its impact on us. This understanding can help you become more informed and engaged in criminal justice reform discussions.
Reading personal stories of those affected by the criminal justice system can help you develop empathy and compassion for those wronged by it. This emotional connection can inspire you to become an advocate for change and justice.
10 Books Like Just Mercy (Criminal Procedure Law)
Just Mercy is a popular law-related book for criminal procedure law, lawyer, and judge biographies. After reading this book, your secret eyes will open because this book is a secret teller. I found the pathetic history, culture, system, and law that changed my perspective and thinking.
Now I want to review books that are similar to Just Mercy. I will tell you about 10 exciting US justice and prison system books. Let's investigate!
1. Are Prisons Obsolete?
Angela Davis is a very famous American political activist. In this book, Are Prisons Obsolete, she discusses how the U.S. prison system is built up and whether or not it's essential. She also discusses the grave injustices of the system, how it targets racial and social-economic minorities, and how all of it connects to the history of America.
Like Just Mercy, It's an exciting book and a relatively short introduction to the topic. Maybe you think the title is a bit provocative? You may disagree, but it's a fascinating and compelling read.
Author: Angela Y. Davis
Average Rating: 4.8/5
Category: Criminal Procedure Law, Law Specialties, Law Enforcement Politics
Available: Paperback | Kindle
2. The New Jim Crow
My second book is a bit longer: the new Jim Crow by Michelle Alexander. It does many things that the book by Davis does, but it's a deeper study of the issues. It goes in-depth into how the system works and how the history of racism directly affects how things work now.
Also, it tries to shed light on why so many people of color, especially males, are locked up in prison. The author talks a lot about how the system has shifted from rehabilitation to pure punishment, which is interesting.
The New Jim Crow brings together many arguments and discusses them in an accessible and fascinating way. It is a heavy read similar to Just Mercy because the subject matter is heavy but very eye-opening.
Author: Michelle Alexander
Average Rating: 4.8/5
Category: Criminal Law, Civil Rights & Liberties
Available: Audiobook | Paperback | Hardcover | Kindle | MP3 CD
3. The Nine: Inside the Secret World of the Supreme Court
This law book does an excellent job of giving an overview of how the Supreme Court functions. It does touch a little bit on the past of the Supreme Court. It references some earlier decisions about the modern Supreme Court, but mostly this covers the living justices, those put on the bench in the last 30 years up through Alito. Alito was the last judge of the suit book covers entering the court.
The Nine discusses the court's liberality. An auxiliary of the Republican Party is handing out decision after decision benefits corporations and moneyed interests that want to control our government and undermine individual American citizens' civil liberties and freedoms.
The author details the individual justices and why they hold the positions, how they express them, and how their opinions and views of the world have affected their decisions. Thomas is the most well-liked justice by the people that work in the court. He knows everyone's names. He hadn't surrendered to return all Black Americans to slavery because, when the Constitution was enacted, they were all in slavery.
Like Just Mercy, this book gives you all the information you need about the current court, significant issues on abortion, freedom of speech, and rights. The book talks about some significant hot-button cases, how the court broke down their votes, why they broke down their voices, the people who wrote their opinions, and the dissenting opinions. So this book has all that information and more. Read this book if you're interested in politics and the court system.
Author: Jeffrey Toobin
Average Rating: 4.5/5
Category: Courts & Law, United States Judicial Branch, Public Affairs & Administration
Available: Audiobook | Paperback | Hardcover | Kindle | Audio CD
4. The Color of Law
The Color of Law is a forgotten history of how our government segregated America. It explains how local, state, federal, and private entities fought to keep American life segregated following the Civil War and well into the 20th century. You will see how explicit and implicit decisions and policies create today's racial disparities.
The first action is explicit in the book's racial policies that discriminate against African-Americans. These can be very simple laws, such as no building in this district can be sold to a person of color. That was common in the latter part of the 19th and the first half of the 20th centuries. This dramatically limited housing options for African-Americans and caused their living expenses to explode in a crowded housing market. The landlords took advantage of them, with their rents up to three times higher than their white counterparts.
In addition, housing products were created during and after World War Two to provide housing to Americans in critical production areas. These are very different than the products as we know them today. They were high-quality government-subsidized living facilities that gave housing to many until they could purchase homes in the suburbs.
There were two types of projects: high-quality permanent housing designed for years of habitation and low-quality temporary housing not meant to last very long. Often, the permanent facilities were for whites only, while the temporary housing was open to black Americans. During and following the war, whites had access to permanent government-subsidized housing. While Black Americans were stuck in subpar housing, that was only meant to be temporary.
The second form of action is implicit, with no specifically coded language against minorities. One example is the new deal legislation federally supporting unions. There was a specific language only recognizing unions that did not discriminate. But that line was struck from the policy before it became law, meaning that unions could keep Black Americans from joining, and that kept Black Americans from participating in the powerful unions of the era.
Furthermore, industries with large African-American populations were never even given unionization rates in the first place or support by the federal government.
This book provides an excellent look at the policy history of race in America overall. It should be required reading in American history like a high school class, and it is phenomenal similar to Just Mercy.
Author: Richard Rothstein
Average Rating: 4.8/5
Category: Housing & Urban Development Law, City Planning & Urban Development (Best Seller)
Available: Audiobook | Paperback | Hardcover | Kindle | Spiral-bound
5. The Secret Barrister
The author makes arguments very well in this book, making them compellingly every time. Lawyers are good at making arguments, and then he'll dismiss them. He doesn't set up an argument to tear it down. He makes it authentically and talks about the different ways of doing systems and the different ways of doing the law.
So, in essence, you've got the inquisitorial system where it's more like an investigation, where you believe that the police and or generally a judge can be trusted to find the truth. You have to be the more adversarial system used in Britain and America where you have someone accusing someone defending. There are pros and cons of both.
Like the book Just Mercy, The Secret Barrister prefers our system even though too much of the book tells me why it's terrible. That's a terrible thing because this is a terrible system. I don't see any way out of it except to throw more money at it, but it makes a powerful argument for the legal system to become a justice system.
A true justice system needs a large slice of the pie, and we need to have more education in schools for things like citizenship and make it a bigger part of the curriculum. It was surprising because he confronts it takes something to where you've got sexual allegations. He gave a very visceral story about a woman who was assaulted and raped.
The problem is that people are wrongly accused and put in jail. The author acknowledges that it is far less likely to happen, and a rapist walks free. He sets up a situation that is the way we do the law. It is set up to defend people's liberty more so than from people in jail. Better than ten people who walk free are guilty than one who goes to jail who is innocent. That's basically how our system works.
If you were trying to prove someone's done something wrong, that must be a terrible position. At the same time, there's an argument that society needs that because for people to respect the law, they need to feel like they won't go to jail if they don't do anything wrong. He's spoken about times when he's defended people he suspects have been guilty, someone who sexually abused his daughters, most likely in his opinion. For the system to be valid, you must defend people even when you think they're wrong.
So the book is extraordinarily cynical, but it manages to be hopeful at the same time. It feels like you're getting a complete picture of how things work. If you're curious about politics, law, or how prosecutions should work, I strongly recommend this book after Just Mercy.
Author: Secret Barrister
Average Rating: 4.4/5
Category: Legal Education Profession, Courts & Law
Available: Audiobook | Paperback | Hardcover | Kindle | Audio CD
6. The Sun Does Shine: How I Found Life and Freedom on Death Row by Anthony Ray Hinton
In this inspiring memoir, Anthony Ray shares his journey of spending nearly 30 years on death row for crimes he did not commit. The book details Hinton's wrongful conviction, fight for justice, and eventual dismissal. It's a moving portrayal of resilience, forgiveness, and hope in the face of adversity and highlights the urgent need for reform in the criminal justice system.
7. When They Call You a Terrorist: A Black Lives Matter Memoir by Patrisse Khan-Cullors
This poignant memoir by one of the co-founders of the Black Lives Matter movement takes readers through the personal experiences that led to the creation of the global social justice movement.
Like Just Mercy, the book explores race, police violence, and the necessity for reform in a thought-provoking and intimate manner. It's a must-read for anyone interested in understanding the modern civil rights movement and its impact on society.
8. The Warmth of Other Suns: The Epic Story of America's Great Migration by Isabel Wilkerson
This award-winning book documents the massive migration of Black Americans from the South to the North and West in search of a better life between 1915 and 1970.
Wilkerson shares the stories of three individuals as they are on their journeys, providing a portrayal of the challenges and triumphs they faced along the way. The Warmth of Other Suns is a deeply moving story of an overlooked aspect of American history.
9. Evicted: Poverty and Profit in the American City by Matthew Desmond
In this Pulitzer Prize-winning book, Matthew explores the intersection of poverty, race, and housing in America. Focusing on the experiences of eight families in Milwaukee, he reveals the devastating impact of eviction on people's lives and communities.
Evicted is a compelling and meticulously researched work that sheds light on the need for affordable housing and social justice reform.
10. Between the World and Me by Ta-Nehisi Coates
Coates' National Book Award-winning work examines the experience of being Black in America. He weaves a powerful narrative confronting race, identity, and systemic injustice.
This book offers a unique and thought-provoking perspective on the African American experience and the ongoing struggle for equality.
---
Reading these books offers a variety of perspectives on race, social justice, and the human experience, allowing you to develop a clearer understanding of the world and the people in it.
You can sharpen your critical thinking skills and better understand the root causes of systemic issues. Many of these books provide historical context and explore cultural aspects of America's criminal justice system and racial inequality.
Read More Similar Books:
Crime Thriller Books Similar To American Psycho
Social Crime Books Like The Way I Used To Be
True Crime Bio Books Like Criminal Minds
Racism Memoir Books Like Born A Crime
Captivating Lawyer Romance Books
True-Crime Books Like If You Tell
White Collar Crime Books Like Bad Blood