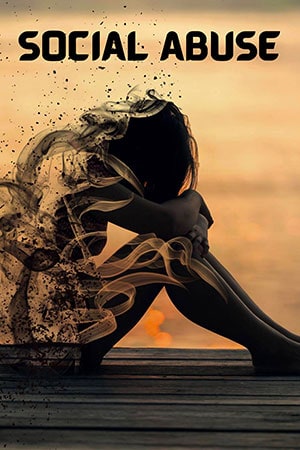 The Way I Used To Be by Amber Smith is about Eden, and Eden is a typical average good girl. She has a great relationship with her older brother and has loving parents. So she has a typical average normal life, and she is 14 years old. However, her entire life changes the night when her brother's best friend Kevin rapes her. This book takes place over four years. It starts with her freshman year when the assault happens, and it goes all the way to her senior year.
Eden does not tell anyone what happens, mostly because she's trying to wrap her head around what happened. She's trying to understand why it happened and how can someone she knows, someone she trusts, do this to her? It follows the aftermath of that assault. It follows her through her bad choices, and she makes a lot of bad ones. She ends up pushing the people that love her away from her.
Amber Smith's writing style is gorgeous in this book. You can see that she is incredibly talented, and she has a way with words. She can captivate you, keep your attention, and immerse you in the story. Even though Eden makes a lot of bad choices, she ends up hurting a lot of the people trying to help her, trying to understand why she is the way she is because she does not tell anyone what happened to her. Eden was a shining star in this book, and she grasps you and tugs at your heartstrings. If you like The Way I Used To Be, keep reading!
5 Books like The Way I Used To Be (Social Abuse)
The Way I Used To Be is about social abuse and struggling life. In this book, Eden went from being a sexual assault victim, and then, in the end, she ended up realizing that she is a sexual assault survivor. She's not a victim, and she's a survivor.
Though it is a fiction book, you find the reality in our society. Many books about harassment, abuse, and assault are similar to The Way I Used To Be. I am going to review 5 books. Let's go!
1. All the Rage
All The Rage follows a high school senior named Romy Grey, who has been the victim of sexual assault. Due to rape culture, small-town politics, and economics, she has not been believed about the accusation she put forth. Through this, you get a protagonist struggling to continue through life. Even it feels her life has been taken away from her.
One interesting way the author has shown this erasure that she feels about herself is that you don't even know the protagonist's name for the book's first few pages. It eventually comes up in passing conversation, but it took a while before I figured out the protagonist's name.
The other aspect of this book is the timeline. Especially in the cases where alcohol and drugs have been used, memories shift, and it can be a situation where an interrogator will ask questions. The timeline won't match up to what you've already talked about because you can't get it clear in your brain. Without giving any of them away, there were several different coping mechanisms that you could see throughout the book. So it was intriguing to recognize those in character and relate to them that way even though they're not part of the experience.
Like The Way I Used To Be, there are several subtle ways to show how people blame the victim instead of the perpetrators. There are many parallels to how we talk about social abuse and assault in our current culture. It's done in a way where you see what exactly characters go through and what people go through every day. This could be a very triggering read, but I highly recommend it if you feel safe reading it.
Author: Courtney Summers
Average Customer Review: (4.3 out of 5, on Amazon)
Category: Teen & Young Adult Fiction about Violence, Girls & Women Fiction
Available: Paperback | Hardcover | Kindle
---
2. Some Boys
The main characters were Zach, Iron, and Grace. Grace was the protagonist in the book because she was the victim of the rape. Zack was the antagonist in the book because he was the one who had raped Grace. The book was about a girl trying to get over the abuse she had been through in this situation. She is trying hard to get over it. But she has many obstacles on the way to getting to being over with the abuse. Many of those obstacles are bullying, family problems, and her love life.
Most people believe Zach and won't even believe Grace because he forced people to believe him. He didn't want other people to agree with Grace. So she was the one who was in the wrong. He's got this recklessness, this energy that practically sizzles. He was reckless, and he didn't care about anything, but he started to care about Grace as the book went on.
She's wearing no makeup, no Cleopatra's eyes. It is a quote from the book for Grace. This describes her because she wears a lot of makeup. Towards the end of the book, she stops wearing as much makeup. A possible theme for the book would be telling the truth because that's a big problem since most people don't believe Grace. The abusive elements and situation are very similar to The Way I Used To Be.
Author: Patty Blount
Average Customer Review: (4.5 out of 5, on Amazon)
Category: Social Abuse, Realistic Fiction, Mental Health, Romance
Available: Audiobook | Paperback | Library Binding | Kindle | Audio CD
---
3. Faking Normal
This book is about a young girl, Alexi Littrell, dealing with social abuse. She's living her life after having experienced a traumatic thing that happened to her. As you read the book, you can infer the traumatic thing. So Alexi is going through a hard life. She's ashamed, and she doesn't know how to deal with what has happened to her. Since that point, much of her life has been built upon lies and secrets. She was turning into herself.
One day she meets a young boy by the name of Bodee. Bodee is experiencing his tragedy. So in that tragedy, he ends up being welcomed into Alexi's home by her parents and living with them. Together, Alexi and Bodee feel comfort, share their pain and become friends through their pain. So that is the gist of the book and what happens. The book speaks on a personal level, a lot of what Alexi has gone through. Also, it was interesting reading about the perspective from an outside standpoint as The Way I Used To Be.
Author: Courtney C. Stevens
Average Customer Review: (4.5 out of 5, on Amazon)
Category: Fiction on Sexual Abuse for Teens, Friendship & Romance
Available: Audiobook | Paperback | Hardcover | Kindle
---
4. Stronger Than You Know
This story follows a young teenage girl (Joy) whose mother was raised and was never allowed outside. She could never leave her trailer park, so she's never been exposed to the outside world. Her mother and her mother's boyfriends abused her. Her mother was a drunk and had parties at their house all the time, and the men would hurt her. They would burn her, and it was all around a horrible situation. This book starts when Joy is rescued. She is sent to live with her aunt's family.
This book is all about Joy. It's about her being introduced to the outside world, being introduced to love. She has never experienced love before. She knows what love feels like for the first time at her new home. This book is beautiful, but it's heartbreaking.
Joy has panic attacks, and she's on medication, and she's terrified of being around a man because she's never been around a man who hasn't hurt her. So she struggles with being introduced to a new home to school like Eden in The Way I Used To Be.
Author: Jolene Perry
Average Customer Review: (4.8 out of 5, on Amazon)
Category: Teen & Young Adult Fiction about Physical & Emotional Abuse, Contemporary Romance
Available: Audiobook | Paperback | Hardcover | Kindle | Audio CD
---
5. Speak
Speak is about a girl who was raped at a party right before her freshman year. She stops talking, and nobody seems to notice like she's going about her life and everybody. She's like an outcast, her friends because she called the cops at that party, and nobody's paying attention to her.
Also, she's not talking like she can't function. As she goes about her life, we see her throughout her freshman year. She starts to find herself in art a little bit. That's the only time she ever gets any reprieve.
So the book is about our main character Melinda, how she's talking, and how she narrates the story. You almost forget that something has happened to her because she seems normal. Suddenly, a character will say something about how weird and standoffish. The author and narrator do an excellent job of portraying Melinda's personality. If you like The Way I Used To Be, you will love it because the emotional aspects are very similar.
Author: Laurie Halse Anderson
Average Customer Review: (4.6 out of 5, on Amazon)
Category: Teen & Young Adult Fiction about Physical & Emotional Abuse
Available: Audiobook | Paperback | Hardcover | Kindle
---
More Women's Friendship Fiction Books: 5 Books Alike In Five Years