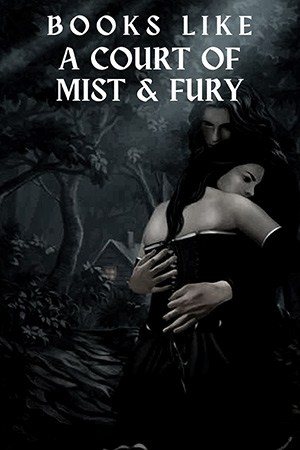 A Court Of Mist And Fury by Sarah Maas is a fantasy romance that won Goodreads Choice Award for Young Adult Fantasy. My favorite thing about it is feminism. That's something that is missing in a lot of YA books. While they are told from the female perspective, they often still fall into that whole thing where the main character needs a male character to come around and tell her that she's beautiful. Feyre had this inside of her. We see the difference between a romanticized abusive relationship and a romantic relationship.
We are introduced to Feyre living in a world where humans and fairies do not get along. When she kills a fairy while out hunting in the woods, she is told that as payment, she must live out her life in the fairy realm because it is a Beauty And The Beast retelling. She falls in love before realizing that the man she's fallen in love with is cursed and has to break the curse to save him. This second book continues from that story. So, books like A Court Of Mist And Fury are all about fantasy, mental health, adventure, love, and struggle for existence. If you want to know my similar recommendation, then stay with me!
7 Books Like A Court Of Mist And Fury
A Court Of Mist And Fury is not only fictional but also about leadership and patriotism. Feyre learns that the curse she broke is only the beginning of an impending war led from across the seas. She must decide whether to let her experiences from the first book break her or work through them to save her land from the future war.
Many of the classic tropes were given some depth and reality that I have yet to see in another way, a fantasy book. There are certain characters in the book whose characterization changes dramatically from the first book to the second book. I read many fantasy romance books and found similarities with them. I'll talk about 7 books similar to A Court Of Mist And Fury. Let's go!
| Name | Key Focus | Review (Goodreads) |
| --- | --- | --- |
| House of Earth and Blood | A half-human girl deals with her trauma and works with a fallen angel to solve a murder mystery. | 4.4 |
| Rhapsodic | A girl take helps from a dark fairy, and she has to pay this debt, creating a bond between them. | 3.9 |
| Fortuna Sworn | A girl has to marry a faerie to help her to find her brother. | 3.6 |
| From Blood and Ash | A maiden falls in love with her guard in a dark world, and both deal with vampires and werewolves. | 4.2 |
| The Queen of Nothing | A king is trying to protect his kingdom from magic and discover his wife's emotions. | 4.3 |
| Gild | A king likes a girl and traps her in a golden cage. | 3.6 |
| Shatter Me | A magical girl can not touch anybody because if she touches it, it will be stone, but she has someone to overcome it. | 3.9 |
Books Like A Court Of Mist And Fury
1. House of Earth and Blood (Crescent City)
House of Earth and Blood is the first book of the Crescent City that won the Goodreads Choice Award for Fantasy. It tells the story of Bryce Quinlan, a half-human girl living in Crescent City in the world of lunacy. So when the book starts, Bryce is a bit of a partier. One night after excessive drinking, she comes home, and her world is turned upside down. She discovers that someone very close to her has been murdered.
So two years go by, and she's still dealing with the trauma of losing someone so close to her when she suddenly finds out another murder has occurred. Bryce teams up with Hunt Aguilar, a fallen angel, and both try to discover who has been committing these murders in Crescent City.
I enjoyed Crescent City, which reminded me of A Court Of Mist And Fury because the same author wrote it. Sarah Maas has a unique writing style that can be completely addictive. Most of the reason is because of her character development. Crescent City has some characters that are very reminiscent of that. Also, the main love interest in Crescent City reminds me a little bit of the Algerian warriors in A Court of Lords and Roses.
The book is Sarah's first Adult novel, so there are many more cursing and darker themes. Our main character tackles alcohol addiction, drug addiction, and trauma. So it might be intended for people over the age of 18. The writing, plot, and world-building were amazing. Overall, I enjoyed the book's fantasy and romance.
Author: Sarah Maas
Narrator: Elizabeth Evans
Publisher: Audible Studios
Tropes: Fae, Mental-health, Feminism, Mystery, Alpha-male, Revenge, Angels, Vampires
Number Of Pages: 803
Available: Audiobook | Paperback | Hardcover | Kindle | Audio CD
2. Rhapsodic (The Bargainer)
Rhapsodic follows Calypso Lillis when she is 16 years old, and she kills her stepfather. So to help cover up the murder, she contacts the bargainer. The bargainer is a dark fairy known for exchanging wishes for favors. So Lillis becomes infatuated with the bargainer and owes him many favors. However, one day the bargainer abruptly leaves Lillis's life, and seven years go by. Before she sees him again, he shows up on her doorstep and is ready to collect all the debts she owes him.
So I found this to be very similar to A Court Of Thorns And Roses. The main love interest in the book is a dark fairy covered in tattoos, has a giant wingspan, lives under the mountain, and is in charge of the dark court, which is refashioned to a tee.
The main difference here is that there is much more smut. I found it to overtake the plot a little bit. I enjoyed the book but didn't get into it until the last few chapters. Also, the dialogue delivery and narration were slow and boring. But you'll enjoy character development, world-building, and romance. There is some negative feedback for the hardcover, but the paperback is excellent for font size, color, binding, and cover.
Author: Laura Thalassa
Publisher: Blackstone Publishing
Tropes: Horror, Suspense, Childhood-loves, Dark, Witches-demons, Fated-mates, Adventure
Number Of Pages: 326
Available: Audiobook | Paperback | Kindle | Audio CD
3. Fortuna Sworn
Fortuna Sworn is a fairy tale romance that follows Fortuna, a nightmare, desperately searching to find her brother, who has been missing for the last two years. One day, a mysterious faerie shows up on her doorstep and says that he knows where her brother is and will help find him if she agrees to marry him.
So I found this to be very reminiscent of A Court Of Mist And Fury. It's because there is a trial for two, and one has to go through for a decent chunk of the book, which is very similar to what Farah had to go through under the mountain to prove herself.
Also, the main love interest gave me Roseanne vibes. The main difference between the books is that Fortuna is much darker than a book. It tackles dark themes like slavery and sexual assault and has a much darker feel, unlike Rhapsodic. It does have some of the trials that Farah goes through under the mountain to prove herself.
I found many plotholes and weaknesses in the story in this book. The author only presents the main character's POV, and she never questions anything! Also, world-building is a little bit childish for me. But I loved the fantasy elements and dark theme of the book. If you're waiting for a dark fae romance, I recommend it.
Author: K.J. Sutton
Narrator: Emma Lysy
Publisher: Dreamscape Media, LLC
Tropes: Arranged marriage, Royalty, Netgalley, Dark, Virgin-heroine
Number Of Pages: 316
Available: Audiobook | Paperback | Hardcover | Kindle | Audio CD
4. From Blood and Ash (Blood and Ash)
From Blood and Ash is a vampire romance. The story follows Poppy, who is the maiden. She's living a very isolated life, and she meets Hawk, the newest member of their eyes guard. He is assigned as her guard, and the story follows their budding romance. The plot, vibes, and characters are a little bit dull.
Like A Court Of Mist And Fury, it has the same writing style, which is very straightforward and easy to get through. Armentrout's character development is well done and reminded me a lot of Sara Mass. This book also features the best slow-burn romance I've ever read. It might even top fairer and reasoned. So the main difference between the books is that there are no fairies. Also, it feels slightly more adult than young adults.
Author: Jennifer Armentrout
Narrator: Stina Nielsen
Publisher: Brilliance Audio
Tropes: Vampires, Werewolves, Enemies-to-lovers, Religion, Forbidden-romance
Number Of Pages: 622
Available: Audiobook | Paperback | Hardcover | Kindle | Audio CD
5. The Queen of Nothing (The Folk of the Air)
The Queen of Nothing achieved Goodreads Choice Award for YA Fantasy, which takes a short period. We're not quite sure how long it's been after the events of the Wicked King. The Wicked King Jude and Kardin got married. She became the queen of fairy, and then he exiled her to the mortal realms, which, to the shock of everyone. So when this book picks up, we still have an angry man living in the moral realm.
When her sister Torin comes to her asking for help with something, she sees this as her opportunity to get back into fairy finally. Things have not been going great. Jude's absence. We have magic who has created a very sizable rebellion and is ready to march on King Carden. The main thing in this book is Jude finally figuring out how to be the queen and be honest with herself.
The character development is outstanding. It feels very satisfying by the end of the story, and it's great to see. There are so many callbacks in Queen of Nothing, all the way back to things that happened in the Royal Prince and the Wicked King. So, it's nice to see how well the book fits in with the rest of the story. The first half is done well, but in the second half, the pacing gets a little bit off, and it gets rushed towards the end. Also, we don't have much time to explore enough relationships.
There are so many other relationships other than Jude and Carden. The only thing that did get enough time is Jude's character story, which is the main point of everything. Overall it feels very satisfying book like A Court Of Mist And Fury.
Author: Holly Black
Narrator: Caitlin Kelly
Publisher: Little, Brown Young Readers
Tropes: Bullying, Dark, Strong-leading-lady, Gray-characters
Number Of Pages: 300
Available: Audiobook | Paperback | Hardcover | Kindle | Audio CD
6. Gild (The Plated Prisoner)
Gild is a King Midas retelling and an adult fantasy romance book as A Court Of Mist And Fury. It is about a girl named Auren who is a saddle, which is a person who brings sexual pleasure to someone else. She specifically belongs to the king, and the king has other saddles.
There are other saddles throughout the kingdom. But, King Midas has his specific royal saddles. But Auren is the highest favored, the most favored of King Midas. Because of this, King Midas has turned her entire body into gold. So she is entirely golden. Her skin, hair, eyes, and everything are gold, and she lives in a golden cage.
There's a lot of political posturing in this book and battles trying to take over other pieces of the kingdom. So that leads into this story of Auren following the king on these journeys, and things happen. The book starts with an orgy scene and makes you think there will be way more spice in it than it is. So it left me wanting to read the second book available on Kindle Unlimited.
Author: Raven Kennedy
Narrator: Zara Eden, Blake Lockheart
Publisher: Raven Kennedy
Tropes: Folklore, Mythology, Retellings, Elves, Kidnapping, Politics, Weak-heroine
Number Of Pages: 402
Available: Audiobook | Paperback | Hardcover | Kindle
7. Shatter Me
Shatter Me is a dystopian fantasy romance with a love triangle. The story follows a girl named Juliet who cannot touch anybody. If you so much as touch her skin, you will die. She steals all of your life force, and you will die. So it has landed her in a lot of trouble. When the book opens up, she's in a mental asylum. She is handed over to our big bad villain. We learn about the world and the uprising.
Overall, it's mostly centered on Juliet and this soldier named Adam, who she knew when she was young. If you decide to pick it up, remember that it was written ten years ago. The love triangle would be done a little bit differently. We would have some different things going on with Warner.
I love the side characters and all the delightful things that happened. There were a couple of things in there that felt unnecessary. Some of these friends are fantastic. The writing was not good enough for me. If you like smutty romance with a horror twist, that's your jam.
Author: Tahereh Mafi
Narrator: Kate Simses
Publisher: HarperAudio
Tropes: Dystopia, Asian-characters
Number Of Pages: 338
Available: Audiobook | Paperback | Hardcover | Kindle | Mass Market Paperback
Please let me know in the comments if there are any other books you think would be a perfect fit to follow up with A Court Of Mist And Fury.
Read more similar books:
10 Fantasy Romance Books Like From Blood And Ash