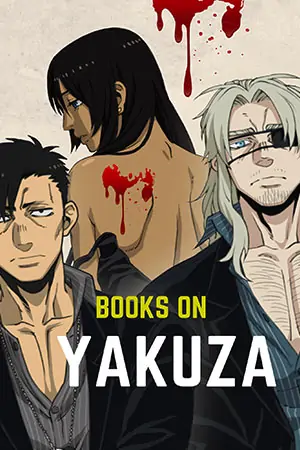 The Yakuza are members of a Japanese crime syndicate founded in the 17th century during the mid-Edo period. They are a very powerful and violent Mafia-style group. The Yakuza means good for nothing. But the Yakuza can be traced to two main groups, primarily from the Kyushu Islands: Tekia and Bakuto.
The Tekia were peddlers are traders of illicit goods. The Bakuto were gamblers and were primarily involved in gambling houses. The name Yakuza was associated with Bakuto. At first, these gangs were seen merely as a dishonest group of delinquents who sold fake and shoddy goods.
Reading books about the Yakuza helps you with insights into a significant aspect of Japanese culture and society. They can shed light on their evolution, origins, and relationships with Japan's political, economic, and social structures.
5 Books About Yakuza (International Mystery & Crime)
Yakuza is a famous character that the Japanese remind it all time. Many movies, games, and books about Yakuza are available online or offline platforms. As a Yakuza fan or reader, you can learn more about Japanese culture, myth, mentality, people, behavior, etc. Also, you can learn about the history of Japan at that time. So let's learn about them by talking about five popular books about Yakuza.
1. Tokyo Vice
If you like Japanese culture, you're going to love Tokyo Vice. The story begins with the author Jake Adelstein who is an investigative journalist. He went to university in Japan and set an entrance exam to work for the Yamauchi Shimbun. It is one of the newspapers in Japan that is very highly regarded. Jake Adelstein was an American who made his way up the ranks in a competitive industry, Japanese journalism.
Essentially, he worked covering crime and things associated with the police departments. He started off working in an outlying prefecture outside of Tokyo. He then slowly worked his way into working with the top guns of the Tokyo Metropolitan Police Department.
Adelstein added many crime lists, and there was one shooting death, and the person killed was the Yakuza boss. Yakuza was a gangster group that created much chaos and hype. Adelstein covered organized crime tasks, force theft, and public security. The thing about Japan is, and he makes this brief, there's not a lot of crime in Japan, but there's enough crime if you're covering it. What are the relationships between the Yakuza and the police? What are the relationships between Yakuza police and reporter?
Author: Jake Adelstein
Average Rating: 4.5/5
Category: Biographies of Journalists, General Japan Travel Guides
Available: Audiobook | Paperback | Hardcover | Kindle
2. Yakuza: Japan's Criminal Underworld
I have read much about Japanese history, mythology, anything from the Yakuza to the modern government to books about the general Japanese mindset about different social issues. It is one of my favorite books because of its great pacing. It approaches its subject matter and tries to incorporate all elements of it. Yakuza focuses on the organization's inner workings, how everything is structured, and the history of the mechanics of how it is incorporated into Japanese society.
It's a very engaging read. It tries to present every angle of its subject matter rather than focusing strictly on one area. Hopefully, you'll read some narrower, more focused books after reading this. Go ahead and pick this one up. This book is the expanded edition. If you are interested in the historical aspect or even the Yakuza series of video games from Sega, this book is for you.
Author: David E. Kaplan
Average Rating: 4.5/5
Category: History of Japan
Available: Paperback | Hardcover | Kindle
3. Yakuza Moon: Memoirs of a Gangster's Daughter
Yakuza Moon is subtitled Memoirs of a Gangster's Daughter. It's by Shockoe Tendo, the daughter of a Yakuza boss. It's an autobiography. So, it's nonfiction that starts with when she was a child and how school members picked on her because her father was the boss of one of the Yakuza gangs. Yakuza refers to all gangs, particularly organized crime in Japan, for those unaware. So it doesn't necessarily refer to one body but refers to several parts encompassed by one term.
It occurred with every family whose primary income source was focused on gang activity. What ends up happening is that her father loses a lot of their money. He has to borrow from loan sharks because the banks won't grant him the loan. Mahima is one of the individuals who is a Yakuza and bad-hearted.
So the girl is forced into this type of lifestyle. Then, with her sister Mochis's influence, she becomes a Yankee, a punk rock kid, dyes her hair blonde, and gets involved in using drugs. She needs a mansion she thinks she loves and that he's married. It seems she's picking up many misfortunes, and none of it's her fault.
This book reflects the problematic aspects that helped build the type of person she is now. It discusses why a good girl gets the entire body, full-back tattoo, and suit. Many people refer to it as she talks about why she uses drugs, which taught her the things that have helped her evolve.
Author: Shoko Tendo
Average Rating: 4.4/5
Category: Asian & Asian Americans Biographies, Violence in Society
Available: Paperback | Hardcover | Kindle
4. The Yakuza Path: Blood-Stained Tea
The Yakuza Path starts with a Yakuza guy in a tea house where he serves tea and does illegal gambling. The reasons why he's no longer part of the Yakuza are quite dark. He is a fascinating character, and he has moments when he's incredibly kind and dedicated to protecting the city he lives in.
Also, he's almost obsessed with keeping the old traditions of Kyoto and the Alkozai in general. Then he gets these extremely violent stacks, sometimes motivated by good intentions. The goodness in his heart and the pain he can inflict are conflicting because he falls in love with another mobster. But he's not part of the Yakuza. He's part of the Korean mob trying to take over Kyoto. So, it isn't very easy.
There are friendly nudges to remind you what's been happening, but there's no huge recap. The first chapter rewinds everything that's happened in the previous books. The transition is seamless, and you can continue reading the stories. The protagonist's character is fantastic, and the supporting cast is interesting. You should read the series, especially if you like mysteries and monsters.
Author: Amy Tasukada
Average Rating: 4.0/5
Category: International Mystery & Crime, Asian Literature
Available: Paperback | Kindle
5. Wild Ones
The main character is Satchi Walker, and she is about 15 when the story starts. At the story's beginning, she's been orphaned, and her grandfather comes and offers to take care of her. This comes as a surprise to Satchi for two reasons. One being her grandfather's extra life. She did not exist in poorness. Then two, he is a Yakuza boss. For safety reasons, Satchi has a bodyguard, and his name is Khutor. It's pictured here in a very seductive. He has a habit of smiling when he says something threatening.
A few instances show characters in undress, nothing like hoodies or anything for humor. But an awkward conversation ensues if somebody reads over your shoulder while you're looking at this panel. So I'm letting you know they're on the bright side.
I especially enjoyed how the multicar portrayed the Yakuza members because they looked sufficiently frightening and simultaneously endearing. There are a few side notes to finish and pull together in a bit of a bow. Wild Ones is a completed manga with about ten volumes, and it is licensed in English.
Author: Kiyo Fujiwara
Average Rating: 4.9/5
Category: Teen & Young Adult Manga
Available: Paperback | Kindle
Yakuza Romance Books
Yakuza romance books are a subgenre of romance novels that involve relationships between characters connected to the Yakuza. Some popular Yakuza romance novels and series include:
The Yakuza's Plaything by Em Brown: A dark and steamy novel about a woman who becomes involved with a powerful Yakuza leader after he saves her from danger.
The Yakuza's Little Angel by Ashley Jade: A romance novel that explores the relationship between a Yakuza boss and a woman he rescues from a rival gang.
The Yakuza's Bride by Sam Crescent: A story of forbidden love between a Yakuza member and the daughter of his boss, exploring themes of loyalty, betrayal, and desire.
Yakuza Lover series by Jagger Cole: A series of novels that follow different couples. They face the dangerous and passionate world of the Yakuza.
Yakuza's Property by Leona Lee: A story about a woman who becomes involved with a powerful Yakuza boss. He takes the risks and rewards of their relationship.
The Yakuza's Obsession by Roxy Sinclaire: A novel about the life of a woman who becomes the target of a Yakuza leader's obsession.
These books contain mature content and are intended for adult readers. They provide a blend of romance, danger, and excitement, set against the backdrop of the Yakuza's criminal underworld. Remember that these stories are not accurate representations of real-life Yakuza experiences but imaginative interpretations for entertainment.
Books Like Yakuza
If you are looking for books related to the Yakuza or Japanese organized crime, you may find the following titles interesting.
Non-Fiction:
Tokyo Vice – An American Reporter on the Police Beat in Japan by Jake Adelstein: An autobiographical account of an American journalist working as a crime reporter in Tokyo and his encounters with the Yakuza.
Confessions of a Yakuza by Junichi Saga: A memoir based on interviews with a former Yakuza boss, offering insight into the world of organized crime in Japan.
Yakuza – Japan's Criminal Underworld by David E. Kaplan and Alec Dubro: An in-depth examination of the history and activities of the Yakuza in Japan.
Fiction:
Out by Natsuo Kirino: A dark, gripping crime novel about four women working at a Tokyo factory who become involved in a Yakuza-related crime.
The Thief by Fuminori Nakamura: A suspenseful novel about a skilled pickpocket in Tokyo who becomes involved in the Yakuza.
The Devotion of Suspect X by Keigo Higashino: A psychological thriller that takes place in Japan and provides insight into Japanese culture and society.
Six Four by Hideo Yokoyama: A crime novel about a former detective turned press director who is drawn back into the world of crime when a cold case resurfaces, tangling with Yakuza elements.
---
These books offer different perspectives on the Yakuza and Japanese crime, providing an engaging reading experience. If you are interested in criminology, sociology, or organized crime studies, these books about the Yakuza can offer valuable insights.
You can learn about their organizational structures, hierarchies, recruitment methods, criminal activities, and the dynamics of their interactions with law enforcement agencies. While books can provide valuable insights, they may also be subject to artistic interpretation, bias, or exaggeration.
Frequently Asked Questions
Who is the most feared Yakuza?
A powerful and feared Yakuza figure was Yoshinori Watanabe. He was the fifth kumicho (godfather) of the Yamaguchi-gumi, Japan's largest and most powerful Yakuza syndicate. He led the organization from 1989 to 2005, during which time he significantly expanded its reach and influence within Japan and internationally.
Under Watanabe's leadership, the Yamaguchi-gumi became Japan's dominant Yakuza group, engaging in various criminal activities. His influence extended beyond the criminal world, with connections in the political and business spheres.
Why is Yakuza not illegal?
The Yakuza is a collective term for Japanese organized crime syndicates, and its members are involved in various illegal activities. However, as an organization, the Yakuza is not explicitly illegal in Japan. This is due to several factors:
The Yakuza has its roots in the 17th century and has since become deeply ingrained in Japanese society. They have a complex history, including connections to traditional Japanese values and social structures.
Some Yakuza groups operate legal businesses alongside their criminal activities. This makes it challenging to outlaw the Yakuza as an organization without inadvertently criminalizing legitimate business operations.
Over the years, the Yakuza has developed ties with politicians and law enforcement. This relationship has allowed them to maintain protection and influence, making it challenging to outlaw them explicitly.
The Yakuza operates in a gray area of the law, where their activities are not always explicitly illegal. This makes it difficult for law enforcement to target them as an organization.
To counter the influence of the Yakuza, Japan has enacted laws targeting specific criminal activities and behaviors associated with the Yakuza, such as the Anti-Organized Crime Law (1991). It aims to restrict their sources of income and limit their influence. Additionally, law enforcement in Japan actively pursues individual members of the Yakuza for their involvement in illegal activities.
Is Yakuza banned in Japan?
The Yakuza itself is not explicitly banned in Japan. However, the Japanese government has enacted various laws to restrict and regulate the activities of Yakuza members and their organizations.
One of the most notable laws is the Anti-Organized Crime Law (also known as the Boryokudan Haijojorei), introduced in 1991. The Anti-Organized Crime Law is designed to limit the influence and activities of organized crime groups like the Yakuza.
---
More Thriller & Crime Books:
Possessive Mafia Romance Books
White Collar Crime Books Like Bad Blood
True-Crime Books Like If You Tell