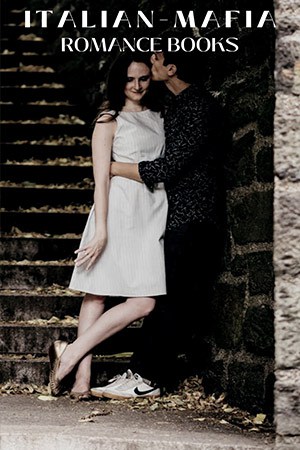 Most Italian mafia romances are about arranged marriages. In mafia culture, the daughters are used mainly as a commodity. So they're used to further alliances with different families. I typically love a mafia romance where the heroine doesn't know the hero's in the mafia. Do you know why some heroine falls in love with a mafia guy? The main reason is because of the excitement and adrenaline rush they have whenever they're getting to flirt and talk with them.
Everyone wants their life to be like a movie. They want it dramatic and exciting. Also, they want crazy things to happen and for there to be passion and fire in their relationship. For most girls, dating an Italian mafia guy fits perfectly with that mold of what they are looking for. So, most of the time, we see arranged marriages where the heroine is forced to do that, but somehow she or the mafia guy feels attraction. It creates a lot of drama, action, crime, mystery, and thrill. Keep scrolling if you want to read these tropes with the Italian mafia plot or story.
5 Italian Mafia Romance Books (Mobster Love Story)
Books about Italian mafia romance represent dark crime, mafia-world, politics, culture, etc. Also, Italian has a unique culture, and their mafia or crime world is very familiar and unique. So, I love to read when I find the scope to learn a new culture, and the Italian mafia story can fulfill my desire. Now, I will share my top 5 Italian mafia romance books. Let's begin!
| Name | Key Focus | Review (Goodreads) |
| --- | --- | --- |
| The Godfather | A big mafia family is trying to solve many mysteries and criminal cases. | 4.3 |
| Monster in His Eyes | An Italian mafia and a college girl immediately build chemistry with each other. | 4.0 |
| Bound by Honor | An Italian mafia princess's family arranges a marriage with a mob family. | 3.8 |
| The Kiss Thief | A triangle love story between two mafia families. | 3.9 |
| Nero | In high school, a boy and a girl develop feelings for each other from mafia families. | 4.0 |
Italian Mafia Romance Books List
1. The Godfather
The Godfather is a historical Italian mafia romance that won three Academy Awards for best pictures. The book was published in 1969, and within two years of its publication, it sold 9 million copies. It was also on the New York Times bestseller list for 67 consecutive weeks, approximately a year and three months. So the movie came out in 1972, the first one, and by that time, the Godfather book had already sold a million copies before the movie ever hit theaters.
So, the book was popular when the movie came out. If you have watched the first movie but haven't read the book, what they did adapt into the movie from the book is very faithful to its source material. The Godfather has the most faithful adaptation from book to film I've ever seen from anything. The first movie is so faithful to the book because it was written by two guys, Francis Ford Coppola, the director, and Mario Puzo, the author.
The opening of the first chapter gives you an immediate impression of the range of influence that Don Vito Corleone has. Puzo writes three scenarios where the character's solution to fix their problems entirely separate from one another is to go and meet with Don Corleone. The movie opens with Amigo Boss at a meeting with Don Corleone on his daughter's wedding day in his office. But the book shows boss Sara sitting in the courtroom, listening to the judge give the sentence to the two boys beating the crap out of his daughter.
Once the judge gives his verdict that the boy's sentence is to be suspended, Vanessa looks at his wife sitting next to him and says they must go to Don Corleone for justice. The second situation, Puzo writes, is about Johnny Fontaine and, put it politely, his marital troubles. After he and his wife have a little argument, to say the least, he thinks he has to go and meet with his Godfather, Don Corleone, for advice.
The third and final situation that Puzo writes about is about a baker named Nazarene, who is a long-time friend of Don. His daughter becomes pregnant with the baby of an Italian immigrant who is about to be deported back to Italy. So to prevent his daughter from raising a child on their own and his grandchild from being raised fatherless, he has to go to Don Corleone for his last ray of hope.
I liked this opening for the first chapter so much because you clearly understand how powerful and influential Don Corleone is without him even being introduced to you at this point. So, this book is about mafia, violence, and justice, and there is a lot of sex in this book. Johnny Fontaine is a much more prominent character than he is in the movie.
Some scenes here make 50 Shades of Grey look like a Dr. Seuss book. But it is a few scenes that provide a tremendous amount of detail. Puzo's impeccable attention to detail makes The Godfather such a timeless classic, from describing people's appearances to describing how someone gets the crap beaten out of them or murdered. Take advantage of the book!
Author: Mario Puzo
Publisher: Berkley (Reissue edition)
Tropes: Mystery, Classics, Historical, Thriller
Number Of Pages: 610
Available: Audiobook | Paperback | Hardcover | Kindle | Mass Market Paperback
2. Monster in His Eyes
Monster in His Eyes is an assassin and hot mob romance series and the first book of it. The story follows Karissa, a college student, and one day she has a test or some class situation, and she forgets her phone in the classroom.
So she tries to go back and get it and overhears a conversation between her professor and an older man (Ignazio) who she doesn't recognize. While Karissa goes to grab her phone, he sees her! They are both immediately drawn to each other and curious about one another. So, they start a relationship fast and fall in love.
Ignazio is a secret Italian mobster hiding a lot, and Karissa is only 18. She doesn't question many things but notices things that are off. Ignazio is a very mysterious, dangerous character, and I love the trilogy. I recommend the whole series if you are waiting for the Russian and Italian mafia love combined with a dark vibe.
Author: J.M. Darhower
Narrator: Lynn Barrington
Publisher: J.M. Darhower
Tropes: Academic, Dom-sub, Forbidden, Alpha-male
Number Of Pages: 351
Available: Audiobook | Paperback | Kindle
3. Bound by Honor (Born in Blood Mafia Chronicles)
Bound by Honor is book one in the Born in Blood Mafia Chronicles. There's also a spinoff series. This book follows a mafia family, which must be read in order. I recommend reading them in order because everything makes much more sense. Many of these books in the series overlap and intertwine, and you can see some of the plots from other books in other characters.
Book one is about Aria and Luca, my favorite couple in the series. Aria is a mafia princess who is being married off to another mob family there. Their marriage has been arranged since she was a teen, but she doesn't know very much about her husband or her future husband. All the rumors about him are terrifying, and she is scared and unsure if she's cut out to be his wife.
The first three books don't have much of a plot. Books four, five, and six have a more developed plot and storyline. I recommend this series if you are a real fan of Russian and Italian mafia romance. Avoid the hardcover because it has some negative issues, but the paperback is excellent for font size, color, cover, binding, and paper quality.
Author: Cora Reilly
Narrator: Savannah Peachwood
Tropes: Suspense, Arranged-marriage, Enemies-to-lovers, Cheating, Shy-heroine
Number Of Pages: 273
Available: Audiobook | Paperback | Kindle
4. The Kiss Thief
The Kiss Thief has dark, age gap, and arranged marriage tropes but also has some political aspects. It won Goodreads Choice Award Nominee. We have Francesca, a mafia princess who has been in love with her child's best friend forever and is now 18.
So as in most mob families, you get married at 18, and it's usually an arranged marriage. Francesca's expecting to be married to her best friend because she's been in love with him forever. They do have family ties. Senator Wolf Cannon is an older man who is blackmailing Francesca's father and arranges a marriage between Wolf and Francesca.
So, the story does have a slight love triangle, but it's not overpowering. Check it out for yourself to find out who is the possessive Italian mafia and how Francesca is connected with him. Discover the dark secrets, and you'll feel a cliffhanger vibe when you do it. Also, I listened to the audiobook because I enjoyed the background music and narration.
Author: L. J. Shen
Narrator: Stephen Dexter, Savannah Peachwood
Publisher: Audible Studios
Tropes: Politics, Love-triangle, Arc
Number Of Pages: 320
Available: Audiobook | Paperback | Kindle | Audio CD
5. Nero (Made Men)
Nero is the very first one of the Made Men series. Each book will be about a different male character in their love interest. So it starts in high school. That's where Nero and Elle meet. He's ordered to find out more about who she is. They fall in love and are part of the same mafia outfit.
So each of these men has an apartment on top of a casino. The fourth book, Lucca, is also my favorite. You have to read each book to get to Lucca. It's because you won't know what's happening, but each one is smutty. If you're interested in that, read this Italian mafia romance.
Author: Sarah Brianne
Narrator: Aaron Landon
Publisher: Audible Studios
Tropes: Dark, Abuse, Childhood-love, Bully
Number Of Pages: 292
Available: Audiobook | Paperback | Kindle | Audio CD
Those were my best Italian mafia romance novels recommendations. If you have any other mob/mafia/assassins recommendations, please leave them down below because I am always looking for new ones that I have yet to read or have never heard of either. So go ahead and leave them down below.
Read more similar books:
5 Possessive Mafia Romance Books
10 Exciting Mafia Romance Books
7 Fantasy Monster Romance Books