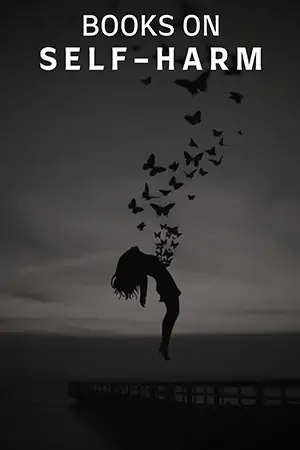 Self-harm refers to an intentional act of body damage either inside or outside of your body without suicidal intent. Self-harm and suicide are very different. Many parents and families struggle with it and don't understand how to deal with it. The other distinction that's important to know is that self-harm, by definition, is not socially sanctioned.
So a lot of people go and get tattoos or get piercings. While those can become a form of self-harm, it doesn't necessarily mean they're self-harming because your child is doing those things. Self-harm can look like different things for everyone. We see a lot of skin pinching to tell it: breaking, cutting, or carving marks in your skin with the intent to hurt yourself.
Preventing wounds from healing can also be a form of self-harm or burning yourself. In this article, I will recommend some books about self harm. These books are only for knowing mental illness and story purposes. So be aware of this trope and consult your doctor if you self-harm.
5 Books About Self Harm
Reading books that represent psychological aspects and mental illness is my inspiration. Also, I found myself lucky because many people suffer from many issues that give me some lessons and hope. So, I have always had a soft corner about them. Now, I will review 5 books on self-harm. Let's read!
| Name | Key Focus | Review (Goodreads) |
| --- | --- | --- |
| Girl in Pieces | A girl is passing through a hard life in a mental hospital and dealing with her mental illness. | 4.1 |
| Scars | A girl is dealing with her traumatized event, and her therapist is trying to help her. | 4.1 |
| Willow | The story focuses on a romantic relationship where the heroine struggles with her loneliness and self-harm issues. | 4.1 |
| Wintergirls | Two friends are trying to save themselves where the crime scene happens. | 3.9 |
| Suicide Notes | The story is an autobiography of a boy having a disorder in a hospital. | 3.8 |
Books About Self Harm
1. Girl in Pieces
This book follows a girl who self-harms. Even though it's a big part of the story, it's not the main focus. It's because this girl has all the reasons in the world to self-harm. You get to feel this girl by the name of Charlie. She has been homeless, and you get to full her story. You see a lot about how these secrets she's been hiding come forth throughout the story.
In the first part, Charlie's completely quiet. It starts in a mental hospital that she's come to because her friends found her bleeding where she's cut up her arms, and she doesn't speak at all. You can't go through her thoughts in the beginning part of the book, and then it's divided into three parts. The first one is she's in a mental hospital. The second she comes out and discovers the third one.
I enjoyed this book initially but had a hard time reading it because it touches too close to home. But since her story is so different from mine, this girl has gone through everything. What's so interesting about it is that I can have the same thoughts she can have.
So, I can relate to this story, even though I haven't gone through half of the things that she's gone through. But we say we still have the same thoughts, which makes this book relatable. There's one important part Charlie talks a little bit about self-harm when she's in the mental hospital. If you self-harm, then don't read this book. If you know someone who self-harms, you must read it to understand them or help them.
Author: Kathleen Glasgow
Publisher: Ember
Average Customer Review: (4.7 out of 5, on Amazon)
Tropes: Physical & Emotional Abuse, Social Issues, Romance, Psychology
Number Of Pages: 448
Grade level: 9 – 12
Item Weight: 12.8 ounces
Dimensions: 5.5 x 0.93 x 8.19 inches
Available: Audiobook | Paperback | Hardcover | Kindle | Audio CD
---
2. Scars
This book is about a teenage girl named Kendra Marshall, a very talented artist. She is a 15-year-old high school sophomore, and she is a cutter. It's her coping mechanism for a horrific, traumatized event that happened to her as a child. She was sexually abused, yet she does not know who her abuser was.
So, she's in therapy, and her therapist is trying to help her figure out who her abuser is. It's very painful for her to remember because she hurts herself.
When her mother tries to help her, it doesn't work properly. Also, Kendra needs a girl named Megan who is rebellious and similar. Megan does not come from a good family. However, Megan and Kendra form a friendship and even more than friendship.
Cheryl Rainfield writes through emotion. Usually, some writers try to make things flowery for writers. But some writers write emotion and life experiences, and Cheryl has gone through it. She talks about a very sensitive topic, and it's very triggering.
Author: Cheryl Rainfield
Publisher: Westside Books
Average Customer Review: (4.6 out of 5, on Amazon)
Tropes: Mental Illness, Abuse, Psychology
Reading age: 14+ years
Number Of Pages: 250
Available: Audiobook | Paperback | Hardcover | Audio CD
---
3. Willow
Our main protagonist is Willow. Her parents died due to a car accident when she was driving. Willow now lives with her brother, wife, and little daughter. She's six months old and doesn't play on the cover. Willow's living with these people, and she feels very distant.
So, she thinks that replacing emotional pain with physical pain is helping. Then she's continuing this, turning into a slight obsession that she's running out of places to cut. One day Willow meets a boy named Guy. He finds out about her cutting, and they are scared about what will happen. Also, he's not sure of what to do.
The author captures how both of them feel very well. It's a great story and doesn't have this miraculous change. I would not recommend this unless you think you are mature enough. If you can handle the content in this book, go for it. Don't pick hardcover because it's low quality, but the paperback and library binding are awesome for cover, color, and font style.
Author: Julia Hoban
Publisher: Speak, Reprint edition
Average Customer Review: (4.5 out of 5, on Amazon)
Tropes: Depression & Mental Health, Death & Dying, Love
Grade level: 9 – 12
Number Of Pages: 336
Available: Audiobook | Paperback | Library Binding | Kindle | Audio CD
---
4. Wintergirls
This book was first published in 2009, and it is short. In the story, we have some girls. One of them is Cassie. Cassie's body was found in a motel room. She called her best friend, Lia, 33 times before she died. The voice in Lia's head tells her to stay strong, keep control, lose more weight, and become thinner. Maybe she can make herself disappear altogether.
So this book focuses on Lia, the main character, and it's a first-person narrative. We're seeing what is in her head, who has anorexia, her struggle with anorexia, and dealing with Cassie's death. Many things happen in the book, but you should discover them independently. If you're looking for a light read, it's not that. But to be fair, it's a book that will teach you a lot and give you real-life feelings.
Author: Laurie Halse Anderson
Publisher: Penguin Books
Average Customer Review: (4.6 out of 5, on Amazon)
Tropes: Friendship, Arc, High-school
Number Of Pages: 278
Grade level: 7 – 9 (Teacher's pick)
Item Weight: 9.6 ounces
Dimensions: 5.5 x 0.84 x 8.25 inches
Available: Audiobook | Paperback | Hardcover | Kindle | Audio CD
---
5. Suicide Notes
The story is about a fifteen-year-old boy's (Jeff) journal, dealing with a mental illness (self-harm) in a hospital. Each chapter is a day, and he's there for 45 days, which shows his improvement with his therapist. I love that he calls his therapist a funny name because he didn't want to write the name down the entire time. Then it showed his parents visiting and everyone being sorry.
A new guy comes in and tries doing wrong with one of the girls. Then, suddenly, that girl ends up dying and killing herself. Jeff is messed up about that because they got close, and they were good friends towards the end. But Jeff didn't complain about it or anything.
As a gay, he fell in love with his best friend's boyfriend. So that's a plot twist in this book that I was not expecting. I was very emotional at the end. That's why I recommended this best-seller book.
Author: Michael Tho
Publisher: HarperTeen, Revised Edition
Average Customer Review: (4.7 out of 5, on Amazon)
Tropes: Suicide Social, Family Issues, Humor, Disabilities-disorders-diseases
Number Of Pages: 320
Item Weight: 8.8 ounces
Dimensions: 5.31 x 0.72 x 8 inches
Available: Audiobook | Paperback | Hardcover | Kindle
---
Read more similar books:
5 Mental Illness Books Like It Is Kind Of A Funny Story
7 Mental Health Books Like My Year Of Rest And Relaxation
3 Medical-Bio Books About Bellevue Hospital
5 Humorous Fiction Books Like Anxious People
5 Phobia Romance Books Like Every Last Word
5 Child Abuse Books Like Spilled Milk