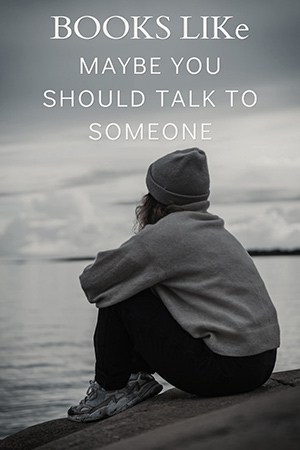 Maybe You Should Talk to Someone by Lori Gottlieb is a memoir about mental health, psychology, and personal development. This book was published in 2019, and the hardcover comes in at 432 pages. Although the title and cover of this book may initially lead you to believe that this is a self-help book, it is a memoir. Lori Gottlieb chronicles a tough period of her life, both personally and professionally. She had been seeing a man very seriously for an extended period until he abruptly broke up with her one day.
Also, this was the person she intended to spend the rest of her life with, and how the split seemed to come out of nowhere. Then she couldn't get over how sudden it was, how insensitive it felt, and how it slipped a critical life she was building for herself. Despite training and or expertise, Lori was encouraged by her friends to see a therapist when she was understandably still torn up about the situation for a length of time afterward. Much as our loved ones want to help us, they have limits.
Lori realized that her grief was something she needed to address with a therapist over a few sessions in the book. She stealthily gets a referral from a coworker for a friend and begins seeing Wendell, a stoic man who initially gives Lori a few sessions to sit with her grief and have these bouts of life-shattering, uncensored crying.
During these initial sessions, Wendell serves as little else than being that critical human presence, standing in witness of her sense of loss and being available to listen should she need that. But once Lori moves on from this stage, her therapist drops the ball on her. He thinks she's grieving something much more complex than the loss of boyfriends like all of us who are far too close to ourselves to be able to see anything.
This book has at least a portion of that power that it can flip the mirror image of our lives back at us and helps us see things better by first seeing them. If you want to read books like Maybe You Should Talk To Someone, stay with me.
7 Books Like Maybe You Should Talk To Someone (Psychological Self-Help)
One of the best things about this book is that it mimics the therapy experience, giving you an image of the healing process. We see Lori Gottlieb as both therapist and therapy seeker. Also, we see how frustrating and challenging it is for the therapist not to have all the information when trying to help their patients.
I like to know about the human mind, behavior, and existence, so I am touching on both philosophy and psychology. So I will review 7 psychological memoir books similar to Maybe You Should Talk To Someone. Let's go!
1. 12 Rules for Life: An Antidote to Chaos / Maps of Meaning: The Architecture of Belief
It's written by Jordan Peterson, a Canadian psychologist who used to teach at Harvard, and he is very vocal on the media scene. That's why he has a bad reputation for supporting the radical right. So this book represents his bio/memoir-like Maybe You Should Talk To Someone. He's a deeply misunderstood psychologist out there. But the rules of life are pretty self-explanatory to the title.
Jordan Peterson writes about the 12 main rules he has of life. I like it so much because Peterson is a well-educated, curious, and caring man. He has done academic work, is trained as a behaviorist, and has done a lot of scientific and statistical stuff. But at the same time, he's very interested in existential philosophers and Russian literature. So it's a breath of fresh air to see a psychologist stick to psychology and take wisdom from other places.
The biggest criticism is that academic philosophers or academic theology theologians find that his interpretations of things are off. Some things work, and there are metaphors that we use that aren't necessarily based on evidence. The first few chapters of this book were good enough, but they slowed down. Although the author does touch on Buddhism and other Eastern philosophies, it is ultimately very Eurocentric and very focused on Christianity.
Author: Jordan B. Peterson
Award: INTERNATIONAL BESTSELLER
Publisher: Random House Canada, Later prt. edition
Average Customer Review: (4.8 out of 5, on Amazon)
Tropes: Self Help, Religion, Politics, Science, Philosophy, Psychology
Number Of Pages: 409
Item Weight: 1.45 pounds
Dimensions: 6.31 x 1.39 x 9.31 inches
Available: Audiobook | Paperback | Hardcover | Kindle | Audio CD
---
2. Man's Search for Meaning
Viktor Frankl is an Austrian psychiatrist/psychotherapist in Austria. He started logotherapy or existential psychotherapy as well. Well, it is a memoir for the first half. So Viktor Frankl was a Jewish Austrian who went through the Holocaust. The majority of his family was murdered in the Holocaust, and he was sent to multiple concentration camps.
The ways he observed how people and their attitudes and their perspectives in life made or broke them were extraordinary. He talks a lot about the responsibility that a person has in their own lives and being able to, despite suffering, be able to live a good life. I like that concept because Buddhism is based on suffering, and there's a huge overlap there.
The second part of the book is more about how Viktor started therapy, an existential branch of psychotherapy, and how that developed the main components of what things he likes to explore. All the basic theory is very well written as a memoir similar to Maybe You Should Talk To Someone. A little bit of a limitation is that he is repetitive in his theories. But other than that, it's an easy read.
Author: Viktor E. Frankl
Publisher: Beacon Press, 1st edition
Average Customer Review: (4.7 out of 5, on Amazon)
Tropes: Classics, Spirituality, Holocaust, Psycho-neurology-crime, Popular Psychology Psychotherapy (Best Seller)
Number Of Pages: 192
Available: Audiobook | Paperback | Hardcover | Kindle | Spiral-bound
---
3. Why We Sleep: Unlocking the Power of Sleep and Dreams
The author, Matthew Walker, is a professor at U.C. Berkeley. He's done neuroscience in neuroscience stuff for a long time. Then he trained as a doctor in the UK before he moved to America to do sleep research. So he's very experienced and well educated in this field. My interest lies in the overlaps between existential philosophy and psychology. So while this book was interesting, I don't feel like it's changed my life.
Another thing is that, funnily enough, by the time I read and finished the first chapter, I fell asleep, which is hilarious! Then in the middle of the book, it went to how destructive not having a sleep will do to your body and mental health. Take that as a precaution that it does go down to the scientific studies of how bad not being able to sleep does to your body and mind.
I enjoyed the initial chapters a lot more simply because it goes through REM and non-REM sleep and the impact of caffeine on our different kinds of neurotransmitters. What happens with amnesia or psychosis? That goes into mental health illness and its impact on sleep and sleep's impact on mental health.
Also, he talks about how school should be reformed at the end because it's bad for our health to wake up too early, which is quite funny. You have to sleep at least 8 hours a day. That's what I learned from this book. So if you're interested in those topics, this book is the thing to go to read.
Author: Matthew Walker
Publisher: Simon & Schuster Audio
Average Customer Review: (4.7 out of 5, on Amazon)
Tropes: Sleep Disorders, Anatomy, Physiology, Medicine, Neuroscience (Best Seller)
Number Of Pages: 368
Available: Audiobook | Paperback | Hardcover | Kindle | Spiral-bound
---
4. Crazy Like Us: The Globalization of the American Psyche
Ethan Watters is an investigative journalist. It means that he can explore and express the nuances of mental health, illness, the conceptualization of diagnosis, disease, and mental illness across the world. The main argument is that the conceptualization of mental health illness is very Eurocentric.
Therefore, the effect of this conceptualization of mental health illness maps to the diagnosis of diseases, treatment plans, and even treatment structure. The main assumptions that we have about treating certain mental health illnesses. Even the thought of mental illness itself and how to recover from it, all these things are less rigid. It's much more nuanced.
Many more cultural narratives have a much bigger effect than we think. The reason why I like this book is that the first chapter looks at anorexia in Hong Kong. When you read the first chapter author describes Hong Kong so accurately. Also, the first chapter is on the rise of anorexia in Hong Kong.
Chapter two is the wave that brought PTSD to Sri Lanka. The third chapter is the shifting mask of schizophrenia in Zanzibar. The fourth chapter is the Megawati marketing of depression in Japan. Finally, he talks about the global economic crisis and the future of mental health illnesses.
Even though it's based on anecdotal evidence, Ethan does interview people who are clinical experts in their field, and the things he talks about are pretty valid arguments. Like Maybe You Should Talk To Someone, It's an informative book to help you think about mental illness and our assumptions about it.
Author: Ethan Watters
Publisher: Free Press, Reprint Edition
Average Customer Review: (4.7 out of 5, on Amazon)
Tropes: Globalization, Politics, Medical Pathologies, Mental Illness, Sociology, Anthropology
Number Of Pages: 320
Item Weight: 9.6 ounces
Dimensions: 5.5 x 0.9 x 8.44 inches
Available: Audiobook | Paperback | Hardcover | Kindle | Audio CD
---
5. The Defining Decade: Why Your Twenties Matter And How to Make the Most of Them Now
Author Meg Jay is an American clinical psychologist, but this book is nothing related to mental illness or psychology. She does use her clinical knowledge to write this book. So the book is about how your twenties matter a lot. The idea that you can live freely. You can start in your thirties because thirties are your new twenties. So she's arguing against that.
Meg brings up different anecdotal clinical cases that she worked with and the situations she also delves into. The social psychology of the social history of why we have this conception or a misconception is arguably why we have this idea that we can somehow delay our twenties. The growth required our twenties. It also talks about identity, capital, and different things we have to build in our twenties.
So Meg talks about how many people glamorize wasting off the twenties. She's seen so many cases of the early thirties, people who in their early thirties who've enjoyed their twenties a lot then and not enjoying it at all when they 30. It is because you have to figure out a mortgages career. So it is fantastic to see how American psychologists work as well. Also, you'll get much similar advice as in the book Maybe You Should Talk To Someone.
Author: Meg Jay
Publisher: Twelve
Average Customer Review: (4.7 out of 5, on Amazon)
Tropes: Sociology of Social Theory, Productivity, Business, Therapy, Medical Social Psychology & Interactions
Number Of Pages: 273
Available: Audiobook | Paperback | Hardcover | Kindle | Audio CD
---
6. The Consolations of Philosophy
It's not written towards psychology, but it's still changed my life and helped me reorientate it. Alain de Botton studied at Cambridge. He loves his psychology and commenting about couples. You should listen to some of his talks on YouTube and see his style is unique. This book simplifies philosophy and makes it applicable to real life.
Alain describes how vital philosophy is in the current day and age. He talks about different consolations that all philosophy has given us or could give us. The book has six chapters, and its constellations for unpopularity, not having enough money, frustration, inadequacy, a broken heart, and difficulties.
So as you can see, there's a huge reason why a psychologist loves this book because it's about human behavior, mind, and life. I would classify this as the best book on the intersection between philosophy and psychology and that philosophy is almost therapeutic. While reading the book, you will see the same theme similar to Maybe You Should Talk To Someone.
Author: Simon Vance
Publisher: Blackstone Audio, Inc.
Average Customer Review: (4.4 out of 5, on Amazon)
Tropes: Consciousness & Thought, Humanist Philosophy, History, Humanities, Survey
Number Of Pages: 265
Available: Audiobook | Paperback | Hardcover | Kindle | Audio CD
---
7. Becoming Myself: A Psychiatrist's Memoir
If you're already in Irvin D. Yalom, this is his last book because he's quite old, and it's his memoir. It is a motivating book to see how psychiatrists used to work in America or UK when psychiatry and psychology had a smaller divide. It motivated me to see that someone can be so curious and interdisciplinary, how hard being a doctor in America is, and how he was still interested in psychology.
Irvin is a beautiful writer, so it is relatable and easy to read. If you want to discover yourself through the author, give this book a chance to fly you. If you like Maybe You Should Talk To Someone, you must read it.
Let me know if you have any book recommendations for me. If you have any other books related to philosophy or psychology, Please let me know. Also, let me know whether you disagree or agree with my points and whether you enjoyed it. Keep reading!
Author: Irvin D. Yalom
Publisher: Hachette Audio
Narrator: Peter Berkrot
Average Customer Review: (4.7 out of 5, on Amazon)
Tropes: Psychology, Counselling, Autobiography, Nonfiction
Number Of Pages: 352
Available: Audiobook | Paperback | Hardcover | Kindle | Audio CD
---
Read More Similar Self Help Books:
5 Celebrity Memoir Books Like Greenlights
7 Self Help Bio Books Like Can Not Hurt Me
5 Self Help Books Like The Four Agreements
5 Self Help Psychological Books Like The Power Of Now
5 Racism Memoir Books Like Born A Crime