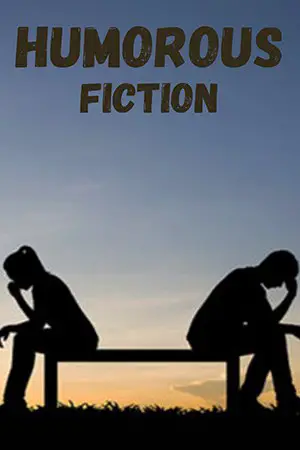 Anxious People by Fredrik Backman is more about the characters. It is about these characters who end up in a hostage situation. They're viewing an apartment, and then a bank robber comes in turns it into a hostage environment.
So they're these strangers in this apartment, and they don't know anything about each other. They're in this hostage situation, and you're learning about their lives. But the way that Frederick Bachman writes characters is incredible. If you want to read books like Anxious People, keep reading.
5 Books Like Anxious People (Humorous Fiction)
Anxious People is a popular mystery and humor book to learn more about reality and the world. The connections between these characters, seemingly random strangers, are mind-blowing things and connections between them all.
You may learn to fall in love with the characters and see some good from them. I'm going to review 5 books similar to Anxious People. Let's go!
1. Eleanor Oliphant is Completely Fine
This book follows Eleanor Oliphant, who is completely fine and happy with her regular job. She doesn't have a lot of friends, but she's excellent with it until one day, things start to change. She had a very distinct voice and mannerisms, and the way of speaking was all very realistic and very convincing, but also very unique to her. While all of this is happening, there's also this mystery about her past that you don't get to understand until the very end.
You get clues, you get told bits and pieces of it, but in a very smooth way that doesn't feel like it's bombarding you or being too concealed. She balances being both judgmental and completely hilarious without meaning to simultaneously bring life into the story. It was so hard to put down, and the character herself drove the story onwards and forwards. Another thing about this book is that it balances its tone very well. So it deals with and tackles some hard-hitting issues like Anxious People.
It could be sad and heart-wrenching, and sometimes you want to be angry. It's relatable in so many ways, whether it's social anxiety or loneliness and fundamental human feelings that are very relatable for most people. But at the same time, while it is very heavy and very upsetting sometimes and heart-wrenching, it can also be hilarious. Eleanor Oliphant drives this whole story. She's created this whole story, and we don't discover what it is until you get the whole story towards the end.
Author: Gail Honeyman
Average Customer Review: (4.5 out of 5, on Amazon)
Category: Humorous Fiction, Women's Fiction
Available: Audiobook | Paperback | Hardcover | Kindle | Audio CD
---
2. A Man Called Ove
Ove is an older man who's 59 years old. He has recently lost the love of his life, and he is very grumpy. He hates any change and is a rule-following loyal person to the court. Since his wife has gone, he finds no purpose in living anymore. Everybody comes in contact with aggravates them, and he thinks they're all a bunch of idiots over has no friends whatsoever. He's alienated the few people that he was close with. His life had lost all of its colors when his wife, Sonia, was in it.
Now enter a new family that moves into Ove's neighborhood characters in this family challenge you. But they demand things from up, and they pull them back to life in a way that Ove wasn't expecting. This book has a ton of humor, and I found myself laughing throughout reading this book, which was such a fun experience. The story has flashbacks, and I learned about Ove's life when his wife was alive.
You can understand why he is so upset with life because he was married to a wonderful person, and he has lost himself in losing her. The love between Ove and Sonia was so pure and sweet. This book has been pretty well-hyped, and you've probably heard that it's fantastic as Anxious People. As you see the characters develop through the whole story, that is when it hits you and makes a big impact on you.
Author: Fredrik Backman
Average Customer Review: (4.6 out of 5, on Amazon)
Category: Literary Humorous Fiction, Friendship Fiction
Available: Audiobook | Paperback | Hardcover | Kindle
---
3. A Confederacy Of Dunces
This book is a comedy, considering that a cover is a man with a bird on his head. It follows Ignatius J. Reilly, who's a disgusting and awful guy. He's a college graduate who knows nothing of the actual world who has this completely obscene and bizarre outlook and viewpoint of the world. One of the people in the back of this book describes the entire novel as a Don Quixote of the French Quarter, which is a great way to describe the plot.
Ignatius and his mother find themselves in a tough financial situation. So he is told to go out and get his first and only job. It's about him finding a job and the characters and the events that go on along the way. As he's on that journey, we get to follow some of the characters he meets on the way.
So we might have a chapter with one of the businessmen he meets. We get to see what his business is run like, how he's doing, and what's going on with him. There's a police officer, and a person owns a bar.
The book is very episodic in how it's written that is very similar to Anxious People. We'll have main chapters, but those chapters will be broken down into smaller subchapters. Although, it gives the book a little more freedom in its writing. Every character gets a moment to shine in this book, and everyone gets their little moment.
Ignatius is the protagonist of this story. He drives the plot. His actions cause everything, but he almost isn't even the main character. We focus more on some of the other characters. In fact, some of them have more growth throughout the entire novel than he does.
Author: John Kennedy Toole
Average Customer Review: (4.3 out of 5, on Amazon)
Category: Humorous Literary Fiction
Available: Audiobook | Paperback | Hardcover | Kindle
---
4. About A Boy
The story follows a boy named Marcus, who is 12 years old. He gets picked on, and his mom is weird. It's also about this guy named Will, who doesn't have to work for a living because he lives off the royalties from a Christmas song that his dad wrote. He pretends to have a two-year-old and goes to a single-parent support group so he can beat women. A few things end up happening, and he ends up spending the day with the 12-year-old boy.
The characters are quite sarcastic, and it's funny. It was very casual and had quite a different atmosphere. There are some heavy topics in this, like depression and suicide talking this. So there are a few dramatic conversations and scenes in the book. I enjoyed the sarcasm after Anxious People, the situations they went through, and how they spoke to each other.
Author: Nick Hornby
Average Customer Review: (4.3 out of 5, on Amazon)
Category: Coming of Age Fiction
Available: Audiobook | Paperback | Hardcover | Kindle | Audio CD
---
5. Good Omens
This book is about the apocalypse. The end of the world is coming by Saturday. There's an angel and a demon who has been sent to Earth way back at the beginning of time. They have stayed on Earth, taking care of business for each side.
Also, they realized that the Antichrist had been lost, so they needed to go and find him by the time Saturday came around. At the same time, these two characters have been on Earth for so long. They have started to enjoy Earth, and they don't want the world to end because they're not looking forward to going back to their respective places, either heaven or hell.
Like Anxious People, it is a funny and clever book. There is a lot of stuff happening in this book, which requires some background knowledge. So if you don't know the original material, this will not seem that funny. There are a lot of characters in this novel. At the beginning of the book, there's a list of all the characters.
The way this book is written, each chapter or section is broken up by a day. It is interesting to see how all the different stories come together and are all connected. But at the same time, it feels like a lot. You're being bombarded with a lot of information, and you have to retain a lot of information while you're reading this book.
Author: Neil Gaiman
Average Customer Review: (4.7 out of 5, on Amazon)
Category: Post-Apocalyptic Science Fiction, Humorous Fantasy
Available: Audiobook | Paperback | Hardcover | Kindle | Mass Market Paperback
---
Read More Psychology Humor & Satire Books: 5 Books Similar To Fight Club