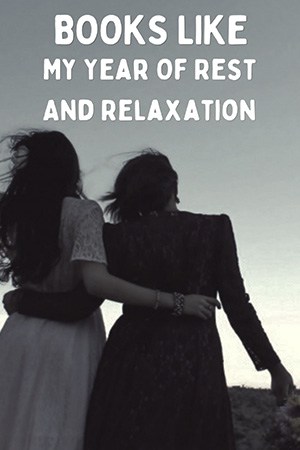 My Year Of Rest And Relaxation by Ottessa Moshfegh is American literature representing two life stories dealing with mental health. This book has been pitched about a girl with mental illness. In order to deal with her mental illness, she chooses to take a whole bunch of prescription drugs and sleep for a year. When the year is over, she's supposed to have this aha moment, and her life will change forever.
We have the people who deal with loss, which the narrator faces. Her parents are dead, so she's coming to terms with that and realizing many things about her parents after the fact. Also, she's trying to deal with the pain of losing her parents. Then we have her best friend, who is the secondary character of this story, and she's dealing with depression that arises from comparing herself to other people. The narrator fully knows her best friend's insecurities and talks about them openly.
So I was expecting a lot more character growth to be going on between the two of them and their friendship. But she continues to berate her and to be toxic. So this book talks about drugs a lot, and it doesn't have a lot of plot, and it heavily relies on the protagonist narrator's use of drugs. The way this character manipulates the system to obtain these drugs is also very unsettling because it makes you wonder. Stay with me if you want to read books like My Year Of Rest And Relaxation.
7 Books Like My Year Of Rest And Relaxation (Mental Health Fiction)
Reading books about characters working through their feelings and attempting to work on their mental health has become one of my favorite pastimes. In no other way can I dive deep and understand someone and their thought processes.
My Year Of Rest And Relaxation helps me enrich my thought process and encourages reading more similar books. So I read many books that deal with mental issues and real-life stories. Now, I will review 7 literature and mental health books similar to My Year Of Rest And Relaxation. Let's go!
1. Where'd You Go, Bernadette
It's told through the perspective of emails and letters to put together this idea of who is Bernadette? Her daughter Bee puts together these different letters and memos to figure out where her mom went because Bernadette disappeared. Bernadette is an architect who has recently moved to Seattle with her husband, and they live in an abandoned girl's school.
All of the neighbors hate her, and she's a creative genius who doesn't have anywhere to put her creative energy. Some of the topics that this book discusses is undiagnosed mental illness. That's a huge theme of this book, like My Year Of Rest And Relaxation. They also talk about social anxiety, depression, insomnia, adjustment disorder, and the importance of self-care even after you've had children.
I loved this book because it's a witty and light way to talk about heavy topics. They're broaching serious mental health and illness topics, but it's done in a light and funny way. The story follows Bernadette and her daughter Bee trying to figure out where she went. Also, it's putting together the pieces of this woman's life from the traces of what she's left behind. There's a film, and I watched it recently on Hulu.
Author: Maria Semple
Award nominee: Goodreads Choice
Publisher: Hachette Audio
Average Customer Review: (4.3 out of 5, on Amazon)
Tropes: Humorous Fiction, Fun, Emotional, Family-ties, Coming-of-age, Quirky, Wilderness, Mystery
Number Of Pages: 330
Available: Audiobook | Paperback | Hardcover | Kindle | Mass Market Paperback
---
2. Eleanor Oliphant Is Completely Fine
Eleanor Oliphant works her day job. She has her weekend routine of going to the store and getting drunk. Then she goes back to work on Monday, and she's good at her job. The author represents her as a routine-centered personality. At first, when I was first introduced to this character, I thought she was an older woman because of her attitude and her judgment, but I was wrong.
Eleanor becomes obsessed with a musician. She falls in love with this musician and tries to undergo this full transformation to meet up with him at the right time. They fall in love, and it shows her transformation in ways beyond the external by how she changes on the inside.
This book approaches topics including trauma, coping skills therapy, platonic friendships, finding your place in the world, and letting yourself be free from the voices that have held you back. At the end of this book, I cried, which indicates a good book as My Year Of Rest And Relaxation.
Author: Gail Honeyman
Award nominee: Goodreads Choice
Publisher: Penguin Audio
Average Customer Review: (4.5 out of 5, on Amazon)
Tropes: Mental Health, Romantic Comedy, Self-help
Number Of Pages: 336
Available: Audiobook | Paperback | Hardcover | Kindle | Audio CD
---
3. Evvie Drake Starts Over
The story is about a woman, Evvie, whose husband dies, and he is an incredibly charismatic man. Everyone loved him. He has been locked up in her house ever since he died for the past two years. Evvie stays inside all the time, and people assume she's grieving. But in reality, she was planning on leaving him the night that he died. He got in a car accident while packing up her car to leave him. So she's taking this hard in reality.
Evvie hates what her life is and feels like she's stuck. Then our other main character enters. His name is Dean, a former baseball player. I loved this romance and super cliche ending. It was a real relationship, and they worked on it themselves.
The author talks about grief, romance, moving forward, and permitting yourself to heal. Because often what holds us back from healing is ourselves and the beliefs that we have, that we're stuck in our little box, that we've been in our whole lives. This book breaks everything similar to My Year Of Rest And Relaxation.
Author: Linda Holmes
Publisher: Random House Audio
Average Customer Review: (4.2 out of 5, on Amazon)
Tropes: Realistic Fiction, Sports, Slow-burn
Number Of Pages: 289
Available: Audiobook | Paperback | Hardcover | Kindle | Mass Market Paperback
---
4. The Bell Jar
The story is about a young girl named Esther Greenwood. She's from a suburb of Boston. But when the book starts, she's in New York City. That's because she's doing an internship at a fashion magazine for one month. So, she's curious about the big city, and she wants to experience everything. After her internship finishes, she goes back home, and she has some plans for the rest of the summer, but things don't work out the way she planned.
Esther suffers from depression, and once her plans go astray, the depression starts to take hold of her, and she sinks further and further into it. In conclusion, this is a clear and relatable portrayal of mental illness as there feels very isolated, and the book references her life. She feels trapped in a bell jar, and she can see everything going on outside. But it's not affecting her, and she feels stuck. So she's going about her daily life, but she feels terrible, and she says something about waiting for everyone around her to realize that something is wrong.
No one thinks that she's acting strange. Esther feels that way, and she spirals into this dark place. Finally, she starts to get help, and her life improves. But at the end of the book, you don't quite know how she ends up. You can relate to Esther as the main character of My Year Of Rest And Relaxation. People who enjoy getting into a character's mind will like this book.
Author: Sylvia Plath
Publisher: HarperAudio
Average Customer Review: (4.6 out of 5, on Amazon)
Tropes: Poetry, Feminism, Memoir
Number Of Pages: 294
Available: Audiobook | Paperback | Hardcover | Kindle
---
5. Raising An Emotionally Intelligent Child
This book is for anybody who wants to learn how to be more emotionally intelligent and listen to other people actively. I love it because there are a lot of exercises that help you define or determine your emotional intelligence when it comes to emotions and anger. Also, it teaches you how to teach your children better, how to name and recognize their feelings, which helps to manage them.
Every parent should read this book because so many things can help parents communicate relationships, build trust, and establish methods to help a child become "emotionally intelligent." The author talks about how emotional intelligence is a far greater predictor of success in performance, education, career, and relationships. If you like My Year Of Rest And Relaxation, you must read it.
Author: John Gottman PhD
Publisher: Macmillan Audio
Average Customer Review: (4.6 out of 5, on Amazon)
Tropes: Parenting, Relationships, Family, Counselling
Number Of Pages: 240
Available: Audiobook | Paperback | Kindle
---
6. The Body Keeps the Score: Brain, Mind, and Body in the Healing of Trauma
The author was trying to describe all of the certain people's events in vivid detail. It was very seared into my mind, and I didn't think it was necessary, especially considering that people reading this book likely have struggled with trauma before. So it took me a while to read because you're reading about some horrible things people have experienced. But at the same time, I'd better understand why trauma affects our bodies the way it does.
So it helped me better approach my fears because I have a couple of phobias that have stemmed from past trauma, and I've been able to make headway and work through them. Also, this book is very informational, and it's going to be more of a reference book. Still, it was super helpful in me understanding trauma and how it can affect children especially. If trauma is something you're interested in, you can start with this book after My Year Of Rest And Relaxation.
Author: Bessel A. van der Kolk
Publisher: Penguin Audio
Average Customer Review: (4.5 out of 5, on Amazon)
Tropes: Medical Psychology Pathologies, Complementary Medicine, Personal Development, Neuroscience
Number Of Pages: 464
Available: Audiobook | Paperback | Hardcover | Kindle | Spiral-bound
---
7. Girl, Interrupted
This is the 1993 memoir from Susanna Kaysen, and it got turned into a movie with Angelina Jolie and Renaldo Rider. Also, it's a memoir of her going into a mental institution and her whole experience going into it.
There was a realism to it beyond that in the surrounding cast of characters. All had the same predicament that their minds wouldn't do what they wanted. So, there's that benefit of being inside this place that they also dread. It reminds me a lot of My Year Of Rest And Relaxation. So pick this book if you want to get a similar theme and character.
Author: Susanna Kaysen
Publisher: Vintage
Average Customer Review: (4.6 out of 5, on Amazon)
Tropes: Author Biographies, Psychology
Number Of Pages: 192
Item Weight: 6.4 ounces
Dimensions: 5.22 x 0.52 x 8 inches
Available: Paperback | Hardcover | Kindle | Audio CD
---
These books are trendy, and the reader talks about them frequently on social media. If you have already read any of these books, please let me know your opinion and share it. I'm always there for you.
Read More Similar Books:
5 Mental Illness Books Like It Is Kind Of A Funny Story
7 Mindfulness Books Like Turtles All The Way Down
7 Psychology Help Books Like Maybe You Should Talk To Someone
10 Psychological Thriller Romance Books To Read Before Die