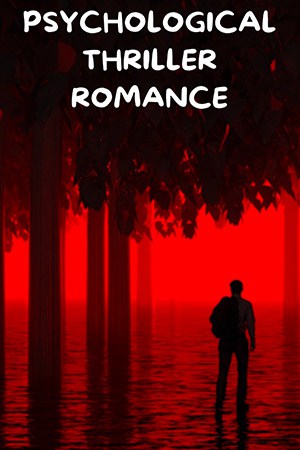 A psychological thriller represents the book's mystery, excitement, and intrigue. The main character wins the battle using their mind, physical talents, or efforts. The motives and intentions are far more important than how a crime is done.
The beauty of the psychological thriller romance as a form is that it recaptures the purest and most basic storytelling that is true to the American form, the rugged, mythic hero. The basic structure is a quest story, a hero going somewhere to get something to save someone. Every novel needs a good villain, and the villain drives. The main conflict may not be a good person, maybe a terrible person, but a good villain is fun to read.
Top 10 Psychological Thriller Romance Books
The best and most frequently read books are psychological thrillers with romance. After all, they're the most accessible because people can relate to the characters. The characters are going through what they're trying to accomplish in their struggles. The stakes are very high, and the reader feels their life will be affected! I will review 10 psychological thriller romance books for you. Let's go!
1. Rock Paper Scissors
This book is a thriller set in an isolated and snowy setting. We follow a married couple (Mr. and Mrs. Wright) going to Scotland. The wife got an email that she had won a getaway and thought it would save their marriage because they had some troubles. So, they are in a massive snowstorm, and it's an abandoned chapel.
Mr. Wright is a screenwriter, and he never hangs out with her wife anymore. Mrs. Wright feels like they are so distant because he's so into his work. Then he feels she's always nagging him, and it's not going that well. But we also are seeing letters from the wife, the entire book, and every anniversary they've had over the last ten years. So you get to see how that resentment builds and what secrets they are hiding. Both of them are talking to you, the reader.
You're thinking, what's going to happen in this snowy chapel? It has an excellent atmospheric setting, and I enjoyed it. If you like thrillers and winter settings, you'll love it. Also, if you want a psychological thriller romance with husband and wife situations, you must read it.
Author: Alice Feeney
Publisher: Macmillan Audio
Narrator: Richard Armitage, Stephanie Racine
Average Rating: (4.2 /5)
Tropes: Domestic Thrillers, Mystery, Suspense
Number Of Pages: 304
Available: Audiobook | Paperback | Hardcover | Kindle | Audio CD
---
2. The Risk (Mindf*ck)
The series is about a serial killer that is a woman (Lana). She's out for revenge for something that happened in the past. I won't spoil it because that's part of the story. But she is killing off these men that have haunted her past, and she gets involved with an FBI agent on her case. It was soft, steamy. That's surprising considering the cover and the title.
The series will get more steamy as it goes, but it focuses on this serial killer and the cases that the FBI is trying to solve. Lana's trying to hide the basement that she has in her house. The storyline is phenomenal, and many plot twists will surprise you. You see the social abuse, crime, thrill, and mystery. If you like romantic suspense with a serial killer theme, you should try it.
Author: S.T. Abby
Average Rating: (4.5 /5)
Tropes: Contemporary Romance, Crime Thrill, Dark, Forbidden
Number Of Pages: 132
Available: Paperback | Kindle
---
3. In Peace Lies Havoc (Midnight Mayhem)
The story follows a group/gang who are super creepy. They're all together, and they all have each other's backs. Our heroine, Dove Hendry, gets kidnapped and thrown into a carnival world. Carnival is like a circus. So she gets thrown into this circus world, and she doesn't have her memories. They have magical powers, in a way. So it's magical realism, dark romance.
I enjoyed this book's story between the two love interest. It was dark and something that I hadn't read before. The twist is insane. It has a creepy carnival-type feel where there's also sex work in the carnival, and it's super steamy. Kingston's such a villain, and I love him. He's the sweeter one in the first book, but he wasn't that sweet in the second one! Dove was super fun to read about. That goes into the next book, which is in serialized mischief. If that seems interesting to you, definitely pick this psychological thriller romance.
Author: Amo Jones
Average Rating: (4.5 /5)
Tropes: Suspense, Social Abuse, Erotica, Fantasy, Slow-burn, Enemies-to-lovers
Number Of Pages: 370
Available: Paperback | Kindle
---
4. All Rhodes Lead Here
This book is about Aurora, who lost after her breakup with a popular singer-songwriter. She went back to her original hometown in Colorado, and she got a small studio online. So, she gets there, and the property owner mistreats her. His son had been the one who sold it to her, and he was a young kid. The kid wanted to buy a guitar for his band. So he put this property up for sale in the garage of their property, and Aurora took it.
Aurora proposes that I can't leave, You have to let me stay for a couple of months, Just give me one month. So this grumpy older adult, Rhode, lets her stay. It's an age gap of ten years difference. Rhode's a state trooper, and he was the one who saved people when they were hiking and needed help.
Once the steam came, I liked their build-up of the relationship that was solid. The relationship between her and his son was also well done. The Colorado atmosphere of this was perfect. There's the whole story about her ex-husband and him being annoying. If you like character-based stories, you'll love this a lot.
Author: Mariana Zapata
Average Rating: (4.6 /5)
Tropes: Friends-to-lovers, Slow-burn, Grumpy-heroes, Age-gap
Number Of Pages: 551
Available: Audiobook | Paperback | Kindle
---
5. Heartbreak Warfare
We have a love triangle going on, and it's hard to put into words. They go through the same thing together, and they're so connected. But Katy also has a husband at home, so she gets drafted into the war again. Also, she has a son, and she has to go to war and leave her family behind because of her husband's great. Then she goes into war.
Katy meets a guy who likes to make jokes. He's all the things that she's ignoring. But they start forming a friendship at first, and then it turns into something where they have so many traumatic things happen to them. There are so many traumatic scenes here of the war, so be aware of that. But you will see why they have such a deep connection. It's not something where it's not believable, and it's not something where you're going to be upset with the girl. You're upset at first because Katy's flirting in the beginning. So, this is going to be a cheating story.
The war brought them together, and then she goes back to her husband, and things are hard because she's so traumatized. When she was kidnapped, all the horrible things happened to her. The angst is heartbreaking. So you have to be in the right mood for this.
I read this in 2 hours, and that's insane to me because I don't read that fast. This was amazing, and you need to read it if you like traumatic books. It is one of the best psychological thriller romances I have ever read. This dark romance is for you if you like books with many trigger warnings.
Author: Heather M. Orgeron
Publisher: Tantor Audio
Average Rating: (4.7 /5)
Tropes: Military, Love-triangle, Forbidden, Angsty, Alpha-Beta
Number Of Pages: 348
Available: Audiobook | Paperback | Kindle | Audio CD
---
6. Recursion
Recursion walks that line between science fiction and psychological thriller love story. This one's interesting because it deals with false memories. So there's this phenomenon going on called False Memory Syndrome. People are being psychologically tortured by remembering this life that they never lived. Also, they have vivid memories of every element of this life that doesn't exist. One day they wake up with a completely different set of memories from their real life, driving them mad. Some of them like the other version of their life.
At the beginning of the book, we believe this is psychological. These people are crazy, but there might be more to it. They may have lived those other lives as well. So we're following two main characters. One is a cop investigating this, and another is a neuroscientist. It was super fast-paced, and there were so many twists and turns. I would recommend the physical copy as well as the audiobook.
Author: Blake Crouch
Publisher: Random House Audio
Average Rating: (4.5 /5)
Tropes: Technothrillers, Adventure, Time Travel, Mystery
Number Of Pages: 329
Available: Audiobook | Paperback | Hardcover | Kindle | Audio CD
---
7. Home Before Dark
Riley Sager's books walk the line between thriller and horror. So this is a spooky thriller. Our main character (Maggie) lived in a haunted house with her family for a week until they fled the property and never went back. It is because they were so scared. Maggie was only six years old, so she doesn't remember what happened. But her father is an author, and he wrote a book about their experience there, and he published it as nonfiction.
So this book became a huge phenomenon. It's followed Maggie's entire life. People recognize her as the girl from the book, and she resents her father for writing this because she feels like he lied. But that's not what happened. Now she's an adult, and she goes back to this house to flip it, fix it up, and then sell it.
So Maggie never has to deal with it again. Also, she's trying to uncover what happened all of those years ago. When I hit the twists in this book, I was disappointed because it didn't live up to his other books. But the ending was excellent, and I loved the atmosphere of this book with a psychological thriller theme.
Author: Riley Sager
Publisher: Penguin Audio
Average Rating: (4.4 /5)
Tropes: Suspense, Horror, Fantasy, Mystery
Number Of Pages: 384
Available: Audiobook | Paperback | Library Binding | Kindle
---
8. The Night Swim
The main character (Rachel Krall) runs a true-crime podcast where she looks back on previous cases. It goes through all of the facts again to let her audience decide who's guilty and who is not guilty. But for this newest season, Rachel's doing something different, and she's following a case while it's happening. So she goes back to the small town where this case happened. It's a rape case that is an Olympic contender.
The golden boy has been accused, and no one wants to believe that. We're following two different storylines because the podcaster also receives letters from this girl begging her to look into her sister's death. That happened 20 years ago in the same town, also a rape case. So we're following what happened to this girl's sister all of those years ago and how the trial is going down today.
If you listen to the audiobook, it has great effects of listening. I found that to be deeply unsettling and very disgusting to read. Moreover, it had a bit of a slower start for me, but I would stick with it.
Author: Megan Goldin
Publisher: Macmillan Audio
Average Rating: (4.3 /5)
Tropes: Suspense, Crime
Number Of Pages: 344
Available: Audiobook | Paperback | Hardcover | Kindle | Mass Market Paperback
---
9. City of Girls
It's historical fiction, and we're following our main character, Vivian Morris, in New York City in the 1940s from when she fails college in her young adulthood. She becomes a party girl in New York City, and she befriends all of these showgirls until she's 90 years old. The book is structured so that Vivian is telling us her life story by writing a letter. Every time it comes out confusing. She's writing a letter to a girl, and she knows the girl's father, so she's explaining to the girl who her father was to her.
So Vivian is a promiscuous party girl for most of the book, and many men come and go from her life. We have no idea who this girl's father will be and who will be Vivian. The character development is interesting to see with Vivian from when she's 19 to 90. Vivian ended up being the most memorable character that I read last year. If you are a fan of psychological thriller romance, you'll love it.
Author: Elizabeth Gilbert
Publisher: Penguin Audio
Average Rating: (4.4 /5)
Tropes: Historical, Female-friendship, Humor
Number Of Pages: 470
Available: Audiobook | Paperback | Hardcover | Kindle | Audio CD
---
10. Tell Me Lies
This book follows two timelines following Lucy from when she's a freshman in college to five years after they graduate. One of her friends gets married, and they all come together again. So we're following her through the years with this on-again, super toxic situation ship.
I wouldn't even call it a relationship with this boy, Stephe. So on the surface, we have that story talk to the relationship girl trying to figure her stuff out in college and coming of age. Also, there's a darker layer, and some things are going on in the background. The psychological thriller relationship is very dark and unique. So you'll get a fresh story with many suspense.
Author: Carola Lovering
Publisher: Simon & Schuster Audio
Average Rating: (4.1 /5)
Tropes: Coming of Age Fiction, Romantic Suspense, Love-triangle, Drama
Number Of Pages: 352
Available: Audiobook | Paperback | Hardcover | Kindle | Audio CD
---
Read More Similar Books:
10 Thriller Romance Books Like Verity
10 Psycho Thrill Books Like The Last Mrs Parrish
10 Suspense Books About Psychopaths