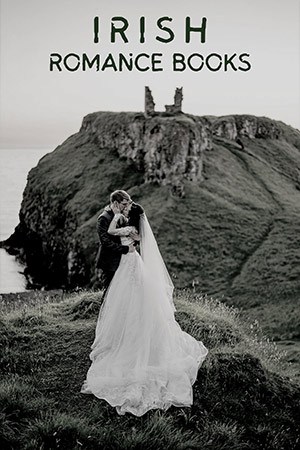 Irish romance books are set in Ireland or have Irish characters, culture, and traditions as themes. Ireland has a great pop culture. The Irish are creative and have their literature, especially in poems and novels. I love how deep-rooted the Irish traditions are. When I visited Ireland, I discovered that Irish men are smart and women are beautiful. Their romance or relationship is very diverse, and they enjoy their life without following any punctuality.
So, when I returned home, I was looking for Irish romance books in the Book Club community. I found some excellent books representing Irish culture with their love life and stories. If you want to know my booklist, stay with me till last.
7 Irish Romance Novels (Irish Love Story)
After watching an Irish movie, Brooklyn, I can not keep from reading and watching Irish representations of love scenarios. So I have a big list of Irish movies and books. I want to share my 7 Irish romance novels with you. These books are either set in Ireland or have an Irish character. Whether you are Irish or not, you will love these books. Let's go!
| Name | Key Focus | Review (Goodreads) |
| --- | --- | --- |
| Roomies | Two Irish starts a fake relationship for their dreams, slowly forming chemistry. | 3.8 |
| Beautifully Cruel | An Irish mafia saves a waitress from robbery, and they build a relationship. | 4.1 |
| Five Points' Mob Collection | A mafia-age-gap romance series with different characters and plots. | 3.9 |
| Hello Stranger (The Ravenels) | An Irish detective and doctor somehow fall in love with each other and have fun. | 4.0 |
| Dreams of a Dark Warrior | A vampire takes and witch for his experiment on an Island but discovers something else. | 4.3 |
| Crow | An Irish mob works with a strong warrior lady, and they make a relationship. | 4.0 |
| Wild Irish | A woman can not hold herself to falling in love with an Irish rockstar, and they have a lot of drama. | 4.1 |
Irish Romance Books Lists
1. Roomies
Roomies is a friends-to-lovers contemporary Irish romance. Also, this one concerns a marriage of convenience for a green card. There is a homeless musical artist (Calvin), and Holland loves his music and stalks him. She finds out that he's going to be sent back. So she offers to marry him so that he can stay here. They have a marriage of convenience so that he can have a green card, which works.
Holland is obsessed with him to keep him on her arm. On the other hand, Calvin is ambitious enough to achieve his goal for any situation and demand. At first, they take their relationship as a time pass and enjoyment as a friend. Then their emotions and behavior turn into something new that a passionate couple/lover does. The book is for you if you like music romance with a lot of steaminess and arc.
Author: Christina Lauren
Tropes: Friends-to-lovers, Fake-relationship, Arc, Music
Number Of Pages: 366
Available: Audiobook | Paperback | Kindle
2. Beautifully Cruel
Beautifully Cruel is an Irish mafia romance with a suspenseful background. The story follows a woman (Tru) who is a waitress, and a man (Liam) keeps coming in and visiting her while she's working late at night. So, she keeps wondering why he won't ask her out. They finally talk about it when he rescues her from a robbery that's about to go down at the place.
Liam can't date anyone because he's part of the mafia. But he offers her an arrangement where Tru can stay with him for 28 days. Then when it's over, she can't ever see him again. Author Geissinger shows Liam as a significant alpha. The plot, storyline, narration, dialogue, world-building, and character development are excellent. After reading the book, I was blown away! It could be a great one for you if you love age-gap, alpha-male, billionaire romance.
Author: J.T. Geissinger
Narrator: Marnye Young, Troy Duran
Publisher: J.T. Geissinger, Inc.
Tropes: Dark, Crime, Suspense, Alpha-male, Age-gap
Number Of Pages: 310
Available: Audiobook | Paperback | Kindle
3. Five Points' Mob Collection
Five Points' Mob is a dark crime-related Irish love story with the mafia and age-gap characters. There are eight books. The first is Filthy, an age gap. The heroine is plus-size, and the hero (Declan) is obsessed with her. They end up having the arrangement to sleep together because he wants her, and he's frustrated that she took so long to agree. Once they're together, Declan realizes that he wants her forever. So Declan went about getting her, and I loved it.
Then there's Filthy Rich (second book), about the oldest brother (Irish mafia, Eoghan). He's supposed to have an arranged marriage with this. He's been arranged to marry her (Russian Mafia Princess) for two years. Finally, when she turns 18, they're going to get married.
On their wedding day, Eoghan realizes she's been brutally beaten by her father. So, he didn't even want this marriage, but he realizes he's pretty protective of her and doesn't like how she's been treated. It's a great start to their relationship. The third book, Filthy Dark, is a second-chance Irish romance that was so emotional. I enjoyed it so much. So I love all these Irish men.
Author: Serena Akeroyd
Narrator: Jacob Morgan, Emma Wilder
Publisher: Serena Akeroyd
Tropes: Dark, Age-gap, Fated-mates
Number Of Pages: 528
Available: Audiobook | Paperback | Hardcover | Kindle
4. Hello Stranger (The Ravenels)
Hello Stranger is a historical romance with an Irish hero, Ethan Ransome. He is a former detective for Scotland Yard, and he's rumored to be an assassin. Then one night, he and Garrett (a female doctor) have a night of passion together. Then he wants to stay away from her because he doesn't want to draw his enemies to her.
The chemistry between these two is fantastic. This one doesn't get as much attention, but I love Garrett and Ethan's chemistry. Ethan is so rugged and sexy, whereas Garrett is a chaotic woman. The author successfully portrays the characters and their opposite attraction. The audiobook was amazing, but I found some differences from the book, which is acceptable. I recommend it after reading the main book.
Author: Lisa Kleypas
Narrator: Mary Jane Wells
Publisher: HarperAudio
Tropes: Regency, Virgin, Fun
Number Of Pages: 400
Available: Audiobook | Paperback | Hardcover | Kindle | Mass Market Paperback
5. Dreams of a Dark Warrior (Immortals After Dark)
Dreams of a Dark Warrior is a paranormal vampire-witch romance that won Goodreads Choice Award Nominee. We follow Aiden, who is a berserker and reincarnated. Every time he finds his true love, Regin, a Valkyrie. Every time he finds his true love when they consummate their relationship, he dies. This time, he's been reincarnated as Declan Chase, a brutal Celtic soldier. Regin recognizes that this is Aiden and is trying to do everything she can to stay away from him.
That's not going to work because Aiden's kidnapped Regin takes her to Torture Island, a place in the Immortals After Dark Universe. He is helping them conduct experiments on her. So he's part of a human faction experimenting on paranormal creatures to discover their power.
At the same time, he's being drawn closer to Regin because she's his fated mate, and he's doomed to die whenever they consummate it. The fantasy setup, world-building, plot, writing, characters, and romance were amazing. The only negative side of the book is the previous story's repetition which was too much and the unsatisfactory ending. Also, I was not too fond of the audiobook and the narrator because there were many missing scenarios. Overall, you can enjoy the fantasy elements and Irish romance vibe.
Author: Kresley Cole
Narrator: Robert Petkoff
Publisher: Simon & Schuster Audio
Tropes: Fantasy, Classic Literature, Vampires, Demons, Witch, Adventure
Number Of Pages: 515
Available: Audiobook | Paperback | Hardcover | Kindle | Mass Market Paperback
6. Crow (Boston Underworld)
Crow is another Irish mobster dark romance. Our female character is a fighter and fights along with our male character. That was such a center of the book in particular. We also move on to other members of the organized crime family, and it does have that family aspect, but they're not blood. Some of them are blood-related, but Mack isn't blood-related to Crow.
Though Mack is an orphan, she survives and becomes a strong lady. She wants to take any challenge to find her missing best friend. That's why Mack is connected with the Irish mob Crow, and they instantly create a bonding where Crow doesn't know the truth that Mack hides.
All of the characters get different perspectives. I'm recommending the series because it takes place in Ireland. The hardcover has some negative quality issues, but the paperback is good enough for font size, color, binding, cover, and paper quality.
Author: A. Zavarelli
Narrator: Tracy Marks
Tropes: Thriller, Suspense, Forbidden, Action
Number Of Pages: 314
Available: Audiobook | Paperback | Kindle
7. Wild Irish
Wild Irish is a rock star romance with Irish literature. Our heroine, Delaney, meets Cillian, a lead singer for the Wild Irish band. She has one month in Ireland where she lets herself not go in the wrong way but lets herself live. That means having a little thing with Cillian. After that, she goes home, and she regrets it. That's where the plot point picks up in Ireland.
Cillian is Irish, and when Delaney goes home, she goes into trouble. That's when he comes in to push back together in a way. They develop an instant feeling, so I missed the chemistry between the characters. Overall, it was enjoyable to read as a cultural romance.
Author: C.M. Seabrook
Narrator: Kyle Maraglio
Tropes: Musicians, Steamy
Number Of Pages: 226
Available: Audiobook | Paperback | Kindle
Those are my best Irish romance books with Irish characters, set in Ireland, or have all three. Please let us know in the comment section if you have any Irish book recommendations.
Read more similar books:
15 Second Chance Romance Books