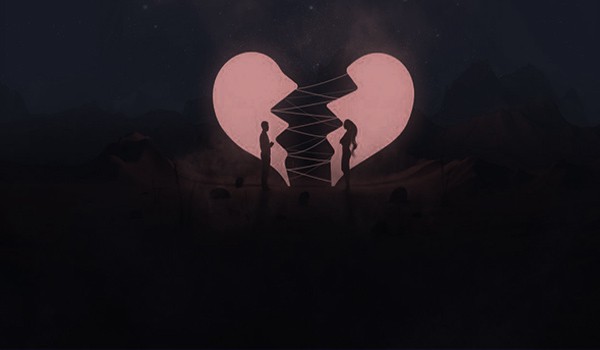 Angsty romance expresses anxiety, depression, insecurity, and awkwardness within a character. However, when we see these traits in fictional characters, it usually becomes brooding, misunderstood, antisocial and abrasive, ultimately a loner. This portrayal of teen leads in fiction is very popular because it resonates with many teenagers at some point or another.
It is relatable, and the idea of forming a romantic connection with someone who sweeps away the anxiety and overcomes the misunderstandings to get to know the protagonist truly sounds supremely romantic. But there are libraries full of the problems writers make for themselves with this setup.
The problem comes down to characterization. Angsty characters are not bad in and of themselves, but writers often build them up around the problems that created their angsty, like bad home life, depression, hobbies, awkwardness, etc. Writers ultimately create bland characters who have no personality beyond their problems and how these problems force them to interact with people in broody, angsty ways.
As a result, when the love interest enters their lives and begins helping them resolve these issues by loving and understanding them, there is nothing underneath all those layers of gunk.
How to write angst romance?
Angst is the sexual buildup between two people that gets you hot and bothers you. Do you have anything for that makeout scene? Stay with. These are 5 tips on how to write angst romance. Let's go!
1. Have well-rounded characters
All of your characters, especially your love interest, need to have their own goals and purpose. If you don't have a strong character, then all of the angst goes out of the window, and it turns into a bunch of cheesy romcom lines. If a character cannot overcome their angsty ness, they have not grown in their character arc is incomplete.
2. Make characters chase each other
Allow the readers to see them interact in meaningful and emotional ways outside of the romance. It is an essential part. Your characters have to interact with each other outside of the romance. When we get the romance, we see the difference between them and how it's cooking up.
If it's romance all the time, it's not angsty, and it's overbearing. But if we see them interacting in emotional ways, that has to do with whatever is in the plot. Maybe they're fighting aliens, vampires, unicorns, whatever. Whatever their quest is, you've got to have them interact during the quest, and you've got to have them argue about things in the search without the romance getting in the way.
That way, we can see them in their strong convictions. We can see them in their laughter and quirkiness, and we can fall in love. When the romance does come up, it's even that juicier.
3. Allow them to fight authentically
Allow them to have authentic pride and vulnerability. This ties in with step number two when we see that we're constantly being set back from the romance at hand, which adds to the angst the reader wants to feel the romance. We want to be on the journey, and we want to feel the push and the pull. That means they either have to fight vulnerable or have prideful moments in authentic ways, not fake ones.
Don't throw in bites for the sake of stalling the romance.
That's very inauthentic, and the reader will spot that like three stains on a brand new book. When they fight, we see them pushing away, and when they're vulnerable, we get the pullback into the romance. So you have to balance that equation. The best way to do that is outside the romance and your normal plot.
4. Maintenance the romance and angsty
Romance always happens in subtle ways, and it creeps up on you. It doesn't happen in over-the-top dramatics or with someone constantly talking about it. If your friend is constantly telling you about their love life and how obsessed they are with someone, you begin to hate the person they're obsessed with, and you start to hate them.
Not focusing on the romance doesn't mean writing it or not putting as much effort into it as you do your main plot. It means don't let it take over your main plot. Also, don't let your romance subplot become why you have to write three books.
5. Resist your fantasy
Resisting your fantasies also means resisting getting to the punchline before it's due. That means don't have your characters make out or hold hands or do the deed before it's time for them. You can't do it only because you want the sexual angst to pop off the page that kills angst the most angst. So at the end of the day, make sure you have strong characters.
Allow the reader to see them interact in meaningful ways, allowing them to fight and be vulnerable authentically outside of the romance plot, leading to the key.
Last words
Take your time to understand how relationships grow because that is the key to writing good romance. Memorable, fulfilling romance is built on much more than they wish, fulfillment and cheap gratification of an angsty teen realizing their crush. So long story short, romance is hard to write, but taking the quick and easy route with angsty relationships is a pathway to bland, forgettable, and potentially toxic relationships and characters.
Treat your characters well and understand what it means to use angsty characters that will make your story and your characters so much stronger, relatable and awesome. Don't focus on the romance. Focus on them in the relationship outside of the romance. The romance will build itself. If you have any comments or suggestions on what the article should do next, leave a comment below.
---
Read romance books to get more ideas:
15 Second Chance Romance Books On Bestseller List
15 High School Bully Romance Books
10 Secret Pregnancy Romance Books
15 Romance Books That Make You Cry
10 Erotic Romance Books Like Crossfire Series
---
More romance writing tips:
15 Tips To Write Enemies To Lovers Novel
7 Tips To Write Friend To Lover Romance Novel
7 Tips To Write A Love Triangle Romance Novel
7 Tips To Write A Slow Burn Romance Novel