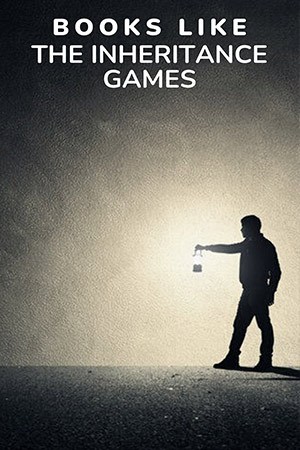 Books like The Inheritance Games represent many games of riddles, family drama, and mystery. The Inheritance Games by Jennifer Lynn Barnes is a mystery-thriller series about a girl named Avery who lives with her older half-sister after her mother has passed away. They both share the same deadbeat father.
One day she's approached by a boy her age, and she doesn't understand why until she finds out that she has inherited everything the billionaire man owns upon his death. His four grandsons and the man's daughters are left with nothing. She has no idea why the stranger has inherited everything from her. She has to solve the mystery between various riddles, puzzles, and games.
I love this slowly unraveling mystery of riddles and puzzles. There is a semi-love triangle. However, I am not the biggest person with love triangles, but it was done pretty well. We were already being thrown back into action twists, more puzzles, and funny interactions with all the different brothers and family members. I related to Avery and some of the conversations that she had with her family. If you want the same vibe and theme as the mystery that The Inheritance Games plays, then stay with me.
7 Books Like The Inheritance Games (Mystery Thriller)
The Inheritance Games was a lot of fun with suspense. It kept me guessing, and I couldn't put it down until the riddle was solved. Avery was in a giant escape room in Hawthorne Mansion because it's filled with all the different secret passageways.
After finishing the book, I can hold myself to reading more similar. So I researched various Book Communities and found some books to read alike. Now I will discuss 7 mystery-thriller books similar to The Inheritance Games trilogy. These books cover mysteries, puzzles, and twists that will keep you on edge. Let's go!
| Name | Key Focus | Review (Goodreads) |
| --- | --- | --- |
| The Westing Game | For an apartment building, a girl and the building mates play games with each other. | 4.0 |
| Two Can Keep a Secret | A girl moves to a mysterious town where the missing and murder occur, and she discovers it. | 3.9 |
| Truly Devious | A girl starts a new mysterious school and tries to solve the unsolved murder case. | 3.9 |
| Sadie | A girl is missing after her sister's murder and struggles with herself and the case. | 4.0 |
| A Good Girl's Guide to Murder | A girl starts investigating a case as her school's final project. | 4.3 |
| The Girls I've Been | A girl and her friend are in a bank heist situation at gunpoint, and they discover some mysteries. | 4.1 |
| The Cousins | Three cousins want to achieve their grandmother's estate but must show their talent. | 3.8 |
Books Like The Inheritance Games List
1. The Westing Game
The Westing Game is about a bunch of different people who all move into an apartment building. It's right next to this house that used to be lived in by a rich millionaire named Mr. Westing. One Halloween night, the main character goes into the house on a dare, and she finds the dead body of Mr. Westing.
In his Will, he leaves stuff to everybody who moved into the apartment building, and none of them knew him. So they all go to the house to hear Will read. It turns out that they all have to compete in a game together on teams, and then whoever wins, wins all of his inheritance.
So during all that, snow storm comes and blocks them all in, and someone starts trying to off the other heirs and murder them so they can have less competition for the money. This book has one of the best mystery plots I've ever read. The twists are good, and you can't assume one person is doing everything or anybody is who they say they are.
Like The Inheritance Games, the characters are so realistic, and every single one is well characterized. As you learn more about them, you start to figure out who would be capable of everything going on. Every time you begin to think about one of them, something happens, and it changes. It was the first mystery novel to win a Newbery Medal, which is a big accomplishment. The writing is great, and the plot and pacing are excellent. So definitely check this book out.
Author: Ellen Raskin
Publisher: Penguin Young Readers Group
Tropes: Mystery, Detective, Spy, Adventure
Number Of Pages: 192
Book Weight: 5.2 ounces
Available: Audiobook | Paperback | Library Binding | Kindle | Mass Market Paperback
2. Two Can Keep a Secret
Two Can Keep a Secret is a wire thriller set in a small town in the USA, which the main character moves to with her twin brother. They have to go and live with their grandmother because their mother has issues, and there's no one to look after them. They move to the small town where the homecoming queen from a couple of years back went missing and was later found dead. This town has a history of mysteries and dead teenagers. The twin's aunt vanished back in the day when she was a teenager. So it hits very close to home for them.
In the book, there are two disappearances, unsolved murders, and a killer threatening the town and saying they're coming back. This thriller was so meaty, and there was so much going on quickly. There was more going on, and the author packed so much into it, introducing many characters, plotlines, and small-town drama.
The author has done a much better job weaving a mystery and introducing many plot elements neatly. The story flows well, and the suspense is real. I had so many theories about who the killer would be, and so many people could have been actual legitimate suspects.
Something was hinted at the very end, and there was no resolution, which was a bit annoying. One thing I didn't particularly love about the book was that two points of view went from the twins. I always tend to get attached to one character more than another. Ellery was much more interested in the case, her aunts, and her stuff than Malcolm. She and Malcolm have a budding romance similar to The Inheritance Games. If you want a mystery thriller with romance, then you must read it.
Author: Karen M. McManus
Publisher: Delacorte Press
Tropes: Detective, Friendship, Suspense, Horror
Number Of Pages: 331
Available: Audiobook | Paperback | Hardcover | Kindle | Audio CD
3. Truly Devious
Truly Devious is a crime thriller that achieved Lincoln Award Nominee and Goodreads Choice Award Nominee. This book follows our main character, Stevie. She is attending a famous boarding school in Vermont. It's up in the mountains, completely isolated, and tough to get to. So, it's the special school that was started by Albert Ellingham early 1900s. His goal was to create a school around the idea that learning is a game. He was very much into riddles and labyrinths. So he founded this elaborate boarding school.
In 1936, his wife and daughter were kidnapped, and the only clue left behind was a riddle written by someone that signed their name as Truly Devious. So it is a famous unsolved case in American history in the book. Steve is going to attend school, and she wants to solve this cold case. She loves true crime and wants to be a detective in crime solver.
So, she starts at the school and meets some interesting characters, some that have already been at the school for a year and some that are also new. Then some crazy things start happening with Stevie and her friends. It becomes a very mysterious and fun read that switches back and forth between the present and past tense.
So we are also getting a look into the past with Albert Ellingham. He ran the school, what happened with his daughter and wife, and that investigation. The present and the past were equally interesting, and I enjoyed them. The characters were good, but I wouldn't say I fell in love with their characters. They only had a little depth to the characters.
However, that didn't bother me because I was more interested in the school, the atmosphere, and the story's plot. While the characters were believable, I didn't connect to them, but they were pawns in a game. So, if you love books that have strong characters may be different from the book for you. There are a lot of interesting relationships that formed and a lot of different personalities. So, take advantage of it if you love The Inheritance Games!
Author: Maureen Johnson
Publisher: Katherine Tegen Books (Reprint Edition)
Tropes: Crime, Slow-burn, Enemies-to-lovers, LGBTQ
Number Of Pages: 448
Reading age: 14-17 years
Available: Audiobook | Paperback | Hardcover | Kindle | Audio CD
4. Sadie
Sadie is a young adult thriller about a girl named Sadie who loses her sister in a horrific murder that goes unsolved. So we don't know who the murderer is. We follow two separate perspectives here. A radio show about the investigator trying to find Sadie because she goes missing shortly after her sister's murder. Then we also follow Sadie's perspective on her quest to find her sister's murderer.
The biggest thing I enjoyed most was the combination of perspectives between the radio show and how that was written, then also getting to see Sadie's perspective. I will warn you to check out all the trigger warnings because this one has some graphic content that I don't think is done for shock value. It always serves the story's purpose, but it's in their terms of character.
Sadie's a character you root for the entire way through in terms of a character arc. She stays the same character at the beginning of the novel and ends in that same way. So there's little growth to her character, but that's what the story was trying to accomplish with her. I recommend Sadie because it does fly by, and I see how it doesn't even take up much of the page. There are many similar vibes and character similarities in The Inheritance Games. Both Avery and Sadie are trying to solve a mystery.
Author: Courtney Summers
Narrator: Rebecca Soler, Fred Berman, Dan Bittner, Gabra Zackman
Publisher: Macmillan Audio
Tropes: Suspense, Mental-health, Arc, Dark, Twist
Number Of Pages: 308
Available: Audiobook | Paperback | Hardcover | Kindle | Audio CD
5. A Good Girl's Guide to Murder
A Good Girl's Guide to Murder is a suspense and mystery series that won Goodreads Choice Award Nominee. The story follows Andie, who disappears, and she's later presumed dead because her boyfriend, Sal, says he committed suicide, claiming he did it. Pippa believes that there is more to this case. So she starts investigating the case as her school's final project. The first thing I noticed when I started reading the book was the main character, Pippa, had this pick-me-up girl energy, which I do not want at all.
Besides that, I also found her character quite annoying and mostly unethical. While investigating that case, she pretends to be Andie's friend and then pretends to be a drug addict. At the same time, she keeps barging into people's houses. She invaded people's personal space by looking into their phones and laptops. Even if you consider this excuse that she was a detective, it doesn't make sense that she was not getting any consequences from these people.
As we're talking about the pages, keeping the mystery alive for this long is quite impressive. I loved how Pippa already knows what you are thinking, and she says that aloud. Then she gives you explanations of why that cannot happen. I recommend the book to someone who is looking for a thriller mystery read alike The Inheritance Games.
Author: Holly Jackson
Narrator: Bailey Carr, Marisa Calin
Publisher: Listening Library
Tropes: Crime, Thrillers, Suspense
Number Of Pages: 433
Available: Audiobook | Paperback | Hardcover | Kindle
6. The Girls I've Been
The Girls I've Been is about a girl called Nora, who has a very challenging past. She's been through many different types of trauma, and then she finds herself in a new life that's far more peaceful, and then that peace is suddenly shattered when she visits a bank with her friends and is held at gunpoint. It's because there is a robbery going on, a bank heist. So you stay with her as she experiences this. There are various shocking twists and turns. You find out more about her past and who she is.
The novel does reach a reconciliation ending where everything is solved. So I would love it. It's full of little jokes and sarcastic humor, but it's not as funny as the cover makes it out to be. So everything felt super fictionalized, but then you have these very real, plausible acts of abuse and violence.
I couldn't recommend it to any young person because the content needs to be dealt with understandably. It illustrates the events as bad and negative but doesn't excellently illustrate them. At the same time, I wouldn't recommend it to an adult or an older reader because the writing style is juvenile.
Every chapter needed to end with a big bang, a short, snappy, exciting statement. Having a good writing style isn't repeatedly using the same technique repeatedly shoving it down your readers. This was the only technique author seemed to have, and it bugged me for the rest of the novel. Overall, I enjoyed the mystery atmosphere and thrilling moments, which reminds me of The Inheritance Games.
Author: Tess Sharpe
Narrator: Tess Sharpe
Publisher: Listening Library
Tropes: Arc, Thriller, Sapphic
Number Of Pages: 336
Available: Audiobook | Paperback | Hardcover | Kindle
7. The Cousins
The Cousins was a good mystery thriller, which I enjoyed reading after The Inheritance Games. The story revolves around three people, Millie, Aubrey, and Jonah, cousins. One day they all receive a letter from their grandmother asking them to spend the summer working in her island resort. The exciting part is the cousins had never met the grandmother ever because the grandmother had disinherited the parents before these three were even born.
So these three are wondering why the grandmother has randomly sent them the letter inviting them to meet her and work at her island resort for the summer. Although they are hesitant to go there, the parents convince them to go because the grandmother's estate is worth a lot. So they figured that if the grandchildren could be in her good books, they might inherit it someday.
Millie, Aubrey, and Jonah go to the island, and they meet each other on the way. The story progresses as all the family secrets start coming out. What's interesting is that the author writes the story in such a nice manner that there are two storylines, one with these three and the other with the parents.
In 1996, the author alternated the chapters between the present and the past timelines. The story progresses very nicely, whereas, towards the end, both merge. So when I started reading the story initially, it took me some time to get used to the book because the author introduces so many characters. You have to know who is related to who, who are friends with who, and how this person is connected to this person. But once the main characters get on the island, I figure out how the family tree is connected.
The author brings something new in each chapter and always ends on a cliffhanger. So you want to turn the page and find out what's happening next, and are quite a lot of twists and turns because most of the characters are not who they appear to be.
As the story continues, many family secrets start to spill, some of which will shock you. There are false identities, incorrect autopsies, incestuous relationships, miscarriages, pregnancies, murders, and so much happening in the story, especially once some of the characters start dying. If you love mystery thrillers set on an exotic island with suspicious characters and family secrets, you have to pick it.
Author: Karen M. McManus
Narrator: Sarah Skaer, Kate Reinders
Publisher: Listening Library
Tropes: Friendship, Detective, Family
Number Of Pages: 337
Available: Audiobook | Paperback | Hardcover | Kindle | Audio CD
Those are my favorite thriller-mystery books to read if you like The Inheritance Games. Here are more books alike The Inheritance Games:
One of Us Is Lying by Karen M. McManus.
The Testing by Joelle Charbonneau.
Mystery of the Millionaire by Gareth Lowndes.
The Seven Deaths of Evelyn Hardcastle by Stuart Turton.
The Maze Runner by James Dashner.
Clue by Leslie McFarlane.
The Secret Keepers by Trenton Lee Stewart.
The Mysterious Benedict Society by Trenton Lee Stewart.
The Name of this Book is Secret by Pseudonymous Bosch.
Let me know if you've read any of these books in the comments below, and we can get a discussion going. Let me know if you need to read either author's book. What your favorite way thrillers are? I am always looking for thriller recommendations.
Also, let me know if you have any theories about the explanations and answers to these mysteries and questions they left us with. I would love to know your thoughts on the theory, and we can discuss it in the comments. I'm so curious to hear your thoughts and opinion. We'll see you all soon. Bye.
Read more similar books:
5 Mystery Suspense Books Like Then She Was Gone
7 Mystery Thriller Books Like Behind Closed Doors
10 Mystery Crime Books Like The Lovely Bones