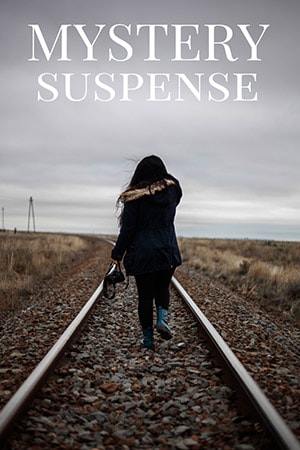 Then She Was Gone is a mystery book about a mother named Laurel and her daughter Ellie was 15 years old and went missing 10 years ago. What happened to her has been very mysterious. Laurel has struggled to move on from this tragedy, so her family suffers the consequences.
So Laurel has lost touch with her other daughter and her husband. Even though she's struggling to get on with life, she meets a guy at a cafe named Floyd one day. He's very mysterious and handsome, and he sparked some life back into her.
It gives you a background of other characters besides the main character, so you can understand what everybody's going through or why they made the decisions that they've made. There are a few twists and turns, and I love the story. The chapters sometimes told the story from a different point of view, so it flips flopped back and forth between different characters. Keep scrolling if you want to read books like Then She Was Gone.
5 Books Like Then She Was Gone (Mystery, Thriller & Suspense)
When I think about the book Then She Was Gone, I feel like an electric shock on my body and brain because I can not forget the suspense and thriller parts. Do you feel like me? I know you like the book so that you are here. I have long lists about mystery books collection, but I found five books similar to Then She Was Gone with the same situations, plots, and characters. So I'm going to review these books. Let's start!
1. The Couple Next Door
The couple next door seems to be one of the most popular thrillers of all time. This book is about a young couple named Anne and Marco who live in a very picture at bougie, a wealthy set of townhouses in upstate New York. They have a newborn baby, and they're invited by their next-door neighbors at the townhouse next to them to come over to their place for dinner. They think if we leave the baby in the crib and go to their house but bring the baby monitor and check on the baby every 30 minutes, it'll be fine.
Will bad happen? In the first 20 pages of the book, they first notice the front doors open when they leave the party and go back to their house. Then they notice their baby has disappeared. So this is part thriller, mystery, and psychological thriller. It's mainly told from the perspectives of Marco, as well as the detective who's handling the case. It's very plot-focused and fast-moving.
There are tons of twists and turns, and there's a random character thrown in with a mental illness, but it isn't well developed, and you don't know why it's there. It needs to be showcased positively because sometimes it sucks and is hard in real life. This book has the same mother-daughter relationship as Then She Was Gone.
Author: Shari Lapena
Average Customer Review: (4.3 out of 5, on Amazon)
Category: Mystery, Thriller & Suspense (Editor's pick)
Available: Audiobook | Paperback | Hardcover | Kindle | Mass Market Paperback
---
2. The Last Thing He Told Me
This is a fascinating thriller. This thriller promises me a perfect time. The story follows the story of Hannah, and Hannah has married a man who already has a daughter from a previous relationship. She is negotiating that awkward sort of. However, things get a lot worse for Hannah when her husband goes to work one morning and doesn't return. He doesn't come back, but he does leave her letter. His letter says, Protector. Instantly, Hannah knows who we're talking about here. We're talking about her husband's 16-year-old daughter, Bailey.
So the dad left the stepmom with the stepdaughter, who doesn't like her. She now has to protect her from who knows what. Things quickly start to pick up the pace from their start to indicate that something is pretty serious. Many people are very interested in finding out where Owen may have disappeared to. Hannah pretty quickly realizes that the man she was married to Bailey's father is not the man she thought he was. She doesn't even know his real name, which would annoy you.
The relationship between the stepmother and the stepdaughter within this one was heartwarming. If you are looking for a fast-paced thriller, you can't get much better than this one. It was so compelling to read, and every single chapter leaves you with that wanting to know a little more similar to Then She Was Gone.
Author: Laura Dave
Average Customer Review: (4.3 out of 5, on Amazon)
Category: Family Life Fiction, Suspense (Best Seller)
Available: Audiobook | Paperback | Hardcover | Kindle | Audio CD
---
3. All the Missing Girls
The story tells the tale of Nick Farrell. She currently lives in Philadelphia with her fiance. She's created a successful life for herself until she has to move back to her hometown in Coolie Ridge, North Carolina. She was in Coolie Ridge ten years ago when her best friend, Korine, went missing.
So she had to go back there to take care of her dad and to try to sell her house. The old suspects from the original missing mystery are still there, going back to town. A few days after Nick returns, Annalise Carter goes missing, and she was the entire group's alibi, the night that Kareen went missing.
The story tells a tale of the two mysteries between Annalise and Kareen, and we'll find out if they're connected or not connected. Nick goes through her journey, finding out what happened to Kareen and what's happening to Annalise.
So that's what the story is about. An interesting thing about this book is that it's told in reverse chronological order. That means it starts at the day that she gets to Cooley Ridge, and then it goes from day 15 and backward from there, 14, 13, 12 from there on to basically day one, which is interesting for a mystery.
This book is rapid to read. So if you want a very quick mystery, this is a good one to pick up. The author has many characters, but she develops them so well in such a short period. Like Then She Was Gone, you'll get the background stories of every character, and you develop a sense of feeling for each character. There's no character where you're like, Why are you here?
Author: Megan Miranda
Average Customer Review: (4.3 out of 5, on Amazon)
Category: Women's Fiction, Mystery
Available: Audiobook | Paperback | Hardcover | Kindle
---
4. The Woman in the Window
It's a thriller slash psychological suspense novel. The synopsis of this book is the main character. The protagonist Anna Fox lives in New York in Harlem, and she has a house there but never leaves the house. She has agoraphobia, so she's too scared of the outside world.
As a result, she only regularly visits with her physical therapist, the lady who comes to her home. Anna looks out her window and sees what they're up to. So she knows their daily routines. She uses her camera to take pictures of them and keeps up with them.
It seems like she doesn't have a lot of people in her life with whom she interacts with. So that's her way to keep up with the neighborhood and know what's going on around her. Her family is also mentioned in this book. She has a husband and a daughter, but they have separated, so they don't live with her. You also know what happened with her family, why they're separated, and why she's so scared of the outside world. So it's like a second storyline in this book.
Apart from the main storyline, which starts emerging once her new neighbors move in, is a mother, father, and son. They seem like a perfect family until one day, Anna looks out the window and sees something that she shouldn't have seen in their living room.
After that, her perception of them changes, and she realizes that they might be hiding something dark and weird, and she begins to try and uncover it. So there's like the two things that you learn. You start learning more about what she sees with her neighbors, and she briefly interacts with them and starts getting to know them.
This book has two plot twists similar to Then She Was Gone. The first plot twist has to do with Anna herself. The second plot twist is at the end when you realize what's been going on, and we finally know what went down. So it's all clear in the end. I was more shocked by the first plot twist because I did not expect it.
Author: A. J. Finn
Average Customer Review: (4.4 out of 5, on Amazon)
Category: Psychological Thrillers, Mystery & Suspense (Editor's pick)
Available: Audiobook | Paperback | Hardcover | Kindle
---
5. Invisible Girl
This book is a multiple perspective mystery thriller novel like the book 'Then She Was Gone.' The basic plot of this story is the disappearance of a teenage girl named Saffyre Maddox. We have multiple points of view, and we know that Saffyre has disappeared. So in this novel, we go back to before her disappearance. We're following the different characters in the events that lead to her missing. Sapphire is one of the points of view that we're following. She's 17 years old and lives with her grandfather and uncle because her parents have passed away in previous years, and she is a loner.
Saffyre has a past of abuse, and she has seen a psychologist in the past to help her overcome the trauma. Kate is another perspective we're following. She's a work-from-home stay-at-home mom to two teenage children, and her husband, Ron, is a child psychologist who was sapphire psychologist years previous when she was going through therapy. Kate knows or has suspected that her husband has had affairs in the past. She believes he's having one now. So it's hard to trust him because of all the suspicion she's had over the years.
The other perspective that we're following is Owen, a college professor. He's accused of inappropriate behavior in the classroom, like comments and behavior at a student teacher's Christmas parties. He refers to himself as an incel, so we're following him as he is going through being accused of things by his students. But also, sex crimes attacks are happening in the neighborhoods surrounding where all these people live.
People like women are randomly groped while walking the streets by some guy, and they don't know who it is. He's covered up, and they can't identify him. While these attacks are going on, people hate her daughter and are suspicious of anyone across the street.
So we're following these three people. I like how Lisa Jewell combines them and starts putting together the pieces of how they are all interconnected and how their lives are interconnected. Somehow someone within this storyline needs to be the reason for Saffyre's disappearance, whether it's a main point of view that we're following or someone on the side that we meet through these main characters. It was a fast read. This novel keeps you guessing and jumping from different points of view.
Author: Lisa Jewell
Average Customer Review: (4.3 out of 5, on Amazon)
Category: Mystery, Thriller & Suspense (Editor's pick)
Available: Audiobook | Paperback | Hardcover | Kindle | Audio CD
---
Read More Mystery Books: