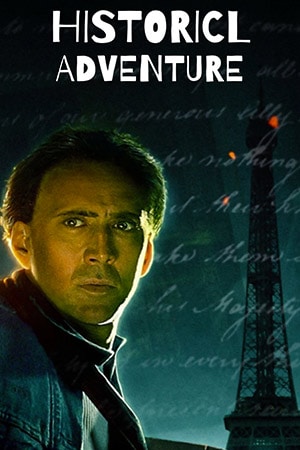 National Treasure is an American historical adventure movie based on book series. The first movie is pretty formulaic. Nicolas Cage is trying to clear the name of his great grandfather, who is like the court is potentially caught up in the plot to assassinate Abraham Lincoln.
In so doing, he has to kidnap the president to get access to the secret presidential book to find this ancient lost city of gold. Somehow that will prove his father's or his grandfather's innocence. If you want to read books like National Treasure, stay with me.
5 Books Like National Treasure (Historical Adventure)
National Treasure follows the main character, and the plot involves Nicolas Cage playing Benjamin Gates, Benjamin Franklin Gayton. Since he was a boy, he was always interested in the history of America. One day he's out looking for a key, and he finds it.
Also, it turns out that this guy who ends up being the villain tries to steal the Declaration of Independence. It is because there's a treasure map on the back of it revealing treasure. If you are a fan of treasure hunting stories, you will love these 5 books like National Treasure. Let's review!
1. The Lost Symbol
Dan Brown is an adult mystery thriller novelist, and this is the third book in the Robert Langdon series. However, you do not have to read this series continually. It's mostly a companion series with the same main character in each one. This novel opens with Robert Langdon, a Harvard professor of art history and symbology. Moreover, he is summoned by his good friend and colleague, Peter Solomon, to the United States capital to lecture.
When he gets there, all things go down. He realizes that he was manipulated into coming to the capital and that his friend is missing. So he is at the capital when all of this crazy stuff happens. He ends up getting involved with the CIA with this organization called the Freemasons and a lot of other cool historical stuff going down. The plot was twisty and a lot of fun. Dan Brown incorporates a lot of historical accuracy into his fictional works. So all of these secret societies, places, organizations are real, even though the events in this book are fictional.
Like National Treasure, there's a character that knows nothing about symbols. She wanted to know everything which seemed convenient to explain to the reader to have Robert Langdon go on for paragraphs and paragraphs about intricate symbols and how they were used throughout history. Some of that was interesting, but a lot of it got to be long and brought me out of the reading experience.
Author: Dan Brown
Average Customer Review: (4.3 out of 5, on Amazon)
Category: Historical Thrillers
Available: Audiobook | Paperback | Hardcover | Kindle | Mass Market Paperback
---
2. Journey to the Center of the Earth
It is an old science fiction that was written back in the 60s. Further, it is about a young man who is a meteorologist and his uncle, a meteorologist. They come across this old Icelandic book. Inside the book is this message from an old Icelandic philosopher-scientist guy. It tells them that once they decode it, it is possible to travel to the center of the Earth. So the uncle is the super enthusiastic scientist who wants to try all these crazy things.
It's about realizing that they need to go on this journey and then making the journey. A few things about the journey were a little bit unbelievable. For example, the professor, the main character's uncle, is brilliant and confident. But he makes this decision when they first go on their expedition that he's not going to bring much water like they bring tons of food and gin. So it is inspiring to see how they survive in unhealthy and dangerous environments similar to National Treasure.
Author: Jules Verne
Average Customer Review: (4.4 out of 5, on Amazon)
Category: Classic Literature & Fiction, Science Fiction
Available: Audiobook | Paperback | Hardcover | Kindle | Mass Market Paperback
---
3. Cemetery Dance
This book is the ninth book in the Agent Pendergast series. William Smithback is killed in our first scene. He is a newspaper reporter that has been there from the start. The problem is the videotapes. The security camera footage from his apartment building in New York seemed to show that his neighbor murdered him, but his neighbor's dead and in the morgue.
We start this book out with a beautiful zombie story. Will and Nora are in trouble. It is the story of a voodoo cult hidden in the middle of New York City and how they have created zombies that are now out and killing the population of New York City. The story moves along reasonably, and there are always things happening as National Treasure. You get this history of this culture and the storytelling of supernatural elements and how it destroys people.
Author: Douglas Preston
Average Customer Review: (4.6 out of 5, on Amazon)
Category: Occult Fiction, Police Procedural Mysteries
Available: Audiobook | Paperback | Hardcover | Kindle | Mass Market Paperback
---
4. The Seventh Scroll: Ancient Egypt
This book was published in 1995, and it represents the second book of the Egyptian series. The main characters are Sir Nicholas Quenton-Harper and Royan Al Simma. Sir Nicholas is an adventurer of antiquities, a rich man with financial troubles. Royan is an archaeologist, lover of her homeland, and proud of her work. Her homeland is Egypt. They are attacked, and their treasure is stolen. Royan contacts an old friend of Sir Nicholas because she wants to discover the stone.
So Nicholas and Royan traveled together to Ethiopia to discover the stone. The two characters fall in love. They find the location of the town, but they are attacked. So they return to England to discover the treasure and recover as many items as possible. With the help of Nicholas's two old friends, they found the big treasure. In National Treasure, we see the same journey and ancient vibe.
Author: Wilbur Smith
Average Customer Review: (4.7 out of 5, on Amazon)
Category: Historical Fantasy, Action & Adventure
Available: Audiobook | Paperback | Hardcover | Kindle | Mass Market Paperback
---
5. 1491: New Revelations of the Americas Before Columbus
1491 sets out to correct what the author, Charles Mann calls Holmberg's Mistake. It is understood that Native American cultures in the Americas were limited to small groups of hunter-gatherers or nomadic tribes living in a vast, untamed wilderness. It is called Holmberg's Mistake because this understanding of Native Americans assumes that white explorers and white settlers encounter these people.
There were large, sprawling civilizations with tens of thousands of people. That had been recently decimated by disease, brought over unknowingly, for the most part by Europeans. This disease outpaced the rate of exploration by the Europeans, such that when they encountered new civilizations and new societies. These diseases had already ravaged those societies.
It's estimated that 90 percent of people in the Americas died due to contact with Europeans. Man makes the analogy of making assumptions about Indian cultures based on their view post massive pandemic. Also, societal collapse is like making assumptions about the survival of survivors of the Holocaust based on how they looked once concentration camps were liberated.
So the man then talks about a large variety of the civilizations present at the time of Europeans. The book goes through three main questions that archaeologists and academics have been trying to understand about people living in the Americas. The first question is, how many people were there before Europeans came to the Americas? The second question is, how long have those people been in the Americas? The third question is how did those people work within or in their environment?
All three of these are fascinating questions, and the author goes into a lot of detail talking about the academic discourse about the number of people living in the Americas. Indians consciously shaped the environment to allow for the more big game allow for the types of food and plants they wanted to grow. Also, they let them practice the type of agriculture they wanted to do.
It extended across the entire North American continent through the practice of controlled burns to clear out the plants that weren't wanted and to cultivate. Similarly, Amazonia is the other area that man focuses on heavily to answer this question of how many native societies impacted their environment.
Author: Charles C. Mann
Average Customer Review: (4.6 out of 5, on Amazon)
Category: Native American History, Ecology
Available: Audiobook | Paperback | Hardcover | Kindle | Audio CD
---
More Classics Adventure Books: 5 Books Like Treasure Island