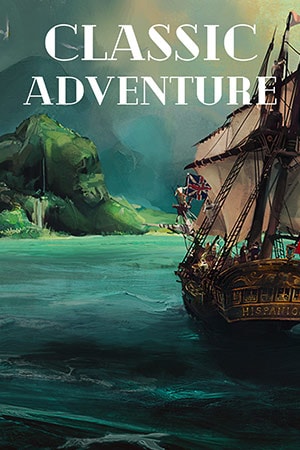 Treasure Island is a classic, adventurous book. It was written by a Scottish author, Robert Louis Stevenson, and published in 1883. An adventure novel that can also qualify as a children's classic and an English classic that deals with Buccaneers and buried gold.
This is a story of Jim Hawkins, an English boy who lives at an Inn, and his parents run by the seaside. One day, a mysterious stranger comes to stay at the Inn, and Jim little guesses how this man will change his life before he knows it.
Events take place to see him getting on board a ship sailing to Treasure Island, a place that's rumored to hold the treasure of the famous and infamous captain. Jim meet many memorable characters such as Long John Silver, Ben Gunn, and more. Some of them Jim trusts, and others he learns not to sing as his life and friends depend on it. If you want to read books like Treasure Island, keep reading.
5 Books Like Treasure Island (Classics Adventure)
Treasure Island is told from an older man recounting the time he spent on the ship with the crew on this adventure when he was a kid. So his perspective is super interesting because he goes over many follies of youth. We like how he describes why he was doing things and what was going through his mind. He's almost jousting with himself and mocking on his youthful angst.
Also, it was fun to read about that. Do you want to read more adventure? Here I am going to review 5 books similar to Treasure Island. Let's go!
1. Robinson Crusoe
It's about a guy called Robinson Crusoe that gets shipwrecked on an island for 28 years and escapes. This book has the life and strange, surprising adventures of Robinson Crusoe. He was at last strangely delivered by pirates, so this man wanted to be a sailor. He ends up in the Brazils and owning a plantation. Then he's on this trip to Africa to take more slaves, and they get shipwrecked. He is the only person that survives. But the ship is still there.
So he manages to take helpful everything from the ship onto the land, and that is what he starts with to try and build his life. Most of the book's first half is about him finding ways to exist on this island to build shelter, cultivate crops, and find companionship. Then it shows you what he's written in his diary for the first ten days.
There are barely any implications of the psychological trauma that Robinson Crusoe would have gone through in this book. It would be about their mental health and the breakdown and where they find strength. So get to see many adventure and survival similarities to Treasure Island.
Author: Daniel Defoe
Average Customer Review: (4.4 out of 5, on Amazon)
Category: Classic Action & Adventure, Sea Adventures Fiction
Available: Audiobook | Paperback | Hardcover | Kindle | Mass Market Paperback | MP3 CD
---
2. Journey To The Center Of The Earth
This book follows Axel and his uncle Professor Lidenbrock on a scientific discovery and exploration journey. There have been a few movie adaptations of this book, like Treasure Island. As the main character, Axel is a regular guy curious about the world. He's fascinated by his travels and his adventures as he goes through them.
I also enjoyed Uncle Professor Lidenbrock's character. He was a bit nuttier than Axel in this book, although he wasn't insane. He wanted to get to the center of the Earth. The last 20 chapters of this book are exciting imaginative. You can't stop reading it. It's everything you wanted out of this book. Also, there's an element of realism. They discover things in the way scientists would discover them or people in general.
Author: Jules Verne
Average Customer Review: (4.4 out of 5, on Amazon)
Category: Fantasy, Adventure, Science Fiction
Available: Audiobook | Paperback | Hardcover | Kindle | Mass Market Paperback
---
3. Around the World in 80 Days
This book is full of adventure, intrigue, suspense, and mystery, like Treasure Island. One of the things you will love about this book is the description of all the different countries. Although they do go all the way around the world, India, China, and the United States of America are the only countries we hear a lot about. The author does a fantastic job of describing the sights and the sounds of all the different cuisine and things without making it boring. He makes it interesting and weaves it in together with the plot to come together vividly.
The plot starts with Phileas Fogg, who lives in London, and he makes a bet with some gentlemen that he can travel around the world in 80 days. Now, this is back before there were airplanes, and all that's available to him are boats and trains. But he's done all the calculations, and he thinks that he can do it. Moreover, the gentleman in his club says there's no way you can do it.
So he makes them a bet, and he takes off worldwide. He is hired a new manservant past Martu, a very comical creature. He's completely out of his element, trying to follow Phileas Fogg around the world. But since Phileas Fogg has left so quickly, some people suspect that he may be running away after committing a crime. So a detective follows him to find out if he is running away from something or has a bet to travel around the world.
This edition has some beautiful illustrations of India, the American plane, and their ships. Phileas Fogg is a noble character. He has a very high sense of honor and integrity. When there are people along the road that need his help, even though it could delay him on his journey, he doesn't hesitate to stop and help them if he's able to.
Author: Jules Verne
Average Customer Review: (4.4 out of 5, on Amazon)
Category: Classic Action & Adventure, Literature & Fiction
Available: Audiobook | Paperback | Hardcover | Kindle | Mass Market Paperback | MP3 CD
---
4. The Adventures of Tom Sawyer
It's the story of adolescence which is similar to Treasure Island. Tom Sawyer doesn't have an age, give or take. He could be anywhere from 9 to 13 inches. It's cool that Mark Twain left the age that you connect a little bit more. The book doesn't ever show Tom Sawyer growing up. You don't see him in his teen years or as an adult. But what you do see is in the short, brief period that we have with him, he grows and matures. He starts as a very selfless, selfish, and self-centered child, and you can't blame him for that.
In fact, something is endearing about that aspect to him. Whether it comes from taking the blame for something bad that one of his friends did in school. He gets the whipping when Becky Thatcher rips a page of the teacher's book on accident, he says it was me, and he takes the punishment for her a first real sign of selflessness there. Whether it's telling the truth at a court case when he saw crime take place and was the only one who could tell the truth as to who the real criminal was.
Is Tom growing up and being a better person? What's interesting is at the beginning of the story. You see Tom looking at Huckleberry Finn as somebody to look up to, and Huckleberry Finn is this kid who is the son of the town drunk. So more or less, he's an orphan. He's not forced to go to school or to attend church. Tom Sawyer looks up to that, but the story progresses by the end of the book.
Tom has learned the qualities of becoming an adult and giving in to the social norms. By the end of the story, you have Tom Sawyer trying to convince Huckleberry Finn that maybe you should try and join the society and our rules because there are many positives to it.
Tom Sawyer was based a lot on Mark Twain's life. He says the character is based on three people who lived in his town, which was also on the Mississippi River. His aunt in the book greatly represents Mark Twain's mother. Tom Sawyer and Huck Finn are talking about all these different superstitions, witches and ghosts, and getting rid of warts by taking dead cats' places and digging for treasure only at the stroke of midnight.
Author: Mark Twain
Average Customer Review: (4.5 out of 5, on Amazon)
Category: Classic Literature, Coming of Age Fiction
Available: Paperback | Kindle
---
5. The Merry Adventures of Robin Hood
This book was written in 1883 by the American illustrator and writer Howard Pyle. It is telling of Robin Hood from an earlier period. There were a bunch of like pranksters that lived in the forest, a bunch of happy-go-lucky people who felt that being a yeoman was the absolute pinnacle of existence.
They did believe in injustice. But they also believed in taking stuff for themselves and playing jokes on people they felt were mean and or unjust and treated the people poorly. So there are a lot of elements of Robin Hood that are completely classic that we see all across the board.
Robin was about having new experiences. He would go up and dress as different characters. We often see Robin Hood go into disguise, covering up in a hood or going all out. He's trying to hide who he is because nobody knows what Robin looks like in this world. He would dress up as different characters or people because he wanted to embody what he was dressing up.
It's a charming compilation of Robin's adventures, and it is called The Merry Adventures of Robin Hood. So it is set up that way, and it's a good book if you want to read it to someone else, especially before bedtime. It's also full of awesome terminology that you can explain to whoever you're reading it to or yourself if you're not familiar.
Author: Howard Pyle
Average Customer Review: (4.4 out of 5, on Amazon)
Category: Classic Action & Adventure, Classic American Literature
Available: Audiobook | Paperback | Hardcover | Kindle | Flexibound
---
Read More Adventure Books:
5 Books Like The City Of Ember