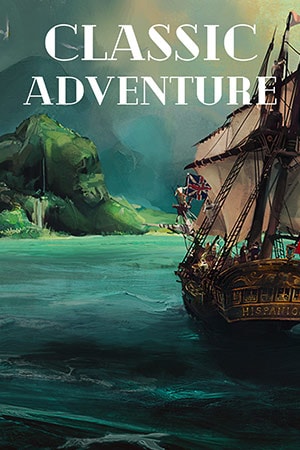 Treasure Island is a classic, adventurous book. It was written by a Scottish author, Robert Louis Stevenson, and published in 1883. An adventure novel that can also qualify as a children's classic and an English classic that deals with Buccaneers and buried gold. The novel's themes of adventure, treasure hunting, and moral dilemmas continue to captivate readers of all ages.
This is the story of Jim Hawkins, an English boy who lives at an Inn, and his parents run by the seaside. One day, a mysterious stranger comes to stay at the Inn, and Jim little guesses how this man will change his life before he knows it.
Events take place to see him boarding a ship sailing to Treasure Island, a place rumored to hold the treasure of the famous and infamous captain. Jim meet many memorable characters, such as Long John Silver, Ben Gunn, and more. Some of them Jim trusts, and others he learns not to sing as his life and friends depend on it.
Books like Treasure Island offer you a captivating and enriching adventure. These books are filled with thrilling adventures that will keep you on the edge of your seat. From treasure hunts to shipwrecks, each story takes you on a journey full of excitement, danger, and unexpected twists.
7 Books Like Treasure Island (Classics Adventure)
Treasure Island has become one of literature's most famous and enduring adventure stories. It has been adapted into numerous stage plays, movies, television shows, and its characters, such as Long John Silver. It is told by an older man recounting the time he spent on the ship with the crew on this adventure when he was a kid.
So his perspective is super interesting because he goes over many follies of youth. We like how he describes why he was doing things and what was going through his mind. He's almost jousting with himself and mocking his youthful angst.
Also, it was fun to read about that. Do you want to read more adventures? Here I am going to talk about seven books similar to Treasure Island. Reading these books will provide thrilling adventures, immersive settings, and timeless themes that explore the resilience of the human spirit. They offer literary excellence and the opportunity to escape into captivating worlds of adventure and exploration. Let's go!
1. Robinson Crusoe
Robinson Crusoe is about a guy called Robinson Crusoe that gets shipwrecked on an island for 28 years and escapes. This book has the life and strange, surprising adventures of Robinson Crusoe. He was at last strangely delivered by pirates, so this man wanted to be a sailor. He ends up in the Brazils and owning a plantation. Then he's on this trip to Africa to take more slaves, and they get shipwrecked. He is the only person that survives. But the ship is still there.
So he manages to take helpful everything from the ship onto the land, and that is what he starts with to try and build his life. Most of the book's first half is about him finding ways to exist on this island to build shelter, cultivate crops, and find companionship. Then it shows you what he's written in his diary for the first ten days.
There are barely any implications of the psychological trauma that Robinson Crusoe would have gone through in this book. It would be about their mental health, the breakdown, and where they find strength. So get to see many adventure and survival similarities to Treasure Island.
Author: Daniel Defoe
Average Rating: 4.4/5
Category: Classic Action & Adventure, Sea Adventures Fiction
Available: Audiobook | Paperback | Hardcover | Kindle | Mass Market Paperback | MP3 CD
2. Journey To The Center Of The Earth
Journey To The Center Of The Earth follows Axel and his uncle Professor Lidenbrock on a scientific discovery and exploration journey. There have been a few movie adaptations of this book, like Treasure Island. As the main character, Axel is a regular guy curious about the world. He's fascinated by his travels and adventures as he goes through them.
I also enjoyed Uncle Professor Lidenbrock's character. He was a bit nuttier than Axel in this book, although he wasn't insane. He wanted to get to the center of the Earth. The last 20 chapters of this book are exciting and imaginative. You can't stop reading it. It's everything you wanted out of this book. Also, there's an element of realism. They discover things like scientists would find them or people in general.
Author: Jules Verne
Average Rating: 4.4/5
Category: Fantasy, Adventure, Science Fiction
Available: Audiobook | Paperback | Hardcover | Kindle | Mass Market Paperback
3. Around the World in 80 Days
Around the World in 80 Days is full of adventure, intrigue, suspense, and mystery, like Treasure Island. One of the things you will love about this book is the description of all the different countries. Although they do go all the way around the world, India, China, and the United States of America are the only countries we hear a lot about.
The author does a fantastic job of describing the sights and the sounds of all the different cuisine and things without making them dull. He makes it exciting and weaves it with the plot to come together vividly.
The plot starts with Phileas Fogg, who lives in London, and he bets some gentlemen that he can travel around the world in 80 days. Now, this is back before there were airplanes; all that was available to him were boats and trains. But he's done all the calculations and thinks he can do it. Moreover, the gentleman in his club says there's no way you can do it.
So he makes them a bet, and he takes off worldwide. He is hired as a new manservant past Martu, a very comical creature. He's out of his element, trying to follow Phileas Fogg worldwide. But since Phileas Fogg has left so quickly, some people suspect he may be running away after committing a crime. So a detective follows him to find out if he is running away from something or has a bet to travel around the world.
This edition beautifully illustrates India, the American plane, and their ships. Phileas Fogg is a noble character. He has a very high sense of honor and integrity. When people along the road need his help, even though it could delay him on his journey, he doesn't hesitate to stop and help them if he can.
Author: Jules Verne
Average Rating: 4.4/5
Category: Classic Action & Adventure, Literature & Fiction
Available: Audiobook | Paperback | Hardcover | Kindle | Mass Market Paperback | MP3 CD
4. The Adventures of Tom Sawyer
The Adventures of Tom Sawyer is the story of adolescence, similar to Treasure Island. Tom Sawyer doesn't have an age, give or take. He could be anywhere from 9 to 13 inches. It's fantastic that Mark Twain left the period you connect a little more. The book doesn't ever show Tom Sawyer growing up. You don't see him in his teen years or as an adult. But you see that in our short, brief period with him, he grows and matures. He starts as a selfless, selfish, and self-centered child; you can't blame him for that.
Something is endearing about that aspect to him. Whether it comes from taking the blame for something wrong that one of his friends did in school, he gets the whipping when Becky Thatcher rips a page of the teacher's book on accident, he says it was me, and he takes the punishment for her a first real sign of selflessness there. Whether telling the truth at a court case when he saw the crime occur and was the only one who could tell the truth about who the real criminal was.
Is Tom growing up and being a better person? What's interesting is at the beginning of the story. You see Tom looking at Huckleberry Finn as somebody to look up to, and Huckleberry Finn is this kid who is the son of the town drunk. So more or less, he's an orphan. He's not forced to go to school or to attend church. Tom Sawyer looks up to that, but the story progresses by the end of the book.
Tom has learned the qualities of becoming an adult and giving in to social norms. By the end of the story, you have Tom Sawyer trying to convince Huckleberry Finn that maybe they should try and join society and our rules because of its many positives.
Tom Sawyer was based a lot on Mark Twain's life. He says the character is based on three people who lived in his town, which was also on the Mississippi River. His aunt in the book greatly represents Mark Twain's mother. Tom Sawyer and Huck Finn are talking about all these different superstitions, witches and ghosts, and getting rid of warts by taking dead cats' places and digging for treasure only at the stroke of midnight.
Author: Mark Twain
Average Rating: 4.5/5
Category: Classic Literature, Coming of Age Fiction
Available: Paperback | Kindle
5. The Merry Adventures of Robin Hood
The Merry Adventures of Robin Hood was written in 1883 by the American illustrator and writer Howard Pyle. It is telling of Robin Hood from an earlier period. A bunch of pranksters lived in the forest, a bunch of happy-go-lucky people who felt that being a yeoman was the absolute pinnacle of existence.
They did believe in injustice. But they also believed in taking stuff for themselves and playing jokes on people they felt were mean and or unjust and treated the people poorly. So there are a lot of elements of Robin Hood that are completely classic that we see all across the board.
Robin was about having new experiences. He would go up and dress as different characters. We often see Robin Hood go into disguise, covering up in a hood or going all out. He's trying to hide who he is because nobody knows what Robin looks like. He would dress up as different characters or people because he wanted to embody what he was dressing up.
It's a charming compilation of Robin's adventures called The Merry Adventures of Robin Hood. So it is set up that way, and it's a good book if you want to read it to someone else, especially before bedtime. It's also full of excellent terminology that you can explain to whoever you're reading it to or yourself if you're unfamiliar.
Author: Howard Pyle
Average Rating: 4.4/5
Category: Classic Action & Adventure, Classic American Literature
Available: Audiobook | Paperback | Hardcover | Kindle | Flexibound
6. Kidnapped by Robert Louis Stevenson
Kidnapped is a classic adventure novel published in 1886. It follows the journey of David Balfour, a young man kidnapped and forced into servitude on a ship. Through unexpected alliances and daring escapes, David faces the treacherous landscapes of the Scottish Highlands, encountering dangerous characters and uncovering family secrets. Stevenson's captivating plot twists and rich historical context make it a must-read for adventure enthusiasts.
7. The Swiss Family Robinson by Johann David Wyss
The Swiss Family Robinson is an adventure novel published in 1812. The story follows the Robinson family – a Swiss pastor, his wife, and their four sons – shipwrecked on a deserted island. The family builds a new life amidst survival challenges, exploring the island's flora and fauna and struggling with dangers and opportunities. This heartwarming tale of family unity, resilience, and the wonders of nature has captured the imagination of readers for generations.
Romance Books Like Treasure Island
While "Treasure Island" is primarily an adventure novel, a few options might appeal to you if you're looking for romance books with adventure and excitement. Here are some recommendations:
Outlander by Diana Gabaldon: This is the first book in a series, blending historical fiction, romance, and time travel. The story follows a combat nurse from 1945 who mysteriously travels back to 18th-century Scotland. There, she becomes involved with the dashing Jamie Fraser, igniting a passionate romance amidst political intrigue, danger, and adventure.
The Princess Bride by William Goldman: This classic combines romance, adventure, and humor. The book tells the story of two star-crossed lovers who go through numerous trials and escapades to be reunited. Filled with sword fights, daring rescues, and witty banter, this novel offers a delightful blend of romance and adventure.
The Scarlet Pimpernel by Baroness Orczy: This historical romance is set during the French Revolution. It follows the enigmatic and daring Sir Percy Blakeney, who leads a double life as a fashionable English aristocrat and a heroic rescuer of French nobility.
Books Like Treasure Island For Adults
If you're looking for adventure books with similar themes to "Treasure Island" but targeted toward adult readers, here are a few recommendations:
The Count of Monte Cristo by Alexandre Dumas: This epic adventure novel follows the story of a young sailor who is betrayed and unjustly imprisoned. After escaping, he quests for revenge against those who wronged him. The novel is filled with treasure hunts and a complex web of relationships, making it a thrilling read for adults.
The Three Musketeers by Alexandre Dumas: This is an action-packed tale set in 17th-century France. The story revolves around a young swordsman. He joins the musketeers and is embroiled in political intrigues, duels, and thrilling adventures.
Shogun by James Clavell: This historical novel takes readers on a captivating journey to feudal Japan in the 17th century. The story follows an English sailor who becomes a pawn in the power struggles between warlords. This epic tale explores the clash of cultures, political intrigue, and high-stakes adventures in a meticulously researched and richly detailed setting.
These adult-oriented adventure novels offer thrilling narratives, complex characters, and exploration of themes that resonate with mature readers.
---
Each book offers unique adventure, survival, and exploration, resonating with readers who crave thrilling tales of high-stakes quests, personal growth, and the allure of the unknown. These stories will ignite your imagination and transport you to captivating worlds of adventure.
Read More Adventure Books:
Historical Adventure Books Like National Treasure
Adventure Books About Savannah GA