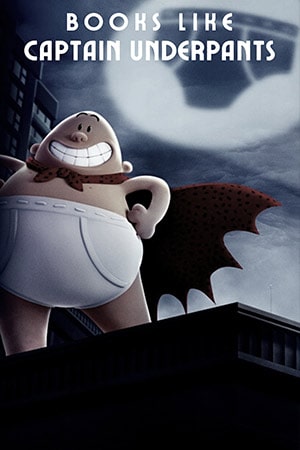 Captain Underpants is a series of picture books created by American author and illustrator Dav Pilkey. This series is known for its humor, adventure, and irreverent style. The first issue was released in 1997 and has run for 12 installments. The general setup is as follows: two young boys, George and Harold, attempt to evade punishment for a string of pranks by hypnotizing. Their tyrannical school principal Mr. Krupp thinks that he's Captain Underpants. Then they have to run around after him to keep him from harm as he tries to fight crime and supervillains.
Books Like Captain Underpants tend to be fairly light on in the words department, as is the way of picture books for a young audience. Also, they often incorporate a flipbook element to depict simple action sequences. Despite this setup and the title, it doesn't feel like a superhero story.
The central theme focuses on the kids defying authority and being themselves. Captain Underpants often feels downright secondary to that. I enjoyed the humor and great artwork. If you want more for your kids, then stay with me because I have a middle-grade graphic novels list for recommendation.
7 Books Like Captain Underpants (Children's Humor)
Captain Underpants is a collector's edition that kept me on the edge of my seat throughout the story. It was so insane and hilarious. The big focus of the story is George and Harold are the real heroes. I learned from the book: how to get into trouble, how to respect your elders while they're blackmailing you, how to use a Hypno reading, and how to chase bad guys and defeat robots. So, I thoroughly enjoyed the book's storyline. Now, I will discuss 7 books like Captain Underpants. Let's talk!
| Name | Key Focus | Review (Goodreads) |
| --- | --- | --- |
| Ghosts | A girl and her sister struggle to enjoy life and know more about ghosts. | 4.2 |
| Real Friends | Two best friends are going through different situations but have a strong bond. | 4.2 |
| Invisible Emmie | An introverted girl expresses her feelings in a diary where she talks about friends and feelings. | 4.0 |
| Sunny Side Up | A girl enjoys her new friends but also deals with her brother's mental condition. | 4.1 |
| Swing it, Sunny | A careful girl and her family are trying to help her brother. | 4.3 |
| Roller Girl | Two friends are different in choice, but their feelings for each other are the same. | 4.3 |
| The Bad Guys | A bad guy is trying to be good. | 4.2 |
Books Like Captain Underpants List
1. Ghosts
Ghosts is a middle-grade paranormal graphic novel. This one follows our main character Catrina. Her sister has cystic fibrosis. So they moved to a new area because it'll be easier for her sister to breathe with the climate there in California.
When they move to the area, there are a lot of rumors about ghosts around. It is heavily focused on Día de Los Muertos in the Latino culture. So, the book has huge discussions about ghosts, what happens in the afterlife, and how they communicate with the living and breathing. Catrina takes deep breaths to calm herself and her sister about breathing with her disease.
It shows that what an adult interprets and a child interprets are sometimes different. Like Captain Underpants, I appreciated the cultural diversity and learning about a different culture. If you were sensitive to talking about ghosts and believing in ghosts with your kids, that might be something you should check out before they read it.
Author: Raina Telgemeier
Publisher: Graphix (First Paperback Edition)
Tropes: Ghosts, Mystery, Friendship
Number Of Pages: 256
Grade level: 3 – 7
Available: Paperback | Hardcover | Kindle
2. Real Friends (Friends)
Real Friends is a children's comic with realistic fiction which won Goodreads Choice Award Nominee, Harvey Awards Nominee, and AML Award. The story is about two best friends, Shannon and Adrienne. It started when Shannon was going to kindergarten, and it's about her different friends throughout her childhood and how each of her friends has served a purpose throughout the years.
Some emotional abuse happens with her older sister, and the way she treats her is not very nice. The author talks about the importance of friendship, different friends, who's a good friend and who's not, and how some friends come and go. So this one was great, and I got a similar friendship vibe with Captain Underpants.
Author: Shannon Hale
Publisher: First Second (Illustrated edition)
Tropes: Memoir, Bully, Enemies-to-friends
Number Of Pages: 224
Reading age: 8 – 11 years
Available: Paperback | Hardcover | Kindle
3. Invisible Emmie (Emmie & Friends)
Invisible Emmie is another children's realistic fiction graphic novel. It's written in chapters, and the story is about a little girl, Emmie, who doesn't quite fit in school. She's quiet and doesn't speak up much but enjoys drawing. Throughout the book's pages is her story. Then you also get to meet Katie, the popular girl who wears the right clothes and has the right friends.
So everything works out for her, and she is told in this format. Then Emmy is said in the actual story, written in a diary format. It's not dated or anything, but it's told from the first-person point of view. Emmy writes a letter to a boy. The letter falls out of her backpack and is passed around the school. She starts getting made fun of for how she handles that situation and how she and Katie intersect. I enjoyed the loneliness-to-friendship transformation, which is similar to Captain Underpants. I recommend it to young adults.
Author: Terri Libenson
Publisher: Balzer + Bray (Illustrated Edition)
Tropes: Self-Esteem, Friendship, Family, Bullying
Number Of Pages: 192
Available: Audiobook | Paperback | Hardcover | Kindle | Audio CD
4. Sunny Side Up (Sunny)
Sunny Side Up is historical fiction graphic novel. We follow our main character, Sunny, who goes to visit her grandpa over the summer. She was supposed to go to a lake and camping with her family. She gets sent to Florida to hang out with her grandfather in a retirement facility that is pretty much older and bored. There are only a few kids. Suny finally finds another kid who becomes her friend, and he is the son of the maintenance manager.
So there's a lot in here about comics. They start reading comics together. It's set in the seventies, but it's good. The book's premise is that she got sent to stay with her grandpa because her parents were trying to deal with her older brother getting into drugs. They send him away to a rehabilitation center, and they're trying to deal with him.
So they send her to stay with grandpa so that they can deal with that. But Sunny misses her older brother. Throughout the book, her grandfather allows her to open up and talk about it and expresses that it's okay to miss him and that her parents are trying to do what's best. But they need to figure out what to do all the time. I found this very powerful book, especially for kids with similar circumstances. After finishing the book author gives you some messages as Captain Underpants's author. So, take it!
Author: Jennifer L. Holm
Illustrator: Matthew Holm
Publisher: Graphix (Illustrated edition)
Tropes: Fantasy, Historical, Psychological
Number Of Pages: 224
Available: Paperback | Hardcover | Kindle & Comixology
5. Swing it, Sunny (Sunny)
Swing it Sunny is the second book of the Sunny series. It is set in the year following that summer of Sunny Side Up and into the fall. That following year, Sunny's brother is at a military academy. He's very bitter with his whole family about being there. She misses him being a presence in their home.
So it's her working through that and her brother, her coming to terms with how he's acting out and how that's not how he used to be. Their parents are trying to help him, but he does not appreciate what they do to help him. So this one was great and sent a positive message on handling those kinds of circumstances in those middle-grade years.
Author: Jennifer L. Holm
Illustrations: Matthew Holm
Publisher: Graphix (Illustrated edition)
Tropes: Coming-of-age, Arc, Family-friends
Number Of Pages: 224
Available: Paperback | Hardcover | Kindle
6. Roller Girl
Roller Girl is a middle-grade sports graphic novel that achieved Newbery Medal Nominee. It's a little longer for a middle-grade graphic novel but has a good story. We follow our main character, Astrid, whose mother takes her and her best friend to an evening of cultural enlightenment. So this habit of taking her to all events around town exposed her to different ideas and cultures. So she takes her to a roller derby rink (game).
So she exposes her daughter to roller derby, and Astrid immediately falls in love with it and decides she wants to do it. She also tells her friend we'll do roller derby camp for the summer. Her friend doesn't want to do what her friend wants to do dance camp. Astrid is very offended by the fact that her friend does not want to spend her summer at roller camp with her.
So it's about her reconciling those feelings about her and her friend having different passions and not spending all their time together and her friend making other friends at her dance camp. She struggles with roller skating and derby in general. So she goes into the first day of camp and can barely stand up, let alone skate and push people around.
Toward the end of the book, the author talks about being a team. Sometimes you have to be the one to make a sacrifice to allow somebody else to shine. Be proud of your friends when they get something, even if you want it, and when they make those achievements. The friendship part of the book is very similar to Captain Underpants.
There's a huge part where Astrid lies to her mom the whole summer. Then when it all comes to light that that wasn't the case, she gets in major trouble because she's been coming home by herself and crossing highways she shouldn't have been in. So when she gets in trouble, she has a complete meltdown. Her mom encourages her to open up and talk to her about what's going on.
I loved the parental support and the encouraging the kids to go to their parents when they have a problem and to open up and talk to them. This is one that kids continue to read over and over because there are so many suitable life lessons and encouraging plot points. The illustrations and dialogues are great to visualize.
Author: Victoria Jamieson
Publisher: Dial Books
Tropes: Sports, Girl-power, Funny
Number Of Pages: 256
Book Weight: 1.21 pounds
Dimensions: 5.56 x 0.94 x 8.25 inches
Available: Audiobook | Paperback | Hardcover | Kindle | Audio CD
7. The Bad Guys
The Bad Guys is a fantasy middle-grade sequential art. It stars Mr. Wolf, Mr. Shark, Mr. Piranha, and Mr. Snake, and the story's premise is that Mr. Wolf is the wolf from the fairy tales. He wants to turn over a new leaf, and it's entirely comedic/childish humor. He ropes the other three into helping him. They don't know why he invited them over. Much of it's talking to the audience like we're part of it while reading.
There's a rap sheet for each character, and they're dressed as mobsters with ties and suits. Their first mission is to free dogs from the pound. So, it's ironic because the bad guys are trying to be good, but they're doing it in methods that a bad guy would choose, and the other three are reluctant to help. I found the piranha funny because he's a Latino accent. Similar to Captain Underpants, they're all funny in their way. Check out this series if you have a sense of humor and you want to hand your sense of humor down to your children.
Author: Aaron Blabey
Publisher: Scholastic Paperbacks
Tropes: Adventure, Fantasy, Animals
Number Of Pages: 192
Available: Paperback | Kindle
---
Here are more similar suggestions:
Dog Man by Dav Pilkey: Another series by the same author as Captain Underpants, featuring a crime-fighting dog with the head of a human and a canine's body.
Diary of a Wimpy Kid by Jeff Kinney: This series is told in a journal-style format and follows the misadventures of middle school student Greg Heffley.
The Adventures of Ook and Gluk by Dav Pilkey: A graphic novel series follows two cavemen who time-travel to the future and learn kung-fu to save their prehistoric village.
My Big Fat Zombie Goldfish by Mo O'Hara: A boy accidentally turns his goldfish into a zombie.
These middle-grade books share a similar humorous tone to Captain Underpants, making them excellent choices for readers who enjoy that storytelling style. I enjoyed most of them.
Please leave some comments below if you have read any of these, if your kids have read any of them, or if you have any opinions. I'd love to connect with you on these. If you have questions about any of them, feel free to ask. I will love to chat if you have any middle-grade graphic novel recommendations for kids.
Read more similar books:
5 Children's Fantasy Books Like The Phantom Tollbooth
5 Children's Adventure Books Like The City Of Ember
5 Children's Mystery Books Like The Westing Game
7 Children's Realistic Fiction Books Like The Penderwicks