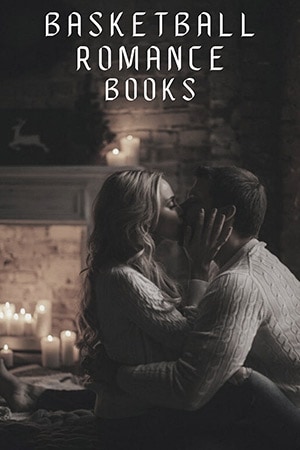 There's a general feeling that the NBA is closing the gap on the NFL. The NBA is closing that gap and becoming the most popular sport in America. When we see high school drama or romance, we frequently see the hero or heroine play basketball or like to play it.
So, basketball lovers can not deny that they have a huge crush or secret love among basketball players. I also have two favorite players in my life. So when I read any basketball romance or story, I imagine one of them as a protagonist. That gives me a real vibe and strong feelings. If you want to know my books list, stay with me till last.
5 Basketball Romance Books
Whether or not you are a basketball fan, you might love the story or drama that covers the hero/heroine on a basketball field. It gives a natural campus vibe and helps to meet other side characters. I suggest an idea before starting a basketball romance: Go to the basketball field, have a crush, and imagine him/her while reading. That's awesome to feel and fantasize about yourself. Now, I will show my top 5 basketball romance books for you. Let's play!
| Name | Key Focus | Review (Goodreads) |
| --- | --- | --- |
| Long Shot | A college sports agent makes friends with a basketball player, and both feel attracted to each other. | 4.2 |
| Perfectly Oblivious | Two high school basketball teenagers discover their friendship as a romantic relationship. | 3.9 |
| She Drives Me Crazy | A pro basketball player falls in love with his cheerleader, and both do fake dating for some reason. | 4.0 |
| Nice Guys Don't Win | Two high school friends meet up again in college and become roommates. | 3.9 |
| Pippa Park Raises Her Game | A Korean basketball player tries to flow her passion and overcome difficulties. | 4.2 |
Basketball Romance Books
1. Long Shot (Hoops)
Long Shot is an NBA basketball romance with social abuse that won RITA Award. The story follows a girl named Iris. She starts in college for a couple of chapters because that's when everyone meets, and it goes right into the MBA. Also, Iris is in college to be a sports agent. She starts dating Caleb, who is a basketball star. Something happens, and she runs into another basketball player, August. They talk and realize that August and Caleb don't like each other because they're on opposite teams. So it's a love triangle!
Iris and August don't see each other a lot. They've seen each other four times in the span of this book. They have a domestic abuse relationship. So it's very heavy and dark. I loved this atmosphere and how, even though it was scary, I wouldn't want to go through it myself.
This book has fewer sports and drama, giving you much to think about the relationship. The plot, storyline, and writing are satisfying, but I can not connect properly enough with the characters. The author should focus on character building. If you are waiting for emotional sports romance, read it.
Author: Kennedy Ryan
Narrator: Sean Crisden, Jo Raylan
Publisher: Tantor Audio
Tropes: Dark, Arc, Mental-health, Second-chance, Friends-to-lovers, Angsty
Number Of Pages: 493
Available: Audiobook | Paperback | Kindle | Audio CD
2. Perfectly Oblivious (Perfect)
Perfectly Oblivious is high school basketball romcom fiction. The main characters (Cam and Bianca) play basketball for the boy and girl team at high school. They are best friends. Cam uses his charm and good looks to try and impress Bianca. But Bianca seems to be immune to it. She likes him, but she has a big problem. Whenever she falls for guys, they seem to like her sister, Bethany. So she has sworn to secrecy that no one can know that she loves Cam. Neither Bianca nor Cam want to admit that they love each other.
With Bethany's help, Cam starts sending Bianca's secret admirer gifts, and they figure out their feelings. In most scenarios, the author talks about drama, teenage love, and high school things that could happen in your high school career. Also, the author talks about the story from two different perspectives. Because from two different perspectives, you get more mystery and wonder what the next person will say. That makes the story a bit more fun a read.
Author: Robin Daniels
Narrator: Casey Turner, George Wickham
Publisher: Audible Studios
Tropes: Romantic-comedy, Arc, Friendship
Number Of Pages: 330
Available: Audiobook | Paperback | Kindle | Audio CD
3. She Drives Me Crazy
She Drives Me Crazy is an LGBTQ basketball romance that won Goodreads Choice Award Nominee. We've got basketball players Scottie and Irene, and both hate each other. Scottie has had a bad breakup with somebody who used to be on a basketball team and that's now moved to a private school in the same area.
So they still see each other when they play basketball and play that other team. Scottie and Irene get into a car accident. Irene takes cheerleading very seriously. So she makes a deal with her: I'll help you pay the insurance deductible, and you can keep cheerleading, but we're going to pretend to be girlfriends!
There's a lot of drama, and music is essential to this. Scottie listens to these eighties and nineties songs. So 'She Drives Me Crazy' as 'A Song' by Fine Young Cannibals. I loved some of them and cried at the end of the high moment. Whether you're gay or straight, it was a fun read. There's a little bit after that, but that's the book's highlight, the story arc's height. So you can come and check this one out.
Author: Kelly Quindlen
Narrator: Piper Goodeve
Publisher: Tantor Audio
Tropes: Enemies-to-lovers, Self-Esteem, Love-triangle, Fake-dating, Sapphic
Number Of Pages: 288
Available: Audiobook | Paperback | Hardcover | Kindle | Audio CD
4. Nice Guys Don't Win (The Boys)
Nice Guys Don't Win the second book of The Boys series. It's about college sports romance, especially a basketball love story. The main female character is Zoey, who you meet in the first one, and a basketball player Cole. Zoey moved to where her dad lives, and she's a junior. In her move, the school got their dorm thing. Her dorm thing messed up. So she needs a place to live, and Cole needs a roommate.
They start living together. So it's also a roommate romance with a forced-proximity situation. The chemistry was slow-burn and cute. Also, the writing style, character development, and narrators were good enough for me. But the author should add more conflict and romantic tension. Overall, I enjoyed it. Don't pick the hardcover because of the negative quality issue, but the paperback is excellent for font size, color, cover, and binding.
Author: Micalea Smeltzer
Narrator: Zara Eden, James Cavenaugh
Publisher: Podium Audio
Tropes: Forced-proximity, Dual-pov, Slow-burn, Interracial
Available: Audiobook | Paperback | Kindle
5. Pippa Park Raises Her Game
Pippa Park Raises Her Game is a realistic basketball romance retelling. The story is about a young Korean woman. She's a middle schooler, and she has sufficient basketball skills to have her recruited to a private school. However, she does not feel like she belongs there. Her family is working class. Her mom lives in Korea. She lives with her sister and her sister's husband. Her sister owns a laundromat, and Pippa herself helps out in that laundry mat. So when she goes to a private school full of incredibly wealthy students, she feels disappointed.
At the advice of an article, Pippa finds in 17 magazines. As readers, we know that this will not go well for Pippa. It's a matter of how bad and when. If you notice on the cover, you can see there's a basketball, and Pippa does play basketball. That's what interests me in the book. Female Sports is all about it, but it's not a big part of this book.
So if you're not an athlete or a sports fan, don't worry. This book could still be for you. The book itself does not have a real meaty component. It does introduce a little bit of Korean culture. A lot of the food is mentioned, and it's your typical teenage middle school social dilemma.
Author: Erin Yun
Narrator: Jennifer Sun Bell
Tropes: Retellings, Family, Realism
Number Of Pages: 288
Available: Audiobook | Paperback | Hardcover | Kindle
Those are my favorite basketball romance novels recommendation. If you have any or have already read one of them, share your opinions in the comment section. Happy basketball reading!
Read more similar books: