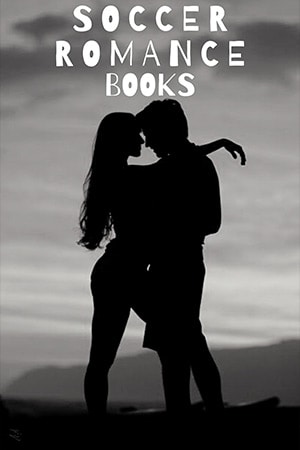 Soccer is a popular game with some rules, but love has no rules! So, soccer romance books or movies present the boundary or rules between characters, but when love happens, all the rules break. That's why we get all the romance tropes in this category.
Most soccer love stories come with a male/female soccer player who somehow falls in love with fans or ordinary people. Sometimes we can not believe what can happen between characters or unexpected relationships. So, soccer romance can play with the reader's mind, and readers love to read this type of romance as a fan or as a reader. Stay with me if you want to know my list.
5 Soccer Romance Books
Before starting a soccer romance, I usually go to the soccer field and enjoy a match. Maybe I will start to like one or two of the players. That helps me connect with the story because I can visually see those real players with my book characters. You can apply my tricks to get more enjoyment. Now, I will discuss my favorite 5 soccer romance books. Let's play!
| Name | Key Focus | Review (Goodreads) |
| --- | --- | --- |
| Blindsided | A soccer player who loves his friend, a virgin, and a shy girl also works at the same company. | 4.1 |
| Only When It's Us | A soccer girl hates his classmate, but somehow it turns into friendship and romance. | 4.0 |
| Rock Bottom Girl | A second chance love story between a soccer coach and player who also deals with many problems. | 4.3 |
| Dominate | An emotional love story between a soccer player and his supportive partner. | 4.5 |
| The Bad Boy And The Tomboy | A love triangle story where friendship turns into more. | 4.1 |
Soccer Romance Books
1. Blindsided (Harris Brothers World)
Blindsided is a standalone funny soccer romance. The story is about a girl named Freya and a soccer player named Mac in the UK. He is Scottish, and she is from Cornwall. They are best friends because she works with a bunch of women who have this seamstress. She's a seamstress with a fashion company, and they are all married slash dating these soccer players on one of the teams in the UK. So that's how they met. They've been best friends for a year.
Freya is a virgin, and she meets a guy she wants to start dating, but she is uncomfortable and nervous around men. So Mac offers to help coach her in love, where he helps her go on dates and flirt with other men. It goes awry, and some feelings are caught. I wanted them to catch feelings faster than they caught. The storyline was boring, and the romance was not deep enough. There was a lot of banter, tension, and quirky situations that I enjoyed most. Read it if you like a fun, easy, fast, quick sports romance book.
Author: Amy Daws
Narrator: Aaron Shedlock, Erin Mallon
Publisher: Amy Daws, LLC
Tropes: Humor, Virgin-heroine, Friends-to-lovers, Angsty, Alpha-hero
Number Of Pages: 322
Available: Audiobook | Paperback | Kindle
2. Only When It's Us (Bergman Brothers)
Only When It's US is a romantic comedy adult romance. Our hero is Ryder, and the heroine is Willa (soccer star). They share a class and have an enemies-to-lovers situation, which is so relatable on different levels. These characters have real things that they're struggling with where they have parents dying and their diseases.
They have insecurities that they're dealing with and have their real problems. That affects them getting into a relationship. I love it so much more because these difficult situations hit what happens in real life and why people are hesitant to start a relationship or to trust somebody.
Also, it makes it more enjoyable because you can picture it well in your head. Try this book if you're looking for a little steamy soccer love story and emotional characters. The hardcover is average, but the paperback is best for the font size, color, cover, and binding.
Author: Chloe Liese
Narrator: CJ Bloom, Nelson Hobbs
Publisher: Tantor Audio
Tropes: Big-family, Disability, Friends-to-lovers, Comedy
Number Of Pages: 386
Available: Audiobook | Paperback | Kindle | Audio CD
3. Rock Bottom Girl
Rock Bottom Girl is well-written and perfectly edited, and everything is relatable. The title speaks for itself. It's about a small-town teacher (Marley) who escaped the town because she ruined homecoming her senior year and wanted to get out. Some mean girls and guys thought they knew everything and the typical small-town charm.
Then Marley runs away and thinks she will have everything figured out that everyone else thinks. It all turns out not to be the case. She returns to the place she ran away from and is not thrilled because the town is still the same. Everyone she grew up with still lives there, except now they run the town. But she's the main girl and the soccer coach who dumped her for the mean girl.
This was not only Marley trying to figure out her way out of Rock Bottom land, but she now has to help the once upon-a-time bad boy of high school. He wants to learn how to be in a relationship to settle down finally. So it is also a fake romance with the soccer coach, which I'm a huge fan of because they always go wrong, and there's always going to be some drama. You'll like the plot, storyline, character building, and chemistry. Some readers hate Marley as a confusing character, and I also disliked her the first time, but in the end, I liked all of them and their feelings.
Author: Lucy Score
Narrator: Natalie Duke, Stephen Dexter
Tropes: Fake-dating, Romcom, Small-town, Feisty-heroine, Funny, Steamy, Second-chance
Number Of Pages: 532
Available: Audiobook | Paperback | Kindle
4. Dominate (Harris Brothers)
Dominate is such a fun, emotional book in the Harris Brothers series. The story is about a soccer player Gareth. He's held up so many emotions because of being there for his mom as a child as she succumbs to cancer. He's holding this against his father because his father left him. His father sometimes abandoned him mentally and physically because he was grieving the love of his life's death.
Gareth has somebody, Sloan, in his life, and he can almost feel that emotion. Gareth and Sloan are attacked in their home. We don't know what will happen, but they're at the hospital. Sloan is utter grief-stricken because of what happened to Gareth. You can almost feel the emotion in his love for her because she protected him. That's what the whole story is about. Gareth is finally starting to feel he can love and jump off that plane and have that parachute with Sloan.
You get at their level, and you find their love and trust. So Dominate is not dominating each other but rather their less and their love in the bedroom. The author represents a beautiful relationship with soccer romance and is left on a cliffhanger. Never miss this book, and add your upcoming reading list!
Author: Amy Daws
Narrator: Will Watt, Piper Goodeve, Charlotte Cole
Publisher: Amy Daws, LLC
Tropes: Family, Single-mom, Mystery, Plot-twist
Number Of Pages: 291
Available: Audiobook | Paperback | Kindle
5. The Bad Boy And The Tomboy
The Bad Boy And The Tomboy were originally on Wattpad under the same name, and I read it for the first time back in summer. It's so amazing, and it's what it deserves. We follow a 17-year-old girl named Macy Anderson, who cares about her friends, grades, soccer, and getting a scholarship for university. We start with a boy named Cedric, who has been crushing on her for years, and he asks her out. She says yes to Cedric and that she's been crushing on him. But at around the same time, Macy and Cedric start dating.
Macy becomes friends with Cedric's cousin Sam. Sam is a stereotypical bad boy with a motorcycle. As Macy and Sam grow closer in their friendship, that friendship turns into more. Macy is a very athletic girl, and she is the captain of the boy's soccer team at her school because they don't have a female soccer team. She has a rough history of her mom dying and being raised by a single dad.
Sam comes from a huge family. He has grief, which gives him a bad-boy attitude. So he is trying to mask that, which isn't the best thing to do, but it gives his content. I love the way that Macy and Sam flirt. Some characters were a bit boring, and the story lacked a plot. Also, the writing is questionable for some readers. This one is for you if you like soccer player romance where the heroine is the player or coach.
Author: Nicole Nwosu
Narrator: Bianca Drew
Publisher: Tantor Audio
Tropes: Friendship, Arc
Number Of Pages: 360
Available: Audiobook | Paperback | Kindle | Audio CD
Let me know if you have any recommendations or opinions. If you have already read any of these books, then share your experience with us. Happy reading all time!
More similar romance books:
5 Sports Romance Books Like The Deal