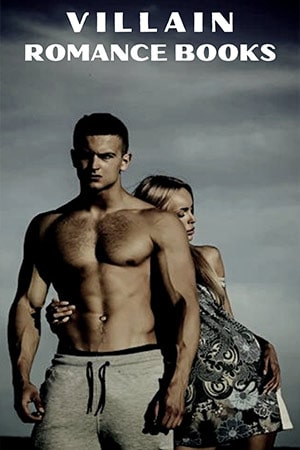 Books with villain romance have the dynamics between the villain and the main character, how they interact, and the power balance. So this is about villains that are specifically more of the main character's nemesis. Sometimes there's romantic tension, but a lot of times, there's not. This is something I love if the main character and the villain get to interact. I love the energetic, dynamic relationship between the heroine and the villain of a story.
There is a certain level of respect for each other, not necessarily that they respect and know the other is a formidable foe. I appreciate that. So they both have respect for the other that comes out equally matched. Sometimes the villain feels a little bit more insurmountable. Generally speaking, you see as the reader that these two are fairly evenly matched, the good versus the evil dynamic.
So there's something about these characters: even though they're on opposite sides, there are similarities. I like when people struggle with their humanity, especially when the main character, an anti-hero or a typical hero, is tempted ever so slightly by the dark side. If you want to read this type of book, stay with me.
7 Villain Romance Books (Dark Love Story)
Often we want to see a happy ending with a hero and heroine. Also, we enjoy it when the hero defeats the villain. Sometimes we want to see villains as heroes when we learn about their dark past and feelings. Girls like bad boys because of their confidence, and they feel sympathy and emotions for them.
So villains use these emotions to make the heroine vulnerable and create love. When I read this type of book where the heroine falls in love with the villain, I notice some dynamics like how the villain tries to convince her, how he tries to understand her and changes the heroine's concepts or mind. There are many twists that I enjoy and want to reread several times. Now, I want to discuss my 7 villain romance books for you. Let's begin!
| Name | Key Focus | Review (Goodreads) |
| --- | --- | --- |
| Untouchable | A high school bad boy bullies a good girl, and both of them form relationships. | 4.0 |
| Lothaire | An evil vampire mistakenly falls in love with a human girl. | 4.3 |
| Twist Me | A woman loves her kidnappers because she has Stockholm syndrome, and their romance is steamy. | 3.9 |
| Twisted Pride | A mafia kidnaps the heroine from her wedding day, and they build chemistry later. | 4.2 |
| Last Words | A psycho mob somehow wants a girl to make a love life and change his life with peace. | 4.2 |
| The Queen of All that Dies | A King wants a girl forcefully, but the girl slowly falls in love with the King. | 3.9 |
| Tempt Me at Twilight | The heroine discovers the villain with many good qualities and can not hold her feelings towards him. | 4.1 |
Villain Romance Books List
1. Untouchable (Untouchables)
Untouchable is a dark high school villain romance. This book starts with the hero (Carter) assaulting the heroine. He's horrible to her in a school classroom with two of his buddies looking on and guarding the door. He assaults our heroine, Zoey. After that, he is struck by how brave she is and how she reacts to him when he does these things to her. So he becomes a stalker, becomes obsessed with her, and tries to push her into a relationship with him.
I have waxed poetic for hours and days about how much I love villain Carter Mahoney. However, this book has some issues with how it's set up and how the plot plays out. One thing that any friend who has tried the book on my recommendation will tell you is that they have never read a character like Carter before. Also, they've been surprised that he has compelled them. Everyone can not handle it, and they aren't going to want to watch a guy who assaults a heroine. We get little peeks into his brain to see how much care he gives Zoey. There's no other way to explain it.
Carter has a tender heart toward her, but he doesn't change who he is. It's more than Zoey adapting and realizing that she appreciates certain things about him. I've convinced lots of friends to read it. Some have loved it, and some haven't been able to handle it. So, if you have no issue with assaulting, you can read it.
Author: Sam Mariano
Tropes: Dark, Sports, Mystery, Enemies-to-lovers, Good-girl-bad-boy
Number Of Pages: 498
Available: Paperback | Kindle
2. Lothaire (Immortals After Dark)
Lothaire is book 11 in the Immortals After Dark series, a paranormal/fantasy romance with an anti-hero vampire. By the time you get to this book, you are so hyped to read it. You don't understand how he can be the hero of a book, even though he is in quite a few books. The setup of this one is that it's a world of fated mates, and Lothaire believes that his fated mate is an evil goddess of death named Ellie. She is indwelling and doing horrible things with her body, like causing her to murder people and torturing people, and doing all awful things.
Lothaire's happy about that because he's an evil vampire, and he wants to have a bride who is as crazy as he is and as evil as he is and will help him achieve his goals. He can't believe for even a second that this human woman would be his mate, and it's fascinating. Those of you who've read it, you'd agree that he's one of the darker villains. The change is that he doesn't stop being the enemy of old, but he learns how to have a family. Then there's Ellie, who puts this century-old being in his place.
This woman has nothing on her side but mostly her body because it's being dwelt by an evil goddess. So she has something that Lothaire wants because it holds who he thinks is his bride and the things he will do to Ellie to get her to bend to his will. The stuff he threatens her with, you don't know how these two could work together.
I have read this book four times, and it's always the one I want to return to because I love being in love. You get to see how this human woman can twist him in such exciting ways. The plot, storyline, writing, dialogue, and characters are good enough, but I wanted to see more chemistry. Overall, you can enjoy it.
Author: Kresley Cole
Narrator: Robert Petkoff
Publisher: Simon & Schuster Audio
Tropes: Vampires, Demons, Angels, Possessive-hero
Number Of Pages: 468
Available: Audiobook | Paperback | Hardcover | Kindle | Mass Market Paperback
3. Twist Me
Twist Me is a BDSM erotica and dark villain love story where the heroine (Nora) falls in love with her kidnapper (Julian). Julian is evil, and he's a billionaire weapons dealer. So he has a private island and kidnaps Nora the day before her 18th birthday. He kidnaps her and takes him to his private island, where he is a pilot, and he's the only way off and on this island.
Julian keeps her prisoner and uses her for pleasure, forcing her. Eventually, Nora gets Stockholm Syndrome. So, she starts to like the arguments of the captor and sympathizes with them. Not all captor-captive situations are created equal, but this is one where Nora gets drawn into the world and starts to use it for her benefit. She is stuck with the evil man, and what else could she do but learn to accept it and try to get the best out of it that she can?
They don't end up staying on this island forever. I was more fascinated with how Nora was starting to accept what he was doing and enjoy it, if that makes sense. There are moments where Julian shows that he has tenderness. He is a fully grown man who abducted a child and turns her into his sex slave and then his bride eventually. You can easily handle the whole series if you have already read about abusive relationships with dom-sum behavior.
Author: Anna Zaires
Narrator: Shirl Rae, Roberto Scarlato
Publisher: Mozaika Publications
Tropes: BDSM, Captivity, Arc, Thriller
Number Of Pages: 312
Available: Audiobook | Paperback | Hardcover | Kindle
4. Twisted Pride (The Camorra Chronicles)
Twisted Pride is book three in the series, a steamy crime romance. In the previous books, we see the three main mob groups in Reilly's world. He starts this book by kidnapping Serafina, the niece of the outfit's boss. So she's Dante Cavallaro, niece of Serafina, who gets kidnapped on her wedding day. Remo does it to get revenge against Dante and to get Dante to do anything.
Remo is everyone in the outfit and Chicago and New York. They're all very frightened of the Camorra because they don't have any rules. The opposition is going to think the worst of the Camorra. Remo is a little unhinged, and he has it in his head that he will make Serafina happy. So the story is a hate-to-love where Remo appears to be the villain.
Once we get to him and we see his family and his past. You're always trying to figure out what he might do. Even his brothers and soldiers don't understand what he's doing with Serafina, but I greatly appreciate it. So Remo Falcone is a very dark villain, and I love watching him in Serafina. The hardcover has negative issues, but the paperback is awesome for font size, color, binding, cover, and paper quality.
Author: Cora Reilly
Tropes: Crime, Abuse, Enemies-to-lovers, Slow-burn, Age-gap
Number Of Pages: 419
Available: Paperback | Kindle
5. Last Words (Morelli Family)
Last Words is book seven, a series of dark, suspenseful romances with a villain. Our villain, Mateo, is someone we get interested in introduced to in book one, is Accidental Witness, where he's our villain. He assaults someone in that book and someone with whom he has an exciting relationship going through the series. He will test them in terrifying ways if he wants to trust someone. If anyone passes his test of loyalty, he will trust them forever.
We will see him test many different people in many ways. His code is very strange, but he's someone that I appreciate. Many people will only make it some of the way to the end of this series. People drop out because the story goes in ways that you don't expect it to go, and you may pick a side. You will be delighted with the series if you choose the right side. But I picked the right side, as it were, and I love it. The book's first part was exciting, but the second half was boring. If you like alpha-male, psycho villains, this one is for you.
Author: Sam Mariano
Tropes: Dark, Crime, Alpha-male, Arc
Number Of Pages: 468
Available: Paperback | Kindle
6. The Queen of All that Dies (The Fallen World)
The Queen of All that Dies is a post-apocalyptic war romance with a likable villain (King Lazuli). After I read this book, I wanted him to be on my villain list. In the beginning part of the United States was still independent, and they needed to make a peace deal with him so that we could stop being at war. Serenity is 19 years old and gets sent as an emissary with her father. Her father is also an emissary, and they get sent to meet the King. Serenity knows that her government hopes the King will like her and be willing to take her as a peace offering. That is what ends up happening.
So Serenity has this crazy hate relationship with him, but King becomes obsessed with her and willing to make deals with this other country for her. It becomes a forced marriage because he will sign this peace deal if she marries him again. The way that he's set up and the things that he's done to become King and the more you learn about him like this man is a villain. But when you see him with her, and even though he knows how much she hates and despises him, he loves her.
So it's a fascinating juxtaposition because we feel how much hate she has for him. Serenity thinks he's very sexy, and she can't hide her attraction, but she hates that she likes him and she hates so much about him. So it's fascinating to read because, in her mind, he's the worst villain ever. The only negative side of the book is misleading information which is not accurate from a historical point of view, but it's okay for fiction writing. There are many twists and turns in the story that you'll notice.
Author: Laura Thalassa
Publisher: Burning Ember Press
Tropes: Dystopian, Post-apocalyptic, Arranged-marriage, Betrayal
Number Of Pages: 327
Available: Audiobook | Paperback | Kindle
7. Tempt Me at Twilight (The Hathaways)
Tempt Me at Twilight is a historical hero-villain romance. We follow Harry Rutledge, a hotel magnate, and he sees Poppy accidentally one day. Poppy is the middle sibling in the Hathaway, and he immediately wants her. So he runs into her accidentally and gets a hold of a love letter she's writing to her sweetheart. Poppy has to be with her sweetheart because he believes he can make her happier.
So Harry starts as a villain in Poppy's eyes. She has someone that she wants to be with because her family has a reputation. So, a man is slightly afraid to tell his father his feelings for Poppy. Harry uses it to blow up the whole relationship, and then he can come in as a perceived white knight to be Poppy's husband.
All this happens at the very beginning of the book because before they marry, Poppy finds out what he has done. So she accepts his marriage proposal without any love. Poppy will hate him for ruining her chance with the man who loves her. So there's a lot of seduction happening. The author ruined our heroine's happily ever after and made it good another way. As a villain romance story, I see more than I expect. So, take advantage of this fantastic book with another level of hipe on the BookTube/BookTok community.
Author: Lisa Kleypas
Publisher: St. Martin's Paperbacks (First edition)
Tropes: Regency, Comedy
Number Of Pages: 385
Available: Audiobook | Paperback | Hardcover | Kindle | Mass Market Paperback
Those are my best villain romance novels recommendations where the villain falls in love with the hero/heroine. I hope you try some of these fantastic books and series. Many of these are standalone, but the most satisfying villains are characters that you've seen be villains before they get their happily ever after. Please leave your recommendations down below.
Read more similar books:
5 Possessive Mafia Romance Books