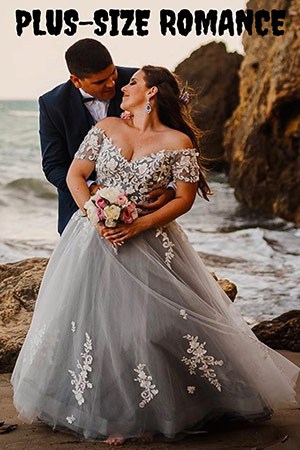 Plus-size is my preference that does not mean that you're not a beautiful woman. I like their larger, rounder features and also their confidence. They are attractive, sexy, and can draw a lot of attention from men. A plus-size woman is only a physical preference, and it also doesn't matter if a woman is plus size to fall in love with anybody.
Falling in love is based on the person, character, mutual interests, etc. From my experience, many plus-size women love to cuddle, which is very sweet for relationships. If you want to read plus size romance novels, stay with me.
10 Plus Size Romance Novels (Fat/Curvy Couple's Love)
Plus-size hero/heroine is one of the favorite tropes among romance readers. I also love it because it covers much of reality with social, mental, and health issues we face daily. I will recommend the top 10 plus size romance novels with curvy heroines with fat representation. Also, these books represent many tropes like a second chance, angsty, forbidden, accidental pregnancy, forced proximity, friends to lover situation, etc. So let's go!
1. The Brown Sisters Series
The series is about two sisters. Each book follows a different sister finding love. They are both plus-size heroines, and the representation is done well. Also, they are sexy and steamy. The first book is, Get A Life, features a heroine who deals with chronic pain. The plus-sized heroine is also autistic. I enjoyed the smut, banter, and the love interest being so unabashedly in love with the protagonist.
The second book is Take a Hint. Here you're getting a huskier hero, which is cool to see who had been a former rugby player. Talia writes fantastic romances with great diversity. It has a fake relationship and reverses some gender stereotypes in exciting ways. If you are a beginner in plus size romance, you must try it first.
Author: Talia Hibbert
Publisher: Avon
Average Customer Review: (4.3 out of 5, on Amazon)
Tropes: Sisters Fiction, Multicultural, Humor, Disability, Smutty, Enemies-to-lovers
Item Weight: 9.6 ounces
Dimensions: 5.31 x 0.86 x 8 inches
Available: Audiobook | Paperback | Library Binding | Kindle | Mass Market Paperback
---
2. Who's That Earl (Love and Let Spy)
The series is a repeated theme where frequently in historical romances. We have a curvy heroine, but the book cover doesn't reflect it. This book has a full-figured heroine. The author does an excellent job of not having insecure characters about their body is at least so much about their size.
Jane Quayle is insecure about some things related to her disability, but not so much about her body in other ways. She secretly writes under a pen name these scandalous novels but a male name. Also, she's living at a remote estate in the Scottish Highlands. Thomas is super confident. I love when we get curvy heroines that are not always feeling terrible about themselves.
Jane's curvy and doesn't feel bad about it, even if it's not super fashionable, which you see in historical romances. So it was fun because it's got a slight gothic mystery vibe with plus size romance theme.
Author: Susanna Craig
Publisher: Lyrical Press
Average Customer Review: (4.2 out of 5, on Amazon)
Tropes: Single Women Fiction, Regency, Spy Thriller
Number Of Pages: 206
Available: Audiobook | Paperback | Kindle | Audio CD
---
3. Wrapped (Fit Trilogy)
Rebekah Weatherspoon has other books as well with curvy heroines. She does a pretty good job of being body positive and diverse in her writing characters. Our main character is a fat black woman who runs a bakery, makes delicious desserts, and runs into a former coworker. So it turns out both of them had secretly had crushes on the other person, but the timing had never been right.
It is a steamy holiday romance novella with a full-figured woman who feels good about her body. Moreover, her partner loves her body and enjoys eating desserts from her bakery. So the whole book is about interracial romance with the plus-size trope. I recommend you pick it up for your holiday experience.
Author: Rebekah Weatherspoon
Average Customer Review: (4.2 out of 5, on Amazon)
Tropes: Holiday Romance, Interracial-multicultural
Number Of Pages: 119
Available: Paperback | Kindle
---
4. Misadventures of a Curvy Girl (Misadventures)
The best thing about the book was the fat representation. It follows a plus-size woman who enters into a relationship with two guys who have a relationship but are looking for a woman as a third. So this is a polyamorous relationship with some BDSM elements to it. There are specific things about many tropes.
I loved the descriptions of the heroine of her body, how she felt about her body, and how the guys in the book felt about her. If you're looking for that type of kinky romance and body positive with a plus-sized heroine, this might be one to check out. The plus-size representation was very informative and enjoyable to read.
Author: Sierra Simone
Publisher: Waterhouse Press
Average Customer Review: (4.4 out of 5, on Amazon)
Tropes: Erotica, Angsty, Emotional, Alpha-man
Number Of Pages: 240
Available: Audiobook | Paperback | Kindle | Audio CD
---
5. Well Played (Well Met)
The series is set around a Renaissance Fair, and I loved how the plot was set up, where the book's first half involved a catfishing thing. Our heroine is a plus-sized woman who feels pretty good about her body. She has a few moments of insecurity. But for the most part, feels good about herself and finds things that she feels good in and feels confident in.
The hero is super into her. So that element of this book was done very well. Also, there was a fun rom-com setting which was a very enjoyable read as a standalone. I highly recommend reading this plus size love series in order. If you are going to read both books, reading them in order is a must to absorb the theme properly.
Author: Jen DeLuca
Publisher: Berkley
Average Customer Review: (4.1 out of 5, on Amazon)
Tropes: Sports, Women's Sagas, Humor, Arc, Family-focused
Number Of Pages: 332
Available: Audiobook | Paperback | Kindle
---
6. The Wedding Date
This is an interracial relationship that starts with a fake wedding date. Our heroine is a professional, curvy black woman in her thirties who likes food and feels good about herself. Also, she isn't ashamed of who she is. The thing about this is the sex scenes in here are not closed doors, but they're written not super specifically.
So if you don't want a romance that gets super specific in its descriptions of sex scenes, it might be something to try. It is because it is on the page, but it usually gives more vague descriptions of what's going on than what you might tend to find in other romances. I like how it handles body positivity and has a full-figured heroine who feels confident about herself. So it is one of the best plus size romantic novels I have ever read.
Author: Jasmine Guillory
Average Customer Review: (4.3 out of 5, on Amazon)
Tropes: Multicultural, Women's Domestic Life Fiction, Contemporary
Number Of Pages: 336
Item Weight: 9.9 ounces
Dimensions: 5.44 x 0.87 x 8.2 inches
Available: Audiobook | Paperback | Library Binding | Kindle | Spiral-bound
---
7. The Heiress Effect (Brothers Sinister)
Courtney Milan writes fantastic, smart historical romances with strong female characters. These strong male characters are not alpha males and get into many vital issues in her books as well. I love that she doesn't erase people of color and queer from history because they have always existed. That effect has a primary relationship that it follows and then a secondary relationship that it also follows.
Our primary heroine is Miss Jane Fairfield, and she's what we would call a small fat in fat parlance in many of these cases. But she is plus-sized. She talks about her body is bigger than what's fashionable and has mixed feelings about it. The representation here was necessarily the best that I've seen, but it was pretty good.
Even if it isn't a prominent element of the story, you'll like the fact. Jane doesn't want to get married for various reasons, but she has to act like she's trying to get a husband. So she does these ridiculous things in society. The book cover may not demonstrate it, but it does have a plus-sized heroine and her romance.
Author: Courtney Milan
Publisher: Courtney Milan
Average Customer Review: (4.4 out of 5, on Amazon)
Tropes: Victorian Historical Romance, Beta-male, Comedy
Number Of Pages: 344
Available: Audiobook | Paperback | Kindle | Mass Market Paperback
---
8. Brazen and the Beast (The Bareknuckle Bastards)
Our main character, Hattie, is taller than most women and curvy. Hattie doesn't necessarily feel great about herself in a lot of this and feels like she's too tall and isn't fashionable. So, we have a very brazen heroine who knows what she wants and will go after it. Whit is a dangerous hero who has a heart of gold.
I like that we get a heroine who is described as being plain. She doesn't necessarily have to be super beautiful. Also, you will like this representation of a tall, plus sized woman in the Regency era. This one isn't necessarily my ideal version of it, but I still enjoyed it. So if those tropes appeal to you, this is worth checking out.
Author: Sarah MacLean
Average Customer Review: (4.6 out of 5, on Amazon)
Tropes: British & American Historical Fiction, Anti-hero, Bad-boy-good-girl, Virgin, Enemies-to-lovers, Fairytale
Number Of Pages: 436
Available: Audiobook | Paperback | Hardcover | Kindle | Mass Market Paperback
---
9. Black Witch Magic (Paranormal Hunters)
It's an indie, published paranormal romance novel that's set around the holidays as well. Also, it's set mostly between Christmas and New Year. So the book was a lot of fun and had a plus-sized heroine. You can tell from the book cover, which is excellent. Our main character is a curvy black woman who lives in a small town and spends her days working as a librarian. But secretly, she's also a witch with a family curse that keeps her from leaving her small town and ruins any relationship she tries to have.
The hero is in town for the holidays with his business partner's family and is the skeptic in a paranormal investigation show. While in town, he plans to investigate the main character's family because she's supposedly descended from this long line of evil witches. I enjoyed this because it's very body positive and sex positive with a fun story. Also, it's got a ton of subtext dealing with issues of racism and microaggressions. You'll love this plus size romance with a fantasy atmosphere.
Author: Mila Nicks
Average Customer Review: (4.1 out of 5, on Amazon)
Tropes: Paranormal Witches & Wizards, Mystery-thriller, Suspense
Number Of Pages: 364
Available: Paperback | Kindle
---
10. Spoiler Alert
The heroine, April, is 36, and the hero, Marcus, is about to turn 40. So, it's got a fandom element to it. They secretly write fan fiction for a show similar to Game of Thrones and have become good friends anonymously through this fanfic site. But Marcus is one of the actors on the show, and he can't make it known that he writes fanfic for obvious reasons.
So April posts a photo of herself in a cosplay, get some nasty internet comments that he gets tagged. Marcus doesn't know it's her that she's the person he'd been communicating with, but he offers to go on a date with her. So they go on a date, and things happen, and it's so good. You might want to know that they come from pretty toxic family backgrounds. I loved how it was handled because it felt realistic to me.
What's great about April is that she feels good about herself most of the time, and she feels confident. However, she has moments of insecurity in a way that makes sense. It is often tied to the trauma of having a critical mother growing up who was also obsessed with her weight. So this does a great job of digging into how our parents can sometimes put some of that on us.
Author: Olivia Dade
Publisher: Avon, Unabridged Edition
Average Customer Review: (4.3 out of 5, on Amazon)
Tropes: American Poetry, Friends-to-lovers, Mental-health, Fat-positive
Number Of Pages: 419
Available: Audiobook | Paperback | Kindle | Audio CD
---
Read More Similar Books:
15 Second Chance Romance Books