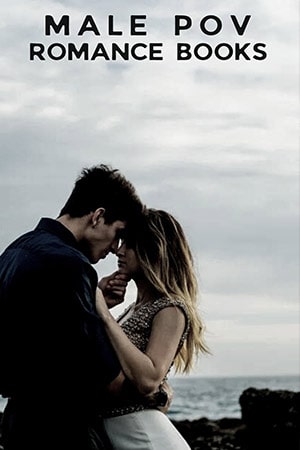 Romance books with male POV show the hero's perspective and narration, where he talks about his life, behavior, and how he falls in love with the heroine. Throughout the story, the hero describes his feelings for the heroine and all their situation. It helps a woman to understand the man's psychology and needs. As a girl, I love to understand boys' feelings and motives.
So I frequently read romance or watch movies where the hero or male describes the whole story without being biased. I have a list for you, and if you want to know, then keep scrolling.
7 Male POV Romance Books (Male Perspective Love Story)
Male POV is one of the popular tropes in romance readers. We see a dual POV or female perspective for most of the story. So it's hard to select a romance where a man narrates the entire story. I read many romances and selected the top 7 male point-of-view romance books. Some books contain a slightly heroine view but don't affect the male view. Before reading any of these romance books from the male perspective, check out the trigger warning. Let's talk!
| Name | Key Focus | Review (Goodreads) |
| --- | --- | --- |
| Sustained | A lawyer investigates his case, and he finds an immediate attraction toward a girl. | 4.2 |
| Pucked Up | A hockey player finally gets his soulmate. | 3.9 |
| Thirsty | A dynamic danger taking man sees a strong lady, and they form slow chemistry. | 3.9 |
| Whiskey Beach | A man struggles with a criminal case and falls in love with his housekeeper, who creates mystery. | 4.0 |
| Tangled | For one job post, two fights, but their rivalry turns into love. | 4.0 |
| The Rosie Project | A professional genetic works for matchmaking, but he describes how he attracts an opposite girl. | 4.0 |
| The Matchmaker's Playbook | An NFL player and his friend's roommate build a romantic relationship. | 3.9 |
Male POV Romance Books List
1. Sustained (The Legal Briefs)
Sustained is the second book in The Legal Briefs series, and it's a contemporary romance written from a male point of view. You can read it as a standalone. The story is about Jake, who was a successful lawyer, and he does have a little bit of a dark past that you find out more about in the book. He catches a boy stealing, and he wants to bring that boy home to his parents, let them know what he is doing, and rectify the situation. When Jake gets to the boy's house, he finds out he is one of six siblings. They recently lost their parents, both their parents, in an accident.
Jake immediately has a connection with Chelsea, and I adored both characters as much as I love Jake. Chelsea is a very strong heroine. While she's also fun, I admire her determination to overcome all the obstacles she had to raise her nieces and nephews. It was also fun to see Jake interacting with them and all the different things thrown his way, dealing with six kids. I recommend this book if you want something funny, sexy, and sweet.
Author: Emma Chase
Narrator: Sebastian York
Publisher: Simon & Schuster Audio
Tropes: Single-parent, Friends-to-lovers, Humor
Number Of Pages: 267
Available: Audiobook | Paperback | Kindle
2. Pucked Up (Pucked)
Pucked Up is the second book in the series, and it's a sports romance with a hero's POV. The first one you can read as a standalone if you want. The story revolves around hockey player Miller, who is Violet's stepbrother. He's trying to date Sunny, who is Alex's younger sister. So he's trying to visit her, but he misses his flight. There's all this drama with funny pictures, and the exciting thing about Buck is he has dyslexia.
So it was interesting to figure out that he has a learning difference, and he hasn't let that control him. Sunny is still mad at him, and sometimes she overreacts. Miller has hate pictures with fans because sometimes he has slept with tons of women in the past. Now, he's making an effort to come out and visit her. There are many complex relationships because of the multiple characters and their romance. The plot, storyline, dialogues, and narration are good enough, but the characters are annoying. Overall, you can enjoy it.
Author: Helena Hunting
Narrator: Joe Arden
Publisher: Audible Studios
Tropes: Sports, Angst, Arc
Number Of Pages: 375
Available: Audiobook | Paperback | Kindle | Audio CD
3. Thirsty (Eastside Brewery)
Thirsty is a mental health steamy romance, and the title is very appropriate because the male lead will leave you thirsty. It sets in Los Angeles and centers around a man named Ghost or Sal. Sal is the man he wants to be, whereas Ghost is the man he was. He got out of prison, and he's a gang member. It's a fictional gang, primarily a Latino gang in eastern LA, and he got caught doing some faults.
The book opens with him getting kicked out of his friend's house, him and his friend because his friend was running around on his girl. So it's there that Sal meets Vanessa, who is a single mother. She's very goal-oriented and doesn't hang out with people from the neighborhood because of her 9-to-5 job and study. When Sal meets Vanessa, they're attracted to each other immediately. They also recognize that they are from two worlds and that things between them would not work out very quickly.
So, there's a slow build of tension. Sal had so much more depth to his character. He was so much more in tune with everything that was going on around him, not only his own emotions but everyone else. So the gang portion of the book was handled well. The romance is organic, fluid, believable, and natural. I recommend it if you love progressive romance, well-developed characters, and a male's point of view.
Author: Mia Hopkins
Narrator: Ozzie Rodriguez
Publisher: Audible Studios
Tropes: Mental Health, Alpha-males, Arc, Enemies-to-love, Multicultural
Number Of Pages: 254
Available: Audiobook | Kindle | Audio CD
4. Whiskey Beach
Whiskey Beach is an adventure, mystery, and romantic suspense from a male perspective. The author managed to blend it all so that you're entertained and you're kept guessing. The whole book is about Eli. He's recuperating from the death of his wife. He was a murder suspect, and for an entire year, he was tormented by the cops and the media and accused of killing her.
So Eli goes to his grandmother's place on the beach to recuperate and try to get his life started again. Part of the mystery is his grandmother has had a bad fall and had to stay with his sister while she recovers. So he's taking care of the house where he meets Abra. While there, she's the housekeeper and yoga instructor. The mystery for him is who she is and why she attracts him so much. One of the things I love about the book is that they don't quite get along at the beginning, but as the book goes along, they slowly start liking each other more.
Several key mysteries in the story are solved: who killed his wife because he didn't do it, why his grandmother fell, and what happened there. Then a bunch of other fun stuff all mixed in. It's fun, drawing you in the whole time and keeping you going. I highly recommend reading the book.
Author: Nora Roberts
Narrator: Luke Daniels
Publisher: Brilliance Audio
Tropes: Suspense, Crime, Thriller
Number Of Pages: 484
Available: Audiobook | Paperback | Hardcover | Kindle | Mass Market Paperback
5. Tangled
Tangled is an alpha male-pov dark love story. We have Drew Evans and Katherine Brooks (Kate). The whole story is based on Drew's point of view. So we don't hear anything about Kate's point of view. Everything from the guy's point of view from the book. Drew is a peer. He'd go out and see different women. So one night he met Kate and they were in a club. He was trying to hook up with Kate, but she was engaged. So Drew picked somebody else up and went home.
The next day they find out they got somebody new working for them. They both want the same job, and only one person can get it. Then both fight for their job. Somehow Kate broke up her engagement with her boyfriend. She'd been with that boyfriend since high school and college.
You need to read the book to be able to understand that. I listened to the audiobook, which was excellent for me for the narrator. If you want a funny, steamy romance read, check this out. I found some problems with the hardcover, but the paperback is satisfying enough for font size, color, cover, binding, and paper quality.
Author: Emma Chase
Narrator: Sebastian York
Publisher: Simon & Schuster Audio
Tropes: Forbidden, Bad-boys, Comedy
Number Of Pages: 254
Available: Audiobook | Paperback | Kindle
6. The Rosie Project (Don Tillman)
The Rosie Project is a YA contemporary humor romance. The book is about Don, who lives in Australia. He's a genetics professor and very socially awkward. He doesn't have a lot of friends, and he doesn't go on many dates. So he couldn't imagine being a good husband because he couldn't even go on a good date.
To change himself, Don makes a White Project to find the perfect partner/wife. The questions are outrageous. Then he meets Rosie, who is opposed to what he wants and expects in a partner. She smokes and drinks and wears lots of jewelry.
So, it's fun to read about the dynamics between them. Rosie is someone that's looking for her biological father, and Don can help her because he works with genetics. My favorite part of the book is when Don learns how to dance. I was laughing so hard when he got a skeleton, and he was practicing. The whole story is told from Don's POV, and I enjoy the man's POV in romance.
Author: Graeme Simsion
Narrator: Dan O'Grady
Publisher: Simon & Schuster Audio
Tropes: Cultural, Family, Humor
Number Of Pages: 331
Available: Audiobook | Paperback | Hardcover | Kindle | Mass Market Paperback
7. The Matchmaker's Playbook (Wingmen Inc.)
The Matchmaker's Playbook was published in April 2016, and the adaptation was released in March 2018. It's a short book, so it will go fast. The story follows a former NFL player (Ian) who got injured. Now he's working for a wingman business where he and his business partner help girls get the guy. Ian meets Blake, who is one of his friend's roommates. She joins this wingman, and he helps her try to get a guy, and they fall in love in between all of that. It's cute and funny if you're looking for an upbeat romcom from a hero's perspective.
The movie version was solid. I also watched all the funny bloopers and a nice little touch. I would like to know when they will make the second one and to see if all of the cast will return. There were all the scenes. The actors were pretty good. My only complaint about it is the weird sound effects things. Whatever, I enjoyed the movie more than I enjoyed the book.
Author: Rachel Van Dyken
Narrator: Jeremy York
Publisher: Brilliance Audio
Tropes: Feminism, Mental-issues, Virgin-heroine
Number Of Pages: 290
Available: Audiobook | Paperback | Kindle | Audio CD
Those are my best male POV romance novels recommendations. Let me know if you have already read any of them or if you have a choice. I would like to know more about your opinion and recommendation to add to my TBR list. Happy romance reading!
Read more similar books: