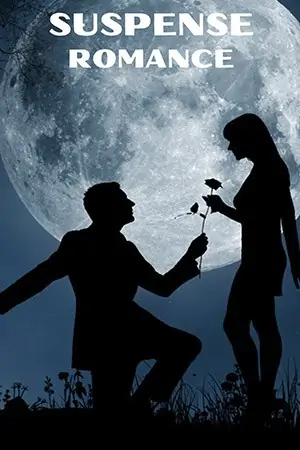 Suspense is a feeling of anxiety, anticipation, excitement, or fear about what may happen in a story. It raises questions, who's behind the door? What is the protagonist's dark secret as a spooky house? Although suspense can be extra prevalent and easy to spot in the horror-thriller genre, it can be seen in all genres, especially romance.
Readers want to find out what happens next, so they want to turn to the next page or read one more chapter. It also makes you want to watch the sequel of a movie or the next episode of a television show. One way that writers can create suspense is through the cliffhanger. A cliffhanger is when a story or plowing ends suddenly and is left unresolved.
It means that our questions remain unanswered. We don't know who is behind the door or if the football team won the game. The chapter episode might have left off right before the door was opened. It makes the reader or watcher want to continue to the next chapter or episode to discover what happens. I like romantic suspense when it's heavy on contemporary themes and light on suspense.
15 Romantic Suspense Books
Romantic suspense is when the audience is aware of something that the characters are not doing with romance. The killer is behind the character, but the character does not know. The reader knows what's coming, but the character does not. Will the characters notice that there's someone behind them?
Will they be killed or be able to get away? It creates suspense. It's an easy thing to get confused. Let's review the top 15 romantic suspense books to read anytime.
1. Deck the Halls
Cynthia Eden writes a lot of romantic suspense, and she used to publish with Avon books traditionally. This novella follows our heroine (Christie Tate), who works for her brother's family business. Christie owns a large stake in the company and contributes a lot of her work. She is an engineer, and she designs toys. Her brother is behind the business side of things.
Unfortunately, Christie has had her heartbroken by someone in the office, and she wants to get over it, especially since it is the holiday season. She doesn't want to be alone. When she spots Santa in the office, handing out gifts to children and handing out gifts to company employees, she decides that she wants to be bolder.
So she climbs onto Santa's lap and tries to seduce Santa. The reason why she tries to seduce Santa is that Santa is extremely good-looking. He is not like the curvaceous Santa Claus that we are all familiar with. Moreover, he has amazing eyes, and our hero (Jonas) knows who is wearing the Santa costume. That so happens to be our heroine's older brother's best friend.
Jonas pretends to be Santa Claus, a private investigator, or a police officer. Now he's a police officer, and he's only doing this because he's helping out his best friend for the holidays. Also, he did not expect the one person he's not supposed to touch and is completely off-limits trying to seduce him.
After all these years and all these months, he is trying to ignore the fact that he's in love with his best friend's younger sister. He can't hold off anymore during a holiday season, and he must have to confess his feelings. So this one did have some romantic suspense elements to it, as Cynthia's life was threatened a couple of times in the book. Jonas has to come and protect her during the holiday season.
Author: Cynthia Eden
Average Customer Review: (4.6 out of 5, on Amazon)
Category: Holiday Romance, Suspense & Thriller
Available: Paperback | Kindle
---
2. Contract Signed (Triggerman, Inc)
Noel is a super-secret assassin who is hired to kill people. He's a great hitman, and he always gets the contract complete and done. So he likes to go back home into a very small town, and it's a cabin. Here, He wants some time to himself after killing many people in different countries. The one person he cannot stand when he returns home is his next-door neighbor, who is the complete opposite of him. She is a super sweet girl (Adeline).
Adeline is talkative, and she wants to know everybody's business. She is lovable and many people like her because of her bubbly personality. Noel has been fighting for years to push her off because he doesn't want her to know his true identity. He knows that he's too bad for her. So he tries his best when he returns home after his latest mission.
His ex-girlfriend has given her a baby to take care of while he was away on vacation. Now it's his turn to take back control over the son who came into his arms. He's confused because any time he had any sexual relations, he made sure that everything was sealed and wrapped. But suddenly, he's the father, so he doesn't believe that he is the father, and he's trying to hunt down who the birth father is.
Meanwhile, Noel and Adeline are getting to know each other more while taking care of the baby going through dates. But a lot of crazy things do happen. Adeline's life is threatened, and Noel needs to come and protect her because that's the whole point of romantic suspense novels.
Author: Marie Harte
Average Customer Review: (4.2 out of 5, on Amazon)
Category: Action & Adventure Romance
Available: Audiobook | Paperback | Kindle | Audio CD
---
3. The Investigator (Norcross Security)
Haven McKinney is a museum curator, and she has a high-profile job where she's taking care of a lot of priceless paintings and artifacts. One day, she's strolling through her museum, and she sees her bodyguards are hurt. She automatically knows that she's in danger because somebody is trying to rob the museum.
So she is fighting for her life, trying not to die while also protecting these paintings. Although she cares about art, she cares about her job too. But her art comes first. The art gets stolen. Investigator Rhys is the founder of the security firm called Norcross Security. He is her bodyguard, and he follows her around all the time and makes sure that she's not going to get kidnapped or killed. It's because apparently, she knows a lot of these secrets.
Rhys is more than happy to comply to be the bodyguard because he's secretly been obsessed with her ever since he laid his eyes on her. Further, it's Insta love, too as well. They were already friends with each other and talked with each other.
Author: Anna Hackett
Average Customer Review: (4.5 out of 5, on Amazon)
Category: Military Romance
Available: Audiobook | Paperback | Kindle
---
4. Protecting What's His (Line of Duty)
Ginger has been dealt with a bad set of cards. She was poor, and she didn't have enough money to care for her sister. Then she finds a big bag of money, and now she has all this money. So she runs off with this bag of money, finds herself a nice apartment, and finds herself some stable ground to do whatever she needs to do. But the problem is that her next-door neighbor is a very grumpy, grouchy guy that she doesn't get along with because she makes a lot of noise.
Derek doesn't like it because after a long day at work. As a police officer, he wants peace and silence. He doesn't want a feisty, good-looking girl down the hallway from him. So he does not impress her already, but they start to build a friendship together. They start dating each other, and then secrets have to be revealed because she's not telling the whole truth.
Ginger is lying to him about her origins and her financial situation. Meanwhile, Derek is very kind and considerate. There are little hints of romantic suspense themes to it towards the end, where Ginger is in danger, and Derek has to step up to the plate. Tessa Bailey writes a lot of steamy novels. So she had to add a bunch of steamy scenes in this book.
Author: Tessa Bailey
Average Customer Review: (4.3 out of 5, on Amazon)
Category: Erotic Suspense
Available: Audiobook | Paperback | Kindle | Audio CD
---
5. Broken (LOST)
This one follows Gabe Spencer, the founder of The Lost Team. He's an Ex-SEAL. Eve barges into his office and demands help because she doesn't know who she is anymore. She had an injury to the head had a ninja, but she knows that she's in danger because of the flashing memories.
She knows that she needs help with many things in her life or dies. She's trying to figure out her identity with the help of Gabe and his team of special operations people. In addition, they start piecing things together, piecing back her life. They start to think that maybe she is the heiress of this company. Meanwhile, there are also many threats, and Gabe has to protect her. The romance happened way too fast. Eve was clinging to Gabe because she was so vulnerable and so scared.
Author: Cynthia Eden
Average Customer Review: (4.5 out of 5, on Amazon)
Category: Abusive Romance
Available: Audiobook | Mass Market Paperback | Kindle | Audio CD
---
6. Remember Ramsey (Trouble for Hire)
The story follows Ramsey, who is not a good person. He is an ex-military person who wasn't fighting for the good. He was fighting on the bad side like a crime boss. Ramsey has many people following him, a lot of criminals who would kill for him and who have done bad things for him. They don't want to wrong him because he has this giant network of connections.
Ramsey owns a bar, and a beautiful, striking woman (Dr. Whitney Augustine) walks into his bar and asks him to be her protector for the night. Whitney sits in the bar and studies all the criminals for her research project. She is a criminal psychologist in a university, and she's doing a research paper, and Ramsey is completely infatuated with her.
They start to have a sweet relationship until she disappears and never returns one day. Ramsey is left devastated, thinking that she finally smartens up and realizes that he is too bad for her and that she needs to run away. So Ramsey is left heartbroken. His brother tells him that Whitney might have been kidnapped. The problem is that she lost her memory for the last six months, which is the entire span of their relationship. She no longer remembers Ramsey.
This is a good thing because she's blocking out all these memories of him. Ramsey wants to know their relationship and keeps pestering him throughout this whole book. If you're into romantic suspense with many contemporary, sexy scenes, try it.
Author: Cynthia Eden
Average Customer Review: (4.7 out of 5, on Amazon)
Category: Billionaire Romance
Available: Paperback | Hardcover | Kindle
---
7. Chill Factor
In this book, the main character is Lilly Martin. She is getting a divorce from her husband, and the setting scene of the book is them packing up their mountainside cabin together. They argue during the packing, and he decides to go down the mountain first. He urges her to follow quickly because there is a bad snowstorm going on right now.
So she says she will, and she eventually does follow. But the storm has gotten progressively worse. Then, as she's driving down the mountain, a figure darts in front of her car, and she has to swerve to avoid hitting him. But she does end up clipping him in the hip, and she runs off the road and into a tree. That's how we meet our second main protagonist. His name is Tierney.
It was an afternoon when they had a rafting trip. So it was surprising that he was on this mountain and they knew each other. Tierney realizes that the car is not drivable at all, and there's no way they can make it down this mountain on foot, especially with the snowstorm. So they decided to head back to her cabin to take shelter there. On top of everything going on, there is also a serial killer on the loose abducting women.
This killer is confounded the police because they couldn't find any connection between the women, their different ages, races. They can't find any similarities between these women that are being taken except at their abduction. There is a blue ribbon left, so the alias they give the serial killer is blue.
While Lilly and Tierney are in this cabin, he doesn't want to tell Lilly why he was on the mountain, in the middle of a snowstorm hiking. Also, he acts very strangely whenever she does ask questions that he's trying to put distance between them that way.
So she soon begins to wonder if she can even trust him and who he is, especially with the serial killer on the loose. One trope we see in this book is the forced proximity trope. We have only a one-bed trope where they lay together to share body heat.
Author: Sandra Brown
Average Customer Review: (4.6 out of 5, on Amazon)
Category: Serial Killer Thrillers
Available: Audiobook | Paperback | Hardcover | Kindle | Mass Market Paperback
---
8. Play Dirty
Griff Burkett is a former quarterback for the Dallas Cowboys. He was released from prison because he was caught accepting bribes for losing games recently released from prison. No one wants to hire him anyway, so his job prospects are very low. Our other main characters are Laura and Foster. They are a married couple, and Foster was in a car accident that has left him paralyzed from the waist down.
Laura blames herself for that, and especially it's created tension because they have always wanted children. Now that Foster is paralyzed, there's no way that he can perform. So that does create some tension in the household between Laura and Foster. But Foster will do anything so Laura can have children. So that's how they meet Laura and Foster and invite a business proposal.
Foster wants Griff to be a sperm donor to have their children, but the weird part that comes in is that he doesn't want them to do it artificially. He wants them to do the deed. So as they're going through the motions of trying to conceive a child, Griff gets closer to Laura. Laura tries to create as much distance between them as possible because even though she has agreed to this, she is very uncomfortable.
As they learn more and more about each other, feelings develop. But soon there's a murder, and it seems that Laura's in danger. The conspiracy of the murder and what is going on seems to be closer to home than any of them realize.
Author: Sandra Brown
Average Customer Review: (4.5 out of 5, on Amazon)
Category: Crime Action & Adventure
Available: Audiobook | Paperback | Hardcover | Kindle | Audio CD
---
9. Mirror Image
Our main character is Avery Daniels, an investigative reporter in this book. She travels to Dallas for what's known for her as a scoop of a lifetime. The plane she's on doesn't even make it off the runway. It crashes and does set on fire. So she's hospitalized from that when she wakes up, she can't communicate. She has many birds covering her body, breaking her jaw.
In the chaos of the crash and her coming to the hospital, she is mistaken for the wife of a senatorial candidate, Tate Rutledge. Everyone thinks she's this wife. They want to get her into plastic surgery to remove the scars. So Avery is trying to communicate that she is not who they think she is, and she's going to go into plastic surgery. They're going to make her look even more like this guy's wife. She's freaking out. But she has no way to communicate that she gets a visitor from someone while she's recovering.
Avery doesn't know who it is. She cannot see him saying that he's going to kill Tate. So hearing that there's got to be a story here, her reporter instincts kick in, and she plays along at this point. Then she realizes that Tate and the relationship between him and his wife are very estranged, and it turns out getting closer to him is harder than she realized that it was going to be.
As the story progresses and Avery gets closer to Tate. There seems to be a lot of differences in his wife. She's very loving, especially towards their daughter, and he can't help but fall in love again with his wife, especially when the life or death situation seems to be happening.
Author: Sandra Brown
Average Customer Review: (4.6 out of 5, on Amazon)
Category: Political Thrillers & Suspense
Available: Mass Market Paperback | Paperback | Hardcover | Kindle | Audio CD
---
10. Deadly Cover-Up (Fortress Defense)
The main character is Violet. She has a daughter, and she hears news that her grandmother has suffered a tragic accident and she's comatose in the hospital. So she makes her way back to her hometown. When she gets there, she meets Wyatt, the other main protagonist. The grandmother hired him to be a protector because the group he works for, Fortress Defense, specializes in security and protection.
Unfortunately, he doesn't know why he was hired, and he was going there to talk to her grandmother about what was going on and his obligations as a bodyguard. But now that she's comatose, she can't say why he was hired. So in town, while Wyatt is asking these questions, he poses as Violet's boyfriend. Soon, their questions and their investigation put them on the crossfire, and they're in danger and on the run themselves. There is a suspense and fake dating trope in this book.
Author: Julie Anne Lindsey
Average Customer Review: (4.5 out of 5, on Amazon)
Category: Action & Adventure Romance
Available: Kindle | Mass Market Paperback
---
11. The Darkest Hour (KGI)
Ethan and his wife (Rachel) have been missing and presumed dead for over a year. He is guilty and guilt-ridden that he couldn't protect his wife because he is also part of a group, Kelly Group International. It specializes in being a bodyguard and security, and he's also former military. So he puts a lot of pressure on himself to protect his loved ones, and it seems that he has failed in this with his wife.
Then one day, he gets an anonymous tip that his wife is alive. She's being held captive, so he goes through high water, willing to do everything to rescue her. When he does rescue her, Rachel doesn't remember him, who she is, doesn't remember that they were married. So to get to the bottom of this, Ethan is trying to remind her of certain memories to hope trigger the amnesia to go away. But she was held captive for a year. Who knows what she's been through. That's very traumatic for her.
So Ethan has to be sensitive in that regard. He also wants to get to the bottom of it because he wants to know who had kidnapped her and get his wife again. So the tropes we have in this book it's a military hero with many suspense. Ethan is an alpha hero, and we have the amnesia trope.
Author: Maya Banks
Average Customer Review: (4.6 out of 5, on Amazon)
Category: Romantic Military Suspense
Available: Audiobook | Paperback | Mass Market Paperback | Kindle | Audio CD
---
12. Keep Me Safe (Slow Burn)
Our main character is Caleb, and the setting is that his younger sister has been kidnapped. When he seems to get no progress, no help from the police, he goes to a very unlikely source for help. That's when our second main character comes in. Her name is Raime, and she has a psychic ability to locate anybody by holding something they own. The catch is that it causes her a lot of pain to do this, but she agrees to help because that's who she is.
Caleb honestly is not taking no for an answer, so she is successful. In tracking down Caleb's sister, Raime creates a psychic link between herself and the killer at a terrible cost. So that puts her in a lot of danger, and she goes on the run. She has to stay one step ahead of the killer to keep from being his next victim. Caleb feels very remorseful that she's in this predicament because he was so pushy towards her, and he would do anything to save his sister.
So Caleb takes the responsibility to protect her and keep her safe so that they're on the run together. Also, he's protecting her feelings grow, and that's where the romance comes in. So we have that paranormal aspect, which is interesting. It is a little bit of a step above traditional romantic suspense. There's also the alpha hero trope as well.
Author: Maya Banks
Average Customer Review: (4.2 out of 5, on Amazon)
Category: Paranormal Romance & Suspense
Available: Audiobook | Paperback | Mass Market Paperback | Kindle | Audio CD
---
13. Naked in Death (In Death)
Eve Dallas is a homicide detective in futuristic New York. So the setting of this book is she is in the case of a murder, and the victim is a very powerful senator's daughter. While uncovering evidence about the case, she meets a very powerful business person named Roarke. He was a suspect for a while because he owned the gun used to kill the senator's daughter. So he is a genius. He's very wealthy and mighty in his own right. He uncovers information because he doesn't want to be the scapegoat.
But how he goes about uncovering that information is not technically legal. As Eve and Roarke are going through this investigation because he is helping her, feelings are developing, but Eve fights it. She doesn't understand why a man is handsome, powerful, and well connected, as Roarke would even look twice at her. But he is drawn to her, and you get his perspective, too. So you get a little bit of inside information about that as well. It's not your typical romantic suspense, and it's the futuristic aspect.
Author: J.D. Robb
Average Customer Review: (4.7 out of 5, on Amazon)
Category: Mystery Romance
Available: Audiobook | Paperback | Hardcover | Kindle
---
14. Submerged (Alaskan Courage)
Submerged follows a girl (Bailey) going back to Alaska because her aunt passed away in a plane crash. It turns out that it's a murder. So Bailey and the other guy (Cole McKenna) are trying to solve the murder of her aunt. There's a bunch of suspense about what her aunt was up to. Then it's their relationship as well. They made sense, and the characters were smart.
Author: Dani Pettrey
Average Customer Review: (4.5 out of 5, on Amazon)
Category: Christian Mystery & Suspense
Available: Audiobook | Paperback | Library Binding | Kindle
---
15. The Negotiator (O'Malley)
It follows a girl (Kate O'Malley), a hostage situation negotiator. She talks about a hostage situation, especially for criminals. So it opens with her being at a bank trying to stop the bank robbers from killing everyone. Then in the bank, one of the hostages is an FBI agent. So he works with her and helps her. They have a connection, and there's more mystery behind some things going on.
So they end up working together and love each other. Kate has a bunch of brothers, and there are some sisters, too. It's a very long series following these siblings.
Author: Dee Henderson
Average Customer Review: (4.7 out of 5, on Amazon)
Category: Religious Romance, Mystery & Suspense
Available: Audiobook | Paperback | Hardcover | Kindle
---
Read More Similar Books: 10 Fighter Romance Books