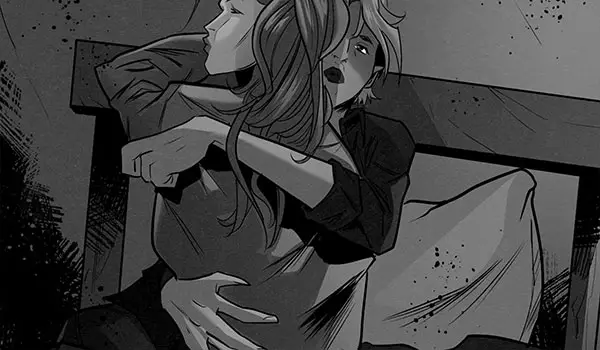 Lesbian comic refers to a comic book, graphic novel, or webcomic that features lesbian characters or explores lesbian themes. These comics can cover a range of genres, including romance, drama, fantasy, science fiction, and more. They depict romantic relationships, personal journeys of self-discovery, and the experiences and challenges faced by lesbians within various contexts.
Lesbian comics play a vital role in representation, providing LGBTQ+ readers with characters and stories that resonate with their experiences. These comics contribute to diverse and inclusive storytelling by highlighting lesbian relationships, identities, and struggles. They offer a platform for exploring love, identity, acceptance, and the complexities of personal and social dynamics within LGBTQ+ communities.
10 Lesbian Comic Books (WLW/Sapphic Graphic Novels)
Lesbian comics are a part of the broader landscape of LGBTQ+ representation in comics and offer opportunities for queer creators and readers to find authentic and relatable narratives. They offer a variety of genres, art styles, and storytelling approaches. I will discuss 10 comics that represent the lesbian community. Let's go!
| Name | Pages | Rating (Goodreads) |
| --- | --- | --- |
| Fun Home | 232 | 4.0 |
| Heathen: Vol. 1 | 108 | 4.1 |
| Kim & Kim: Vol. 1 | 120 | 3.6 |
| Bingo Love | 92 | 3.9 |
| On a Sunbeam | 533 | 4.3 |
| The Legend of Bold Riley | 228 | 3.9 |
| Skim | 143 | 3.7 |
| Snapshots of a Girl | 176 | 3.0 |
| Princess Princess Ever After | 53 | 4.0 |
| Laura Dean Keeps Breaking Up with Me | 289 | 3.8 |
Sapphic Graphic Novels List
1. Fun Home: A Family Tragicomic by Alison Bechdel
Fun Home is a popular graphic memoir that follows Alison Bechdel's childhood and her relationship with her closeted gay father.
The book explores sexuality, family dynamics, and the search for personal identity. Bechdel's artwork and storytelling create a poignant and reflective reading experience.
2. Heathen by Natasha Alterici
Heathen is a fantasy WLW series that follows the adventures of Aydis, a Viking warrior. She goes on a quest to free the Valkyrie Brynhild from an immortal curse.
Throughout the story, she faces her own journey of self-discovery and experiences romantic interests with women. This sapphic comic book presents a unique mix of Norse mythology and LGBTQ+ representation.
3. Kim & Kim by Magdalene Visaggio
Kim & Kim is a sci-fi lesbian romance comic series that follows the misadventures of two bounty hunters, Kim Q and Kim D. They are best friends and romantic partners.
This action-packed series combines humor, diverse characters, and LGBTQ+ themes, offering a fun and inclusive reading experience.
4. Bingo Love by Tee Franklin
Bingo Love is a heartwarming graphic novel about two African American women (Hazel and Mari). They fall in love as teenagers but are forced apart by their families.
Decades later, they reconnect at a bingo hall and rediscover their love for each other. This comic explores love, identity, and the challenges faced by LGBTQ+ individuals over time.
5. On a Sunbeam by Tillie Walden
On a Sunbeam is a beautiful science fiction webcomic collected into a graphic novel. The story follows a young woman who joins a crew of space workers.
They travel through the universe, repairing structures. The comic skillfully shows romance, friendship, and self-discovery, focusing on queer relationships.
6. The Legend of Bold Riley by Leia Weathington
The Legend of Bold Riley is a fantasy series that follows the adventures of Bold Riley, a fearless princess. She travels through diverse lands, facing magical creatures and forming romantic relationships with women along the way.
The series celebrates woman-woman relationships and offers a refreshing take on traditional fantasy storytelling.
7. Skim by Mariko Tamaki and Jillian Tamaki
Skim is a coming-of-age lesbian graphic novel that follows the life of a goth teenager (Kim) attending an all-girls Catholic school.
The story explores Kim's exploration of her own identity, her crush on a female teacher, and her experiences navigating friendship and the complexities of teenage life.
8. Snapshots of a Girl by Beldan Sezen
Snapshots of a Girl is a graphic novel memoir that tells the story of Sezen's journey of self-discovery as a lesbian. Through a collection of personal stories and reflections, the book explores identity, family, and cultural expectations, providing an intimate and heartfelt exploration of queer experiences.
9. Princess Princess Ever After by Katie O'Neill
Princess Princess Ever After is a delightful all-ages graphic novel that reimagines the classic fairy tale tropes. It follows the adventures of two princesses who team up to rescue a prince and defy traditional gender roles. The story celebrates diversity, friendship, and self-acceptance.
10. Laura Dean Keeps Breaking Up with Me by Mariko Tamaki and Rosemary Valero-O'Connell
This YA graphic novel follows the story of Freddy, a teenager caught in an on-again, off-again relationship with the captivating but unreliable Laura Dean.
Freddy faces her complicated love life and learns valuable lessons about self-worth, friendship, and the complexities of relationships. The book beautifully captures the ups and downs of young love and addresses identity and self-discovery.
---
These sapphic comic books offer a range of genres and storytelling styles, all focusing on lesbian characters and narratives. They explore love, identity, and personal growth, providing representation and LGBTQ+ perspectives in graphic storytelling.
Lesbian Comic Books Online
If you're looking for lesbian-themed comic books available online, there are various platforms and websites where you can discover and read them. Here are a few options:
Tapas: Tapas is an online platform that hosts a wide range of webcomics, including those with LGBTQ+ themes. You can find lesbian-focused or inclusive titles by searching for specific tags or browsing the LGBTQ+ category. Many webcomic creators on Tapas offer free-to-read content, while some may have premium episodes or subscription options.
Webtoon: Webtoon is another popular online platform for webcomics. It features a diverse collection of genres and styles, including LGBTQ+ stories. You can explore the LGBTQ+ section or search for specific tags like "lesbian" or "WLW" (women-loving women) to find comics with lesbian characters or themes. Webtoon offers both free-to-read and premium content.
Autostraddle Comics: Autostraddle is an online LGBTQ+ magazine that covers a wide range of topics, including comics. Their "Comics" section features various queer comics, including those with lesbian representation. Autostraddle collaborates with queer artists to create original comics and showcases works by independent creators.
Gumroad: Gumroad is a platform where independent creators can sell their digital works directly to readers. Many LGBTQ+ artists and comic creators offer their content on Gumroad, including lesbian-themed comics.
Patreon: Patreon is a membership platform that allows creators to offer exclusive content to their subscribers, known as patrons. Many comic artists and creators, including those who focus on LGBTQ+ themes, use Patreon to provide access to their ongoing comic series. By becoming a patron, you can support the creators and gain access to their latest updates and behind-the-scenes content.
Remember to respect the creators' work by following any terms of use or subscription requirements they may have, and consider supporting them financially if you enjoy their content.
---
Read more similar:
LGBTQ Books Like They Both Die At The End
Women's Friendship Books Like In Five Years