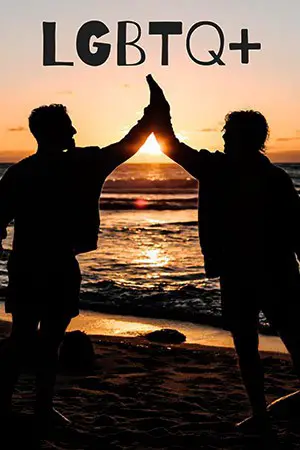 They Both Die At The End surrounds two main characters, Mateo and Rufus. These two boys follow them on their last day on Earth, their end day. There's a thing called death casts, and death cast is a company that calls you, alerting you around midnight that you will die in the next twenty-four hours.
So it's about them on their last day, and they're seeking a friend. They go to an app called Last Friend, where they meet each other and spend their last end day together.
This whole journey is a great story about friendship and living your life to the fullest. Another great thing about this book is that it is told in multiple pervs and their side characters. But Adam finds a way to interweave these side characters to connect to the main characters and see how it all connects. If you read books like They Both Die At The End, keep reading!
5 Books Like They Both Die At The End (Fiction LGBT)
They Both Die At The End is contemporary fiction that greatly impacts LGBT relationships and psychological aspects. It is all about life, feelings, and two different points of view. Do you want to read more? I'm going to review 5 books similar to They Both Die At The End.
1. Aristotle and Dante Discover the Secrets of the Universe
We followed two characters, but the main character Aristotle Mendoza (Ari), is a 15-year-old boy. So it's written from his point of view. He lives in El Paso, Texas, in the Eighties. It has a fun feel because it's in the eighties. When the book starts, he is trying to figure himself out. It's a very much coming-of-age story. He's struggling with being a teenager and growing up and becoming who you're going to be.
Generally, he has trouble making friends, and he meets a boy, Dante, and their friendship develops. This is not a platonic relationship. It is a love story, but even more than a love story.
Aristotle's father struggles with PTSD because he was a marine in the war that affects Ari and his relationship with his parents, and he also has an older brother who's in prison. Although they don't tell you what he is in prison for. For a while, his parents never talk about his older brother. There are no pictures in their house. So he doesn't understand all of these feelings where they're coming from, and he struggles with it a lot.
Dante relationship with his parents was how the area's relationship with his parents was like these characters. Dante is so magical. Like They Both Die At The End, It's a book that genuinely makes me aspire to be a kinder person. The author treats his characters with such gentleness reminded me that I need to treat others that way.
Author: Adam Silvera
Average Customer Review: (4.5 out of 5, on Amazon)
Category: LGBTQ+ Fiction, Teen & Young Adult Friendship Fiction
Available: Audiobook | Paperback | Hardcover | Kindle | Audio CD
---
2. The Song of Achilles
Song of Achilles has gotten a lot of praise, and this is the story of Achilles. You know that famous hero who had the Achilles heel one neck, and it all goes down. It is the story of the Trojan War, but that's what the story is on the outside because this book is not told from Achilles's perspective. It is told from our perspective of a boy named Patroclus, and he grows up alongside Achilles. He was born as a disappointment to his father. He wasn't this great hero or a good fighter or anything like that, and he does get sent away to be trained, and hopefully, something will come of him.
When he meets Achilles, they quickly become very good friends, and that friendship quickly blooms into a lot deeper. It is the love that these two men share and how passionate their relationship is. That drives this story forward, which is unique when retelling a Greek myth.
Also, it is specifically said in the book that heroes can never have it both ways. They can't be heroes and be happy. But Achilles swears that he is going to be the first. He will be that hero how destined to be, but he will still be happy and live out his days with Patroclus. The romantic theme and the character's situation are similar to They Both Die At The End.
Author: Madeline Miller
Average Customer Review: (4.7 out of 5, on Amazon)
Category: Classic Literature & Fiction
Available: Audiobook | Paperback | Hardcover
---
3. Red, White & Royal Blue
It is set in a fantastic alternate universe in which a divorced woman won the twenty sixteen elections. Her ex-husband is Mexican-American and a congressman, so their two children are biracial. Our main character is Alex, who's the younger of the two siblings and is the first son of the United States, and essentially he starts out hating but later falls in love with the Prince of Wales.
Henry is gay. Alex thought his whole life that he was straight. The book takes place soon, where we're coming up on the Twenty Twenty election. So Alex's mother is up for re-election, and Alex has a secret international romance with Prince Henry. The public assumes that they're both straight men.
They have to keep it under wraps because Prince Henry has royal obligations in which it's not acceptable to be a gay person. And Alex doesn't want this scandal to break because he doesn't want anything affecting his mother's chances of being re-elected. It is a debut novel because it is practically flawless. There are so many iconic lines iconic scenes. So if you haven't read it, you have to try it after They Both Die At The End.
Author: Casey McQuiston
Average Customer Review: (4.6 out of 5, on Amazon)
Category: LGBTQ+ Romance, Adult Friendship Fiction
Available: Audiobook | Paperback | Library Binding
---
4. What If It's Us
Like They Both Die At The End, this is a story about fate and the universe giving us second chances. This story follows two main characters, Arthur and Ben. Arthur is a senior in high school. He's Jewish, and he has ADHD, and he's spending his summer in New York. He's also interning at his mom's farm for the summer, where he would rather not be doing since it's a boring job.
One day Arthur meets Ben at the post office, holding a box of his ex's stuff. When these two meet, there is a spark, but they are separated before exchanging numbers or names. They try and figure out if the universe is pushing them together or pulling them apart. The back of this book says, What if they can't quite nail a first date even after three do-overs? What if Arthur tries too hard to make it work and Ben doesn't try hard enough?
So you can see the timeline of everything that's happening. This whole book takes place over a few weeks in the summer. Our two main characters are super nerdy, making this book full of pop culture references.
Author: Becky Albertalli
Average Customer Review: (4.6 out of 5, on Amazon)
Category: Young Adult LGBTQ+ Romance
Available: Audiobook | Paperback | Hardcover | Kindle | MP3 CD
---
5. Call Me By Your Name
This book won an Oscar for Best Book to Screenplay adaptation. It follows a 17-year-old boy called Elio, and he lives in a little village in Italy with his parents. His dad is a high professor, and each year they get doctorate students, and these doctorate students can work on their doctorate, on their books. They want to work while helping out Elio's dad.
So one summer, the doctor at S2 Studio, the doctor student Oliver, gets the job. He moves to that tiny city for six whole weeks, and he and Elio do not get along. They don't like each other. Elio thinks Oliver is snobbish because he always says later. Then an unlikely friendship is formed, and true feelings are revealed and deep. Dark feelings come out. Only the movie's ending is different from the book's ending, like They Both Die At The End.
Author: André Aciman
Average Customer Review: (4.7 out of 5, on Amazon)
Category: LGBTQ+ Literary Fiction
Available: Audiobook | Paperback | Hardcover | Kindle | Audio CD
---
More LGBT Romance Books: 5 Books Similar To I Will Give You The Sun