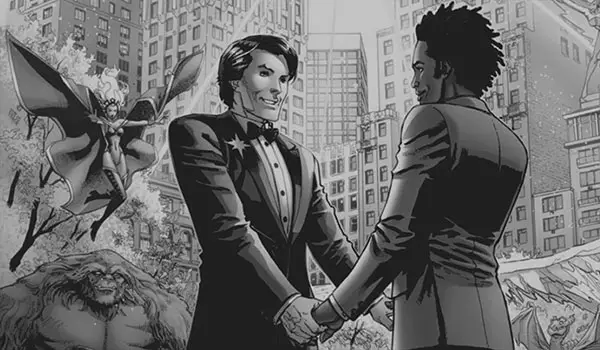 Gay comics or graphic novels feature LGBTQ+ characters, themes, or storylines. These comics explore the experiences, identities, and relationships of gays and the LGBTQ+ community. They can encompass various genres, including superhero stories, slice-of-life narratives, romance, fantasy, science fiction, and more.
Additionally, gay comics can be found in print and digital formats, catering to a wide range of readers and preferences. These comics serve as a means of entertainment, representation, and education. They allow readers to explore diverse narratives, challenge societal norms, and foster empathy and understanding.
10 Gay Comic Books
Gay or MM comics feature gay characters, relationships, and experiences, allowing LGBTQ+ voices to be heard and celebrated. They address issues such as coming out, discrimination, self-acceptance, and pursuing love and happiness.
Also, they span various genres, including superhero stories, romance, fantasy, science fiction, and more. I'm going to share my top favorite gay comic books with you. By engaging with these books, you can see yourself reflected in the stories, fostering a sense of validation, empowerment, and belonging. Let's begin!
| Name | Pages | Rating (Goodreads) |
| --- | --- | --- |
| Young Avengers | 360 | 4.3 |
| The Less Than Epic Adventures of TJ and Amal | 500 | 4.4 |
| The Legend of Korra | 76 | 4.3 |
| Wandering Son | 210 | 3.9 |
| Apollo and Midnighter | Online Version | N/A |
| My Brother's Husband (All Volume) | 704 | 4.6 |
| Check, Please! | 288 | 4.2 |
| The Backstagers: Volume One | 76 | 3.9 |
| Heartstopper: Volume One | 288 | 4.5 |
| Green Lantern: Volume One | 137 | 3.9 |
Gay Comics
1. Young Avengers by Kieron Gillen and Jamie McKelvie
Young Avengers is a thrilling and inclusive superhero comic series that features gay characters prominently. The series follows a diverse team of young heroes, including a gay superhero couple.
The comic explores their relationship while delivering action-packed adventures and heartfelt moments. I enjoyed the action scenes, but a lack of character relationships sometimes makes the story flat.
2. The Less Than Epic Adventures of TJ and Amal by E.K. Weaver
The Less Than Epic Adventures of TJ and Amal is a tender and realistic road trip comic. The story follows TJ, a recent college graduate, and Amal, a carefree artist. They go on a spontaneous journey across the United States.
The comic beautifully explores their blossoming relationship, capturing the nuances of love, identity, and personal growth. Weaver's art style and heartfelt storytelling make this gay comic a delightful and emotionally resonant read.
3. The Legend of Korra: Turf Wars by Michael Dante DiMartino and Irene Koh
The Legend of Korra continues the story of the beloved animated series in comic book form. The comic won Goodreads Choice Award Nominee for Best Graphic Novel & Comics. It explores the relationship between Korra, a bisexual avatar, and her girlfriend, Asami.
The comic seamlessly integrates LGBTQ+ themes while delivering action, adventure, and exploring a richly imagined world. This is a must-read for fans of the original series and those craving MLM representation in Avatar.
4. Wandering Son by Shimura Takako
Wandering Son is a sensitive and introspective manga series that follows two transgender protagonists. They face adolescence, gender identity, and their evolving relationships.
Takako's art beautifully captures the emotional journey of these characters, tackling issues of self-discovery, societal expectations, and the complexities of LGBTQ+ experiences. This is a compassionate and thought-provoking gay comic that offers insight and understanding.
5. Apollo and Midnighter by Warren Ellis and Bryan Hitch
Apollo and Midnighter showcase the iconic superhero couple from the Wildstorm universe. This comic explores the relationship between Apollo, a solar-powered hero, and Midnighter, a ruthless fighter with enhanced abilities. The series presents a mix of action, romance, and complex character dynamics, making it a thrilling and compelling read for fans of superhero stories.
6. My Brother's Husband by Gengoroh Tagame
My Brother's Husband is a heartfelt manga about a Japanese man and his deceased twin brother's Canadian husband.
The comic focus on family, acceptance, and cultural differences. The tender storytelling and sensitive exploration of LGBTQ+ experiences make it a thought-provoking read.
7. Check, Please! by Ngozi Ukazu
Check, Please! is a charming webcomic turned graphic novel. The story follows Eric "Bitty" Bittle, a former figure skater turned college hockey player. He enjoys friendship, love, and the challenges of being a gay athlete.
This feel-good comic combines humor, sports, and heartwarming relationships, making it a delight for readers seeking a wholesome and engaging MM comic.
8. The Backstagers by James Tynion IV and Rian Sygh
The Backstagers is a delightful comic series illustrated by Rian Sygh. It's set in a magical high school theater. The story follows a group of stage crew members, including Jory and Hunter.
They explore a hidden world behind the scenes. The comic offers adventure, friendship, romance, and inclusive gay comics for all ages.
9. Heartstopper by Alice Oseman
Heartstopper is a heartwarming webcomic turned graphic novel series. It chronicles the evolving relationship between two boys attending the same British all-boys school.
Oseman's art and storytelling beautifully capture the ups and downs of teenage romance, friendship, and self-discovery. So this is a tender and relatable MM comic that tackles love, identity, and acceptance.
10. Green Lantern: Earth One by Gabriel Hardman and Corinna Bechko
Green Lantern reimagines the classic Green Lantern character in a fresh and modern way. This graphic novel features a revised origin story for Hal Jordan, the titular Green Lantern.
It explores Hal's relationships, including a romantic connection with fellow pilot and Green Lantern, Kilowog. It combines science fiction, adventure, and LGBTQ+ representation.
---
These comic books can serve as educational tools, providing insights into LGBTQ+ history, culture, and activism. They can help raise awareness about LGBTQ+ issues, fostering understanding and acceptance among readers. These comics offer an opportunity to challenge stereotypes, break down barriers, and promote societal inclusivity. Supporting gay comic books means supporting LGBTQ+ artists, writers, and creators. By reading them, you contribute to the visibility and recognition of LGBTQ+ talent within the comic book industry.
Read more similar:
LGBT Romance Books Like I Will Give You The Sun
Fiction LGBT Books Like They Both Die At The End