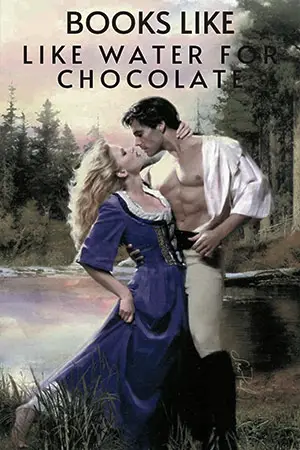 Like Water For Chocolate by Laura Esquivel is a magical realism historical fiction novel first published in 1989 in Spanish. It is set in Mexico in the first part of the 1900s. Part of it takes place during the Mexican Revolution. We follow a girl to a woman named Tita, the youngest daughter of a ranch family. She's the youngest of three daughters, and after her birth, her father dies of a heart attack, then her mother goes even more off the rails. So she is raised by a cruel and abusive mother.
Tita spends all her time in the kitchen with the cook because her mother can't take care of her and becomes incredibly gifted with food. She's the best cook, and her food is so magical! When she's 15, she meets a local boy, and they fall in love and want to get married. But her family has a weird tradition where the youngest daughter isn't allowed to marry and must stay home until her mother dies to take care of her mother.
Each chapter contains a recipe. The chapter starts with a list of ingredients, and then whatever food the recipe is about is integral to that part of the story. So many different things happen in this book, and I'm not going to say anymore because it gets spoilers for some readers.
7 Books Like Like Water For Chocolate
Like Water For Chocolate represent a unique story with a historical view. The reader gets to learn a lot more about food and Mexican culture. The characters are very deeply written. They all have a purpose, and I appreciate it. The ending wraps everything up, so the reader is not confused. I will review 7 books similar to Like Water For Chocolate. Let's go!
| Name | Key Focus | Review (Goodreads) |
| --- | --- | --- |
| Radiance | An arranged marriage story of two-kingdom with friendship, rivalry, and magical romance. | 4.0 |
| Phoenix Unbound | A girl is trying to save herself from sacrifice and kidnapping by using unknown power. | 4.1 |
| Dragon Unleashed | The two protagonists save each other, and their romance faces many problems. | 4.0 |
| The Bridge Kingdom | Two kingdoms are trying to make a relationship through an arranged marriage, but many unexpected things start happening. | 4.1 |
| Fae's Captive | A girl struggles with being enslaved in the fae kingdom and finding her romance. | 3.7 |
| A Promise of Fire | A circus girl is discovering her magical power and struggling for herself. | 4.0 |
| A Touch of Darkness | Two characters are having many troubles with each other and going through mythological aspects. | 3.8 |
Books Like Like Water For Chocolate
1. Radiance (Wraith Kings)
This is one of my favorite romance books with friends to lovers and arranged marriage between two spare royals tropes. So they are not important enough that their marriage will make a huge difference in their kingdoms. But since they are royalty, they can't marry anybody. Their kingdoms decide to marry them off to each other in a political alliance because they come from two previously warring kingdoms.
So the marriage between the two of them is supposed to bridge the gap between these two rival kingdoms. Also, it's a monster romance because they're not humans in the kingdom that the guy comes from. Moreover, they all have gray skin, claws, and sharp teeth and are nocturnal. The best thing about this book is that the two characters find each other unattractive.
So at the very start of their relationship, there is no physical attraction when they marry. They think the other is repulsive, but they form a great friendship. That friendship ends up attraction, and they fall in love. Like Water For Chocolate, their connection is so beautiful to watch, and it's all set in a magical setting. The slow-burn romance and super slow plot are one of the main problems of this book, but you can enjoy it. So, I recommend it to everybody except slow-paced haters.
Author: Grace Draven
Publisher: Grace Draven (1st edition)
Average Customer Review: (4.5 out of 5, on Amazon)
Tropes: Paranormal Romance, Aliens-cyborgs-robots, Marriage-of-convenience, Friendship
Number Of Pages: 297
Available: Audiobook | Paperback | Kindle
---
2. Phoenix Unbound (Fallen Empire)
This one is an enemy to lover's romance, set in a very different type of magical world from Radiance. So it is much more a fantasy world inspired by ancient Rome and Gladiators. The main character is Gilene, a witch, but nobody knows that she's a witch. In this world, there is a yearly sacrifice where all the towns have to send one of their women to be burned at the stake in the ritualistic sacrifice.
For the past couple of years, Gilene has been impersonating the person from her village. That will be sacrificed because she uses her powers to not die during the ritual.
So she keeps doing this every year so that her town doesn't have to sacrifice anybody. Her love interest is a gladiator (Azarion), the ruler of this world enslaved to compete in all of these fights. So on the day of the ritual this year, Azarion realizes that Gilene is a witch and she's using magic to get out of the sacrifice.
Azarion uses that to his benefit, and he kidnaps her so that she can help him escape. They must travel worldwide to get him back to his hometown, reunite with his family, and claim his birthright. So it's very rivals because he kidnapped her and she is trying to escape from him. But they hit a lot of roadblocks on their journey.
There was a lack of romance, a slow story, and an unlikeable villain, which are the negative points of this book. But I love the magic elements in this world, similar to Like Water For Chocolate. If you like witches and gladiators in magical realism, you must read it.
Author: Grace Draven
Publisher: Ace
Average Customer Review: (4.5 out of 5, on Amazon)
Tropes: Magic, Romance, Witches, Arc, Kidnapping, Slow-burn, Female-lead, Suspense
Number Of Pages: 399
Available: Audiobook | Paperback | Kindle
---
3. Dragon Unleashed (Fallen Empire)
The story follows a guy (Malachus) from the ancient species of dragons, and they're human dragon shapeshifters. But Malachus gets very badly injured, and the main character (Halani) is a magical healer. So Halani finds him on the brink of death and heals him back to life. The whole book is about caring for the other sick or injured character.
Although fantastic world-building, impressive characters, and unique romance exist, the book is very slow initially. The action was somehow missing, which works well for the characters, but not for me. Overall I enjoyed the book because I love the shapeshifters trope. The hardcover quality is not good, but the paperback is impressive for font, color, and paper quality.
Author: Grace Draven
Publisher: Ace
Average Customer Review: (4.5 out of 5, on Amazon)
Tropes: Dragons, Shapeshifters, Witches
Number Of Pages: 413
Available: Audiobook | Paperback | Kindle
---
4. The Bridge Kingdom
This book is about a girl and her sister. They have been training their whole lives for one mission. One of them will be married off to the rival king in a political alliance. But she's being sent there to murder him. In this world, all of the trade that goes on has to go through this one bridge that the king is controlling. So everyone wants access to this bridge. It is super important in the politics and economics of the world.
The rival can't remember if he's a king, but the main character's father wants to send her to marry the king and kill him so that they can get control of this bridge. The book is about her entering this rival kingdom and marrying the king in an attempt to get close to him and murder him.
There, she realizes that she has very much been lied to by her father about the nature of this king. He has always told her that this king is ruthless and evil. When she gets there, meets and marries him, she realizes that that's not true. He's a great person; she starts to fall in love with him and is torn about what to do.
I loved all these fantasy elements because a jungle waterfall type of setting is very different from many other fantasy romances I have read. So I highly recommend this one after Like Water For Chocolate.
Author: Danielle L. Jensen
Publisher: CLA
Average Customer Review: (4.4 out of 5, on Amazon)
Tropes: College Fantasy, Action, Adventure, Arranged-marriage, Hate-to-love, Mermaids-pirates
Number Of Pages: 354
Available: Audiobook | Paperback | Hardcover | Kindle | Audio CD
---
5. Fae's Captive
Our main character is Taylor, a student in college, and one day she is attacked. Then she wakes up in this dungeon and has no idea where she is. But Taylor is surrounded by all the magical creatures. She is a changeling and has been abducted back into the fae realm.
So she is now enslaved by the lord in the fae realm. One day when Taylor is working and serving dinner at the banquet of the Lords, the Winter Fae King (Leander) sees her and immediately realizes that she is his mate.
So this book plays on the fae mate bond. When the mate bond is triggered, Leander immediately becomes very protective of Taylor and needs to save her. So he helps her escape her enslavement and takes her on a journey back to his home kingdom of the winter realm.
During that journey, a lot of things are hunting them down. So, a lot of these fantasy romances is a traveling aspects. The world was also super fascinating, and some plot twists like "Like Water For Chocolate". The writing is awe-inspiring, and it ended up being super addicting.
Author: Lily Archer
Average Customer Review: (4.2 out of 5, on Amazon)
Tropes: Sci-fi, Fae, Possessive-hero, Enemies-to-lovers, Myth
Number Of Pages: 156
Available: Audiobook | Kindle
---
6. A Promise of Fire (Kingmaker Chronicles)
A Promise of Fire is a fantasy romance where the main character (Fisa) is a clairvoyant, so she can tell when anybody is lying. That is a very useful and widely sought out skill. Fisa has been hiding out in a traveling circus, but she ends up running into the Warlord (Griffin), who realizes what her power is. So Griffin kidnaps her to take her back to his kingdom and use her for his benefit. You will get the characters' similarities between Fisa and Tita, the protagonist of the Like Water For Chocolate book.
The fun part of this book is that the way that Griffin kidnaps her is he uses this magical rope and binding the two of them together, and the rope is unbreakable. They're now tied together with the magical rope and must journey across the kingdom. Also, they must sleep together, and everything they do must be together. So it also has that forced proximity trope since they're magically bound together.
Author: Amanda Bouchet
Publisher: Sourcebooks Casablanca
Average Customer Review: (4.5 out of 5, on Amazon)
Tropes: Greek & Roman Myth, Alpha-male, Dragons, Feminism
Number Of Pages: 450
Available: Audiobook | Paperback | Mass Market Paperback | Kindle | Audio CD
---
7. A Touch of Darkness (Hades & Persephone)
This first book of the series is a Hades and Persephone romance that I enjoyed. Hades owns a nightclub, and people can come to him and make bargains in this club. Persephone goes to that club one night, and she meets Hades but doesn't realize his identity. They make a bargain, and it turns out that she is now in a contract with the god of death.
The terms of that bargain are that Persephone must create life in the underworld, or she will lose her freedom forever. So she moves to the underworld and has to spend a lot of time figuring out how to create life. The rest of it plays out a very typical Hades and Persephone romance. I have read many Hades and Persephone stories, many of which don't hit the mark. The writing of this one wasn't necessarily the strongest, but it was still enjoyable as Like Water For Chocolate.
Author: Scarlett St. Clair
Publisher: Bloom Books
Average Customer Review: (4.5 out of 5, on Amazon)
Tropes: Erotica, Paranormal, Retellings, Mythology
Number Of Pages: 402
Available: Audiobook | Paperback | Hardcover | Kindle | Audio CD
---
Read more similar books:
5 Magical Adventure Books Like Coraline
5 Magical Realism Books Like Piranesi
5 Magical Books Like A Deadly Education
5 Magical Romance Books Like The Shadows Between Us
7 Magic Books Like Keeper Of The Lost Cities