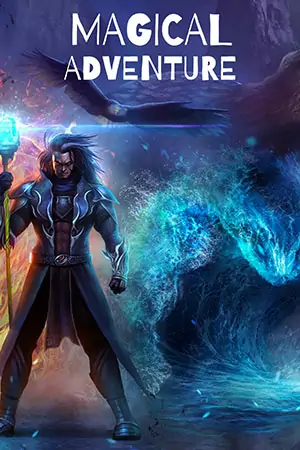 A children's magical book, Coraline by Neil Gaiman, takes you into a rich and imaginative world where the ordinary meets the extraordinary. It's about a little girl named Coraline who finds another world the same way Dorothy finds Oz or Alice finds Wonderland. The difference between Coraline's world and the world she discovers is perfect for her.
At first, she gets to eat whatever she wants to eat. She gets to play with fun toys, and she gets to do whatever she wants to do. She has people around her who love her, appreciate her, and don't get her name wrong. In the other world, in particular, her parents are perfectly willing to spend time with her anytime she wants them to spend time with her.
But it becomes clear throughout the novel that this world is strictly from the imagination of one particular being who wants to keep Coraline for herself. She has to fight her way out of the paper world, and how she goes about this reads a lot like a video game.
Reading books like Coraline can be a captivating and enriching experience due to their imaginative storytelling, engaging characters, thought-provoking themes, and the opportunity to explore the work of a talented author like Neil Gaiman.
10 Books Like Coraline (Magical Adventure)
In the book, Coraline does everything that she needs to do. She fights her way out of the paper world. She allegedly accomplishes her task, but the story is not done yet, and she even says at one point.
The message of this story is ultimately to tell us that the perfect paper world that children imagine for themselves is a lie. It doesn't exist, but there is plenty of good to be had in an imperfect world, and kids don't want a perfect world. I will talk about ten books similar to Coraline. They offer a unique mix of fantasy, horror, and coming-of-age elements, making them valuable to a diverse reading list. Let's go!
1. Flunked (Fairy Tale Reform School)
This is the first one in a series, and it is called the Fairy Tale Reform School. It is set in an enchanted world where fairy tale villains and characters are not necessarily evil. But they're not necessarily good, either. They are sent to this school to be reformed, and Flora, the stepmother of Cinderella, runs the school.
We follow a young girl called Gilly who has been caught feeding because her family is big. They live in a boot. Times are hard. Her dad is a shoemaker. He's not bringing in as much money as they used to. So Gilly feels the need to go and steal things.
She admits to only stealing from the royals because they can afford to lose things, which is slightly a moral high ground. But as he's caught and she's sent to the school. She's more concerned about getting out as quickly as possible to get back to her family to ensure they are being fed. That's her main priority in life, making her quite a likable character.
This is a very entertaining children's story, set in a school, in a fairy tale world, and all your classic princesses are there. There is Cinderella, Snow White, and Rapunzel, and they're all there. Then there are the more obscure fairy tale characters like the big bad wolf from Red Riding Hood. But they also have the Pegasus stables outside; you can fly on them. So, I recommend Flunked after Coraline, particularly for younger readers.
Author: Jen Calonita
Average Rating: 4.6/5
Category: Children's Folk Tales & Myths
Available: Audiobook | Paperback | Hardcover | Kindle | MP3 CD
2. The Wishing Spell (The Land of Stories)
Like Coraline, the young adult book is about fairy tale retellings and twins. Alex and Connor Bailey were given a book called The Land of Stories, which is mysterious and an obvious plot device. They enter the book one day and enter a realm of fairy tales where sleeping beauty Aurora goes to sleep, where all these fairy tale characters exist in one plane. That is the premise of this book.
What follows after is the Queen's Quest in their bid to exit the world. Chris Colfer does a wonderful job merging these stories, providing the countries' historical backgrounds and politics. This premise had a lot of potential.
In the beginning, there's a character called Mrs. Peters. She is an English teacher, and she was teaching fairy tales. She scolded the class for incorrectly interpreting the morals of any fairy tales they were discussing. She tells them to go home and write an essay about the correct moral interpretation of the story and the fairy tale.
This book is 438 pages long. It is about Alex and Connor wanting to get out of a blend of stories and encountering obstacles along the way. But somehow, every single time, for every single obstacle, they manage to get out of the situation unchanged, and the villains let them go without any repercussions.
In the very beginning, they encounter the witch from Hansel and Gretel. Alex convinces the witch that a law in the land of stories requires her to grant them a wish before she needs them. So what is the wish that Connor wants the witch to grant them?
Author: Chris Colfer
Average Rating: 4.8/5
Category: Fairy Tales, Folk Tales & Myths, Action & Adventure Fantasy
Available: Audiobook | Paperback | Hardcover | Kindle | Audio CD
3. Matilda
This is a children's classic with many illustrations to read and see. This book starts with a four-year-old girl named Matilda Wormwood, a genius. She gets to discover later on as we read the book further. Her parents do not give her that love and care, and her parents are so self-obsessed. They give all their love and education to her elder brother, Michael.
A girl should pay attention to her looks because her looks will eventually decide what husband she'll get in her later years of life. She should not pay more attention to her education, which is a philosophy with which Matilda disagrees.
So, she started educating herself by reading books and going to a public library daily. There's a period in her home where nobody is at home for three to four hours. So she walks to a public library nearby, picking up books and reading herself.
Matilda is the most intelligent child in her classroom. She is way ahead of all of her classmates and her class teacher. Miss Honey discovers that and wants her to escalate to a higher class. Again, we have an evil character, her principal, Miss Trunchbull.
So Miss Trunchbull disagrees with escalating Matilda to her class, and she is constantly tormenting Matilda and all the other kids because she hates little children.
There is the angle of friendship. So Matilda is friends with Lavender, who is almost like Matilda. There's also a magical twist related to Miss Honey, Miss Trunchbull, and Matilda, which is very interesting to read, like Coraline.
Author: Roald Dahl
Average Rating: 4.8/5
Category: Dark Fantasy & Magic Fiction
Available: Audiobook | Paperback | Hardcover | Kindle | Audio CD
4. Peter Pan
It is the story of this eternally youthful young boy named Peter Pan. He lives in a world of Neverland, where he never has to grow up. One day, he flies into the siblings' lives, Wendy, Michael, and John, taking them off to Neverland. They have all fun adventures.
Two characters, in particular, are exciting and complex. One was Captain Hook, the bad guy always portrayed as the bad guy and usually portrayed as a comic bad guy. But J.M. Barrie makes Captain Hook out to be sympathetic in a way. He's still a pirate and a bad guy, but he has some sympathy associated with him.
We see this in the last chapter he's in, especially when he becomes obsessed with maintaining good form. It doesn't understand how Peter Pan can maintain good form. Yet, he has difficulty with it. This thought haunts him so much that he prevents Peter Pan from maintaining good condition.
Peter Pan dives into this character's psychological drama, the idea of being this eternally youthful child and never growing up. Most visual adaptations are more of a hero than the eternally young hero, similar to Coraline.
Author: James Matthew Barrie
Average Rating: 4.5/5
Category: Fiction Classics & Fantasy
Available: Audiobook | Paperback | Hardcover | Kindle | Mass Market Paperback
5. James and the Giant Peach
This book has large illustrations that go through the entire page. One of the things you will love about Roald Dahl's books is how he's so imaginative. He thinks of these wild and crazy things, and he writes so charmingly, and all of the things he thinks of are so quirky that you're enchanted.
So this is the story of a little boy called James, and he's an orphan. He lives with his two old aunts. One, an older man gives him a bag full of magical, tiny little wiggly green things and tells them that magical things will happen.
James loses his little bag of green things, and the green things scatter across the dirt and disappear. He thinks that he's lost it forever. But then it turns out that little green things went into a peach tree, and a giant peach started to grow.
He discovers an entrance into the peach and makes new friends with many life-sized bugs. With his newfound friends, James takes off on many madcap adventures. He learns to trust his new friends and himself. Also, he discovers that he's a great person on his own and that people care about him and want to be his friend. If you like Coraline, you must read it.
Author: Roald Dahl
Average Rating: 4.8/5
Category: Animal Action & Adventure
Available: Audiobook | Paperback | Hardcover | Kindle | Mass Market Paperback
6. The Ocean at the End of the Lane by Neil Gaiman
Also, by Gaiman this novel is about a man who returns to his childhood home and recalls a series of strange events that happened when he was seven. Like "Coraline," it's a story about confronting darkness in a seemingly idyllic world.
7. The Graveyard Book by Neil Gaiman
Another work by Gaiman, this book tells the story of a young boy who grows up in a graveyard, raised by ghosts. It captures a similar eerie, whimsical atmosphere and explores the concept of "other worlds."
8. A Wrinkle in Time by Madeleine L'Engle
This classic young adult novel also involves characters who venture into other dimensions. Though it's more science fiction than dark fantasy, it has the same sense of adventure and the unknown as "Coraline."
9. The Golden Compass by Philip Pullman
Part of the "His Dark Materials" series, this book introduces us to a parallel world where each person has a daemon or animal embodiment of their soul. Like "Coraline," it features a strong young female protagonist navigating a strange and dangerous universe.
10. Pan's Labyrinth by Guillermo del Toro and Cornelia Funke
This novelization of the film by Guillermo del Toro shares a similar dark, fairy-tale atmosphere. Set against the post-Civil War backdrop in Spain, it tells the story of a young girl who must pass a series of tests to prove she's the reincarnated princess of an underground kingdom.
---
These books provide an escape from the real world into a fantastical realm, offering a break from the routine of everyday life. This escapism can be both entertaining and therapeutic.
More Adventure Books:
Fantasy Adventure Books Like Gregor The Overlander
Adventurous Books About Kit Carson
Fantasy Books Like The Name Of The Wind