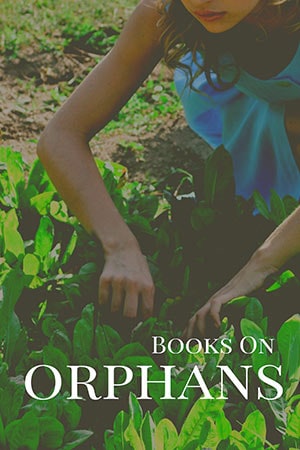 There are many modern and classic literature books about orphans. The question is, why are there so many orphans in children's literature? Children often think about where they want to go when they grow up and what it must be like to be an adult. Reading about orphans and most of the orphan tales in children's literature, the children that are the orphans are overcoming their struggles. They're finding homes and succeeding.
Most readers want to read romantic or heart-touching stories because of various feelings. The orphan-related books cover many aspects and are based on a true story. So readers like to share sympathy and other emotions through the book characters. If you want to read books on orphans, stay with me.
10 Books About Orphans (Children's Classics)
If you go on Amazon or Goodreads and search about orphan-related books, you will find long lists that can fill up your whole bookshelf. As readers and children like the orphan story, the authors focus on it and write many books about this category. I will review the top 10 books about orphans that you will enjoy reading. Let's start!
1. Anne of Green Gables
Anne of Green Gables series is about a young orphan, and the first book starts when she is about 11 years old. She is adopted by Maryla and Matthew Cuthbert, older brothers and sisters. They're in their fifties somewhere, and they want to adopt the child to help her on the farm. The stories follow and from childhood up until adulthood into her children.
Anne looks at everything in a fresh new light, even like the littlest flower to her can be this magnificent creation. That's a wonderful way to view life, take that lesson, and apply it to your own life. Sometimes, many ugly things are going on in the world. There are a lot of hurtful things that happen. The book makes you think about the little things that make you take a step back and live more at the moment. That's something that I enjoy about the series as a whole.
So the Green Gables series is made up of eight books. The first one is Anne of Green Gables. You can find holy books, like short story collections that feature various characters from avidly. It's a good mixture of sad and happy in all books.
Author: L. M. Montgomery
Average Customer Review: (4.8 out of 5, on Amazon)
Category: Children's Classics
Available: Paperback | Mass Market Paperback | Kindle
---
2. The Secret Garden
Secret Garden was an all-time favorite book in Britain in 1911. So it's over 100 years old, but still, it is the book that keeps its popularity. Even if it is a children's book, it is a cozy and heartwarming tale.
The main character is an orphan girl Mary Lennox, who lives in India with her parents. But when her parents die of cholera, she has to move to her aunt, to her uncle, Mr. Craven, who lives in England. When she comes to England, things are very different for her, and she is treated like someone and not the only one.
When Mary comes to Missile Fleet Manor, she fends completely in the gardens. Together with the maid, she eventually feels happiness, joy, and friendship. They become her first friends, which is very new and unusual.
She stumbled across a garden that didn't seem to have an entrance in the gardens. It's only like a huge brick wall, and there's no way. But eventually, she does find the door. While roaming around the grand manor, she stumbled across the key.
So this garden becomes Mary's secret garden, which she tends to and brings to life. But the manor holds more secrets than gardens. It turns out that Mary has a cousin, Colin, who is the same age as her. Together Mary and Colin learn to walk. Also, Colins learns to believe that he will grow up a strong and healthy man. You will love the friendship that is described in the book.
Author: Frances Hodgson Burnett
Average Customer Review: (4.7 out of 5, on Amazon)
Category: Classic Literature & Fiction
Available: Audiobook | Paperback | Hardcover | Kindle
---
3. A Little Princess
It is a children's novel published in 1995, and it combines some of the beautiful story tropes. It deals with issues of wealth and poverty and switching from one to another. The main character is an orphan girl named Sarah Kru, who is sent to live in a boarding school in London.
She comes from a very wealthy family, and she goes to a boarding school for basically privileged girls. There, she is treated like a little princess. All of the girls and teachers love her. Also, she is treated to the most luxurious room and the most luxurious clothes.
Suddenly, she has to give up her amazingly big room and start working for money. All of the teachers and schoolgirls suddenly fall away and don't want anything to do with her anymore. She goes through her life with an incredible sense of maturity and respect for others. It makes a wonderful read, especially at Christmas time. If you've read the book, you probably understand the theme and meaning of life.
Author: Frances Hodgson Burnett
Average Customer Review: (4.6 out of 5, on Amazon)
Category: Children's Classics
Available: Audiobook | Paperback | Hardcover | Kindle
---
4. Heidi
Heidi was originally written in German and later written in 1880. This is a great classic, sort of young adult version. This book is all about a little orphan girl, Heidi, who lives in Switzerland. You see nothing but a beautiful description of the Swiss mountains and goats with bells. The author even describes the smell of the grass and the smell of the manure from the goats. The setting and the imagery descriptions are brilliantly done and gorgeous.
Heidi is a little orphan girl who is being yanked up the mountain to a little hilltop village in Switzerland at the very beginning of the book. Her aunt is somewhat verbally abusive. So Heidi is an unloved and unwanted child. She's had some abusive background. But Heidi is a charming, sophisticated, sweet, well-behaved little girl.
The book has a remarkable ending. The narrator is very good at pulling on the heartstrings and sympathy of the reader to root for Heidi as she goes along. So this is a very mature novel. It's a slower-moving, old European setting, and culture and many undertone themes that a child would miss. So it won't be fast-paced enough for them. But if for a very good, strong girl character with clean morals, this is a great, wonderful book to read.
Author: Johanna Spyri
Average Customer Review: (4.6 out of 5, on Amazon)
Category: Literature & Fiction
Available: Audiobook | Paperback | Hardcover | Kindle
---
5. The Witch Of Blackbird Pond
This book won the Newberry Prize and children's literature, which is very well-written. It reminded you of parts of Jane Eyre and Wide Sargasso Sea. There are so many elements combined in this book because of the setting. The story follows a brave orphan girl whose name is Kit. She arrives on a boat to New England from Barbados.
She has a lot of dresses and fancy things. You could tell that she comes from a rich family, and her family is no longer with her. She had recently lost her grandfather, so she's highly desirable by many older people in Barbados. So she sneaks away, gets on a boat by herself, and crashes at her uncle and aunt's house in New England.
There's a lot of romance between the young cousins and other young men around the neighborhood. Sometimes you will think that Kit is going to become a witch. But instead, the witch is a nearby neighbor, and her name is Hannah. She's seen as a witch because she's all alone. They become friends at a time.
There's a lot about her that you love, and there's a lot of things Kit does that you think, brave. This book saw the relationships between her and the witch, but the relationships formed between her and her cousins who live at this house.
Author: Elizabeth George Speare
Average Customer Review: (4.7 out of 5, on Amazon)
Category: Children's Colonial American Historical Fiction (Teachers' pick)
Available: Audiobook | Paperback | Hardcover | Kindle
---
6. Ella Enchanted
This is a retelling of Cinderella's fairy tale, specifically Charles Perot's version of Cinderella. Three things make this book a favorite. First is the character of orphan Ella, who is not in the least bit meek or submissive. If she is even a little bit meek or submissive, it's because she has to be. It means that Ella has to do anything that anyone orders her to do, no matter what.
Yet, quite apart from this gift making Ella obedient, it makes her almost the opposite. Her personality becomes very obstinate because she doesn't like to be forced to do things. You watch it grow throughout the story to the strength she needs to.
The second reason is the relationship between Ella and Prince Charming. This story gasp develops the relationship and the focus of the relationship. The novel's first half is not about romance but more about friendship. These two people form a very close friendship, and that friendship develops throughout the novel and eventually becomes feelings of love and romance.
The last thing that makes this a favorite is the same thing that makes pretty much all fairy tale adaptation novels a favorite. It's the way that they explain everything. That's the nature of fairy tales. But adaptations of fairy tales by logical explanations for all of these things somehow ground them in reality. Most of these explanations are pretty creative. Some of them are not, but they're at least adequate.
So I still like this novel. It's a very easy read. Also, It has some great characters, a great story, and some great messages. There's the message about being independent and yourself and not letting other people get you down. Also, It is the best book about orphans I have ever read.
Author: Gail Carson Levine
Average Customer Review: (4.7 out of 5, on Amazon)
Category: Paranormal, Occult & Supernatural Books
Available: Audiobook | Paperback | Hardcover | Kindle | Audio CD
---
7. Great Expectations
Great Expectations is the tale of the young orphan boy Pip, brought up by his violent sister and her wonderful husband, Joe. He meets three people who have a profound effect on his life. One is an escaped convict who provides food before he is recaptured, and the other two are the reclusive Miss Havisham and her beautiful adopted daughter Estella. After the humble beginnings, Pip comes into some money and goes to live as a gentleman in London. But these three people continue to haunt and influence his life.
I found the characters in this to be particularly strong. Miss Havisham is one of the most interesting characters in the book. Then there are other characters like Herbert Pocket, Joe Lambic, who are well painted and jump out of the page.
Pip is one of the least interesting characters in the book. He can be a little dull, and he does make quite a lot of questionable decisions, which can be frustrating for a reader. But it also makes the book quite unusual and involves the lead. There have been a lot of adaptations of it.
Author: Charles Dickens
Average Customer Review: (4.5 out of 5, on Amazon)
Category: Coming of Age Fiction
Available: Audiobook | Paperback | Hardcover | Kindle | Mass Market Paperback
---
8. The Adventures of Pippi Longstocking
Pippi Longstocking by Astrid Lindgren was written in 1945. Any age of the child can read this book. Pippi Longstocking is an orphan. Orphans are very common in children's literature, particularly in older children's literature. Pippi is an independent and strong girl. This theme of strength here, especially girls having the strength and overcoming strife, is rampant in this book.
Each chapter is about Pippi overcoming something. She goes on an adventure quest to discover items like treasure hunting. You will see her braveness that she stands up to the policeman and defies him. Pippi goes to school for the first time, even though she's terrified. She goes to the circus, jumps into the ring, and wrestles with the ringmaster.
Is this tremendously strong, courageous girl portrayed as happy and carefree and loving her life? There is an underlying theme of education. In many children's literature, you see the theme of education and how important it is. Think about the parallels, themes, and comparisons between Anne of Green Gables and Pippi. You will find very similar red hair, red freckles, orphans. So there's a lot to analyze there and a lot interesting.
Author: Astrid Lindgren
Average Customer Review: (4.8 out of 5, on Amazon)
Category: Action & Adventure
Available: Audiobook | Paperback | Hardcover | Kindle
---
9. The Graveyard Book
This story starts with a man called Jack, and he is walking through a house and murdering a family. The son of this family is a toddler, and he manages to escape. His family comes as ghosts and asks the graveyard ghosts to take responsibility for their toddler son and raise him. So the little orphan boy is being raised by the ghosts of this graveyard and learning about the world through the lens of people who have been dead for a long time.
Before going into this novel, one thing to know is that The Jungle Book heavily influences this. So it has a similar vibe to that book. It follows his life in snippets, and it's not one continuous story. You will love how all the ghosts are from different periods and are products of their time.
They had the same viewpoints and morals when they were alive. In each chapter, the boy is a certain age, and he tackles and learns a different lesson. Then, in the next chapter, he's a little bit older, and he learns something new. So each chapter has its miniature plot.
Author: Neil Gaiman
Average Customer Review: (4.7 out of 5, on Amazon)
Category: Children's Scary Stories
Available: Audiobook | Paperback | Hardcover | Kindle | Audio CD
---
10. Emily of New Moon
In the first book, we follow Emily, orphaned and sent to live with her snobbish relatives. She's part of this old family, but her parents never participated in any of that. So up until this point, she grew up living a very normal, not wealthy life. She was sent to live with her relatives. It's about her finding her place and growing up by the end of the book. She's 13 years old, beginning to leave her childhood behind.
One of the things that I loved about this book is that Emily is in a very transitional age. She is still so much a child in how she plays and views the world, things that she knows about.
At the same time, she's dealt with some heavy things, like losing her parents and dealing with grief, living in a place where she doesn't have many friends. So it's about her beginning to grow up. Emily's character is what made me love this book. She is a writer, poet and loves nature. If something happens, if she has a conflict with someone, she has to write it out, or she won't feel like herself again. The writing is beautiful in general, not the descriptions and the language.
Author: Lucy Maud Montgomery
Average Customer Review: (4.7 out of 5, on Amazon)
Category: Teen & Young Adult Fiction
Available: Audiobook | Paperback | Kindle
---
More books lists about orphan related
Harry Potter and the Sorcerer's Stone – J.K. Rowling
Jane Eyre – Charlotte Bronte
A Forest of Doors: An Orphan's Quest – L.A. Muse
Lost Love's Return – Alfred Nicols
A Brief History of Montmaray – Michelle Cooper
The Bad Beginning (A Series of Unfortunate Events) – Lemony Snicket
Oliver Twist – Charles Dickens
Ballet Shoes – Noel Streatfeild
The Storied Life of A.J. Fikry – Gabrielle Zevin
Pictures of Hollis Woods – Patricia Reilly Giff
The Wonderful Wizard of Oz – L. Frank Baum
The Mysterious Benedict Society – Trenton Lee Stewart
The Boxcar Children – Gertrude Chandler Warner
Maniac Magee – Jerry Spinelli
The Goblin Emperor – Katherine Addison
Natasha's Story – Michael Nicholson
Peter and the Starcatchers – Dave Barry
David Copperfield – Charles Dickens
Gathering Blue – Lois Lowry
Black Mamba Boy – Nadifa Mohamed
The Wonderling – Mira Bartok
The Adventures of Huckleberry Finn – Mark Twain
The Wolves of Willoughby Chase – Joan Aiken
I, Coriander – Sally Gardner
The Girl with All the Gifts – M.R. Carey
Child of the Ghosts – Jonathan Moeller
Eight Cousins – Louisa May Alcott
Daddy-Long-Legs – Jean Webster
Bambi – Felix Salten
The Witches – Roald Dahl
Hannah – Kathryn Lasky
The Wanderess – Roman Payne
The Lightning Thief – Rick Riordan
Acorna: The Unicorn Girl – Anne McCaffrey
The Jungle Book – Rudyard Kipling
Silas Marner – George Eliot
Redwall – Brian Jacques
The Red Queen's Daughter – Jacqueline Kolosov
Splendors and Glooms – Laura Amy Schlitz
The Orphan Keeper – Camron Wright
---
Read more: 15 Best Classic Book Of All Time To Read