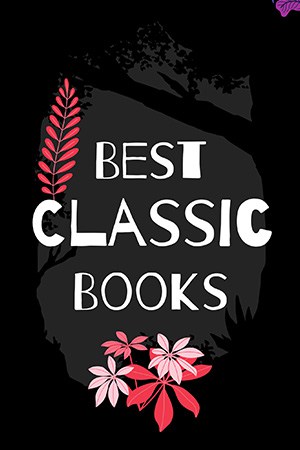 One classic is not necessarily anything like another. When it comes to your reading experience, try some things out, and see what you can find. There is a classic for everyone, regardless of your tastes or the types of books you enjoy. Multiple classics directly appeal to the thing that you like to read. That's not to say that everyone has to read classics.
Reading for pleasure is a choice. You choose which books you read and which make you happy. If you've been unsure about classics, you've found them too difficult in the past or too dull. Keep looking because something will be exactly what you want. Classics are what you make of them, especially when we're reading by choice and reading for pleasure. There is a lot you can learn about the past from them. If you want to read the best classic books, stay here.
15 Best Classic Book Of All Time
There is no definite hard and fast rule to tell you what a classic is. Sometimes a classic is an entirely subjective thing. It's an older book that has stayed in print for a significant amount of time, read and reread by multiple generations. It is a book that helps represent the time it was written in. It's a book that has a freshness about it. Despite its age, It's a book with universal themes and motifs.
There are books from the late 20th century that coined modern classics. A modern classic might be a book that only came out five years ago but that you were convinced would become part of the tapestry that is classic literature. Depending on the period, these things can come and go, changing. Authors go in and out of favor.
Let's jump in and see the 15 best classic books everyone should read.
| Name | Key Focus (Tropes) | Review (Goodreads) |
| --- | --- | --- |
| Pride and Prejudice | Historical, Romance, Hate-to-love | 4.2 |
| The Picture of Dorian Gray | Horror, Fantasy, LGBT | 4.1 |
| To Kill A Mockingbird | Life-changers, Culture, Sociology | 4.2 |
| Bleak House | Mystery, Crime, Detective, Humor | 4.0 |
| War and Peace | War, International affairs, Philosophy | 4.1 |
| Persuasion | Second-chance-romance, Fun, British Literature | 4.1 |
| The Color Purple | Feminism, Racism, Spiritual | 4.2 |
| Little Women | Inspirational, Classic Literature, Love | 4.1 |
| The Count of Monte Cristo | Adventure, Masculine, France Culture | 4.2 |
| The Outsiders | Realistic Fiction, Coming Of Age | 4.1 |
| The Brothers Karamazov | Philosophy, Russian Literature, Thriller, Morality, Spirituality | 4.3 |
| Jane Eyre | Gothic, Feminist-dystopia, Relationship | 4.1 |
| Daniel Deronda | Trauma, Romance, Jewish Literature | 3.8 |
| Flowers For Algernon | Psychology, Science, Sociology, Psychology, Parenting | 4.1 |
| Adventures of Huckleberry Finn | Adventure, Academic | 3.8 |
Best Classic Book
1. Pride and Prejudice
Pride and Prejudice is the first British classic I've ever read. The novel is about Bennetts, consisting of Mr. Bennett, Mrs. Bennett, and their five children, all girls. The novel mainly centers around the second oldest child called, Elizabeth Bennet. Mrs. Bennett wants all of her five children to marry well. Very soon, the novel opens up with Mr. Bingley entering the place they live in, Netherfield Hall. However, the plot could be a little slow in some places. This meant you could see all the little intricacies of the characters and their lives, which I enjoyed.
One of my favorite characters in the book is Elizabeth. She is one of the best female protagonists because she is so different from the stereotypical female you would think about the time period. Elizabeth gave women of the era a voice because they can often be seen as meek and quiet. But Elizabeth proved that this was not the case. There have many feminist themes, and it's not something you typically expect. A major theme in the novel is Marrying for Love, which Jane Austen believed was uncommon.
This timeless tale has captured readers' imaginations for many years. Pride and Prejudice is an incredible book published over 200 years ago. The main themes are still relevant in our society today. Social class and reputation were crucial factors in determining whether someone would speak to you, associate with you in business, and even marry you. This book discusses how social norms affect people's interactions and how love stories sometimes bloom when you don't expect them.
Author: Jane Austen
Narrator: Rosamund Pike
Category: Literature & Fiction, History & Criticism
Best Seller in Women Author Literary Criticism
2. The Picture of Dorian Gray
There's almost a magical quality in Oscar Wilde's writings. Dorian Gray's picture is a pleasantly enjoyable experience that leaves a bitter aftertaste of cynicism. The tragedy of youth is that everything that seems so possible slowly slips away into a dream over time. As a society, we are obsessed with youth. We want to feel beyond the thought that growing old is almost appalling.
The Picture of Dorian Gray will glue you to the book for hours. The novel follows the story of a susceptible young man who inherits a great fortune and becomes a notorious symbol of evil and depravity. Oscar Wilde takes the reader on a journey, starting with the heights of aestheticism and ending with the depths of decadence and moral corruption. It is one of the best classic books I have ever read.
Author: Oscar Wilde
Publisher: Audible Studios
Category: Literature & Fiction
3. To Kill A Mockingbird
To Kill A Mockingbird takes place between 1933 and 1935, the Depression era in America. As the novel opens up, we see through the eyes of Jean Finch. She is referred to in the novel. She lives in a small home with her brother Jim, a few years older than her father. Then Atticus, who is an attorney for the local court system. Calpurnia is a black woman who is a maid who's been with the family for many years.
This deeply moving book is full of drama and compassion, which takes the readers down to the roots of human behavior. Lee's unforgettable novel mixes opposing feelings of love, hatred, humor, sadness, kindness, and cruelty, all wrapped up in a man's relentless quest for justice plagued by prejudice. A lot of unique personalities have in this novel.
It helps the reader think about how we treat one another as human beings, especially when there are differences. There might be a bit of suspense toward the end when you're curious about what will happen. This one is readable if you want to get a best-selling and Pulitzer-winner classic under your belt.
Author: Harper Lee
Publisher: Random House Audiobooks
Category: Literature & Fiction
4. Bleak House
Bleak House is one of Dickens's most critically acclaimed novels that indelibly dramatizes our most basic human discords with many colorful characters. The author portrays the London Society of Rich and Poor masterfully. This fascinating classic novel contemplates love, fear, and betrayal while revolving around an insidious conflict that arose from an inheritance.
The main theme of this book is a house, Wills. John had a lot of money and wrote a few different Wills. After he died, people weren't sure which Wills was official. So they don't know to who the money goes. Even after he's long been buried, people still fight to get the money.
Dickins uses this case and how it affects a whole group of people to show how messed up the British legal system was. There is a legal drama, but it's not a courtroom and lawyers going around pushing papers. No, there is a lot of stuff going on here. It's like a sophisticated soap opera. One of the best things about it is the humor. A lot of people don't realize that Dickens was funny. He wrote some great comic lines, crazy situations, and hilarious characters.
Author: Charles Dickens
Narrator: Simon Vance
Category: Thrillers & Suspense
5. War and Peace
Sometimes you read a book, making you think about everything happening around you. You remind yourself to be more appreciative of everything you have. War and peace are thrilling examinations of history. The author brilliantly follows the lives of many characters from various backgrounds, from peasants and nobles to soldiers and civilians, as they struggle with the obstacles in their path. This sizable novel has many contradictory aspects of life in that era, such as love and hate, happiness, and sadness.
War and Peace was published in 1869, and the action began in 1805. It led up to the French invasion of Russia by Napoleon in 1812. It is divided into four books with 15 parts between them. There is also an Epilogue with two parts.
The story mainly concerns five aristocratic families, the Rostovs, the Bezukkovs, the Bolkonskys, The Kuragins, and the Drubetskoys. But it also contains essays about war and history. There are more of those as the book progresses. If you want the best classic book of all time, I recommend reading it no matter how long it takes.
Author: Leo Tolstoy
Publisher: Blackstone Audio, Inc.
Category: Literature & Genre Fiction
Paperback: 1296 pages
6. Persuasion
Persuasion is the second entry from Austen on this list, showing how epic of a writer this woman was. It is another delightful novel that revolves around love and societal hierarchy that some critics regard as Austen's most sentimental work. Readers of this book will notice that even in her last masterpiece. Jane Austen's skill for fine ironic observations on social norms, love, and marriage is as keen as ever.
Persuasion by Jane Austen is about second chances, missed opportunities, and a love that has grown. That makes the novel even more heartbreaking and realistic than any other journalist. Persuasion is delicate and subtle, like all Jane Austen novels, and it was a beautiful and easy book to read. What's so special about this book is that the reader comments and almost imagine so much.
There are conversations, for example, within the family, and you imagine how they might have looked at each other. You understand these characters and the heartbreak so deeply that you can feel the pain. Austen is famous for her characterizations, and getting ridiculous caricatures and dissuasion is no exception. The book picks up perfectly explains that character within the first page or in paragraphs.
Author: Jane Austen
Publisher: Naxos AudioBooks
Category: Dramas & Plays
7. The Color Purple
The Color Purple is a modern classic that brings another great story about freedom, passion, inspiration, and an impressive love for life. The story revolves around a young black girl born in poverty and segregation. She discovers the power of her spirit while taking charge of her fate and heading toward freedom. It's historical fiction, and the main character in this book is a girl named Seeley. She is an African-American woman. At the beginning of this book, she's 14 years old and forced to marry a man called Mister.
This book is not a light read but a hefty book. It deals with things like domestic violence, racism, and sexism. There are tons of deep messages in this book. But you need to be mature about it and take the story seriously. Also, there's so much character development with each one. The messages in this story are so deep, and they all represent different things.
Author: Alice Walker
Publisher: Audible Studios
Category: Literature & Fiction
8. Little Women
The author was inspired to write this endearing novel from her life experience. The Actionist was placed in the mid-19th century in New England, where four sisters showed their love and devotion while overcoming the hardships of the Civil War. It was the best classic book that achieved the most readable tag at this time. The central focal point of the story is the mother's family, specifically the four sisters.
So, Little Women is a story about how a family has fallen on hard times and how the four sisters often wish for a better life. But their mother keeps them grounded and teaches them to be grateful for what they have. They hold their mother in high regard. This story talks about all these characters and what happens in their lives.
Generations of readers have explored, along with this novel, the timeless themes of love, death, and conflict between personal ambition and family responsibilities. Alcott had an irrefutable knack for pointing out societal problems regarding how women fit in and that they, too, can contribute to the betterment of everyone. So Little Woman is one of those books surrounded by much hype. As you read the story, you realize many grey areas between the story as you unravel the characters.
Author: Louisa May Alcott
Publisher: Recorded Books
Category: Literature & Fiction
9. The Count of Monte Cristo
The Count of Monte Cristo has an incredibly powerful conflict between good and evil. Dumas utilizes every possible element to create a captivating drama with love, suspense, intrigue, vengeance, the triumph of good over evil, and a hero whose life gets incredibly complicated due to his actions. Every reader has something to learn from the story's moral and apply in their life.
There is some history in this book at the very beginning. You see some political factions when Napoleon is on his way out. So there were political divisions between the royalists and the Napoleonists. The reason to read this book is because of the plot. Several people betray a young man. He gets sent off to prison and then comes back for revenge.
One of my favorite parts was the part in which he was in prison. There are some philosophical discussions in there. It's also very cinematic and theatrical, like a very visual story. You can imagine these people and see them interacting with one another. The ending is highly visible.
So I highly recommend picking it up with a friend. It's great for beginners and people who are beginning in the classics. But if you are somebody who already reads classics, this is also one that you need to pick up.
Author: Alexandre Dumas
Narrator: Bill Homewood
Category: Action & Adventure
10. The Outsiders
Hinton gives America a new anti-hero that finds himself on the unlawful side of society's divide. The Outsiders is one of those first fictional novels meant for young adults. Since most of them struggle to find their place within their peer groups, the central theme of this novel is acceptance. Every reader can identify with this novel since we all dealt with the same issues at one point or another in our lives.
The main character is called Pony Boy, which is quite a strange name but an individual. He doesn't like people who judge him for having that name. Then he lives with his two older brothers. So they are a dysfunctional family. They fight a lot, and they have discussions with each other. They don't have parents because their parents were killed in a car crash, so they're making their way into the world.
It is a moral for the overall story and is a gritty novel listed among the top classics. There are a lot of violent things that happen in it. But at the end of it all, it's coming to a good end. That helps you put things in perspective and see the moral behind this story. Good comes from all the bad, even if it doesn't seem like it. There is a lot of tragedy that happens so near the end.
Author: S. E. Hinton
Publisher: Hodder & Stoughton
Category: Teen & Young Adult Fiction (Bestseller)
11. The Brothers Karamazov
The Brothers Karamazov is an epic tale of The Karamazov family that is overloaded with drama, a murder mystery, and a series of love affairs. Anyone who tries to read this novel must be warned that every page will keep you on your toes because you'll not know what will come next. With all the captivating events, Dostoyevsky perfectly paints a vivid picture of Russian society at the time. It is pretty much considered the Russian golden age.
Dostoevski approaches the book with three different brothers allowing very different viewpoints. He was able to tackle the ideas in different contexts in different lights. It's an exciting way to explore religion in a different light. Many things play out with The Brothers Karamazov. Religion is off, there is a subscription, and justice is played out.
Also, there is the concept of free will, where they had to make tough decisions. But everyone has free will, have what it comes down to it. It is the best philosophical classic, delving into the idea of life and looking at morality and justice. The hardcover has some quality issues, but the paperback is good enough for font size, color, binding, and cover.
Author: Fyodor Dostoevsky
Narrator: Luke Thompson
Category: Literature & Fiction, Christian Mystery & Suspense Romance
12. Jane Eyre
This beloved classic guarantees to cause any reader to shed a tear or two. Once you enter the cruel world of heroine Jane Eyre, you'll see the girl's incredible strengths. She uses it on her long quest for dignity and self-respect. Bronte wrote a great novel packed with many lessons taught with the help of Jane Eyre and her strenuous life.
Jane Eyre is about a young girl called Jane Eyre. When she was younger, her aunt was forced to take her in because she was an orphan and then sent off to a school for girls called Lowood. The girls don't get a lot of food, and in general, they have a miserable time there, but Jane manages to make the best of the situation. She gets a good education and eventually becomes a teacher there. When she's 18, she decides to advertise as a governess to see more of the world.
This book has many problematic things, especially romanticizing Mr. Rochester, which is understandable. This is a book that I can see myself repeatedly reading in years to come. There are many things that any teenager or adult could relate to.
Author: Charlotte Bronte
Publisher: Audible Studios
Category: Literature & Fiction
13. Daniel Deronda
Daniel Deronda is the final masterpiece work of Elliot and the most ambitious novel she ever wrote. The protagonist, Daniel Deronda, conveys to the reader a time when the moral laxity of English aristocracy mixed with the enthusiasm of Jewish nationalists. His destiny gets intertwined with another main character, Gwendolyn Harless while trying to achieve his goal of finding out his origins and ancestry. George Eliot's controversial way of creating a narrative generates a constant challenge for all her characters, making it a guilty pleasure for any reader.
Gwendolyn Haworth is one of the protagonists in the story, and she is a woman who wants happiness, fortune, and the glamour of being rich. That's something that she wants to be a part of her life. The plot and storyline were good, but the ending was not satisfactory. I recommend this most popular classic for a challenging but enriching Victorian novel.
Author: George Eliot
Narrator: Nadia May
Category: George Eliot
14. Flowers for Algernon
Flowers For Algernon is a fictional novel that will surely take the reader on a surreal experience. The main focus of this novel is exploring the possibility of what might happen when a person suddenly jumps by leaps and bounds over the social territory they have been in all their life. Daniel takes us on a journey of being placed in the mind of a disabled man. This man participates in an experiment and suddenly increases his IQ exponentially. Along with this experiment goes a mouse with a similar intelligence boost as the main character.
This famous classic is about a mentally disabled man called Charlie Gordon, the first human to undergo surgery to make him intelligent. The most successful intelligence-increasing operation on a mouse named Algernon before that happens.
Since he sustained his level of intelligence, which is about three times normal, that impetus for them to start testing on humans, Charlie was the first person to go through that. It's written in first-hand progress reports from Charlie himself. So it begins with his awful spelling because he doesn't know what's happening.
Author: Daniel Keyes
Publisher: Orion
Category: Teen & Young Adult Classic Literature
15. Adventures of Huckleberry Finn
Adventures of Huckleberry Finn doesn't get any more classic than the great American novel. Twain was a brilliant writer with a remarkable knack for creating characters and purposeful situations. Each character in this novel has a distinct personality that points out specific societal flaws, especially hypocrisy, and gullibility. The primary theme and The Adventures of Huckleberry Finn is the conflict between civilized society and natural life.
Huck Finn essentially takes to the river with his friend Jim. But Jim is black, and he's also an escaped slave. So they're on this mission to help Jim become a free slave in the free states and get him across the state lines.
On the flip side, Huck is also trying to escape institutions. He's escaping the institutional religion of conforming to society and what they want him to be. So it's this incredible adventure where they both learn all of these beautiful moral lessons. That is my absolute favorite theme in this story. It's like a choose your adventure novel at the end there.
Author: Mark Twain
Narrator: Elijah Wood
Category: Literature & Classic Fiction
---
Best classic books for vacation
Choosing the best classic books for vacation depends on your reading preferences and the type of vacation you are planning. Here's a list of ten classic books that are entertaining, thought-provoking, and suitable for various vacation moods:
Pride and Prejudice by Jane Austen: A witty and romantic novel that offers insight into 19th-century society, perfect for a relaxing vacation.
The Great Gatsby by F. Scott Fitzgerald: A captivating tale of love, wealth, and tragedy, set in the Jazz Age, ideal for indulging in a glamorous world.
The Picture of Dorian Gray by Oscar Wilde: A philosophical novel exploring the consequences of vanity, beauty, and immorality, perfect for a contemplative vacation.
The Adventures of Huckleberry Finn by Mark Twain: A humorous and adventurous story of friendship and self-discovery, suitable for a light-hearted and adventurous vacation.
Rebecca by Daphne du Maurier: A gripping gothic novel filled with mystery and suspense, ideal for a thrilling vacation read.
The Count of Monte Cristo by Alexandre Dumas: A classic tale of revenge, adventure, and romance, perfect for immersing yourself in an epic story.
Dracula by Bram Stoker: A classic horror story that will keep you on the edge of your seat, ideal for a vacation filled with chills and thrills.
Around the World in Eighty Days by Jules Verne: An entertaining adventure story that takes you on a journey around the world, perfect for inspiring wanderlust.
A Room with a View by E.M. Forster: A charming novel that explores love, societal expectations, and personal growth, ideal for a vacation focused on introspection and self-discovery.
The Old Man and the Sea by Ernest Hemingway: A powerful and contemplative tale of an old fisherman's struggle with a giant marlin, perfect for a vacation where you seek inspiration and resilience.
Remember, the best book for your vacation is the one that resonates with your interests and the atmosphere of your trip. Choose something that captures your imagination and complements your vacation experience.
Best classic novels for adults
There are many classic novels that adults can enjoy for their literary quality, timeless themes, and thought-provoking ideas. Here are ten classic books that are highly recommended for adult readers:
To Kill a Mockingbird by Harper Lee: A moving coming-of-age story that addresses racial injustice and moral growth in the American South.
Pride and Prejudice by Jane Austen: A witty and engaging novel that explores love, marriage, and societal expectations in 19th-century England.
1984 by George Orwell: A chilling dystopian novel delves into the dangers of totalitarianism, surveillance, and the erosion of individual freedom.
Crime and Punishment by Fyodor Dostoevsky: A psychological thriller that explores morality, guilt, and the human capacity for redemption.
One Hundred Years of Solitude by Gabriel García Márquez: A magical realist epic that chronicles the lives of the Buendía family over several generations in the mythical town of Macondo.
Moby-Dick by Herman Melville: A complex and philosophical novel that follows the obsessive quest of Captain Ahab to hunt down the elusive white whale, Moby-Dick.
Wuthering Heights by Emily Brontë: A dark and passionate tale of love, betrayal, and revenge set against the backdrop of the Yorkshire moors.
Catch-22 by Joseph Heller: A satirical novel that explores the absurdity and paradoxes of war, bureaucracy, and the human condition.
Brave New World by Aldous Huxley: A dystopian novel that examines the consequences of technological advancements, social conditioning, and the pursuit of happiness at the expense of individual freedom and identity.
Anna Karenina by Leo Tolstoy: A sweeping and tragic story of love, marriage, family, and societal expectations in 19th-century Russia.
These classic novels offer various themes, genres, and styles, appealing to multiple tastes and interests. They have stood the test of time and continue to captivate and challenge adult readers.
Short classic books
Short classic books are an excellent way to explore timeless literature without committing to a lengthy read. Here are ten classic short books that you might enjoy:
Animal Farm by George Orwell (1945): A satirical allegory about the dangers of totalitarianism, told through the story of a group of farm animals.
The Strange Case of Dr. Jekyll and Mr. Hyde by Robert Louis Stevenson (1886): A gothic novella that explores the duality of human nature and the struggle between good and evil.
The Old Man and the Sea by Ernest Hemingway (1952): A story of an aging fisherman's battle with a giant marlin, exploring themes of perseverance and resilience.
The Metamorphosis by Franz Kafka (1915): A surreal novella about a salesman who wakes up one day to transform into a monstrous insect.
The Great Gatsby by F. Scott Fitzgerald (1925): A tragic story of love, ambition, and disillusionment set in the Jazz Age.
Heart of Darkness by Joseph Conrad (1899): A novella that delves into the darkness of human nature through the story of a man's journey into the African Congo.
The Awakening by Kate Chopin (1899): A groundbreaking feminist novel about a woman's quest for personal freedom and self-discovery in late 19th-century America.
Of Mice and Men by John Steinbeck (1937): A powerful tale of friendship and the human struggle for survival during the Great Depression.
A Christmas Carol by Charles Dickens (1843): A timeless story of redemption and the transformative power of compassion and generosity.
Candide by Voltaire (1759): A satirical adventure that critiques the naïve optimism of the time, exploring themes of suffering, injustice, and the absurdity of life.
These classic short books offer diverse themes and genres, providing a rich and rewarding reading experience without the commitment of a lengthy novel.
Which classic books should you read first?
There are many classic books to choose from, and the ones you should read first depend on your interests and literary preferences. Here's a list of ten classic books from different genres and time periods:
Pride and Prejudice by Jane Austen (1813) – Romance, Social Satire.
To Kill a Mockingbird by Harper Lee (1960) – Coming-of-Age, Social Issues.
1984 by George Orwell (1949) – Dystopian, Political Fiction.
The Catcher in the Rye by J.D. Salinger (1951) – Coming-of-Age, Psychological Fiction.
Moby-Dick by Herman Melville (1851) – Adventure, Symbolism, Nautical Fiction.
Crime and Punishment by Fyodor Dostoevsky (1866) – Psychological Fiction, Philosophical Fiction.
Great Expectations by Charles Dickens (1861) – Bildungsroman, Social Commentary.
The Great Gatsby by F. Scott Fitzgerald (1925) – Modernism, Social Critique.
One Hundred Years of Solitude by Gabriel García Márquez (1967) – Magical Realism, Family Saga.
The Odyssey by Homer (circa 8th century BC) – Epic Poetry, Mythology.
Remember that the concept of "classic" is subjective and varies across cultures and time periods. Exploring literature from various regions, cultures, and backgrounds is essential to get a more comprehensive understanding of the world's literary history.
Is it better to read classics?
Reading classics can be a rewarding experience, but it's essential to have a balanced reading diet. Here are some advantages and disadvantages of reading classics:
Advantages of reading classics:
Classics have shaped the literary world and often provide insight into the social, political, and cultural contexts of the time they were written.
Classic literature features unique writing styles, complex plots, and a depth of language that can enrich your vocabulary and understanding of literature.
Many classics explore universal themes like love, loss, revenge, and ambition, which resonate with readers today.
Classics tackle complex ideas and situations, encouraging readers to think critically and develop analytical skills.
Disadvantages of reading classics:
Some classics might be challenging to read due to archaic language, complex sentence structures, or unfamiliar cultural references.
Reading only classics might limit your exposure to contemporary voices, diverse experiences, and modern issues.
If you only read classics, you might miss out on the full breadth of genres and themes available in contemporary literature.
A balanced reading list will allow you to appreciate the richness of literature across time periods and cultures.
At what age should you start reading classics?
There is no specific age at which you should start reading classics. It depends on your reading ability, interests, and maturity level. However, introducing children and young adults to age-appropriate classics can be a great way to foster a love for literature and develop critical thinking skills.
Here are some suggestions for age-appropriate classics:
Ages 8-12:
The Secret Garden by Frances Hodgson Burnett.
Anne of Green Gables by L.M. Montgomery.
Little Women by Louisa May Alcott.
Treasure Island by Robert Louis Stevenson.
The Chronicles of Narnia by C.S. Lewis.
Ages 12-15:
To Kill a Mockingbird by Harper Lee.
The Adventures of Huckleberry Finn by Mark Twain.
The Hobbit by J.R.R. Tolkien.
Lord of the Flies by William Golding.
Animal Farm by George Orwell.
Ages 15-18:
Pride and Prejudice by Jane Austen.
The Catcher in the Rye by J.D. Salinger.
The Great Gatsby by F. Scott Fitzgerald.
1984 by George Orwell.
Brave New World by Aldous Huxley.
---
These are a few examples, and each reader's preferences and maturity level should be considered when choosing age-appropriate classics. As you grow older and your reading skills and interests develop, you can explore more complex and challenging classics. Remember, the most important thing is enjoying reading and engaging meaningfully with the material.
Read more similar:
Classic Politics Books Like Atlas Shrugged
Classics Adventure Books Like Treasure Island
Classic Fantasy Books Like Alice In Wonderland
10 Tips To Read Classic Properly