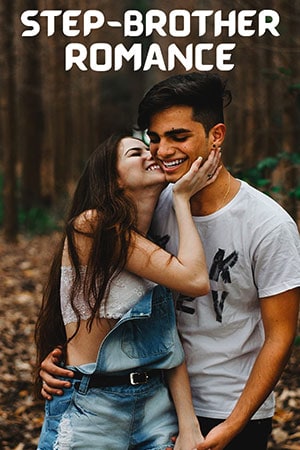 Stepbrother relationship or romance is still taboo and forbidden in our society. But nobody can control it because it happens with attraction or emotion. Most of the time, this relationship is created unwillingly. Also, it has many negative effects on our minds, like guilt and abuse.
Overall, this type of relation/love increases daily and overcomes its difficulty. Many societies and cultures accept it, and some countries give it validity. Do you have a love or crush on your stepbrother? Do you want to read some romance story about it? Then you are in the way.
10 Step Brother Romance Books (Step-Sibling Romance)
Though stepbrother romance is not popular in the romance genre, it has huge fans/readers. Many of us step-family where step-sister or siblings live together and some forbidden attraction forms. We can not deny it because our hormonal flow is not our control.
So having a relationship or reading stepbrother/sister romance is not illegal, and it's ok. Now I will review 10 stepbrother romance books for you. Let's go!
1. Ruthless Empire (Royal Elite)
This is the sixth book in the Royal Elite series. It fits into the whole brother trope. Cole is our typical alpha hero that you'll love. Then we have Silver is so frustrating, and Cole is her stepbrother. But throughout the book, you do see her progress. Silver is groomed by her mother to be a woman, not have any feelings, and not show emotion throughout the other five books. So her mother is completely uncommon and rude.
Most of the time, you will feel, what is wrong with this girl? But then you get to see details in this book from her point of view. Silver is trapped in one of their lives. Cole is the only one that can see behind that whole act, and they have a childhood history. They had some feelings when they were youths. So it starts from there. Cole's dad and Silver's mom end up getting married. So then Cole and Silver become siblings. Silver starts to hate that situation. Also, she starts regretting her choices because she falls in love with her stepbrother.
Author: Rina Kent
Average Customer Review: (4.6 out of 5, on Amazon)
Category: Sports & Crime Action Fiction
Number Of Pages: 386
Available: Audiobook | Paperback | Hardcover | Kindle
---
2. The Lies We Tell (The Four)
It is a series that leaves you on a cliffhanger, making you want to read the other one. Caiden's got a tough demeanor, but he has a soft place in him with those squishy, like a teddy bear, which we always love. Our heroine, Winter, likes that. Also, Caiden is extremely loyal to his brother's brothers because he has a friendship with them.
Winter has been through a tough life. She stands her ground, whether she feels strong or not. Winter's dad ends up passing away, and she has to go live with her mom, who was never a mother to her. She's married to another man who knew the man doesn't love this mother. The stepdad has two sons, and one of them is Caiden. They start to have a little friendship, but Caiden and Winter have strong feelings. We all love sexual chemistry and tension, and it's so fun.
Author: Becca Steele
Average Customer Review: (4.4 out of 5, on Amazon)
Category: Romantic Suspense
Number Of Pages: 271
Available: Audiobook | Paperback | Kindle
---
3. Paper Princess (The Royals)
The heroine is Ella, and her mom passes away. So she is left to defend herself until Callum comes along. He acts as her guardian and forces her to come with him. Then Ella accepts his proposal but wants to pay for it. Ella is a very strong heroine. She is got a tough demeanor, and I love her. Five brothers live in Callum's house, and they are great. One of them is Reed, who is our hero.
It's an enemy to lovers. Also, the forbidden because of the brothers. They are in forced proximity instead of stepbrothers/step siblings because Callum takes them on. But they're not step-siblings. But still, it fits into this category. This book is filled with drama, angst, passion, hatred, drama, bloodshed, which is standalone.
Author: Erin Watt
Average Customer Review: (4.4 out of 5, on Amazon)
Category: Literature & Fiction
Number Of Pages: 370
Available: Audiobook | Paperback | Kindle | Audio CD
---
4. Fallen Too Far (Rosemary Beach)
This is a trilogy about the same couple. Blaire's mom died of cancer. So she goes to live with her dad, and he's remarried. She's never met her stepmom because she's spent the last couple of years taking care of her sick mother. Then she gets her dad's house, and he's not even in the country, and her stepbrother (Rush) is there.
Rush is mean to her at the beginning because he's instantly attracted to her and doesn't want to be. So they end up having a romance, and it's forbidden romance. Both act like normal siblings and hide their feelings in front of others. In society, it is very taboo and hard to accept. So they have to struggle for it.
Author: Abbi Glines
Average Customer Review: (4.5 out of 5, on Amazon)
Category: Contemporary Romance
Number Of Pages: 300
Available: Audiobook | Paperback | Kindle
---
5. Stepbrother Dearest
Greta Hansen has a good relationship with her stepdad, but she's never met her stepbrother (Elec) before. Their relationship is not that good at all. Also, Elec is very much a bad boy and a rebel. They have a brief fling at the end of his stay there. Then they're separated, and they come back together for his father's funeral.
Elec's dating somebody else. She's never quite gotten over him, and there isn't any cheating. They do not end up having a second chance at loving each other, and it was good doing such a terrible job. There are some abusive seen and erotic moments, so check it out if you have no problem with these issues.
Author: Penelope Ward
Average Customer Review: (4.6 out of 5, on Amazon)
Category: High School Romance
Number Of Pages: 230
Available: Audiobook | Paperback | Kindle
---
6. Resurrection (The Sainthood – Boys of Lowell High)
This is reverse harem bully romance, and you do get a stepbrother, even though he's not a stepbrother at the very beginning of the book. It is a dark romance, and the first two books are wildly addictive. If you have a bunch of triggers, maybe check on this one before you read it. Our heroine, Harlow Westbrook, was kidnapped as a child. She was not sexually abused, but she was threatened with it, amongst other things.
So a lot is going on in this one. The villain becomes her stepdad, and it's wild and crazy. It does take place in high school, is very much with gang members, and has a lot of violence. Also, her father dies initially, and there are many triggers. If you need triggers, make sure that you don't go into this blind. It will keep you on the edge of your seat and involve a stepbrother romance.
Author: Siobhan Davis
Average Customer Review: (4.6 out of 5, on Amazon)
Category: Contemporary Reverse Harem
Number Of Pages: 301
Available: Audiobook | Paperback | Kindle
---
7. Picture Perfect
It is a step-sibling romance. Our hero (Kurt) and heroine (Melanie) are very attracted. They have the hots for each other. Their sexual tension is off the charts, and they want to be together, but they can't be. So they agree to forget their forbidden thoughts and want to be together. But they try to avoid each other.
Kurt decides to be a model in a modeling campaign, and Melanie is a part of it. So they get paired up together, and they have to recreate the Kama Sutra. They're doing it in very sexual positions, and they're completely naked. They have to work together and deal with how they feel about each other for their job.
Author: Evangeline Anderson
Average Customer Review: (3.8 out of 5, on Amazon)
Category: Erotic Literature & Fiction
Number Of Pages: 103
Available: Audiobook | Kindle
---
8. Men of the House
This is a montage and gay romance. The stepfather gets married to a woman, then that woman dies. He has a stepson, and he gets married to a new woman. He is very attracted to his stepdaughter. But his new stepdaughter and his stepson are also attracted to a stepdaughter. None of these people have blood relations.
Also, it is their story of them all getting together and all being in a relationship or having a sexual relationship. Either way, it sounds taboo. Karen and Colt can not hold their feelings, and they end up in a sexual relationship.
Author: Abby Angel
Average Customer Review: (3.9 out of 5, on Amazon)
Category: Erotica Fiction
Number Of Pages: 196
Available: Kindle
---
9. Anti-Stepbrother
Our heroine's name is Summer, who is at an exciting point in her life. She doesn't know who she is and what she wants. Her father is recently widowed, and he's now remarried quite soon after her mother's death to her mother's nurse. With that marriage came a stepbrother, Caden. But it wasn't any stepbrother. It had to be the most popular, good-looking guy at her high school. There's an attraction there. So, they hooked up and developed feelings.
Summer decides one day that she will go off to his college to visit him, to see if something more can come about it because it's giving her mixed signals. They're making out with another girl, a girl who happens to have a boyfriend who happens to be the brother of delicious, hot, arrogant alpha Caden. So Summers hopes of her and Kevin getting together get scattered into the wind. Once she got to college, she hoped they could develop a relationship because she and Kevin were away from his mother's prying eyes.
Summer gets to know Caden, and she begins to see past all of the arrogance. She doesn't quite know what it is yet, because he's not all that willing to let her know what it is. Caden also tells her that it's not his story or secret to share. So that drives her even further to want to stick with him and try to get him to feel comfortable enough. Summer is very much a nurturer, and she wants to take Caden's pain away.
Author: Tijan
Average Customer Review: (4.6 out of 5, on Amazon)
Category: Romantic Comedy
Number Of Pages: 286
Available: Audiobook | Paperback | Hardcover | Kindle | Audio CD
---
10. Never Too Far (Rosemary Beach)
This is the second book in the Rosemary Beach series. In this book, Blaire is pregnant. Kane tries hard to do what he thinks Blaire needs, but it's not his place. He offers to marry her, but the thing is, he did cheat on her in the past. So Kane tries to be this good guy, and he goes down to Rosemary to confront Rush (step-brother) and not necessarily tell him that Blaire is pregnant.
That is what gets Blaire to go down to Rosemary to come back to Summit, and under quite a few circumstances, she ends up staying. She plans on staying for four months to get enough money to where she'll tell Rush about the baby. Rush's belief system was changing, but it was hard for him to work through it too. So you will get the proper suspense and secret pregnancy trope that makes you completely emotional.
Author: Abbi Glines
Average Customer Review: (4.5 out of 5, on Amazon)
Category: Women's New Adult & College Fiction
Number Of Pages: 273
Available: Audiobook | Paperback | Kindle
---
Read More Similar Books: 10 Single Parent Romance Books