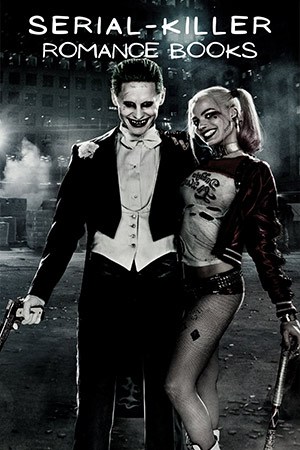 A serial killer is an individual who kills at least three individuals, and there is a cooling-off period in between each murder. Usually, you have at least 30 days from the beginning to the end. That depends upon how long a serial killer operates, and you could be talking about double digits. So serial killers operate for long periods. They will often fly under the radar because they are incredibly good at impression management.
Also, serial killers have the same emotions as normal people but react differently and have different motives or ideals. As normal human beings, they feel romance and fall in love, which often seems possessive. So, romance books about serial killers represent dark, crime, suspense, thrill, mystery, action, etc. There are many disturbance elements and violence. Stay with me if you are okay with these scenarios and want to read about them.
5 Serial Killer Romance Books (Psychopath Love Story)
I freaking love serial killer romances. They're one of my favorite things to read about romance. As a psychological thrill lover, I always choose books and movies with serial killer/assassin tropes. This makes the story more dynamic, twisted, and exciting on the last page. So, I want to discuss my top 5 serial killer romance novels for you. Let's go!
| Name | Key Focus | Review (Goodreads) |
| --- | --- | --- |
| The Risk | A serial killer mistakenly falls in love with a detective. | 4.2 |
| Cruel Black Hearts | A psycho kidnaps a writer, and they form chemistry. | 4.1 |
| Dead Butterflies | A killer somehow stays with a girl, and they build a romance. | 4.3 |
| There Are No Saints | An artist serial killer kidnaps a girl and develops feelings. | 3.8 |
| You | A bookkeeper is trying to protect his love at any cost, including murder. | 3.9 |
Serial Killer Romance Books List
1. The Risk (Mindf*ck)
The Risk is a dark psychological thriller romance with a serial killer girl (Lana) and a detective/FBI profiler. So we've already got our Criminal Minds vibes right there. Lana's falling in love with the detective who is investigating her cases. This book is getting a lot of attention on BookTube, and many people are reading it outside of the romance community, which is fantastic. I love seeing people out of our community read books that we love, especially this one.
So, we have our heroine, a serial killer, and our hero, a detective, and they work together to have some situation. They are going to fall in love, and we see a corrupt hero by the end of this. The story is told through alternating points of view from Lana's and from Logan's points of view, which I enjoyed because we get to see inside Lana's head. We see Logan not only falling in love with this woman but also there's a connection there that he can't explain.
The storyline is unique, with many twists and turns. I missed the hype I found in the book's first half. However, the books of the series are technically a serial that you must read to get the overarching plot. Overall, you'll fall in love and down the rabbit hole of serial killers. Don't miss it!
Author: S.T. Abby
Tropes: Thriller, Dark, Revenge
Number Of Pages: 132
Available: Kindle
2. Cruel Black Hearts
Cruel Black Hearts is a BDSM menage with the crime. The story is about a reporter (Stella). She is a professional editorial writer. Also, she writes in her time and focuses on serial killers. One day Stella writes about a serial killer duo, and they take her captive. So it is a captor-captive serial killer romance that I heard many good things about.
The author is going to push a lot of boundaries and push a lot of people out of their comfort zone. So we get to see multiple points of view from characters which make the story cliffhanger. The trigger warning at the bottom says it's a dark, psychologically twisted tale involving violence, stalking, and other topics that might be triggering. If you are a Kindle Unlimited user, you'll find the book on Kindle and read only about 250 pages.
Author: Candace Wondrak
Tropes: Reverse Harem, Horror, Mystery
Number Of Pages: 250
Available: Paperback | Kindle
3. Dead Butterflies
Dead Butterflies is a serial killer, dark romance. This one is available on a script and not in Kindle Unlimited. We follow two characters who cannot stay away from one another. There may be a religious element here potentially. Our heroine (Kinley) is a little more religious than our hero (Derek).
Derek is vile, unforgivable, and very vengeful. I'm assuming he's going to be the serial killer. Then Kinley cannot walk away from him and is essentially going to stay here. They are going to be together and fall in love. The story is fast-paced and steamy. Also, there were some funny moments in the critical situations, which were surprising but pleasing. I recommend it if you taste betrayal and dark-twisted romance.
Author: Lacee Hightower
Tropes: Arc, Steamy
Number Of Pages: 291
Available: Kindle
4. There Are No Saints (Sinners Duet)
There Are No Saints is the first book in the Sinners Duet series, another mystery BDSM romance. There are two of these, which are not in any of the subscription services except Kindle Unlimited. So we have two books on Kindle Unlimited. Our two main characters are both serial killers, and they're both rival artists. One of them ends up taking a girl hostage.
Then they're going to use her for their art. So the girl is supposed to be one of their victims. One of them gets highly obsessed with her and does not want to let her go. So the book contains highly dark themes that might be triggering.
Also, it is a steamy serial killer romance that will take you on a journey through the twisted mind of an artist on the brink of madness. That's what it says at the bottom of it. Other than that, I can't tell you anything else because there's nothing else in the description. The hardcover has some negative issues, but the paperback is excellent for font size, color, cover, binding, and paper quality.
Author: Sophie Lark
Tropes: Suspense, Fun, Possessive-hero
Number Of Pages: 378
Available: Paperback | Kindle
5. You
You is a mystery thriller psychopath romance which has a TV series. I enjoyed the TV series and read the book. We follow a narrator, Joe, who works at a bookstore. One day a beautiful woman comes in, and they have a great conversation. He feels a connection with her.
When she leaves the bookstore, he decides to do anything it takes to be in a relationship with her. The way he goes about this is to start stalking her so that he can learn everything he can about her and insert himself into her life. Also, he molds his personality to fit what he thinks would be her version of a perfect boyfriend.
So naturally, it leads to some very dark and disturbing places. While reading, you are in Joe's head and wondering if he will ever get close enough to her or ever have a relationship with this girl. Caroline Kepnes's writing style is how good of a job she does at making you feel incredibly uncomfortable and uneasy throughout the entire book.
The first is the most obvious: Joe is stalking the girl and invading her privacy. So you are hearing his deepest, darkest thoughts, obsessions, and the fact that it is written in this second-person narration style, where you are seeing everything from his point of view.
I wouldn't say the book completely blew me away, but it's that fun, addictive, mystery thriller type read where you feel like you can't put it down. It's always leaving off on a cliffhanger, so you have to turn the page to find out what's going to happen next. The story, plot, dialogue, characters, and world-building are fantastic. So you can enjoy the Audiobook as well as the Tv series.
Author: Caroline Kepnes
Narrator: Santino Fontana
Publisher: Simon & Schuster Audio
Tropes: Suspense, Crime, Psychological Thrillers
Number Of Pages: 422
Available: Audiobook | Paperback | Hardcover | Kindle
Those are all my best serial killer romances on my TBR. If you have read any of these, let me know in the comments, and I will chat with you in the next one.
Read more similar books:
10 Suspense Books About Psychopaths