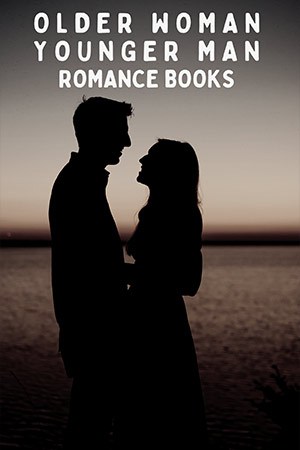 Flaws and confidence make younger men fall in love with older women. The older woman has more experience and maturity. A combination of mutual giving and growth makes a happy couple or relationship. Books with older woman younger man romance show ambitious man/hero who is looking for opportunity.
An older woman has a greater perspective and real wisdom. That is an opportunity to be a supportive partner. A younger man falls in love with an older woman for her sense of certainty and confidence. If you want to read this reverse age-gap romance, stay with me until last.
7 Older Woman Younger Man Romance Books (Age-gap Love)
Older woman and younger man romance are one of my favorite age-gap tropes. Some people call this the reverse age gap. It's because we usually see older men and younger women, but that term can be slightly offensive to some people. There's no reverse because it's not expected that a man is older than a woman. So there are better terms to use. I want to share my 7 older woman younger man romance books with you. Let's begin!
| Name | Key Focus | Review (Goodreads) |
| --- | --- | --- |
| Joss and The Countess | A woman is struggling with her life and falls for her bodyguard, who is so hot. | 4.1 |
| The Duke Who Didn't | An interracial age-gap love story with Asian culture. | 3.9 |
| Thief of Shadows | A widow falls in love with a mystery man like batman. | 4.0 |
| Burn for Me | A young boy struggles with his life and falls in love with his professor, who is responsible for his situation. | 3.9 |
| On the Island | A teacher and student lost in an Islands and discover their love. | 4.1 |
| One Summer | A historical age-gap romance with mystery and suspense. | 3.9 |
| That Kind of Guy | A man forms a forbidden relationship with his best friend's mom. | 3.9 |
Older Woman Younger Man Romance Books
1. Joss and The Countess (The Seducers)
Joss and The Countess is the second book in the Seducers series, historical erotica. You can read the series out of order, but all these books are about characters who used to be in sex work and don't do it anymore. They either got different jobs, or they owned said sex work. So this one is about widowed Countess Alicia Selwyn. She has had a tough life. She's independent, takes whatever lovers she pleases, and lives the life she wants.
Alicia has a servant/bodyguard named Joss, who is about ten years younger than her. He used to be a sex worker but got tired because it felt meaningless. Also, he didn't enjoy the work anymore. So he becomes the bodyguard for this countess and takes her to her different liaisons. Her most recent one was her breaking up with her lover because it was not going well.
They circle each other, and they eventually have an affair. Then some interesting things about Alicia's past come out. I loved the couple. Joss is a very stoic hero who has dom vibes. Alicia is only a couple of years older, and it's a historical rom-com. The writing style, plot, dialogue, characters, and storyline all are good enough to get the proper older woman and younger man love vibes.
Author: S.M. LaViolette
Publisher: Crooked Sixpence Press
Tropes: Victorian Historical, Grumpy-hero
Number Of Pages: 468
Available: Paperback | Kindle
2. The Duke Who Didn't (Wedgeford Trials)
The Duke Who Didn't is another historical age-gap romance with an older heroine and a younger hero. They are of Asian descent. Our hero (Jeremy) is half-Chinese, and he becomes a duke. So he's very well known as being half Chinese duke. But there's a small community where our heroine Chloe lives with her father, who is a cook, and he's invented some very delicious sauce. So instead of profiting from his invention, they've been living paycheck to paycheck, as it were.
There is a yearly festival that happens, which is where Jeremy and Chloe first met, and they would see each other every year for many years. Then all of a sudden, Jeremy stopped coming. Chloe was heartbroken because she liked him. He disappeared and hadn't returned. Three years later, Jeremy's back, and he's ready to make a play for Chloe and will have to win her back.
So this book was adorable, and there's no third-act breakup in the story. It is a slow burn and pretty relatively clean. The hero is obsessed with the heroine. But he doesn't know how to convince her they would be good together. I recommend it if you like a small town with a second-chance romance. Avoid the hardcover because it has some negative issues, but the paperback is good enough for font size, color, cover, binding, and paper quality.
Author: Courtney Milan
Narrator: Mary Jane Wells
Publisher: Courtney Milan
Tropes: Second-chance, Grumpy-sunshine, Fun, Friends-to-love, Multicultural
Number Of Pages: 352
Available: Audiobook | Paperback | Kindle
3. Thief of Shadows (Maiden Lane)
Thief of Shadows is Book four in the Maiden Lane series. The story is about Winter Makepeace, who is living a double life. He is the headmaster of a home for Foundling Children. He's called the ghost of St Giles because he's a protector and a judge fugitive. Somehow he ends up getting hurt at the end of the last book. So we have our heroine, Lady Isabel, back in Hall, a widow.
Isabel is seven years older than him. She comes across the ghost of St Giles lying in the street. So she takes him home to take care of him. He can keep his mask on and gets away from her. Then Winter is in a little bit of a pickle with his job as the head of the foundling home because there's a charity supporting the home, and they think he's not a great representative. So he needs to polish himself up and be a little more approachable and a little more charismatic. Isabel gets assigned to help him. She's very attracted to him but doesn't want to get involved.
So Winter chose to go to St Giles and to take care of the children. Also, he's a virgin, which I love, male virgins. When he starts to fall for Isabel, it's fantastic. Isabel has all her reasons why they won't work. I recommend reading the book before this one or reading all the main lines. If you love the batman vibe with an older helping woman and a younger heroic man, you must try it.
Author: Elizabeth Hoyt
Narrator: Ashford McNab
Publisher: Forever
Tropes: Virgin-hero, Arc
Number Of Pages: 377
Available: Audiobook | Paperback | Hardcover | Kindle | Mass Market Paperback
4. Burn for Me
Burn for Me is a professor and a college student romance where the professor is a woman and the student is a boy. Cullen's 18 years old, a very hot-looking student, has been living with his uncle for many years because his father went to prison. They were responsible for some people being kidnapped and trafficked. He got caught and went to jail. Then his mother killed herself from the shame of all of it. So he's been an orphan who has had to live with his uncle and wasn't treated very well living with his uncle. Then his new professor of journalism at college is the woman who's responsible for his father getting caught and going to prison.
When Cullen discovers this, he decides to take out his anger, frustrations, and feelings on this woman. It's an exciting scenario because he is bullying her and trying to control her with blackmail. But it's also that the situation they're in couldn't happen. She could stop him from manipulating her this way. But she feels guilty for the life that he's had because of what she did, even though she would still send his dad to prison if she had to do it again because he deserved it. So I appreciated this one. It's very smutty, taboo in many ways, and dubious consent situations.
Author: Sara Cate
Narrator: Allie Martina, Gideon Frost
Tropes: BDSM, Dark, Arc, Suspense-thriller, Forbidden
Number Of Pages: 294
Available: Audiobook | Paperback | Kindle | Audio CD
5. On the Island
On the Island is a romantic and adventure fiction about Anna Emerson. She's a 30-year-old teacher who has become a private tutor. So she's tutoring T.J., who's 16 years old, and he has cancer. His family is going on vacation for the summer, and they've hired this private tutor to travel with and help him catch up and help him feel more normal again. The thing is, they were stranded on the Maldives Islands. There are 1200 of these islands, and they crash there, and it's the two of them.
So it's such an exciting story, and I haven't heard anyone talk about it in a long time. Also, this one is my favorite survival age gaps story with a forbidden situation because he starts as 16, and she's 30. The lady teacher is 14 years older than the boy, and it's their romance.
This book takes place over a very long time, and they both talk through what's happening between them and what's happening. The story is highly emotional, and they go through their fight for survival together. The writing style and the characters are fantastic, but the only negative side of the book is the lack of chemistry because of the vast age gap. Overall, you can enjoy it!
Author: Tracey Garvis Graves
Narrator: Heidi Baker
Tropes: Survival, Dark, Friendship
Number Of Pages: 328
Available: Audiobook | Paperback | Hardcover | Kindle
6. One Summer
One Summer is romantic suspense, almost 29 years old, that came out in 1993. So it's not historical, but there are a lot of things that date this book. When it's a contemporary book that came out in the nineties, it's very dated. We follow a former teacher-student love story. The student, Johnny, went to prison for the rape and murder of a girl. Now he's out and his teacher, Rachel, offers him a job in her family hardware store. There's a lot of prejudice against him.
Then there's a bit of a mystery because the killer is back, and everyone will point fingers at him. Rachel has to decide if she wants to go to bat for him or what's going on. So I did love this book. Again, it is very dated, but I liked that many prejudicial things are said in this book for it coming out in the nineties. But our heroine challenges many things being said, even in a book that came out in the nineties. I appreciated that and recommended it to every BookTuber and BookTok community.
Author: Karen Robards
Publisher: Blackstone Audio, Inc.
Tropes: Suspense, Mystery, Angsty, Small-town, Second-chance, Fun
Number Of Pages: 346
Available: Audiobook | Paperback | Hardcover | Kindle | Mass Market Paperback
7. That Kind of Guy (Ravenswood)
That Kind of Guy is an LGBTQ interracial romance where we see a love story between an older woman and a younger man also other. The book is about a woman who's a writer, and she asks her guy friend to fake date her for a writer's conference. He needs to go to where she will see her ex-husband. There is some disability rep in this one as well. Author Talia Hibbert does a great job with that.
The hero is back in town because his best friend is getting married. His best friend's mom is now single. She is a sexy lady in her fifties, and he always had a crush on her when he was young. So, he's staying in her house for the wedding and everything. Things get a little bit spicy. Our hero is also a bit submissive. Some sex scenes were delicious. I have a little objection to the romance because I found the lack of chemistry between the characters. Otherwise, I enjoyed every moment of this book and recommended it to my friends.
Author: Talia Hibbert
Narrator: Rupert Channing
Publisher: Audible Studios
Tropes: Interracial, Fake-dating, Friends-to-lovers, Arc
Number Of Pages: 274
Available: Audiobook | Paperback | Kindle | Audio CD
Those are my best older woman younger man romance books recommendations. Let me know what your favorites are, and make sure you check out the other article.
Read more similar books:
15 Exciting Age Gap Romance Books