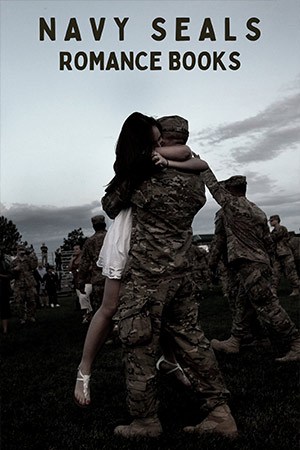 Navy SEALs keep themselves out of the limelight because of their mission. It's for the security of their teammates and families. Books about Navy SEAL romance show the love story or long-distance relationship and represent action, thrill, suspense, and how SEALs sacrifice their romantic moments for the country's safety. If you are eagerly waiting for these types of books, keep scrolling.
5 Navy SEAL Romance Books (Military Love Story)
Relation with a Navy SEAL is challenging because you can not hold your partner as a woman. As a SEAL, he must follow the rules and dedicate himself to the mission. Whenever I read Navy romance, I try to realize how the heroine struggle and controls herself to overcome the fear of losses and spend life as a single mother. So, I do respect their sacrifice and feelings. I will discuss my top 5 Navy SEAL romance books for you and the Book Community. Let's go!
| Name | Key Focus | Review (Goodreads) |
| --- | --- | --- |
| The Admiral's Bride | A Navy SEAL and a scientist are on a secret mission and fall in love with each other. | 3.9 |
| Worth the Fall | A military and a pregnant woman love story. | 4.1 |
| The Darkest Hour | A SEAL is on a dangerous mission to save her wife. | 4.1 |
| American Sniper | An inspirational life story of Navy SEAL Chris Kyle. | 4.0 |
| Fall Out | A Navy SEAL and his best friend's sister make a romantic chemistry. | 3.7 |
Navy SEAL Romance Books List
1. The Admiral's Bride (Tall, Dark & Dangerous)
The Admiral's Bride is book seven in the series she's written. The story takes place in the Vietnam War. There are a dozen soldiers that have been wounded. Also, there were so many of them that there weren't enough healthy people to pull them out of this war-torn area. Then you have a guy who, at the time, is an admiral Navy SEAL. His name is Jack. It came up with the idea to save these wounded US soldiers and return them to the United States. That's the beginning of the book.
I was expecting something action-packed, but this is very much a Navy SEAL romance novel. But it'll change your outlook on the book simply because you get introduced to this fantastic woman, Zoe Lang. She's a doctor and an incredible specialist in bioweapons. She's walking into a meeting, going far underground through the tunnels, into a lead-lined room where she meets all the military men and faces a man she idolizes, Admiral Jack Robinson. He's the guy who saved the people in Vietnam. Zoe's father was one of those people that he rescued. Jack is asking for her help. Six canisters of a nerve agent have been stolen.
Zoe and Jack will have to go undercover in this cult to try and retrieve all of the canisters of nerve gas. So when you read that, you expect some incredible fight and undercover scenes. When it begins to unfold, Zoe is working as a waitress, and Jack meets her where she's waitressing and marries her. That will be how he gets her into this compound because it works: they don't bring new women in unless they're married to a man.
They bring new men in, which is how Jack got him because he had previous relationships with one of the men in the cult. Anyways, they end up getting in there. Then you'll learn the story of them trying to get the canisters and learning what they can, obtaining it, and coming back.
This will be where my expectations and the book's storyline split because when they start going undercover, they talk to each other, ensuring everyone knows their roles. So it's a romance story about the two characters, not their capabilities, intelligence, or mission. I was expecting to see it incredible. Instead, I got a military romance story.
Author: Suzanne Brockmann
Publisher: HQN Books (Reissue edition)
Tropes: Suspense, Harlequin, Fun, Second-marriage, Fake-relationship, Alpha-hero, Psycho-villain
Number Of Pages: 304
Available: Audiobook | Hardcover | Kindle | Mass Market Paperback
2. Worth the Fall (The McKinney Brothers)
Worth the Fall is a dramatic military romance. On the beach, you'll meet our first characters (Abby and Matt). Abby's there with her four children. Plus, she's pregnant. Her husband passed away six months before. Then you have Matt, a Navy SEAL, and he's on vacation with his cousin. They happen to meet on the beach. Jack, her son, throws a football and smacks Matt. That's how the whole thing gets started.
Then you're going to follow their vacation. So for a week, they spend time together. It surprises Matt in many ways because he doesn't realize that her husband passed away until the second day. So, he knows that Jack's father passed away, but it takes him a little to ensure that there's no man in her life. Then it takes a little while for her to get on board with the idea of another man in her life. Her marriage wasn't the best. In a lot of ways, she feels like she has her kids.
So after their week-long vacation, they live in different places. They have to decide whether or not to have a long-distance relationship. As a Navy SEAL, he's going to be gone for a little bit of time. So, he's not going to be able to communicate. Then there is danger! At the same time, Abby situation, she has four kids. That's a lot to put on your plate. You don't want your kids getting close to somebody if that person's not going to be in their lives for a long time.
There are many ups and downs, and incredible things happen in the end. The storyline, writing style, plot, world-building, and narration are excellent, but the heroine annoys me. If you love a pregnant heroine with a military hero, you must read it.
Author: Claudia Connor
Publisher: Loveswept
Tropes: Women's Fiction, Instalove, Second-chance
Number Of Pages: 297
Available: Audiobook | Kindle | MP3 CD
3. The Darkest Hour (KGI)
The Darkest Hour is erotic suspense with a Navy SEAL hero. It's the first book in the KGI series and completely standalone. We follow ex-Navy SEAL Ethan Kelly, who loves his wife unconditionally. Unfortunately, his wife gets kidnapped! So, he takes all the risks to save his wife from any condition and harsh situation. We get to see the action scenes on every page of the book, which holds my breath several times.
For mission and another purpose, Ethan sees himself as a failed husband. So, he wants a second chance to get back his wife and restart a new love life. Will he rescue his wife? Will he survive in the danger situations? You must read this ex-Navy romance story to discover the answers and keep yourself excited. Author Maya Bank is excellent and reputed for suspenseful romance and climax.
The plot, storyline, action, narration, dialogues, and characters are convincing enough. Also, I listened to the audiobook, which was exciting for me. The only negative side of the book is the lack of chemistry because the story is very much focused on the action. Overall, you can enjoy it.
Author: Maya Banks
Publisher: Berkley
Tropes: Action-packed, Amnesia, Suspense, Adventure
Number Of Pages: 306
Available: Audiobook | Paperback | Mass Market Paperback | Kindle | Audio CD
4. American Sniper: The Autobiography of the Most Lethal Sniper in U.S. Military History
American Sniper is written about Navy SEAL Chris Kyle, the most lethal sniper in U.S. military history. It's a New York Times best-seller list and one of our recommended books. This book is easy to read, very well written, has a large font, and talks about his growing up on a farm and life as a cowboy. He was rolled back in buds, talks about some good insights into Navy SEAL training, talks about the sniper training, and then him going on to Iraq and Afghanistan.
Chris Kyle, an incredibly focused man, served his country multiple times in harm's way and is a true American patriot. He also talks about defeating evil. It's hard for us to fathom how many evil people there are in the world and how fortunate we are to have men like Chris that will step up and step into harm's way to protect innocent people. The relationship or his love life is tiny, but I highly recommend it if you truly love the Navy Seal biography.
Author: Chris Kyle
Publisher: William Morrow (1st edition)
Tropes: War, History, Memoir
Number Of Pages: 400
Item Weight: 1.27 pounds
Dimensions: 6 x 1.27 x 9 inches
Available: Audiobook | Paperback | Hardcover | Kindle | Mass Market Paperback
5. Fall Out (SEALs Undone)
Fall Out is the first war fiction and Navy romance book in the SEALs Undone series. There are ten books in the series, and it's complete Seals romance series. You can read the whole thing. Each one is short enough to read in a single night. The first one is about my best friend's little sister's love story. The second book, Fall Hard, is about Virgin Hero: An older woman and younger man neighbor Christmas relationship.
Book three, Fall Away, is about roommate romance. Book four, Fall deep, represents star-crossed lovers epistolary wait for you forever. The fifth book, Fall Fast, is about one nightstand secret identity epistolary. That means they read each other letters mending a bruised heart. I want to read all the books set in different tropes.
If you're going to read them, start with whichever trope you like because the series can be picked up with any book. There's no reading order, and each book stands very much alone. Avoid hardcover because it has negative issues, but the paperback is excellent for font size, color, cover, binding, and page quality.
Author: Zoe York
Publisher: ZoYo Press
Tropes: Dual-pov, Mystery-suspense, Arc
Number Of Pages: 158
Available: Paperback | Kindle
Those are my best Navy SEAL romance novels recommendation. If you have already read any of them, express your opinion in the comment section. Also, you can recommend any Navy romance I should add to my TBR list.
Read more similar books:
7 Memorable Books About Navy SEAL
7 Exciting Firefighter Romance Books