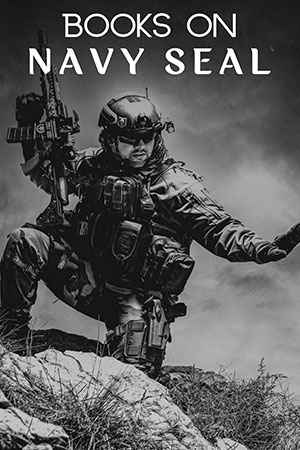 Seals are a part of the Navy Special Warfare Abbreviated Navy Spec War, which is the Navy's component of the US Special Operations Command. They work for rivers, oceans, swamps, delta, or coastline. Seal missions include direct action, special reconnaissance, counterterrorism, and internal defense.
Navy SEALs have an excellent reputation and are known worldwide for having the most physically demanding training in the soft community. There are many movies and book adaptations of Navy SEAL. In this book's recommendation, I will discuss some of them.
7 Books About Navy SEAL
I was first introduced to the Navy SEAl by reading the book 'Living with SEALs.' This memoir opened my eyes and provoked me to read more about them.
So I read many books about Navy SEALs, most of which are memoirs. If you do research, you will explore that the most popular Navy-related books are autobiographies/memoirs. I will review 7 of those books that will increase your love and respect for Navy SEALs. Let's go!
| Name | Key Focus | Reviews (Goodreads) |
| --- | --- | --- |
| No Easy Day | A memoir of training involved and becoming a United States Navy SEAL. | 4.0 |
| American Sniper | American sniper describes his operations and near-death experience. | 4.0 |
| Lone Survivor | Four Navy SEAL members are fighting for revenge for 9/11 and doing risky international operations. | 4.3 |
| 100 Deadly Skills | A SEAL Operative's guide to surviving any dangerous situation. | 3.7 |
| Extreme Ownership | The story focuses leadership skills of Navy SEALs and how to use them in practical life. | 4.2 |
| Fearless | A heroic story of a Navy SEAL's eye sacrifice and becoming a left-eyed sniper. | 4.5 |
| How to Shoot Like a Navy SEAL | A leading instructor in the sniper describes the discipline and step-by-step tutorial to become a good shooter. | 4.3 |
Books About Navy SEAL
1. No Easy Day: The Firsthand Account of the Mission That Killed Osama Bin Laden
The book was published in 2012 and is 316 pages in length. Mark Owen grew up in Alaska, and his father taught him how to hunt in the Alaskan wilderness and proper respect for firearms. Then Mark goes to college, earns a four-year degree, and decides to enlist in the Navy rather than apply as an officer. He believes that if he acquires his dream of becoming a Navy SEAL enlisted man, he'll be more prone to regular action than if he were an officer.
The book discusses the training involved and becoming a United States Navy SEAL. Also, it goes on to talk about two specific missions: One was the attempted rescue of Private First Class Bergdahl, and the other was about the Somali pirate incident. The author of this book, Mark Owen, was a part of the Navy SEAL Team Six. He was one of the first few people to go into Laden's room.
According to this book, he witnessed the death, risked his life, and his other team members did. Mark Owen is not as real name as all the other people mentioned in the book. Everybody's name is changed on national security grounds because they have their lives kept secret. Before the Laden raid, Mark Owen talks about his early life in Alaska.
Also, he talks about what inspired him to go into the Army and the Navy SEALs, then his perspective of 9/11. You will see how he felt about the country before and after 9/11, Iraq, and military service.
I enjoyed this memoir because I wanted to know more about what it takes to become a United States Navy SEAL. If you collect this book, a good portion of the profits will go to charities of Mark Owen. The book is still available in all major bookstores. The paperback and hardcover quality is impressive, and the audiobook is like a live show. So, don't miss this book if you like Navy SEALs.
Author: Mark Owen
Narrator: Holter Graham
Publisher: Penguin Audio
Average Customer Review: (4.6 out of 5, on Amazon)
Tropes: Politics, Military History, Social-issues
Number Of Pages: 316
Available: Audiobook | Paperback | Hardcover | Kindle | Audio CD
---
2. American Sniper: The Autobiography of the Most Lethal Sniper in U.S. Military History
The story is about a Navy SEAL, Chris Kyle, who gives his autobiography. Chris Kyle is the most lethal American sniper in U.S. military history. There were a lot of interesting first-hand accounts of the fighting that took place in Iraq, in Fallujah, and some of the other places where he was stationed.
I liked that he inserted some commentary from his wife in some chapters. So you would get his account, and then you get her account of what she was experiencing at home while waiting for him to return.
Regarding some of the other material in the book, there are quite a few edge-of-your-seat moments. There was a lot of action that he discussed play by play, some of the things that happened, and his near-death experiences. So the book describes his experiences where he lost people and watched people die and his insight into how it felt to kill that many people.
Chris's got a sixth sense of humor that I enjoyed and felt connected to the story. Enjoying this book doesn't take a lot of reading comprehension skills. You don't feel overly hit with many big words, and it's a conversational book that took me roughly ten days to read.
Author: Chris Kyle
Narrator: John Pruden
Publisher: HarperAudio
Average Customer Review: (4.6 out of 5, on Amazon)
Tropes: Iraq War, Snipers, Pop culture-anthropology
Number Of Pages: 528
Available: Audiobook | Paperback | Library Binding | Kindle | Mass Market Paperback
---
3. Lone Survivor: The Eyewitness Account of Operation Redwing and the Lost Heroes of SEAL Team 10
Marcus Luttrell is the main person in this book, the lone survivor. He grew up in Texas and was born there. Then he was raised on a farmhouse by his parents and with his brother, Morgan. Marcus knew that he wanted to become a Navy SEAL from a very young age, and he knew it was not an easy task to do at all.
So, Marcus went so far as to hire a man named Billy Shelton to help train him to survive the training for SEALs. In 1999, Marcus Luttrell officially went into Navy SEAL training, graduated in 2002, and became a medic. The book focuses on the true story of SEAL Team 10 during Operation Redwing, the eyewitness accounts of Marcus Luttrell, ethical dilemmas they face during war.
The events took place about four years after 9/11. The events of 9/11 are Marcus' war against terrorists and his whole drive besides trying to keep his teammates alive. Also, he wants to avenge all the people who died during 9/11.
Operation Redwing was made up of four members. Tennant Mike Murphy, their commander, and Marc's best friend, Petty Officer Matthew Axelsson, are known as AX in the group. Petty Officer Danny Jets and Marcus Luttrell were team medics and snipers.
All four men were best friends and brothers. They would protect each other till their last bullet. They're full of energy and somehow have a great sense of humor, even in the darkest times. Their mission was to capture and kill Ben Cermak, an al-Qaeda leader and a close associate of bin Laden.
However, when their position was compromised, a fierce battle erupted between the four U.S. Navy SEALs and 200 Taliban troops. The Taliban forces even blew up a rescue helicopter en route to save the squad and the market's control. Except for all men of the Operation Red Wing were shot and killed.
Marcus was the only one who survived, hence the name Lone Survivor. He was saved by villagers who believed in helping strangers who were part of their religion and risked their lives. The story is about true heroism and sacrifice. It's very inspirational and excellent. So I recommend you to read it.
Author: Marcus Luttrell
Narrator: Kevin T. Collins
Publisher: Hachette Audio
Average Customer Review: (4.5 out of 5, on Amazon)
Tropes: Afghan & Iraq War Biographies, Survival
Number Of Pages: 390
Available: Audiobook | Paperback | Hardcover | Kindle | Mass Market Paperback
---
4. 100 Deadly Skills: The SEAL Operative's Guide to Eluding Pursuers, Evading Capture, and Surviving Any Dangerous Situation
Author Clint Emerson was an Eagle Scout, former Navy SEAL, and an NSA operative. In this book, he covers every day 100 deadly practical skills. It's good to know each skill is explained with corresponding illustrations and concluded by a bottom line up front that summarizes the lesson.
Clint gives you detailed diagrams of what you can do. They're only a page long, and sometimes it goes to the third page, but he has them by section, which is navigation. Then he talks about the environment. There's, he talks about what you need to do. You can easily read this once a day. The book helps sharpen your skills for every detail that is out there. So this is another excellent book that I recommend getting.
Author: Clint Emerson
Narrator: Pete Simonelli
Publisher: Simon & Schuster Audio
Average Customer Review: (4.6 out of 5, on Amazon)
Tropes: Special Forces Military History, Psychology, Self Help, Leadership
Number Of Pages: 272
Available: Audiobook | Paperback | Spiral-bound | Kindle
---
5. Extreme Ownership: How U.S. Navy SEALs Lead and Win
This book is about two Navy SEALs, and they talk about their experiences as Navy SEALs in Iraq, in Ramadi, and the combat situations. You learn how they use their leadership skills to overcome problems and apply them to the business world.
The message of the whole book is total responsibility or extreme ownership. It is up to you if you are leading something, whatever the result is. You have decided that through your leadership. You are responsible for everything. The second point is to get people within your team to look at the end goal and why you're doing it. You can motivate them to achieve anything.
So it's motivating your team to understand what your mission objective is. There are so many points in this book, but the third point that I will give is that discipline equals freedom. Getting up earlier in the day means you have more time to do other things, be disciplined, and do the difficult things first.
The author does not discover anything new or different rules. He only explained the exciting rules with different examples and points of view, which I loved more. The sentences are very repetitive and slow to read, which is the main problem of this book. If you want to learn about leadership and management from a specialist, you can pick it.
Author: Jocko Willink
Publisher: Macmillan Audio
Average Customer Review: (4.8 out of 5, on Amazon)
Tropes: Intelligence & Espionage History (Best Seller)
Number Of Pages: 320
Available: Audiobook | Paperback | Hardcover | Kindle | Audio CD
---
6. Fearless: The Heroic Story of One Navy SEAL's Sacrifice
Fearless was on the New York Times best-seller list. It's about Adam Brown, one of the major team members of SEAL Team Six. The story is on survival and the struggle never to give up and keep pushing on against all odds. The book has a few good pictures of Adam as a soldier.
His goggles slipped while doing a training exercise, and a bullet got him in the right eye. So, he lost his right eye. There he was with the patch, and he told the Navy that he wouldn't get out on the disability. Then he trained himself to be a left-eyed sniper and became one of the best snipers we've ever had. Adam Brown never gave up. He could have come home for disability, been severed by the military, but he refused. The left eye was a dominant sniper and was one of the best.
Author: Eric Blehm
Award nominee: Goodreads Choice
Publisher: WaterBrook
Average Customer Review: (4.9 out of 5, on Amazon)
Tropes: War, Biography Memoir, Religion-spirituality
Number Of Pages: 368
Item Weight: 8.3 ounces
Dimensions: 5.2 x 1 x 8 inches
Available: Audiobook | Paperback | Hardcover | Kindle | Audio CD
---
7. How to Shoot Like a Navy SEAL: Combat Marksmanship Fundamentals
If you're going to be handling a firearm, you need training. Due to various factors, there's been tremendous growth in firearm ownership in the United States, especially in the last ten years. But how do you separate the good from the bad instructors, the mediocre, the great, and the exceptional? How do you get training? This book will give you all the answers and make you the best shooter.
Author Chris Sajnog is a retired Navy SEAL. He got out of the SEAL teams in 2009 and was their leading instructor in the sniper discipline. After separating from service back in 2009, he started a Center Mass Group company out of San Diego, California, which he still owns and operates. So Chris trains everybody from civilians to the military to state, local, and federal agencies.
The book is short because Chris cuts right to the chase. He does it if he can say something in three or four words instead of 20. That helps with learning and retention. Chris hit on the fundamentals that are so important, and he has real-world experience that can be delivered to you. I will encourage you to look if you want to improve your shooting.
Author: Chris Sajnog
Publisher: Center Mass Group
Average Customer Review: (4.7 out of 5, on Amazon)
Tropes: Shooting in Hunting, Training
Number Of Pages: 114
Item Weight: 7.4 ounces
Dimensions: 6 x 0.34 x 9 inches
Available: Audiobook | Paperback | Kindle
---
Please tell me in the comment section if you have any recommendations or questions about Navy SEALs.
Read more similar books:
5 War Books Like Beneath A Scarlet Sky
5 Spy Thrill Books Like The Gray Man
5 Crime Thrill Books On Secret Service