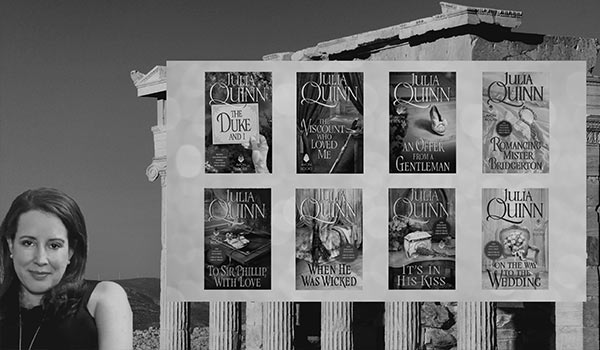 Julia Quinn is a bestselling American author of historical romance best known for "Bridgerton" series. This series has become a bestselling collection of novels set in Regency Era England. She won the Romance Writers of America's RITA Award for her writing. If you are going to start Julia Quinn or want the reading guide for your best reading experience, then you are in the right place. I will give my list with my opinion so you can decide by your taste. Keep scrolling!
Julia Quinn Books In Order (Series Ranked)
You do not have to read Julia Quinn's books in order, especially the "Bridgerton" series. It's because all the books focus on different siblings in the family and their romantic adventures. While some of her books are part of a series, they can be read as standalone. However, reading them in order helps you to gain a deeper understanding of the interconnected characters and relationships.
Also, you do not have to read the "Rokesby" series before the "Bridgerton." While the "Rokesby" series is set in the same world as the "Bridgerton" series, it's not mandatory to read it before the "Bridgerton" series. If you enjoy the "Bridgerton" series, I recommend you consider reading the "Rokesby" series for a more charming historical romance.
Julia Quinn series in order by publication (Series by ranked):
Bridgerton (8 books).
Rokesbys (4 books).
Smythe-Smith Quartet (4 books).
Bevelstoke (3 books).
The Splendid Trilogy (3 books).
Agents of the Crown (2 books).
Two Dukes of Wyndham (2 books).
The Lyndon Sisters (2 books).
Lady Most (2 books).
Lady Whistledown (2 books).
Checkout my wishlist: Julia Quinn Books List
Rokesbys Series In Order
Julia Quinn has four books of prequel series (Rokesbys) for the Bridgerton series. It's a series that lots of people love and talk about. She decided to write a series that talked about Bridgerton. So this included characters of the mom-dad and the family living next door, the last name of the Rokesbys. Rokesbys series's books in order:
Because of Miss Bridgerton.
The Girl with the Make-Believe Husband.
The Other Miss Bridgerton.
First Comes Scandal.
Rokesbys is different from a Bridgerton series because they are told by different characters that we've never heard before in the Bridgerton series. They also talked about different aspects and tropes. They can be read as a standalone. So if you need to read the prequel series first, or you need to read the Bridgerton series, you can read them as whatever you want.
Each story takes place and finishes on its own. They don't bleed that much into each other. So my advice is to pick whatever interests you and read from their Bridgerton series. None of the characters bleed in that much and towards your particular preferences or characters you want to read.
Let's get started with individually breaking down the book.
Because of Miss Bridgerton: This series follows a character named Billy and George, having an enemy-to-lovers romance. People think that Billy, being a great friend of the Roxby family, that Billy would marry one of the brothers named Edward or Andrew, but never would anybody expect that Billy would marry George. It's because George and Billy hate each other. This book was a very slow-burn romance. More character interactions are happening rather than the plot. So you'll love the series if you want quick dialogue between characters and some fun events happening along the way.
The Girl with the Make-Believe Husband: The story follows two characters named Cecilia and Edward. Edward was a soldier and was severely injured in war. He got knocked on the head and was unconscious for a long time. So when he wakes up, his head hurts, and he doesn't know where he is or what's happening. But he surely remembers that he wasn't married before getting knocked on the head. People around him say he is married to Cecilia, his best friend's little sister.
Cecilia has to go on with this lie that she is married to him, so she doesn't get kicked off the base because she's searching for her older brother. This is the story of them growing closer together through grief and forced proximity. I enjoyed the story because it was set up differently. I felt the immense connection between these two characters. Sometimes nothing was happening, it was slow, and I was bored.
The Other Miss Bridgerton: The story is about two characters, Andrew and Poppy. Andrew is a pirate, and Poppy goes on boats on a beach. She discovers a smuggler's hideaway, and she is kidnapped. So she is put on a ship and stuck close to Andrew for this entire boat ride. It's about them fighting for their attraction to each other because they don't want to go into a scandal. They don't want to get married. He has his secrets because he's from a wealthy family, the Rokesbys series.
Andrew is trying to save Poppy from ruin, so he doesn't want to push himself on top of her. It had its excellent moments where it picked up a bit, but then it also had very slow moments once again where I was bored.
First Comes Scandal: This book follows two characters, Georgina and Nicholas. Georgina had no objection to getting married, but she wanted a say. So it's a very weird setup where she was kidnapped by a man so that he could ruin her reputation by making her stay one night in his house. People think they did stuff together, so she has to be forced to marry that man. Nicholas doesn't want to be forced into things, but he decides Georgina should marry him.
Bridgerton Series's Books In Order
I read the Bridgerton series back in 2020 and read them all before the show came out. Everybody's been obsessing over the series, and it makes me so happy because I love historical romance. So I will get to my ranking coming in.
The Duke and I: This one is a marriage of convenience and was an excellent introduction to the series. But relationship-wise, it needed to be improved. We have a fake dating situation, but the fake dating is gone so quickly in the book. They haven't been fake dating for that long. Then all of a sudden, it's a marriage of convenience. The setup was good, but it's the weakest of the series. I want people to continue reading them because they get better and better.
The Viscount Who Loved Me: This jumped from number six to number three because I'm obsessed with Anthony and Kate. I loved everything about their banter. There was so much complexity to their characters, with Anthony afraid that he would die young.
So he doesn't want to marry anybody because he doesn't want them to go through the pain of losing him. Then we have Kate, terrified of thunderstorms because of something that happened in her past, and how they are there for each other. There's so much tension between them when confronted with their fears. I also loved having a marriage of convenience here.
An Offer From a Gentleman: This one is the only social class, different story in the Bridgertons series. Sophie is a servant, and they meet at a masquerade. Benedict is instantly like you are, unlike any other woman I've met. Then every woman after that he compares to her.
Then he and Sophie meet again, and he's a bit of a jerk in how he thinks their relationship can work. In this time period, if he wanted to keep a relationship with her, it had to be as a mistress. So when he meets Sophie, he doesn't know she's the woman from the ball. So he keeps on comparing her to the woman at the ball. But he's falling in love with this woman who is of low class. So, It's a Cinderella retelling.
Romancing Mister Bridgerton: This one breaks my heart because it's a couple of building for three books, and I was dying for their story. I love the cover because Colin and Penelope have had a tension ten years pass before they get their book, and it's revealed who Lady Whistledown is in this book in book four. I cared about their romance as much. Colin was very insecure about being a writer and had more pressure because people expected more from him. I expected a lot more from the romance because they hyped it so much in the books.
To Sir Phillip, With Love: This is my second favorite and most controversial book on TikTok. Eloise is entirely different in the book than she is in the show. She has been writing to Sir Philip after the loss of Marina, who was his wife. This has a very dark beginning because Marina suffers from postpartum depression. We infer that, as a reader and she does pass away. So Sir Philip feels it's his fault that she's gone because he could have prevented it in his eyes. It takes place simultaneously with Penelope and Colin's book, so the timelines all overlap.
When He Was Wicked: This book is perfect for an angsty romance reader. Francesca and Michael are so perfect to me. Francesca gets married, and she has a happy marriage. She loves her husband, but her husband tragically passes away, and Michael is her husband's cousin and best friend, and he's always been around. So they're best friends, too. Michael has been pining after Francesca since they met. He has been in love with his best friend's wife since he met her. How could he betray his best friend by going after his wife, even though he's dead?
It's in His Kiss: It's Hyacinth and Gareth's story. Gareth is related to Lady Danbury, so we see many Lady Danbury here. There's a mystery in here, and it's a sweet romance. Hyacinth offers to translate something for Gareth, and they have a romance. They're spending more time together. I enjoyed seeing Hyacinth as a main character in a romance after seeing her as a child in the previous ones.
On the Way to the Wedding: This is Gregory's story, and Gregory is unlike every other Bridgerton character. He believes in love and thinks he's in love with Hermione. Lucy is her best friend, and Hermione is in love with someone else. So Lucy agrees to work with Gregory to get Hermione, and they fall in love instead. There's a little bit of not suspense but a little bit of danger thrown in at the end, which I appreciated.
We know in the beginning that Gregory is trying to break up a wedding, but you don't know who's because he is in love with Hermione, but he and Lucy start feeling things for each other. So is he going to pick Hermione? Is he going to pick Lucy? It was a breath of fresh air and a fun ending. Colin is sitting in a tree with Gregory talking about love and romance, and it was a special moment for me. I love seeing the characters all having fallen in love already.
My ranking of the eight Bridgerton books by Julia Quinn from least favorite to favorite:
When He Was Wicked.
To Sir Phillip, With Love.
The Viscount Who Loved Me.
An Offer From a Gentleman.
On the Way to the Wedding.
It's in His Kiss.
Romancing Mister Bridgerton.
The Duke and I.
Smythe-Smith Quartet Series In Order (4 books)
Julia Quinn did a fantastic job creating these exciting side characters in these interesting tidbits. Then she finally explored those side characters and created a series based on them. I will review the Smith Quartet, which follows four siblings in the Smith family falling in love and finding their true happiness.
Each book follows a different story and a different trope. You can read these books standalone because the storylines bleed into much with each other that you need to read of the prior book. So feel free to pick and choose which book you find the most exciting and which trope fits you the most.
Just Like Heaven: The first book in the series follows the story of Honoria and Marcus and follows the trope of the older brother's best friend romance. Honoria is seven years younger than her older brother named, Daniel. Daniel has a best friend named Marcus. They are first introduced in the story in the prologue, where they're going out to the forest, and they're going to have some fun. Honoria decides to tag along because Honoria likes to play with Daniel, but Daniel doesn't want his younger sister because she's annoying. Honoria has ways of getting Daniel to play with her, and that's through his best friend, Marcus. So Honoria convinces Marcus to let her play with them, and they do.
So they go and revisit those feelings with each other, have moments together, and have conversations with each other. At the same time, Honoria is trying to look for a husband through the magic of romance. There are many scenes where I was squeezing my pillow very tightly because I was reading in bed. Marcus is one of my favorite books, Boyfriends.
A Night Like This: We follow the story of Daniel and Anne. Daniel is the older brother who did something bad and had to run away from London, or he would be killed. His family would be threatened, and the family's livelihood will be threatened. So Daniel has a lot of things going on in his life, and it's chaotic most of the time. The people chasing him hunted him down and tried to kill him in Paris and different parts of Europe.
Wherever he flees, he is scared for his life until one day. He is told that he can return to London and that nobody will try to kill him. What happened was Daniel challenged this intelligent man named Hugh to a card game while he was drunk, and Hugh was also drunk.
When Hugh lost the cards game to Daniel, Daniel, and Hugh got into a giant fight where Hugh challenged Daniel to pistols at sundown. What happened was that Daniel accidentally hurt Hugh more than he intended to. Then Hugh hurt Daniel as well. So Daniel's family is threatened by Hugh's family, and we see a chaotic mess in the drama unfolding.
Daniel is returning to London, even though he is skeptical that his life is okay and that nobody will try to kill him. This is a love story between two characters of a different classes. During that time, it's unseen and judged that you're marrying someone of another class. This one also had the trope of falling in love at first sight, which was annoying.
The Sum of All Kisses: This is one of my favorite books in the series. The story follows the character of Hugh, and if you are unfamiliar with him, I explained in my last review that Hugh was the character that got hurt in the duel. His family was out for vengeance to try to kill Daniel.
Meanwhile, Hugh was lying in bed with a horrible injury to his leg, which could have stopped him from walking, cutting off his leg in general, and not having a leg. Hugh is described as a very brilliant character but also very stoic. He's grumpy most of the time because he made one mistake of challenging someone to a duel, and he ended up impacting many other people's lives, including his. Then he also feels that he is missing out on life simply because he has a bad injury to his leg that he's still adjusting to.
This is also the love story between Hugh and a lady named Sarah. Sarah Haynsworth is a cousin to the Spy Smith family. Hugh and Sarah do not get along. This one is an enemies-to-lovers romance, and they hate each other. Throughout the book, we see the character development happen, and we start realizing that she is willing to give more pieces of herself to people with whom she falls in love. There was a lot of drama at the end of the book involving the two families and Hugh's dad, a crazy psychopath.
The Secrets of Sir Richard Kenworthy: The last book in the series follows a character named Richard and a character named Iris. Iris is one of the younger sisters of Honoria in the Spy Smith family. She seemed to be very blind. She was very blunt and spoke about her opinions a lot of the time.
Richard is a character who needs to marry, and there are no reasons why that are given to us, why he needs to marry. But there is a sense of urgency as he goes through the girls at the musical and tries to sense who is single. The girls are not interested in him because he's not a duke.
Regardless, he manages to seduce Iris and force Iris into this marriage. They don't know each other too well, but they marry quickly. This is the love story of how these two people fall in love while enduring their marriage instead of falling in love. So it had a lot of secrets that were revealed at the end of the novel.
Bevelstoke Series In Order
The series is set in Regency Era England and follows the members of the aristocratic Bridgerton family as they navigate love, scandal, and society. We see witty dialogue, engaging characters, and steamy romance scenes throughout the series. Each book focuses on one member of the Bridgerton family and their love and happiness. The series includes three books in total, which are:
The Secret Diaries of Miss Miranda Cheever: Miranda Cheever falls in love with a handsome but stubborn man named Jeremy St. Clair. Readers can explore themes of love, family, and societal expectations with heartwarming romance.
What Happens in London: This book follows the story of Oliver Berbrooke, the second son of a duke, who travels to London to find a suitable wife. He falls in love with a beautiful woman named Penelope Featherington.
Ten Things I Love About You: Franny Bridge is tasked with finding ten reasons why she loves her best friend, Gregory Vance, to win a bet. She discovers that she might have deeper feelings for Gregory than originally thought.
The Splendid Trilogy In Order
Each book in the trilogy features engaging characters, mature dialogue, and steamy romance scenes set in Regency Era England. The series is considered to be a must-read for fans of historical romance. There are three books in total, and they are:
Splendid: This is the first book in the trilogy and focuses on the story of Francesca Bridgerton, who is determined to find love on her terms. When she meets Michael Stirling, she believes she has found her match. However, Michael is hiding a secret that could ruin their chances of happiness.
Dancing at Midnight: The story revolves around the relationship between Simon Basset, the Duke of Hastings, and Daphne Bridgerton, a young woman who has always dreamed of falling in love. They are thrust together as partners for a waltz at a ball.
Their chemistry is undeniable. However, Simon is determined to avoid marriage at all costs, but Daphne is determined to find a husband. As they continue to dance around each other, they must navigate the expectations of society and their desires to find happiness.
Minx: This book features the story of Edwina Sheffield, a young woman considered a scandalous "Minx" by society. She meets Gregory Bridgerton and finds herself drawn to him despite her reputation. On the other hand, Gregory is determined to keep his reputation intact.
A recommended reading order for Julia Quinn's books based on popular romance tropes:
Friends to Lovers: Minx.
Second Chance Romance: When He Was Wicked.
Forbidden Romance: An Offer from a Gentleman.
Marriage of Convenience: The Duke and I.
Slow Burn Romance: Romancing Mister Bridgerton.
Secret Baby: To Sir Phillip, With Love.
Opposites Attract: It's in His Kiss.
Arranged Marriage: On the Way to the Wedding.
That's my reading order and opinion of Julia Quinn's series and books. Tell me about your favorite one with your reading experience.
Read more similar:
Elin Hilderbrand Books In Reading Order
Mariana Zapata Books In Reading Order
Christina Lauren Books In Reading Order