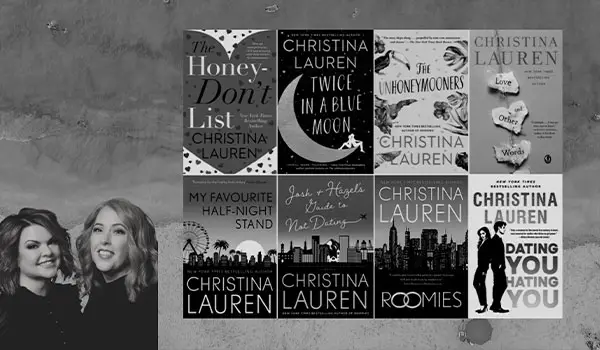 If you didn't know, Christina Lauren is a combination of two authors. It's Christina and Lauren, and they're a friend duo who have published several books together. They do write a lot of different tropes in romance. So far, I haven't loved all of them. It depends on personal taste and reading preferences.
New York Times bestsellers authors Christina Lauren worked in a cubicle together and decided to collaborate on writing projects. They have published multiple series and standalone novels, some of which have been translated into numerous languages. If you are new or want to start reading Christina Lauren's book, I will give you the reading order in detail.
Christina Lauren Books In Order (Books list by ranked)
You may enjoy Christina Lauren's books if you enjoy romance novels with witty and lighthearted writing. Readers love Christina Lauren for their humor and steamy romance scenes. Some readers enjoy their writing style and find their books entertaining, while others may be less interested in this genre. Ultimately, it's up to individual readers to determine if their books are worth reading. I want to start with the tier ranking of my favorite Christine Lauren books and help beginner guides.
Here is a list of Christina Lauren's books separated by category:
Romantic comedies:
Beautiful Bastard.
Beautiful Stranger.
Beautiful Player.
Beautiful Beginning.
Beautiful Beloved.
My Favorite Half-Night Stand.
Roomies.
Love and Other Words.
The Unhoneymooners.
Twice in a Blue Moon.
Contemporary Romance:
Beautiful Bastard.
Beautiful Stranger.
Beautiful Player.
Beautiful Beginning.
Beautiful Beloved.
Love and Other Words.
The Unhoneymooners.
Twice in a Blue Moon.
Chick lit:
Beautiful Bastard.
Beautiful Stranger.
Beautiful Player.
Beautiful Beginning.
Beautiful Beloved.
New adult:
Beautiful Bastard.
Beautiful Stranger.
Beautiful Player.
Note: This list is a general categorization; some books may fit into multiple categories.
A list of Christina Lauren books sorted by tropes:
Friends-to-Lovers:
Beautiful Bastard.
Dating You / Hating You.
Enemies-to-Lovers:
Roomies.
Josh and Hazel's Guide to Not Dating.
Office Romance:
Beautiful Player.
Beautiful Stranger.
Second Chance Romance:
My Favorite Half-Night Stand.
Love and Other Words.
Romantic Comedy:
The Unhoneymooners.
The Trouble with Mistletoe.
Note: Christina Lauren's writing often incorporates a blend of multiple tropes.
Now, I will discuss the popular books of Christina Lauren by tier ranking. Let's go!
Checkout my wishlist: Christina Lauren Books List
1. Autoboyography
At the very top of my favorite is going to be Autoboyography. This one is one of their only young adult novels. It's a male-male romance that takes place in Utah. The story follows a boy named Tanner, who will take a writing class during his senior year of high school. Then he starts to fall for Sebastian, who works in that class and helps the students write the books.
This book is so cute, and this one is my favorite because it's so beautifully written, and I love the characters so much. Also, I love how the book shows that it's not easy for LGBT people to be who they are in communities. So, Christine Lauren brings out a lot of those important messages.
2. The Unhoneymooners
This book follows a girl named Olive with a twin sister named Amy. Amy is getting married to a guy named Dane. At the wedding, everyone gets food poisoning. So they can't go on their honeymoon. Then she offers the honeymoon to her sister. She will have to go on the honeymoon with Dane's brother, Ethan, who she can't stand. We get this awesome fake marriage trope because they have to pretend to be married on their honeymoon. It's a combination of all of my favorite tropes in one book!
3. Josh and Hazel's Guide to Not Dating
This one's more like a friend to lovers, which follows a girl named Hazel. She's very quirky and an elementary school teacher from Portland, Oregon. This is about her romance with Josh, a Korean love interest. The book's premise is that they will set each other up on blind dates in hopes of finding love, and then they keep not working out. So they have to keep going home together instead, and then they start to fall for each other.
4. Wild Seasons (Series)
My next favorite book from them will be The Wild Seasons series. These series have four books that follow the romantic journey of four friends in college. These are the first books that I read from Christina Lauren and what got me into them back in the day.
Sweet Filthy Boy (Book 1, 2012).
Dirty Rowdy Thing (Book 2, 2014).
Dark Wild Night (Book 3, 2015).
Wicked Sexy Liar (Book 4, 2015).
The first book in the series is Sweet Filled Boy. Then Wicked Sexy Liar is the last book in the series. I recommend the first and last books. They don't have to be read in order or anything. They're standalone romances but follow the same group of friends. As I said, this book series reminds me of The Deal by Elle Kennedy because it follows a group of four guys who are friends, and we get each one of their love stories.
In the first book, we follow Ansel and Mia. Ansel lives in Paris, but he's spending the weekend in Vegas with his friends. Then that's when he meets Mia, and something happens. He and Mia have to go to Paris, where their new relationship starts.
In the last book, Wicked Sexy Liar, we follow Luke in London. London is one of my favorite female characters. She's a bartender and a surfer who lives in San Diego.
5. Roomies
It's a standalone novel that tells the story of Holland Bakker, a struggling musician, and Calvin McLoughlin, a best-selling author. This is why I find Holland one of the most relatable Christina Lauren female characters. The story involves a fake marriage trope because she gets to be friends with an Irish musician, and he will have to leave the country soon unless she marries him.
6. My Favorite Half-Night Stand
The book is about a girl who's a professor, and we follow a bunch of her guy friends. They're a big group of friends, also professors. She has a thing for this guy, Reid, her closest friend. So she catfishes him on a dating app, pretending to be another girl.
7. Dating You / Hating You
This one is an office romance that's hard to love. We have two people that are working in Hollywood as talent agents. The book could have been a lot better, but it's only them punking each other the whole time and a lot more about their office job than their actual romance. So, I need something else!
8. Love and Other Words
It's a standalone novel, the first women's fiction they came out with. The story follows childhood best friends who reconnect after years apart. We have two different timelines, going back and forth between when they were kids and when they first met. Then in alternate chapters, we get when they're adults, and they're no longer speaking, but they're reconnecting. I never connected to these characters, and that's the main issue I had with it.
9. Twice in a Blue Moon
This one is a second-chance romance. We followed two timelines back when the heroine met the hero when they were overseas, and they had a very instant love. They were 18 years old. Years later, she's a successful actress and working with her dad. He was a famous actor, and there's all this drama.
10. The Honey-Don't List
A girl is working as an assistant to a famous couple, and they have an HGTV show, Home Decorating. They will have a book tour, and all bad things will happen to them. She is starting to catch feelings for the other guy, who's also the assistant that's working for them. Then it's their romance. This book is more about the famous couple they're working for and not so much about their romance, at least not as much as I wanted.
11. Beautiful Bastard
This is the first series that got Christina Lauren huge success. It was based on fan fiction, and they originally wrote it together for Twilight or 50 Shades. Then they turned it into a book series.
The series contains five books and tells the story of Chloe Mills, an ambitious intern, and Bennett Ryan, her powerful and demanding boss.
Beautiful Bastard (Book 1).
Beautiful Stranger (Book 2).
Beautiful Player (Book 3).
Beautiful Secret (Book 4).
Beautiful (Book 5).
Christina Lauren Reading Guide
If you love the writing of Christina Lauren, here are more books by reading order that you may enjoy:
The House: A horror romance with suspense.
The Soulmate Equation: A single mother finds her true love through a dating app.
In a Holidaze: A girl is trying to find peace and love.
Now you're wondering about where I should start. In what order should you read Christina Lauren's books? I started with the 'Wild Seasons' series, which made me fall in love with their writing in the first place. If your romances are more on the steamy side, then I would recommend the Wild Seasons series.
If one of your favorite tropes is hate-to-love romance, I recommend 'The Honeymooners.'
If you're into the friends-to-lovers romance, I recommend 'Josh and Hazel's Guide to Not Dating' because these two had known each other years ago. There's a slow-building friendship before it ever becomes romantic. Also, 'My Favorite Half-Night Stand' is an excellent friends-to-lovers romance.
If you're into the fake marriage trope, then 'Roomies 'Is a good one to read. I love the fake marriage in 'The Honeymooners' as well.
If you're into second-chance romances and want the characters to have known each other for nearly their whole lives, then I recommend 'Twice in a Blue Moon' and 'Love and Other Words.' In both of these stories, there a second chance romance novels where they have some connection when they're young and in love.
If you're into office romances, I recommend the Dating you/Hating you' novel. It has a lot of those office romance vibes. Even though this book didn't work for me, it might work for you, and the same with 'The Honey-Don't List.'
That was my Christina Lauren reading guide. These are some of the most popular books by Christina Lauren that readers have enjoyed. They are all contemporary romance novels with relatable characters, steamy, and lots of humor.
Hopefully, I gave you a little idea of what each of their books is about and what my favorites are. If you've enjoyed some of their other books, it will give you an idea about what some of their other books are. I recommend at the top of my list Autobiography and The Unhoneymooners.
If you have yet to read these two books, then these are where I would start to see if Christina Lauren is going to be your thing or not. It's because these are so great and they're so different. But I love them both so much. Please let me know if you've read Christina Lauren. What are your favorite books from Christina Lauren?
Read more similar:
Elin Hilderbrand Books In Order By Ranked