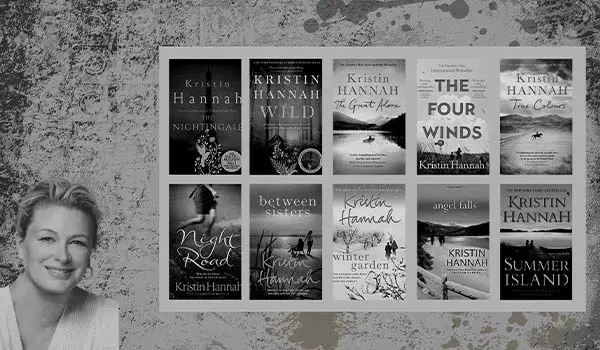 Kristin Hannah is a famous American author who writes predominantly historical fiction books. Many of her books have been turned into Netflix series or feature films. She is a well-known author, and she also is my favorite author of all time.
Many friends and followers asked me about my reading order for Kristin Hannah's book. Also, some readers need help deciding how to start or which book they should pick first. So, I'm here to solve this issue with my BookTube community's opinion. If you have not read Kristin Hannah before or are looking for her books to read, then stay with me.
Kristin Hannah Books In Order (Books list by ranked)
Kristin Hannah is a name you will have heard from the book club. She is the author of more than 20 books, including some huge bestsellers. Her books are all different from each other, so there is something in there for everyone. Despite the differences, you will find shared themes that people love across all her books. So powerful, resilient women deal with hardships differently, and books explore the relationships between women, whether friends/sisters/mothers or daughters.
Why should you read Kristin Hannah, and why do readers love her so much? Here are several reasons:
Emotional storytelling: She has a talent for weaving heart-wrenching tales that resonate with readers. Her stories are emotionally charged and tug at the reader's heartstrings.
Strong female characters: Hannah often features strong and determined female characters who face challenges and overcome adversity. These relatable and inspiring characters have resonated with readers, particularly women.
Wide appeal: Kristin's books appeal to a wide range of readers, from those who enjoy historical fiction. This broad appeal has helped to attract a large fanbase.
Attention to historical detail: Her novels are known for their well-researched detail, offering readers a glimpse into different time periods and cultures.
Bestselling success: Her books have consistently been bestsellers, and her name has become synonymous with high-quality fiction. This commercial success has helped to increase her popularity.
Kristin Hannah is good at diving into those relationships and their differences. So I've got some of Kristin Hannah's impressive backlist. Let's dive in and see what we've got.
Here's the recommended reading order for Kristin Hannah's books of popularity (Beginner guide to reading):
The Great Alone.
Firefly Lane.
The Nightingale.
The Four Winds.
Winter Garden.
Night Road.
True Colors.
Between Sisters.
Wild.
The Things We Do For Love.
Distant Shores.
Note: The recommended reading order is based on the books' storylines. Reading the books in this order will give the reader a better understanding and appreciation of the author's work.
A list of Kristin Hannah's books sorted by category:
Historical Fiction:
The Nightingale.
The Great Alone.
The Distant Hours.
Contemporary Fiction:
Magic Hour.
Home Front.
Summer Island.
Women's Fiction:
Between Sisters.
True Colors.
Winter Garden.
Note: The author has written many other novels that may also fit into these categories.
A list of Kristin Hannah's books sorted by tropes:
Sisters:
Between Sisters.
True Colors.
Mother-Daughter Relationships:
The Nightingale.
Winter Garden.
Survival:
The Great Alone.
Magic Hour.
World War II:
The Nightingale.
The Distant Hours.
Family Secrets:
Home Front.
Summer Island.
Note: Kristin Hannah explores some common themes in her books.
Checkout my wishlist: Kristin Hannah Books List
1. The Great Alone
Whenever anyone asks me for a book suggestion, this is always the first book that comes to mind. The book starts in the seventies and spans about 40 years. We follow Allbright and his family, who moved from Washington to Alaska because the father returned from the Vietnam War, where he served America. His best friend got killed in the war and left his entire estate in Alaska to the father of the Allbright family. They have to hunt and fish for their food and water.
So we follow as the family evolves from when the daughter, Lennie, is eight years old until she is a grown woman. The entire family has to deal with the father's trauma because of PTSD. The thing that shines through the most strongly in the book is the remarkable strength of women. This one is an early development for a movie adaptation. I would look up the trigger warnings for this book.
2. Firefly Lane
This series has been turned into a Netflix series. We follow Tully and Kate, who are best friends. They are young girls in elementary school until they have their children. They could not be much more different from each other than they are. However, they love each other more than anything. Tully ends up being a world-famous newscaster. She's a journalist and loves what she does. Kate ends up settling down, getting married, having a family, and being a stay-at-home mom.
We follow these girls as they grow throughout their life and as they mature into the people that they are. There is no plot, but I love the books wholeheartedly. The second book gives a lot of backstory to other characters in Firefly Lane, as well as Tully and Kate. We still have Tully and Kate in the book, but it's a lot of backstory for other characters. In Firefly Lane, Tully's mother isn't resentful in her life. So Fire Away was such a good sequel. I highly recommend Firefly Lane and Fly Away, which are my number two and three recommendations for Kristin Hannah.
Also, I recommend you watch the Netflix show. However, if you have already watched the Netflix show, they changed significantly from the book. So what happens in the Netflix show does not occur in the books. The books go a completely different route. If you have already watched the show, it will not spoil the books for you at all.
3. The Nightingale
We follow two sisters, Isabelle and Vianne, who live in Nazi-occupied Paris during World War Two. These two sisters have a very different experiences of World War Two. So one sister stays at home and tries to help the war effort as much as possible while still supporting her family, running her household, and helping her neighborhood. Then that same sister has a German soldier quartered in her house. So she ends up living with a German soldier while living in Nazi-occupied France with her husband, fighting the war for France.
Then we follow Vianne, and she is more hands-on with the war effort. She's trying to help fight the Nazis. We follow her and her experiences, especially on the hands in front of the war. I love this book because it showed female strength and what women could do during the war effort. Moreover, It's the most popular of Kristin Hannah's books.
4. The Four Winds
This book is a historical fiction set in the Great Depression and the Dust Bowl. We follow our main character, Elsa, who up and moves her family from Texas out West. She is going West, hoping to make a better life for herself and create a better life for her family. However, when she makes it out West, she finds they need to be more welcoming. They do not want people coming out there.
So, the book is a story of survival against all the odds. I mentioned that female relationships were going to be key in these books. This unique relationship between mother and child shows the value of female friendships through times of extreme hardship.
5. Winter Garden
Winter Garden is about two sisters whose lives have turned out entirely differently, and they ended up estranged. They also have a strained relationship with their rather cold and difficult mother. But their father they love, and when he becomes ill on his deathbed, he extracts one last promise from the three women in his life. To do that, he tells them a story that spans 65 years and changes everything they thought they knew about their family.
6. Night Road
Night Road is a dramatic one about Jude, the mother of twins, a boy and a girl (Mia and Zach). They are these bright, happy, privileged aged children. So she's thrilled and supportive to see them befriend a former foster child called Lexi, an orphan with a dark past who needs some love and friendship.
Lexi and Mia become best friends, and Lexi and Zach's relationship builds into passionate love. Then tragedy strikes and the trio is torn apart. We will then catch up with Lexi in the future. We've met her again, older and ready to come face to face with what happened all those years ago.
7. True Colors
The sisters in True Colors are the opposite of the sisters in Winter Garden because they have always been close. So there are three sisters in this book. They have always looked after each other. But a stranger comes to town, and the sisters are pitted against each other. Then a terrible crime threatens to tear everything in that community apart, and it keeps going.
8. Between Sisters
In this one, we meet Megan, who made a terrible mistake. A past cost her relationship with her sister, Claire. Claire is preparing for her wedding day and preparing to see her sister again for the first time in decades. The book will be about these two sisters who thought they had nothing in common trying to learn to become, for the first time, something that they never were a family.
9. Wild
Wild was published in the US as Magic Hour. So if you've seen some American Book Troopers talking about Magic Hour, that's this one. This has got a mysterious premise. A six-year-old girl in the Olympic National Forest has no memories of her past and no clue about her identity.
Dr. Julia Kates is a child psychiatrist with this scandal in her past that once threatened to destroy her career forever. She starts working with this little girl, whom she names Alice, trying to help her unlock the truth about her past and find a place for this scared and lonely little girl to call home. There are even more I could keep going at.
Reading Kristin Hannah's books in order is not mandatory. Some readers prefer to read her books in order, which helps you connect with her characters and themes on a deeper level. Let me know in the comments below if you are a Kristin Hannah fan.
Also, let us know if there are any authors you'd want us to do a deep dive into their backlist because you've always been interested in learning more about them. I will love to know if any of you enjoy reading Kristin Hannah. If you plan on reading her books, let me know in the comments below. Remember to follow me on Instagram, Twitter, and Goodreads so that you can keep up with me all the time and until next time.
Read more similar:
Elin Hilderbrand Books In Order By Ranked
Mariana Zapata Books In Order By Ranked
Christina Lauren Books In Order By Ranked