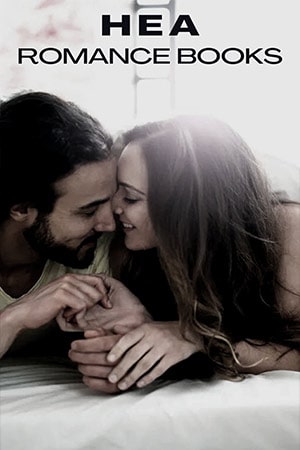 In the romance genre, HEA means Happily ever after. If a story ends positively or happily where the hero and heroine live together, we can mark the story or book as a Hea. Books with happily ever after or Hea romance represents many ups and down, but at the end of the story, we see a happy moment. The characters finally win their love, and their struggle gives us butterflies as readers. Sad endings make the story memorable, but we want happy endings because we see ourselves through the characters.
When we eagerly await the ending of a movie or book, we want to see the romance as successful because it releases dopamine, a reward hormone that makes us happy. So when I feel sad or down, I read happy romances, which helps me to pass a hard time and feel better. Stay with me because I have a book list for you.
7 Hea Romance Books (Happy Ending Love Story/HFN)
If I read tragic and sad endings, after a while, it affects me and makes me a little bit sad. So I balance things as much as possible with happy endings, which make me feel all the emotions. I want to talk about 7 Hea romance books that have made me happy because they all have satisfying tropes. Let's go!
| Name | Key Focus | Review (Goodreads) |
| --- | --- | --- |
| Can You Keep a Secret | A woman mistakenly expresses her feelings towards her seatmate, her office boss. | 3.8 |
| Remember Me? | A workaholic girl forgets to balance her life, but she fixes it with a lovable man. | 3.8 |
| Kissed by the Rain | The heroine is on her mission to marry her boyfriend but faces some challenges. | 4.0 |
| Flipped | A girl falls in love with a charming boy, but he does not feel her initially. | 3.9 |
| Love & Gelato | A girl is trying to find her unknown father and lover, who she always dreams of. | 4.1 |
| A Little Something Different | Two college students fall for each other, but none admit it until their professor help. | 3.5 |
| Carry On | Two boys at first rival each other as roommates, but it turns into romantic feelings. | 4.2 |
Hea Romance Books List
1. Can You Keep a Secret
Can You Keep a Secret is a romantic comedy with happily-ever-after endings. It's a book featuring an underdog. So our main female character (Emma) is an underdog. She works at a dead-end job. Her boss keeps telling her she will get promoted one day if she secures more accounts. So, Emma feels like she's stuck in her life when she compares herself to her very successful cousin who owns a business.
One day her boss finally allows her to land and solidify an account overseas, and she messes it up. On the plane ride home, she drinks too many champagnes and feels bubbly. When the plane suffers a significant amount of turbulence, she ends up gripping her seatmate's hand and reveals all her secrets that she had.
To her surprise, when Emma returns to the office the next day, they announce that the company's founder, president, and CEO are here to visit from America. It turns out that the seatmate she revealed all the secrets to is her boss. So it's a boss-employee relationship, and I adored this one.
Emma is my romantic comedy queen. She reminded me that you still had a chance to win. The romance was so swoon-worthy and so cute. This book was turned into a movie, and it was a terrible movie that didn't do the book justice.
Author: Sophie Kinsella
Narrator: Kate Reading
Publisher: Random House Audio
Tropes: Guilty-pleasures, Alpha-hero, Humor, British literature, Love-triangle
Number Of Pages: 374
Available: Audiobook | Paperback | Hardcover | Kindle | Mass Market Paperback
2. Remember Me?
Remember Me is British literature and humor romance. The story is about a girl, Lexi Smart. She's doing a low-end job and feels growth opportunities must exist. One day she wakes up and realizes that three years have passed, and she lives a completely different life than she remembered. Lexi is thinner because of exercise, and she is also dating a very successful man.
They have a healthy relationship where they cheer each other on for professional growth and health goals. Her friends are cold to her, so she doesn't know who her friends are anymore. She's very confused because she's living a different life. That's why the book is called Remember Me. It's a feel-good Hea story about someone who has changed so much and is learning to return to her roots and be humble.
Author: Sophie Kinsella
Publisher: The Dial Press
Tropes: Women's Fiction, Amnesia, Fun
Number Of Pages: 450
Available: Mass Market Paperback | Paperback | Hardcover | Kindle | Audio CD
3. Kissed by the Rain
Kissed by the Rain is a German romance novel translated into English, and it's very similar to the movie Leap Year. Leap Year was one of my favorite romantic comedies, and this book turned out to be a fictionalized story of that or a retelling.
The story follows a girl (Josefine) who wants to get engaged. She wants to marry her long-term boyfriend. But there is a myth that their family has a curse, and they need their family engagement ring for the marriage to succeed. If they don't have that ring, then the marriage is doomed from the start.
So Josefine is determined to find the ring because her cousin took the ring and went backpacking all across Europe. Now she's trying to track down her relative to find that ring. Along the way, she meets a grumpy, pessimistic-looking man who thinks her journey is foolish.
The happy ending is satisfying no matter how rushed and challenging the book's beginning, and middle pages are. Friday nights are perfect for watching movies, and it's one of my recommendations. Avoid hardcover for negative issues, but the paperback is excellent for font size, cover, color, binding, and page quality.
Author: Claudia Winter
Publisher: Amazon Crossing
Tropes: Comedy, Cultural, Literature
Number Of Pages: 290
Available: Audiobook | Paperback | Kindle | Audio CD
4. Flipped
Flipped is a middle-grade/young adult romance novel with Hea (happily ever after) trope. It won the South Carolina Book Award and Nevada Young Readers' Award. The book is more middle-grade because they're not in high school yet but are still grown. Our heroine (Juli) is very different from her next-door neighbor. She is poorer than the other kids in the neighborhood, so she has a different outlook on life. Instead of looking towards worldly things, she looks for building and creating things, and she's brilliant.
On her first day meeting her next-door neighbor, she instantly falls in love with him (Bryce) because he's so charming and good-looking. Bryce is a neighbor who doesn't like her and thinks she is weird and not someone he wants. So it's unrequited neighbor love, where he hates her, and she likes him.
Then somewhere along the way, the emotions get flipped, and he finally loves her. But she realizes that he has a pretty face, and it's up to him to convince her that he is worthy of her love. There are so many quotes in the book that make me swoon. The writing style is easy to comprehend, and it's the movie cover edition. So if you still need to watch the movie, watch the movie. The film is a must-watch, and it's my comfort movie as well. I rewatch it constantly when I'm feeling down in the dumps.
Author: Wendelin Van Draanen
Publisher: Ember (Reprint edition)
Tropes: Emotions, Humorous, Coming Of Age
Number Of Pages: 256
Item Weight: 8 ounces
Dimensions: 5.56 x 0.52 x 8.25 inches
Available: Audiobook | Paperback | Hardcover | Kindle
5. Love & Gelato
Love & Gelato is a young adult contemporary romance set in Italy. It starts with the heroine, Lina. Her mother has passed away from cancer, and her dying wish is to send her daughter to Tuscany to spend the summer with her estranged father. While she is over there, she discovers her mother's diary. She reads about the summer when her mother fell in love with her father. Her mother's story parallels Lina's because as Lina is there, she has a little summer romance. It is the cutest thing in the world.
We get to see traveling in Italy, friendships, and adventures, and it's got tons of fantastic food. There's something about reading about different types of food that puts me in the setting and also tends to make me hungry. I consumed it while reading this book. I recommend this to everyone. The story was very whimsical in its own right and so charming. It's perfect for the summer, which made me happy, and I highly recommend this happily ever after romance book.
Author: Jenna Evans Welch
Publisher: S&S Books for Young Readers (Reprint edition)
Tropes: Love-triangle, Mystery, Arc
Number Of Pages: 416
Reading age: 13+ years
Available: Audiobook | Paperback | Hardcover | Kindle
6. A Little Something Different
A Little Something Different is a realistic fiction college Hea romance. It's one of those books where the writing style is one of the best things about the book. If you're a writer or enjoy a well-crafted story, I recommend that you pick it up. It's not long, and I read this in one sitting. The book is about two people who meet in college, and they have a feeling for each other, but neither of them wants to admit it, and they both seem shy.
So the entire book is about everyone in their life and their perspective on their relationship. It annoys me because neither of them will approach the other one. Their professor is trying to set them up. They are engineering a project, so they'll have to become partners. You'll not get anything super deep, but it's worth reading. It will brighten your day and lift your mood with a happy ending story.
Author: Sandy Hall
Publisher: Swoon Reads
Tropes: Writing Reference, Mental health, Insta-love
Number Of Pages: 272
Available: Audiobook | Paperback | Library Binding | Kindle | Audio CD
7. Carry On (Simon Snow)
Carry On is the first book in the Simon Snow series, a fantasy LGBT romance with a Hfn trope. You've heard it because it's trendy on BookTube. We follow two boys, Simon and Baze, who are roommates at a magical boarding school. They seem to hate each other, but it's a love-hate relationship trope. The whole thing is magic, but it could be a deeper story. It is almost contemporary, even though set in a fantastical school and everything.
The story is excellent literary fiction, but it would remind you of Harry Potter fan fiction. The romance here is adorable, where you will get on the snow bath train. The whole thing is a light, happy, and fluffy read worth reading. The plot, storyline, world-building, narration, and dialogue are fantastic, but the only negative side of the book is the character's development in a usual place. I highly recommend it.
Author: Rainbow Rowell
Narrator: Euan Morton
Publisher: Macmillan Audio
Tropes: Enemies-to-lovers, Friendship, Coming-of-age
Number Of Pages: 522
Available: Audiobook | Paperback | Hardcover | Kindle | Audio CD
---
Here are more happily endings romance books with their respective tropes and main themes:
The Bride Test by Helen Hoang: A heartwarming and beautifully written romance that explores the challenges of cross-cultural relationships. The main characters come from different backgrounds, but their attraction to each other is undeniable. The story is a great mix of sweet and steamy, and the ending is satisfying.
Tropes: Opposites Attract, Cross-Cultural Romance.
Main Theme: Immigrant Love Story.
The Flatshare by Beth O'Leary: A charming HEA romance that explores the power of communication in relationships. The two main characters share an apartment but have never met in person. As they leave each other notes and get to know each other through their shared space, they begin to fall in love. The slow-burn romance is delightful.
Tropes: Roommate Romance, Slow Burn.
Main Theme: Second Chance at Love.
The Rosie Project by Graeme Simsion: This book explores the idea of finding love when you least expect it. The main character, Don, is on the autism spectrum and has trouble connecting with people. When he sets out to find a wife using a scientific approach, he falls for someone who is his complete opposite. The story is an excellent mix of humor and heart, and the ending is perfect.
Tropes: Opposites Attract, Romantic Comedy.
Main Theme: Love and Acceptance.
Me Before You by Jojo Moyes: A heartbreaking and beautifully written romance exploring love's power to change lives. The two main characters come from very different worlds, but their love for each other transcends their differences. The story is a tearjerker, but the ending is bittersweet.
Tropes: Forbidden Love, Tearjerker.
Main Theme: Love and Sacrifice.
The Time Traveler's Wife by Audrey Niffenegger: A unique Hfn romance where the two main characters are in love, but the man has a genetic disorder that causes him to time travel involuntarily. The time travel aspect adds an extra layer of intrigue to the story.
Tropes: Time Travel Romance, Emotional.
Main Theme: Fate and Destiny.
Hopefully, you found some best Hea romance recommendations to add to your TBS. If you want the happy story/Hea trope, read these books. What are your comfort reads? Let me know in the comments. Do you have any books you would like to recommend that have made you happy? Please let me know. I always try a new book, especially if it will put me in the best mood ever.
Read more similar books:
15 Second Chance Romance Novels
7 Grumpy Sunshine Romance Books