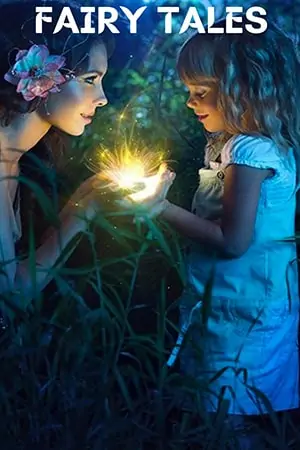 The School for Good and Evil by Soman Chainani is a middle-grade fantasy and adventure children's book. We've got the school's two main characters in the background and the crest for good and evil. It's so beautifully done, very graphic novel feeling to it. We've got a map on the inside, which is the sign of a good book. This is the story of Agatha and Sophie, two girls in their early teens living in a tiny village where two kids, one good and one evil, are stolen away every four years.
All they know is that this poltergeist character, the schoolmaster comes and takes these kids. No matter how barricading the parents' doors, they can do a picket line with fire and axes. No matter what they do, the schoolmaster will get these two kids. They didn't know what happened to these kids who went missing, but they discovered something strange in their fairy tale books.
The kids that were taken ended up in the storybooks. They were in fairy tales as the characters, and they recognize the illustrations in those books as the missing kids. So all they know is every four years, two children go missing and end up in a fairy tale. Keep reading if you want to read like The School For Good And Evil.
5 Books Like The School For Good And Evil (Fairy Tales Retellings)
In the book, The School for Good and Evil, Sophie is a beautiful blonde and perfect skin. She spends all of her spare time making potions and creams to make herself even more attractive. Agatha is ugly and clunky with greasy, dark hair and lives in the middle of a graveyard with her nasty cat and her mother, who is a witch doctor.
The schools themselves are built beautifully with the atmosphere of the contract and schools resonating from the page. There are similarities to Harry Potter that I can't ignore. The surrounding characters are built in a very similar way. It has that magical feeling of Hogwarts with all of the details, and it stays rooted in the fairy tale world rather than the wider magic world. I will review 5 fairy tale books similar to The School for Good and Evil. Let's go!
1. Nevermoor: The Trials of Morrigan Crow
In this book, we meet Morrigan Crow. He is a 10-year-old girl, and she is one of the cursed children, which means that she gets blamed for everything that goes wrong. So she has to write apology letters. Her father, a rich politician, has to pay for all the damage she has done. She is supposed to die on her 11th birthday.
But luckily for her, she gets swept away by an eccentric person called Jupiter North and gets to this town called Nevermoor. Here she competes in the trials to enter the wondrous society. Like The School For Good And Evil, this prestigious society of scholars is a very magical and whimsical world.
There are multiple, seemingly random timed skips that take out the flow of the plot because it starts fast-paced. But it slows down quite a bit, and the ending feels a little bit rushed. The plot follows the structure of their beginning. Morgan gets swept away to Nevermoor.
Nothing is happening in between the trials and a lot of people. Morrigan Crow never had a friend before, although she is a little bit of a passive character. She doesn't make decisions for herself. So she gets thrust into this adventure and rolls with it.
Author: Jessica Townsend
Average Customer Review: (4.7 out of 5, on Amazon)
Category: Mystery & Thriller Action & Adventure
Available: Audiobook | Paperback | Hardcover | Kindle | Audio CD
---
2. Heartless
This book is emotional because it's a villain origin story. It's about how the Queen of Hearts from Alice in Wonderland became the Queen of Hearts. So the main character eventually becomes the queen of hearts. Her name is Cath, and she's the sweetest person, and all she wants to do is have people let her live her own life and open her little bakery.
Cath was going to become the villain in the end. The author included the perfect amount of background stuff that people might know going into an Alice in Wonderland story. Since Cath wants to be a baker, the author has found many ways to describe things that are not food in a food-like way. Then she is managed to describe so many different foods in a way that makes you want to eat. The story and world-building are very relatable with The School For Good And Evil.
Author: Marissa Meyer
Average Customer Review: (4.7 out of 5, on Amazon)
Category: Fairy Tale & Folklore Adaptations
Available: Audiobook | Paperback | Hardcover | Kindle | Audio CD
---
3. Sal and Gabi Break the Universe
The main character of the story is Sal Vidon. He is a young magician who is experiencing grief. After the loss of his mother, he discovered that he could see and move things across universes and alternate timelines where his mother hadn't disappeared.
Gabi is Miami type character, and she is good at school. She knows what she's doing, how to do it, and the minute she enters the room, she's taking charge of it. So the book deals with many heavy topics, and family is the main theme here.
Sal has a mixed family. His dad has remarried, and he has a stepmother. His stepmother is not an evil witch-like stepmothers get retreat in literature. She's a caring part of his life in a way that makes it very clear that she's not there to replace his mother.
Then we have Gabi's family, where she has many dads. Another heavy topic that the book deals with is abuse in the home of one of the side characters. It's taken seriously, but there's a light-heartedness in this book similar to The School For Good And Evil.
Author: Carlos Hernandez
Average Customer Review: (4.8 out of 5, on Amazon)
Category: Science Fiction & Fairy Tales
Available: Paperback | Hardcover | Kindle
---
4. The Trials of Apollo: The Hidden Oracle
This particular series by Rick Riordan follows Apollo, The God by Zeus cast him down from Mount Olympus as he's angry at him and turns them into a mortal 16-year-old boy named Lester. He has to go on an adventure to regain his godhood by solving this mystery of the oracles. There is a problem with prophecy in this world, and Apollo is the god of prophecy, music, and the Sun. So it's in his alley.
However, he doesn't have any of his powers anymore. He also teams up with Meg, who contracts with him in the first book and becomes his master. We follow her in Apollo as they try to solve this entire mystery. They're also joined by a myriad along the way for short cameos, for longer cameos, and we also meet a myriad of new characters.
The second book starts off right with the first book ending. Apollo was now with Leo and Calypso. We follow them as they trek across the United States because they need to stop the now back alive Roman Empire emperors and meet the oracles along the way. As the main character and as a narrator, Apollo is so funny. If you like The School For Good And Evil, you must give it a chance.
Author: Rick Riordan
Average Customer Review: (4.7 out of 5, on Amazon)
Category: Greek & Roman Myths & Legends, Fairy Tales
Available: Audiobook | Paperback | Hardcover | Kindle | Audio CD
---
5. The Ickabog
This middle-grade book follows the two main characters, Bert and Daisy. They are best friends and tween age. J.K. Rowling mentions that there are themes in this book that she contemplates. Even though it's a straightforward story for children to read, you can see how.
Like The School For Good And Evil, the story is about an imaginary kingdom called Cornucopia. It has several large cities known to be the best at creating delicious things. One city is known for its delicious pastries and bread. Another town has the very best like meat products.
Everyone pretty much has a good life. Then there is a tale or a legend of the Ickabog. That legend starts to take on a life of its own and is manipulated in a way that starts to cause many problems. So, Daisy and Bert have to decide how they're going to react to the world around them and if they can make a difference, even though they're young children.
Author: J.K. Rowling
Average Customer Review: (4.7 out of 5, on Amazon)
Category: Fairy Tales, Folk Tales & Myths, Spine-Chilling Horror
Available: Audiobook | Hardcover | Kindle | Audio CD
---
More Fairy Tales Books: 5 Books Like Land Of Stories