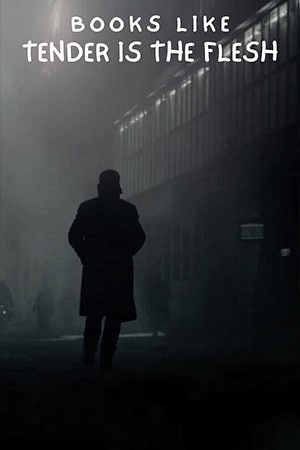 Tender Is The Flesh by Agustina Bazterrica follows Marcos's character in a dystopian society, where supposedly animals have a virus that they've suddenly obtained, which means that people can't eat animals anymore. So the world has permission to start eating people. Slaughterhouse and animal terminology is used concerning the humans being eaten. Female heads are put into the milking machines for their udders to be milked. So it reminded me of several dystopias I've heard about or read. There was one character, in particular, that got me excited.
The focus of the book is the characters and the worldbuilding. So we get a good look at this dystopian world. We have people who work in laboratories. Many World War Two references discuss immigration, breeding, and experiments. Such books like Tender Is The Flesh is very darkly humorous and thriller. If you are waiting to read more similar, stay with me until last.
5 Books Like Tender Is The Flesh (Dystopian Horror)
Tender Is The Flesh was a very jarring reading experience, even though I loved it. The book has two parts, with a time jump separating them. One of the things that elevate this story, the ending is as shocking as the entire premise.
The modern cannibalism idea is something that I enjoy reading because it taps into some of the darker sides of where we may be heading as a society. After reading it, I was excited to read more alike. So I researched and read 10 books and found 5 excellent books similar to Tender Is The Flesh. Let's discuss it!
| Name | Key Focus | Review (Goodreads) |
| --- | --- | --- |
| The Troop | On an Island, people try to save themselves from a tapeworm, but the situation goes wrong. | 3.8 |
| The Road | After the supervolcano explosion, people struggle for their lives. | 3.9 |
| Exquisite Corpse | Two serial killers manipulate and fight each other for a girl. | 3.7 |
| Under the Skin | A woman solves a mystery by taking people. | 3.7 |
| The Jungle | Some immigrants are trying to seek a better life in America. | 3.7 |
Books Like Tender Is The Flesh List
1. The Troop
The Troop is survival horror fiction that is very graphic and gory. There are depictions of people's insides and animals' insides. The story follows Scoutmaster Tim and five boys. They're on an island having a grand old time. Then a very skeletal man arrives at the island, and things go down because this man is carrying a genetically modified tapeworm. It's spread almost virally.
So, unfortunately, that man dies, and things start to go wrong. Most of the book is focused on the five boys because Scoutmaster Tim does contract. It happens very early in the book. It's about their dynamics, and the characters are well-written.
You've got each kid with their things, and one kid is a psychopath. It becomes a survival story where they're on this island, quarantined on the island, so they can't get out. There's stuff going down with these tapeworm monster things. It keeps you going the entire time. There's also that isolation adds to the tension because they're stuck. If you are new to horror and want to experience something new dark story like Tender Is The Flesh then you must read it.
Author: Nick Cutter
Narrator: Corey Brill
Publisher: Simon & Schuster Audio
Tropes: Genetic Engineering, Mystery, Twist
Number Of Pages: 358
Available: Audiobook | Paperback | Hardcover | Kindle | Mass Market Paperback
2. The Road
The Road is a post-apocalyptic novel about a father and son trying to survive. The movie is an excellent adaptation of this novel. It came out a few years ago starring Viggo Mortensen, one of my favorite actors. From the trailers for that movie, you will be given the explanation that a supervolcano exploded and has clouded the world in sooty ash. We also saw people dying and starving in the book, Tender Is The Flesh.
The book did the extraordinary thing of making the movie even better. It hit me right in the soul. I cried at the end, and I read it for a book project for school. Cormac McCarthy does not use correct punctuation and grammar. Half the time, he doesn't even put every single time he never puts quotation marks around dialogue. It takes a lot of skill to make run-on sentences with incorrect punctuation and grammar and yet make them beautiful. Also, the dialogue is engaging. It gets straight to the point, like deep messages.
Another big positive of this book is about a father-and-son relationship. Yes, there is a whole post-apocalyptic scenario where there are cannibals, people are starving, everything's dying, and even the plants are dying. You fully understand that the only thing keeping the father going is his son and that his son is an innocent boy in a world where everything is depraved and dead.
There are lots of philosophical spiels that the author is excellent at. You can incorporate that into the ending, and it's beautiful storytelling. The father-son relationship is quite uplifting in a lot of ways. None of the characters have names, at least the main characters. So you can call them by any name.
Author: Cormac McCarthy
Narrator: Tom Stechschulte
Publisher: Recorded Books
Tropes: Poetic, Coming-of-age, Classic
Number Of Pages: 241
Available: Audiobook | Paperback | Hardcover | Kindle
3. Exquisite Corpse
Exquisite Corpse was published back in 1996. So, It's quite an old horror novel. It follows the story of two serial killers, one from Britain and one from America. Two these two serial killers meet by accident. The story starts by following the English serial killer who is in prison, and he escapes prison by putting himself in a fake coma and getting transferred to an autopsy room.
During the autopsy, he returns to life, attacks the doctor, and escapes the hospital. It sounds ridiculous, but it's written in such a brilliant way that it's quite believable. So he escapes prison, gets on a plane to America, and accidentally meets the other serial killer in America. So the two men forge a new friendship, go out on a killing spree, and wreak havoc. The scary part of the book is that these two killers are based on real people.
The English serial killer is based on a man called Dennis Nilsen, who used to live in North London, a real serial killer. The American serial killer is based on a man called Jeffrey Dahmer, who is also a famous, famous killer in America. Both men are dead now, but they are real people, which makes the book even more terrifying. Both Tender Is The Flesh, and Exquisite Corpse have similar seriously graphic scenes.
The words jump out the page while you're reading it. After you read it, it gives you nightmares. The killers in the story are written from the killer's perspective, and the killers are not portrayed as the bad guys. You're seeing the world through the eyes of these killers and during parts of the book. I wouldn't say it glorifies murder, but it makes you see the world differently and makes the book even scary. So take it!
Author: Poppy Z. Brite
Narrator: Joshua Saxon
Publisher: Crossroad Press
Tropes: LGBT, Dark, Thrill
Number Of Pages: 240
Available: Audiobook | Paperback | Hardcover | Kindle
4. Under the Skin
Under the Skin is a sci-fi horror fantasy representing Scotland's culture with mystery. We follow a woman who goes around the Scottish Highlands picking up hitchhikers to take them away for mysterious purposes. It's a book you want to go into without knowing too much. The story is slower-paced and more suspenseful in a very quiet way.
We go to some bizarre places throughout the story, and I want to reread it because there were ideas brought up in it. So I want to revisit it, and I'll appreciate it more and more with each reread. I'll let you know that it does delve into some themes of morality, which can be off-putting to some readers. The theme and atmosphere are much like Tender Is The Flesh. If you're interested in a thrilling rural place, I recommend picking it up.
Author: Michel Faber
Narrator: Fiona Hardingham
Publisher: Blackstone Audio, Inc.
Tropes: Suspense, Paranormal
Number Of Pages: 296
Available: Audiobook | Paperback | Hardcover | Kindle | Audio CD
5. The Jungle
The Jungle is classic literary fiction about the meatpacking industry in the early 1900s, specifically in Chicago. It centers around that industry in particular. The book also has a bigger message that addresses poverty and the attempt to keep those in poverty. It's all about an immigrant family from Lithuania. There are a lot of European families in this book that comes to Chicago to work. But this one is from Lithuania, and they come to America, and we all know the story. They come to America to seek a better life, get rich and become wealthy.
So the family comes to America, and then all the other immigrants at the time come to realize that it's not going to be as easy as they thought. Though it's historical fiction, it's based on the truth of what was happening in that time period in Chicago.
The main character we hear about and read about throughout the book is Jurgis, whose family he brought from Lithuania. So they have such high hopes and dreams for getting ahead in life. Throughout the book, it's such a roller coaster, and it will remind you of Tender Is The Flesh novel.
My biggest complaint with this book is the end, which is different from what happens with the characters. The characters don't even matter at the end of the book, and it becomes a political piece or meatpacking game. The plot, storyline, narration, and characters are excellent. I love the cover, one of my favorite covers I've ever seen, and I recommend it to you.
Author: Upton Sinclair
Narrator: Grover Gardner
Publisher: Blackstone Audio, Inc.
Tropes: Politics, Philosophy, Sociology
Number Of Pages: 335
Available: Audiobook | Paperback | Hardcover | Kindle | Spiral-bound
---
More books you might consider the following:
The Road by Cormac McCarthy: A father and son are on a journey through a post-apocalyptic world where an unspecified disaster threatens people.
The Children of Men by P.D. James: All human males have become sterile. A former activist agrees to help transport a miraculously pregnant woman to safety.
The Maze Runner by James Dashner: A group of young men wakes up with no memory of their past. They must navigate a series of deadly maze trials to escape.
The Handmaid's Tale by Margaret Atwood: A woman is forced into sexual servitude as a last desperate attempt to repopulate a dying world.
The Windup Girl by Paolo Bacigalupi: A calorie man in Bangkok must navigate the city's black markets and politics to uncover a conspiracy.
Those are my favorite dystopian horror books like Tender Is The Flesh. If you have any book recommendations or questions about the books, please let me know in the comments. I will love to know if you have read these books as well.
Share your thoughts as long as you keep them spoiler free for everyone else, or let me know if I've intrigued you enough to pick up a copy for yourself. Be my friend on social media and talk to me more about books.
Read more similar books:
5 Horror Fiction Books Like Flowers In The Attic
7 Classic Dystopian Books Like Brave New World
5 Fantasy Horror Books Like Wilder Girls
10 Horror Thrill Books Like The Outsider
7 Historical Horror Books Like Mexican Gothic